Fillable Printable Affidavit of Loss - Department of Administration
Fillable Printable Affidavit of Loss - Department of Administration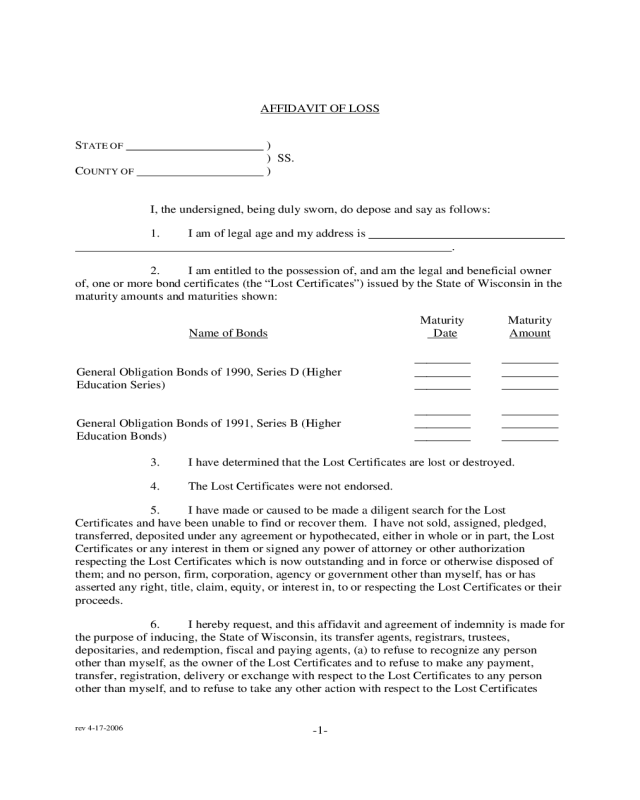 Affidavit of Loss - Department of Administration

S
) SS.
C
I, the undersigned, being duly sworn, do depose and say as follows:
1.
I am of legal age and my address is
2.
I am entitled to the possession of, and am the legal and beneficial owner
of, one or more bond certificates (the "Lost Certifi
cates") issued by the State of Wisconsin in the
maturity amounts and maturities shown:
Name of Bonds
Maturity
Date
Maturity
Amount
General Obligation Bonds of 1990, Series D (Higher
Education Series)
_________
_________
_________
_________
_________
_________
General Obligation Bonds of 1991, Series B (Higher
Education Bonds)
_________
_________
_________
_________
_________
_________
I have determined that the Lost Certificates are lost or destroyed.
The Lost Certificates were not endorsed.
I have made or caused to be made a diligent search for the Lost
Certificates and have been unable to find or recover them. I have not sold, assigned, pledged,
transferred, deposited under any agreement or hypothecated, either in whole or in part, the Lost
Certificates or any interest in them or signe
d any power of attorney or other authorization
respecting the Lost Certificates which is now out
standing and in force or otherwise disposed of
them; and no person, firm, corporation, agency or government other than myself, has or has
asserted any right, title, claim, equity, or interest in, to or respecting the Lost Certificates or their
proceeds.
I hereby request, and this affidavit and agreement of indemnity is made for
the purpose of inducing, the State of Wisconsin, its transfer agents, registrars, trustees,
depositaries, and redemption, fiscal and paying agents, (a) to refuse to recognize any person
other than myself, as the owner of the Lost Certificates and to refuse to make any payment,
transfer, registration, delivery or exchange with respect to the Lost Certificates to any person
other than myself, and to refuse to take any other action with respect to the Lost Certificates
rev 4- 17-2006
-1-

pursuant to a request or demand of any person other than myself, and (b) to issue a new or
duplicate or definitive security or other instrument in substitution for the Lost Certificates, or to
make the payment, transfer, registration, delivery, or exchange called for by the Lost Certificates
without their surrender for cancellation.
If I should find or recover the Lost Certificates, I will immediately
surrender them to U.S. Bank Corporate Trust Services, Attn: Non-routine BOI - EP-MN-WS2N,
60 Livingston Ave, Saint. Paul, MN 55107-
2292, for cancellation without requiring any
consideration for them.
I will, in consideration of compliance with my request, indemnify and
hold harmless the State of Wisconsin, and any person, firm, or corporation hereafter acting as its
transfer agent, registrar, trustee, depositary, or
redemption, fiscal, or paying agent or in any other
capacity, and also any successors in any such capacities and their sureties, from and against any
and all liability, loss, damage, and expense in connection with, or arising out of, their compliance
with my request.
Signed and delivered on _______________, 20__.
Name:
On this _____ day of _____, 20__, before me personally appeared
, to me known to be the person who
executed the foregoing Affidavit of Loss and acknowledged the same.
I
N WITNESS WHEREOF
, I have hereunto set my hand and official seal.
[N
rev 4- 17-2006
-2-