Fillable Printable Affidavit of Loss Form - Empire Stock Transfer
Fillable Printable Affidavit of Loss Form - Empire Stock Transfer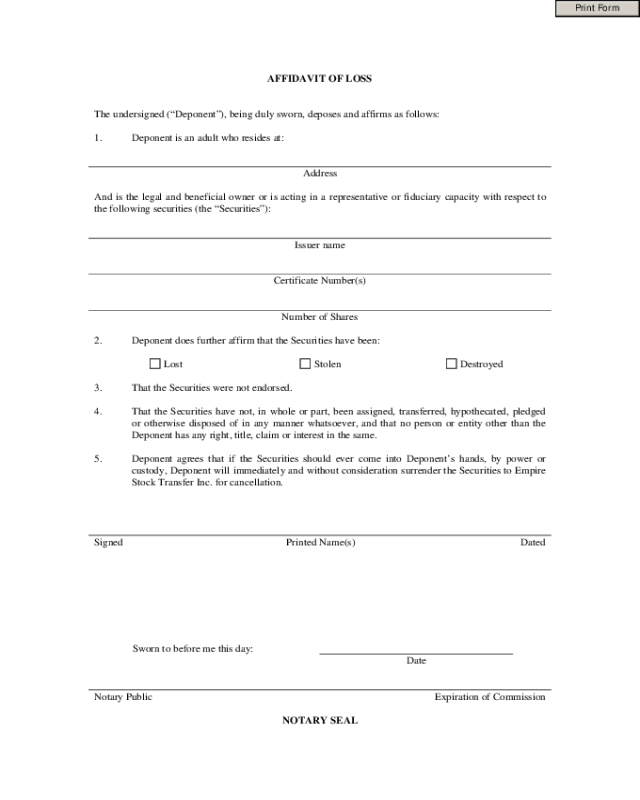 Affidavit of Loss Form - Empire Stock Transfer

AFFIDAVIT OF LOSS
The undersigned ("Deponent"), being duly sw
orn, deposes and affirms as follows:
1.
Deponent is an adult who resides at:
Address
And is the legal and beneficial owner or is acting in a representative or fiduciary capacity with respect to
the following securities (the "Securities"):
Issuer name
Certificate Number(s)
Number of Shares
2.
Deponent does further affirm th

at the Securities have been:
3.
That the Securities were not endorsed.
4.
That the Securities have not, in whole or part,

been assigned, transferred, hypothecated, pledged
or otherwise disposed of in any manner whatsoever, and that no person or entity other than the
Deponent has any right, title, clai
m or interest in the same.
5.
Deponent agrees that if the Securities should ev

er come into Deponent's hands, by power or
custody, Deponent will immediately
and without consideration surre

nder the Securities to Empire
Stock Transfer Inc. for cancellation.
Signed Printed Name(s)
Dated
Sworn to before me this day:
Date
Notary Public
Expiration of Commission
NOTARY SEAL