Fillable Printable Application for Divorce Certificate - Kentucky
Fillable Printable Application for Divorce Certificate - Kentucky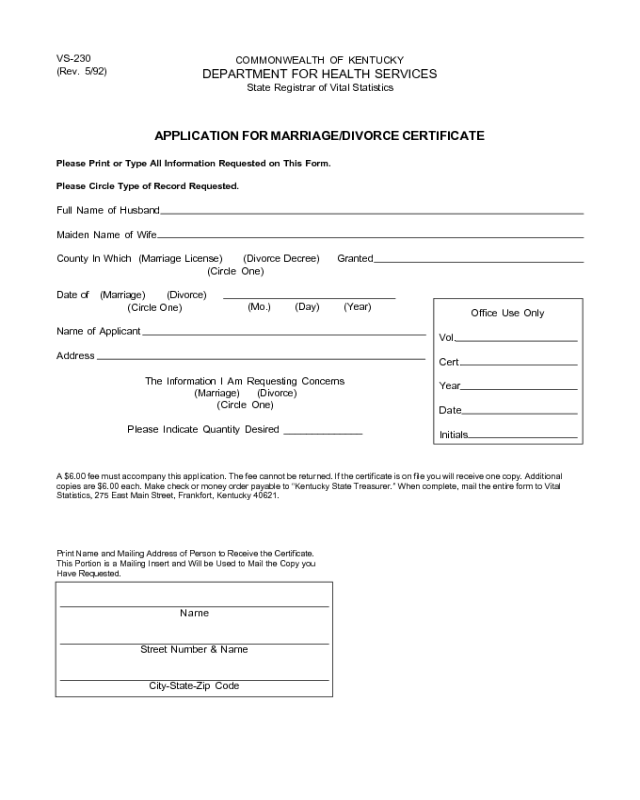 Application for Divorce Certificate - Kentucky

COMMONWEALTH OF KENTUCKY
DEPARTMENT FOR HEALTH SERVICES
State Registrar of Vital Statistics
VS-230
(Rev. 5/92)
APPLICATION FOR MARRIAGE/DIVORCE CERTIFICATE
Please Print or Type All Information Requested on This Form.
Please Circle Type of Record Requested.
Full Name of Husband
Maiden Name of Wife
County In Which (Marriage License) (Divorce Decree) Granted
(Circle One)
Date of (Marriage) (Divorce)
(Circle One)
Name of Applicant
Address
A $6.00 fee must accompany this application. The fee cannot be returned. If the certificate is on file you will receive one copy. Additional
copies are $6.00 each. Make check or money order payable to "Kentucky State Treasurer." When complete, mail the entire form to Vital
Statistics, 275 East Main Street, Frankfort, Kentucky 40621.
Print Name and Mailing Address of Person to Receive the Certificate.
This Portion is a Mailing Insert and Will be Used to Mail the Copy you
Have Requested.
Office Use Only
Vol.
Cert.
Year
Date
Initials
The Information I Am Requesting Concerns
(Marriage) (Divorce)
(Circle One)
Please Indicate Quantity Desired ______________
(Mo.) (Day) (Year)
Name
Street Number & Name
City-State-Zip Code