Fillable Printable Certified Birth Certification Application - City of Troy
Fillable Printable Certified Birth Certification Application - City of Troy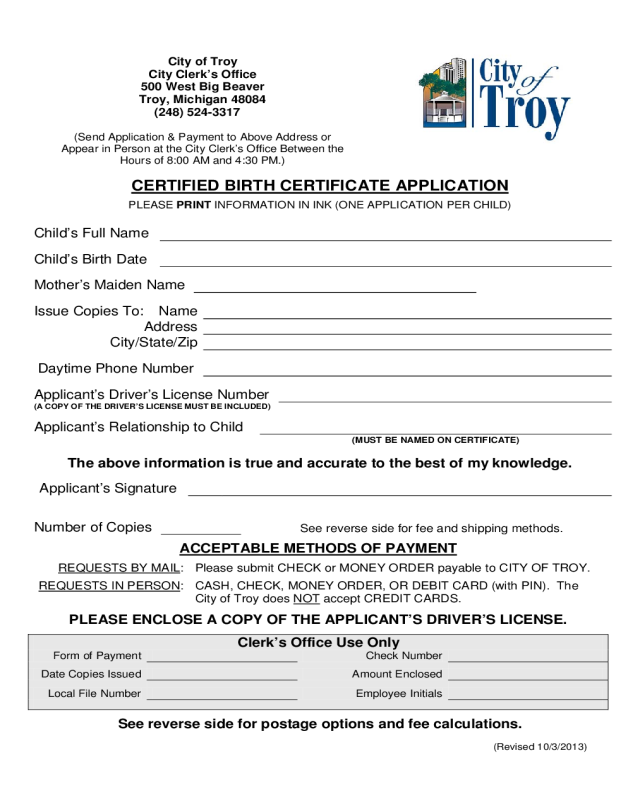 Certified Birth Certification Application - City of Troy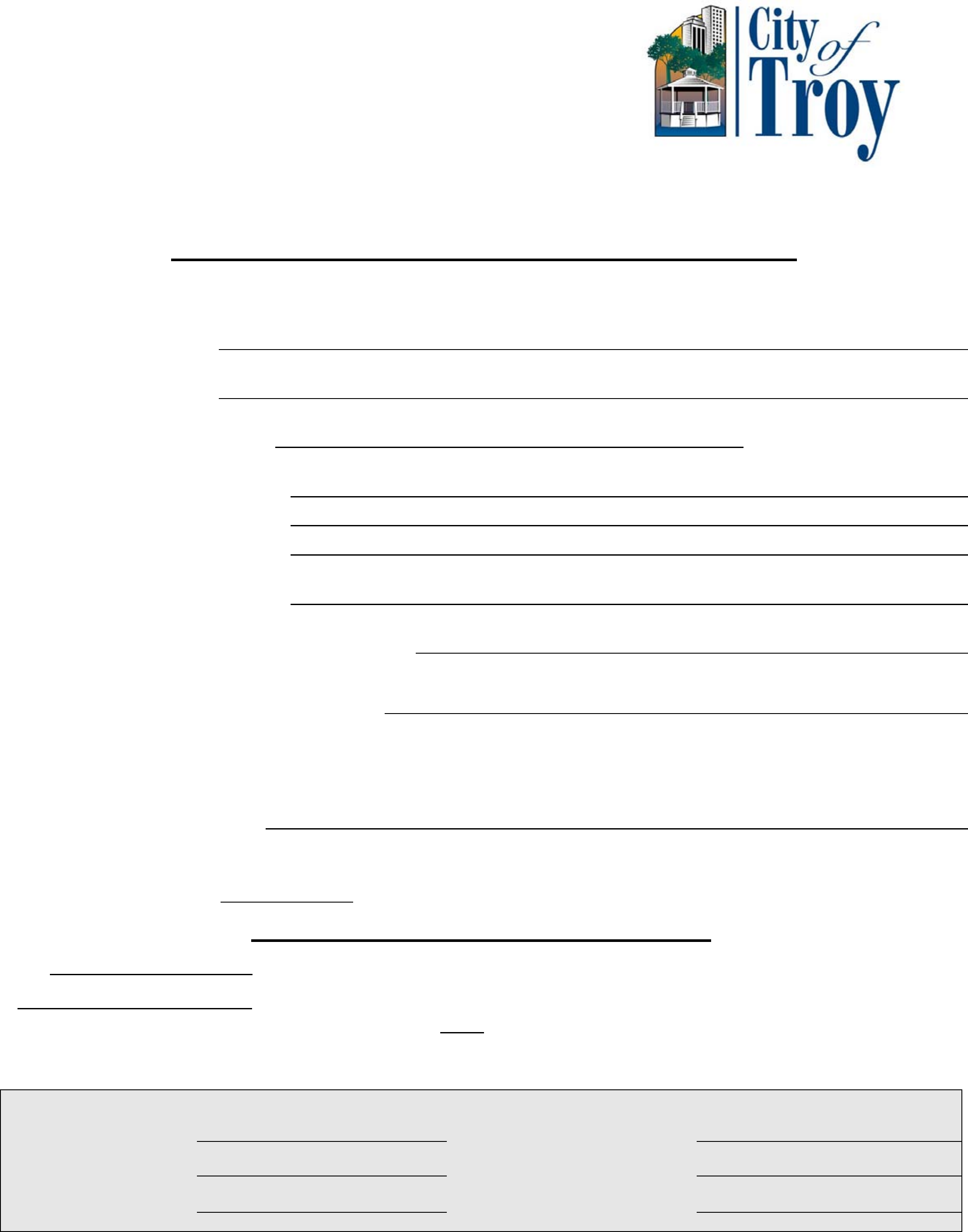 (Send Application & Payment to Above Address or
Appear in Person at the City Clerk 's Off ice Between t he
Hours of 8:00 AM and 4:30 PM.)
See reverse side f o r posta
ge options and fe e calc ulations.
CERTIFIED BIRTH CERTIFICATE APPLICATION
PLEASE
PRINT
INF ORMATIO N IN I NK (ONE APPLI CATION PER CHILD)
App
lica nt's Driver's License Number
(
A COP Y OF THE DRIVER'S LICENSE M UST BE INCLUDED

)
Applicant's Relationship to Child
(MUST BE NAMED ON CERTIFICATE)
The above informati on is tr ue a nd accur at e to the best of my knowledge .
See reverse side for fee and shipping methods.
AC CE P TABLE METHODS O F PAYM E NT
REQUESTS BY MAIL
:

Please

submit

CHECK or MONEY ORDER

payable

to

CI TY OF TROY

.
CASH
, CHECK, MONEY ORDER, OR DEB IT CARD (with PIN).

The
C
ity of
Troy
does
NOT
accept

CREDIT CARDS .
PLEASE ENCLOSE A COPY OF THE APP LICANT'S DRIVER'S LICENSE.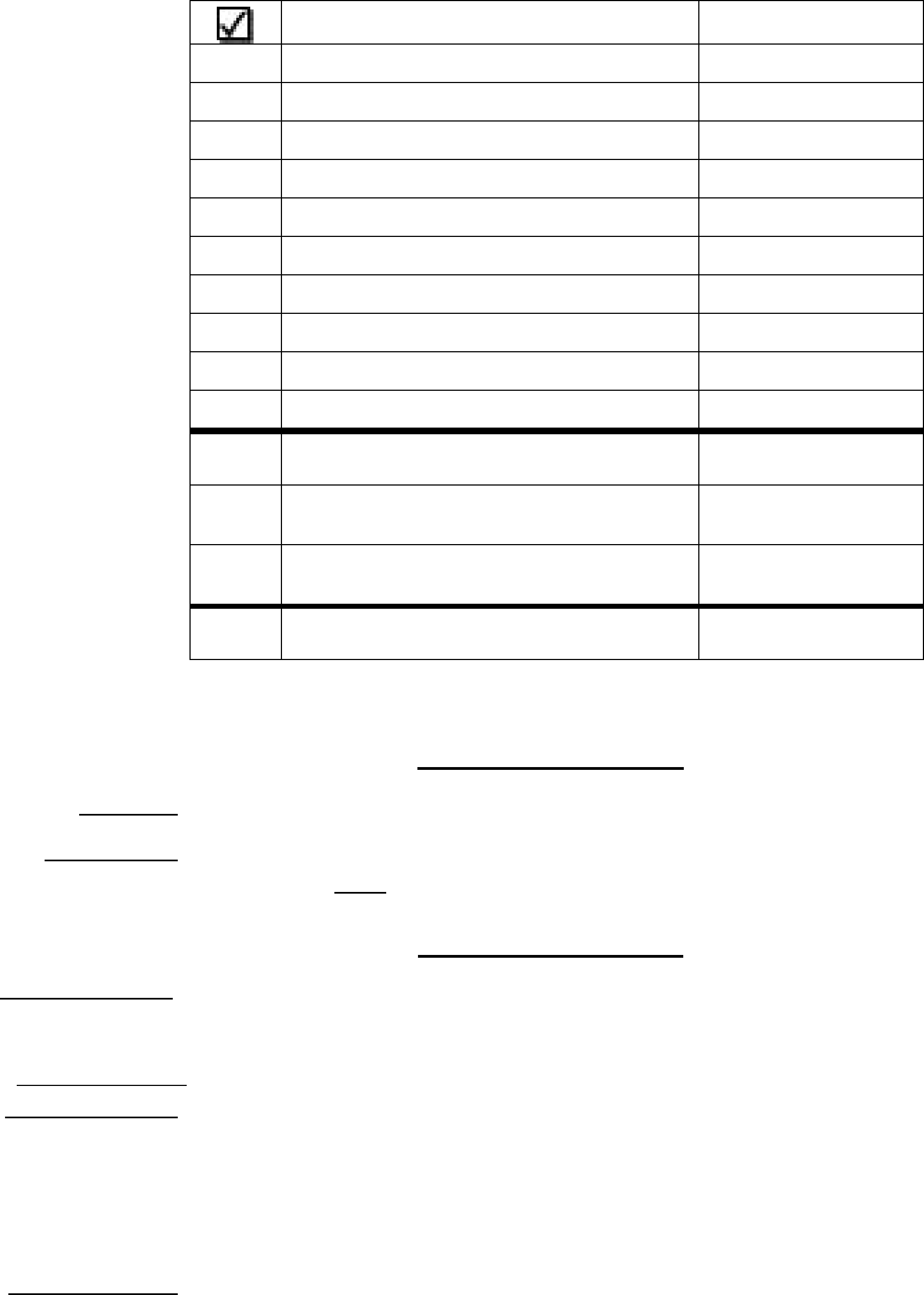 Please check the number of copies requested
and the shipping method you desire:
First Cl ass Mail
No Cha
rge
Certi fied Mail/Return Receipt
Add $ 7.00
Ove rnight Mail
Add $ 1

9.99
BY MAIL
:

Please submit CHECK or MONEY ORDER payable to CITY OF TROY.
CASH, CHECK, MONEY ORDER, OR DEBIT CARD (with PIN). The City of
Troy does
NOT

accept CREDIT CARDS.
First C l ass Mail
:
This shipping opti on is free of c harge and should arrive in seven (7) to ten
Certifi ed M ail /
This service offers delivery security in the way of
an article tracking
number. Also, the recipient's signature is obtained on a card at the time of
delivery, and the card is returned to the City Clerk's Office. Articles are sent
First Class Mail and should arrive in (7) to (10) business days. The fee for
this service is $7.00. This option is available for orders within the
This service guarantees delivery the next business day after mailing. A
tracking number is available to track the article online. The fee for this
service is $19.00. Please al low 1
-2 busi n ess days to pr ocess y our requ est.