Fillable Printable Project Proposal for Funding
Fillable Printable Project Proposal for Funding
Project Proposal for Funding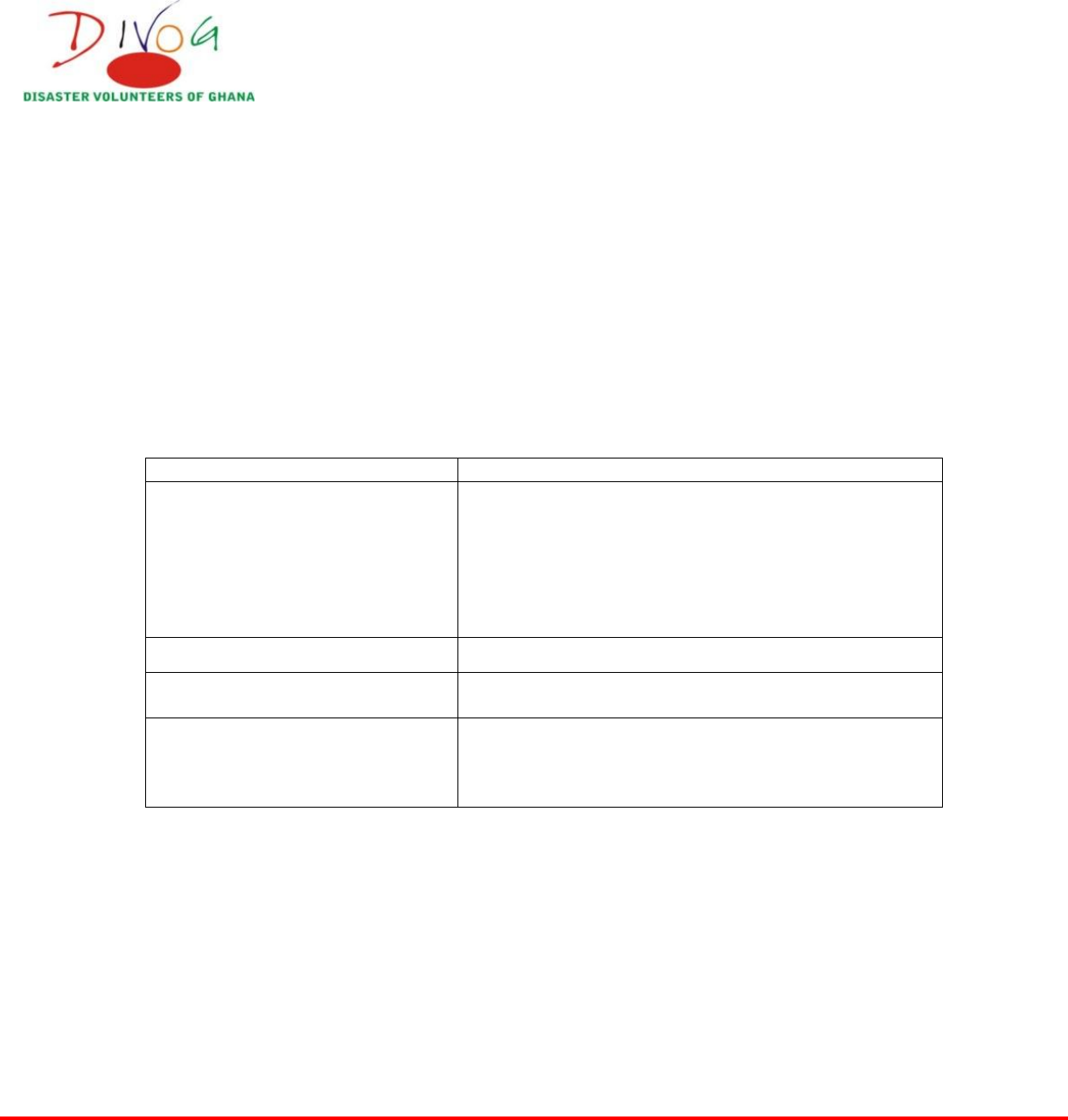 Disaster Volunteers of Ghana (DIVOG)
AFRICA SCHOOL PROJECT
GHANA
Project Proposal for Funding
Disaster Volunteers of Ghana ( DIVOG)
Pre-School
Primary School
Junior High School (J.H.S)
Senior High School (S.H.S)
Location of Implementation
VE Traditional Area, Hohoe Munic
ip
al Assembly, Volta
Region, Ghana.
Point of Contact, Phone, Address;
Richard Kwashie Yinkah
Director-DIVOG
Bridging Cultures, Building Opportunities
Why Ghana?
In 1957, Ghana became the first sub-Saharan colony to gain its independence. Over the
last 50 years it has developed into a place of peace and national pride. Despite its third
world status, Ghana is a model of governance and economics. Boasting a welcoming
and diverse population, it is an example of democratic success to other emerging African
countries. Richard Yinkah, the leader of DIVOG
called it "a place improving the quality of
Ghana has made serious investments in its future by providing public schooling for its
children through junior high level, contributing teachers and an established curriculum.
Nationalized education through the Ghana education board is one of the most developed
and advanced in Africa.
For all this progress, Ghana still has a long way
to
go in meeting global standards in
education, economic development and sustainability. Its growth is outpacing its
infrastructure. Communities suffer from overcrowding, poor sanitation, and
unemployment. As the literacy
,
Information Communication Technology (ICT) and
education levels rise in the population so does the demand for improved learning
environments. This is where DIVOG makes an impact and provides hope for the
younger generations. By increasing and improving the educational facilities we are
assisting in the development of not only Ghana"s leaders but the leaders of Africa.
The Ghana Educational System:
On average it takes about 20 years for a child to complete their education in Ghana
.
Children from wealthy families usually benefit from attending private schools while
children who are from poor families attend public schools. Most children in Ghana begin
their education at the age of three or four. They first enter nursery school which is then
followed by two years in kindergarten. After kindergarten, the child then continues to
primary school, junior high school, senior high school and then finally university. Before
there were more boys enrolled in schools than girls but with the implementation of equal
rights for men and women there are about the same number of boys and girls enrolled in
schools in Ghana now.
Ghana operates on a 3-6-3- 3-4 System:
Primary School
--
6 years
Junior High School
--
3 years
Senior High School
--
3 years
University Bachelor's Degree
--
4 years
Basic Education:
Pre-School to Junior High School
Secondary Education:
Senior High School and Vocational and Skills Training Institutions.
Tertiary Education:
Health Training Institutions, Agricultural Training Institutions, Teacher Training
Institutions, Polytechnic and Universities.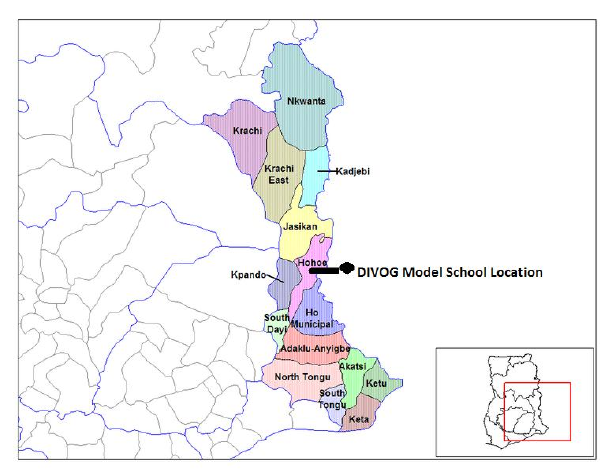 Project Location:
The project is located in the Ve Traditional Area in the Hohoe Municipal Assembly of
the Volta Region, Ghana. The project is 15 miles from Hohoe town along the main road
from Hohoe to Ho. The area is an agricultural, fertile flatland below the ranges of Volta
Region
.
Hohoe covers an area of 117,200 hectares. Available land suitable for
agricultural purposes is 65,000 hectares: that is, 55,085 hectares for crop and 9,962
hectares for livestock production (47% and 8.5% for crops and livestock respectively).
Economic Activities:
The main economic activity is farming. However, majority of the people of Ve Traditional
Area are subsistence farmers who engage in producing farm crops for livelihood. The
technology employed in Agricultural Production in the Municipality is largely the
traditional cutlass and hoe (obsolete tools). Mechanized farming is very limited and the
rate of adoption of other Agric related technologies is equally low. Farming is entirely
rain - fed as there are no irrigation facilities, and this culminates in low productivity.
Access roads to farming centres are also poor thus hampering the marketing of the
products. These together with the absence of storage facilities give rise to high post-
harvest losses.
Unfortunately, these activities are not enough to support their health, education, shelter,
and other needs due to problems associated with it.
Nearby communities:
Hohoe township , Lolobi Kumasi, Have Etoe, Gbi Wegbe, Santrokofi Benua, Alavanyo
Wu
didi, Akpafu Odomi, Likpe Bala, Agate, Likpe Kukurantumi, Akpafu Todzi, Akpafu
Mempeasem, Logba Alapati, Likpe Bakwa, Wli Afegame, Likpe Agbozome, Goviefe
Todzi, Alavanyo Dzogbedze, Kpeme, Wudidi, Agome, Deme, Dzogbedze, Agohoe,
Abehenease.

General and Specific Objectives of DIVOG Model School:
This project is to give an insight into a modern school project to be built in a rural setting
where there are no such services for education. This setting is a typical farming area in
Ghana, which lacks basic infrastructure that supports education.
General objective:
The overall objective of the project is to increase children"s access to education and
improve the quality of education in the Ve Traditional Area by constructing:

Senior High School (S.H.S)
Specific objectives:

Create learning opportunity for school age children

Increase children"s school enrolment in the community of the project

Reduce school dropout rate in the project area, especially school girls

Increase the literary rate

Increase the project area community"s awareness on the importance of
educating children and minimize gender disparity in the stipulation of basic
education, by working on affirmative action with the community.

Build the spirit of community service and volunteerism among the future
generations.

Behavior Change as a way of solving social and economic problems in promoting
a just society.
The DIVOG Model School will consist:
Pre-School:
The Pre-school will comprise nursery and kindergarten which will usually last for 2
–
3
years, The kids will be taught basics like rhymes, poems, alphabets, numbers and the
use of some technological devices. Primary School:
In North America this may be known as Grade School or Elementary School but in Africa
and some parts of Europe it is referred to as primary school. A comprehensive
explanation is listed in the table below:
Primary 6 ends primary school in Ghana, Ghana has no middle school system.
Junior High School:
The Junior Secondary School starts right after Primary 6, it has a different name as
compared to other countries, and some countries call this stage either junior high school
or middle school. In America this stage starts in Grade 6 but in Ghana it starts when you
are in Grade 7. The table below will help in understanding how this works;

Senior High School (S.H.S):
The Senior Secondary school is the same as High School in America, before it would
take a student three years to complete senior secondary school but the system has been
reformed in 2008, to be a four year term for completion. However, early 2009 this reform
was immediately reversed again by the new NDC government, and presently it is 3
years again. The table below will give an idea about how the two systems are related;
S.H.S 4 (as of February 2009 cancelled)
Activities of the Project:
The following are the activities to be carried out during the implementation of the project:

Construct school blocks each having 4 classrooms that accommodate 25
students.

Construct a multipurpose hall block

Construct administration block that includes director"s office, secretary o

ffice,
staff rest room, clinic, latrine, documentation room, counseling room and store.

Construct Computer Laboratory

Construct Science Laboratory

Construct Latrine Blocks

Construct Hostels and Staff quarters

Provision of Adequate Teaching /Learning Materials
Project Management:
DIVOG will be responsible for the management of the entire project .This shall be done
by
our
experienced and professional project coordinators under the advice of other
stakeholders in education who will be responsible for the implementation of the project.
The project coordinators will be reporting to head office where centrally compiled report
would be sent to
donor
s
and
stakeholders by program manager of the organization.
Values of DIVOG Model School:

Honesty and dependability

Justice, responsibility and fair play

Generosity and service to others

Compassion and care for the less fortunate

Rejection of wrong behaviour and embracing right

Promote Volunteerism and MUN programs that provides understanding of the
work of the United Nations
DIVOG Model School Education Rights Circle Diagram:
The 4 A
"
s will be used to analyse local education provision and work with the local group
to identify specific criteria by which education could be evaluated. The four circles show
different aspects of the right to education. The inner circle shows issues that will make
education acceptable to the individual or group. The second circle identifies the
"ingredients" which would make
education available. The third circle shows ingredients
that would make education accessible, and this is framed within the context of the wider
environment of how adaptable education is
–
the outer circle. Through asking the
question "What would make education available to us?" (
Substituting
the different "A"
word each time the question was asked) one may develop the ingredients and
conditions for the right to education.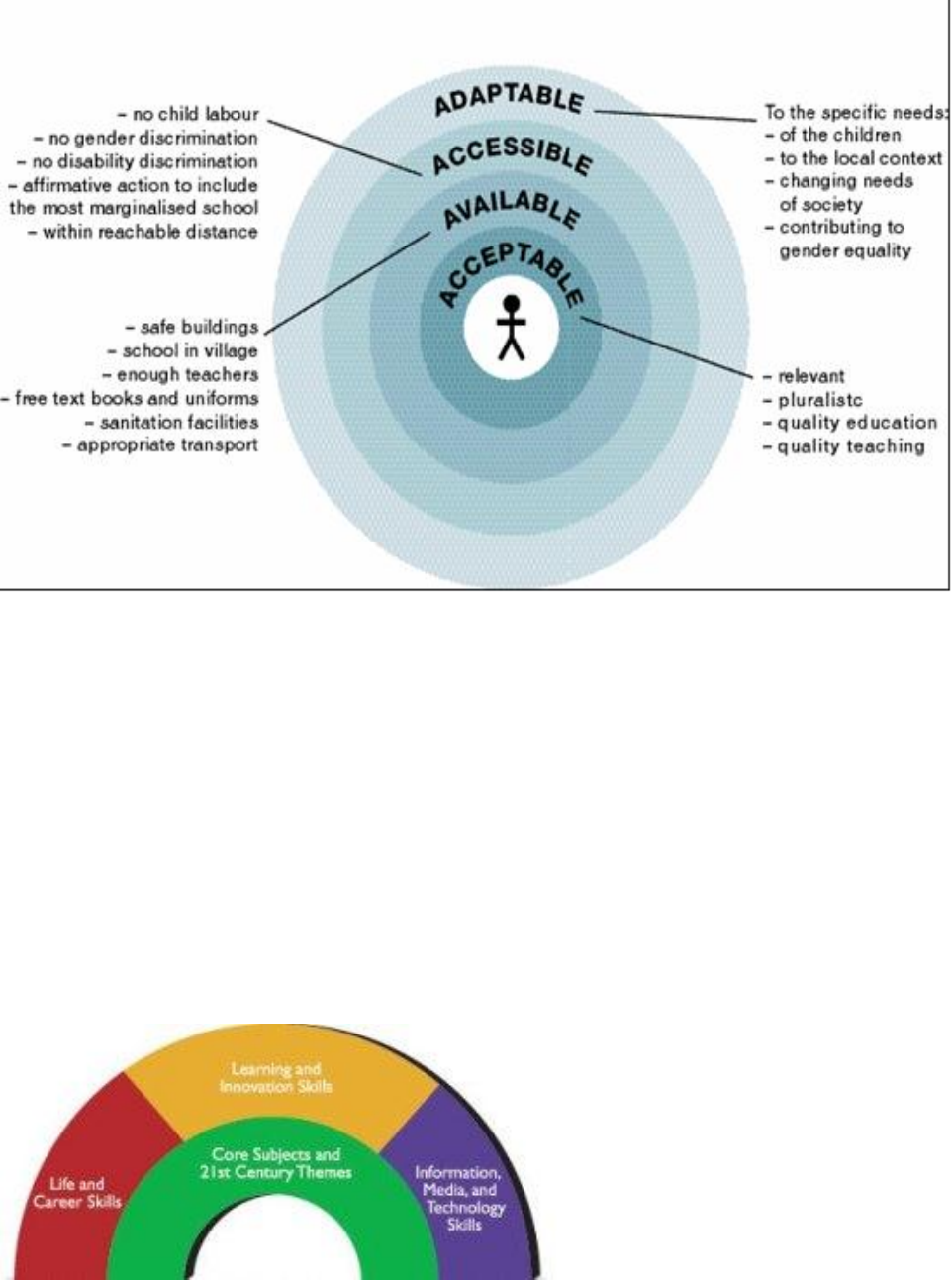 DIVOG Model Schools Pillars of Education:

Learning to live together
DIVOG will be working with both local and International partners in the educational
sector to create framework as a way to ready students for the 21st century. Most of us
know the three Rs are reading, writing and arithmetic, but what are the Cs?
In the Partnership framework, the
Cs
makes
up the "Learning and Innovation Skills" and
are as follows:

Creativity and Innovation

Critical Thinking and Problem Solving

Communication and Collaboration
Monitoring and Evaluation:
A variety of formal and informal Monitoring and Evaluation mechanisms will be central to
ensuring the appropriate delivery of effective and sustainable services. These will
include: Multi Indicator Cluster Surveys, class performance surveys, class attendance
data, girl-
boy
retention data and exit surveys.
Project sustainability:
DIVOG will continue to work with the Ministry of Education department and other
stakeholders such as Ghana National Association of Teachers (GNAT), National
Association of Graduate Teachers (NAGRAT) and Retired Educationists to build on this
capacity while also working closely with local and international development partners
working on educational programmes
.
DIVOG will develop a Memorandum of
Understanding with the Ministry of Education
which will clarify each partners" roles and
responsibilities both short and long term.
DIVOG will work with local communities to develop the capacity of individuals to play an
active role in governance and delivery of education in the schools. Parents Teachers
Association (PTA) will be formed to ensure the school"s future sustainability.
DIVOG
"s
annual sustainability assessment will be used to review the capacity of both ministry of
education, local communities to take on further aspects of supporting the school after the
donor phase.
Sources of fund for project sustainability.

Community school supports

Parent Teacher Associations (PTA)

Internally generated fund eg school farm