Fillable Printable Form DS-1622
Fillable Printable Form DS-1622

Form DS-1622
7. Foreign Service Agency of Employee/Applicant/Sponsor
Foreign Commercial Service
STATE
Foreign Agricultural Service USAID
Board of Broadcasting Governors
9. Purpose of Exam
New Dependent (
pre-employment, newborn, adoption
)
In-Service Exam
Separation
12. Mailing Address
(Where You can be Reached for the Next 90 days)
10. Telephone Number of Employee/Applicant
(parent)
(Where You can be Reached for the Next 90 days)
8. E-mail Address of Parent/Sponsor
(Where You can be Reached for the Next 90 days)
6. Place of Birth
City
CountryState
4. Full Name of Employee/Applicant/Sponsor5. eMED Number if known (
Employee/Applicant/Sponsor
)
1. Name of Examinee
(Last, First, MI)
I. DEMOGRAPHIC INFORMATION
TO BE FILLED OUT BY EMPLOYEE/SPONSOR OR PARENT
3. Sex2. Date of Birth
(mm-dd-yyyy)
Male
Female
PRIVACY ACT NOTICE
AUTHORITIES: The information is sought pursuant to the Foreign Service Act of 1980, as amended (Title 22 U.S.C.4084).
PURPOSE: The information solicited on this form will be used to make appropriate medical clearance decisions.
ROUTINE USES: Unless otherwise protected by law, the information solicited on this form may be made available to appropriate agencies, whether
Federal, state, local, or foreign, for law enforcement and other authorized purposes. The information may also be disclosed pursuant to court order.
More information on routine uses can be found in the System of Records Notice State-24, Medical Records.
DISCLOSURE: Providing this information is voluntary; however, not providing requested information may result in the failure of the individual to obtain
the requisite medical clearance pursuant to 16 FAM 211.
MEDICAL HISTORY AND EXAMINATION FOR FOREIGN SERVICE
FOR CHILDREN AGE 11 AND YOUNGER
DS-1622
08-2017
Page 1 of 4
To the individual and/or health care provider completing the medical history review /exam: The Genetic Information Nondiscrimination Act of 2008 (GINA)
prohibits employers and other entities covered by GINA Title II from requesting or requiring genetic information of an individual or family member of the
individual, except as specifically allowed by this law. To comply with this law we are asking that you NOT provide any genetic information when responding to
this request for medical information. 'Genetic Information' as defined by GINA, includes an individual's family medical history, the results of an individual's or
family members' genetic tests, the fact that an individual or an individual's family member sought or received genetic services, and genetic information of a
fetus carried by an individual or an individual's family member or an embryo lawfully held by an individual or family member receiving assistive reproductive
services.
Bureau of Medical Services, M/MED, Room L101, SA-1, Washington, DC 20522-0102
U.S. Department of State
*OMB APPROVAL NO. 1405-0068
EXPIRATION DATE: 08-31-2020
ESTIMATED BURDEN: 1 HOUR
PAPERWORK REDUCTION ACT STATEMENT
Public reporting burden for this collection of information is estimated to average one (1) hour per response, including time required for searching
existing data sources, gathering the necessary documentation, providing the information and/or documents required, and reviewing the final collection.
You do not have to supply this information unless this collection displays a currently valid OMB control number. If you have comments on the accuracy
of this burden estimate and /or recommendation for reducing it, please send them to: M/MED/EX, Room L101 SA-1, U.S. Department of state,
Washington, DC 20522
13. Post of Assignment and Estimated Dates of Arrival / Departure
a. Proposed Post
b. Present Post
c. Last 3 Posts
EDD
EDA
(mm-dd-yyyy)
(mm-dd-yyyy)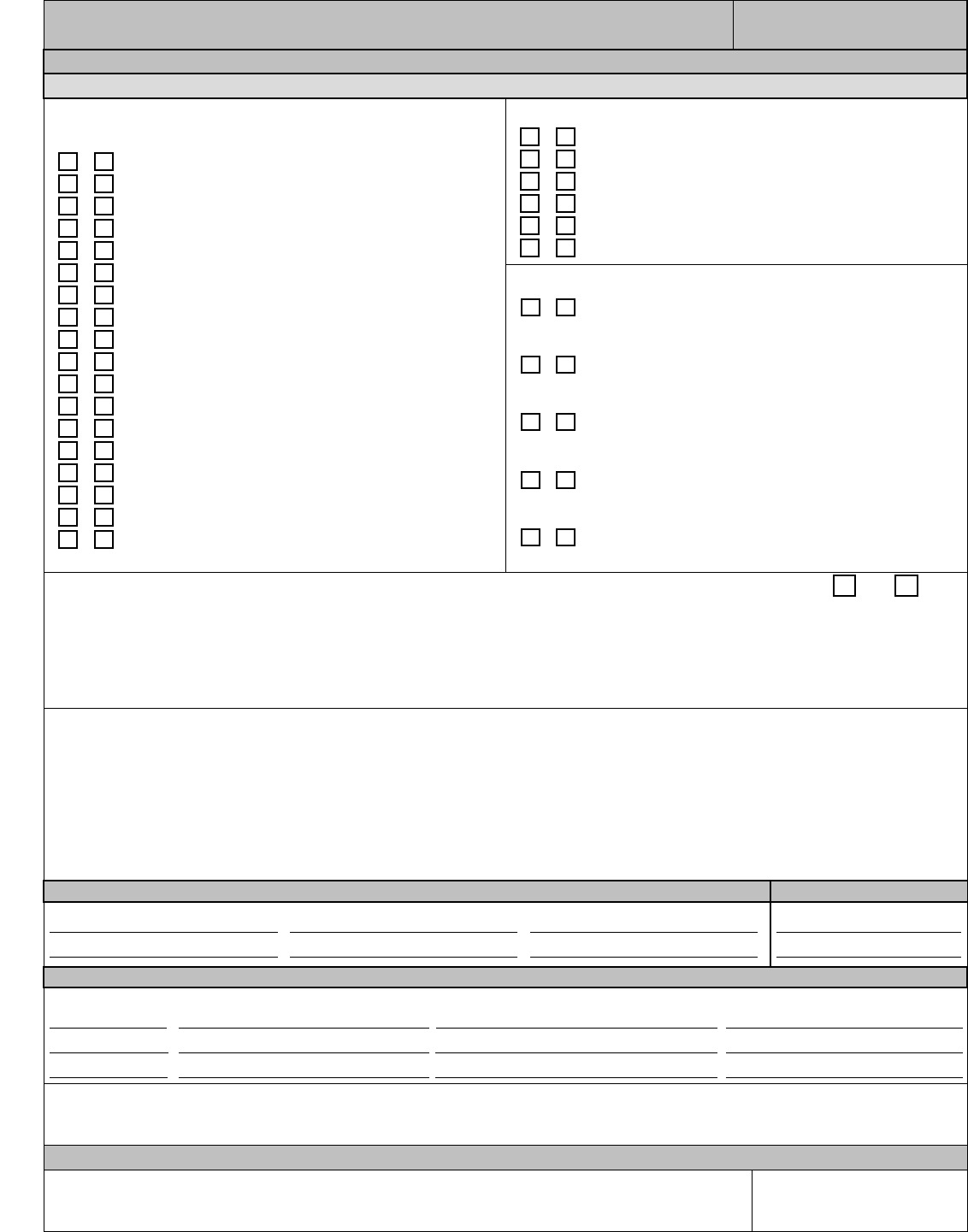 II. MEDICAL HISTORY
Name of Examinee
Does your child currently, or have a hisory of:
30. Is there anything else you would like to add about your child's health or well being that was not addressed in questions 1-29?
V. SIGNATURE OF PARENT OR SPONSOR
(I certify I have read and understand the above statement.)
Yes
1. Frequent/severe headaches?
2. Fainting or dizzy episodes?
No
III. LIST OF CURRENT MEDICATIONS
(Include prescription, over the counter, vitamins, and herbs)
Drug Or Other Allergies
IV. HOSPITALIZATIONS/OPERATIONS/MEDICAL EVACUATIONS
(Include all medical and psychiatric illnesses)
Illness or Operation
Name of Hospital
City and State
Any knowing and willful omission, falsification, or fraudulent statement regarding material medical information may constitute a criminal
offense under 18 U.S.C. § 1001, and individuals committing such an offense may be subject to criminal prosecution. Employees of the
United States Government also may be subject to disciplinary action, up to and including separation, for any knowing and willing omission
or falsification or fraudulent statement of material information.
Page 2 of 4
DS-1622
DOB
PLEASE ANSWER THE FOLLOWING QUESTIONS:
For YES answers, provide a brief explanation, attach additional sheets, if needed.
II a. Explanation required for "yes" answers to questions 1-30. Attach additional sheets as needed
3. Seizures or neurologic disorders?
4. Chronic eye or vision problems?
5. Ear, nose, or throat problems, including hearing loss?
6. Allergies or history of anaphylactic reaction?
7. Cough, wheeze, shortness of breath, asthma?
8. Heart murmur or heart problems?
9. Rheumatic fever?
10. Diabetes or thyroid disorder?
11. Hormonal or metabolic disorder?
12. Stomach, esophageal, intestinal problems?
13. Liver or gallbladder problems. Hepatitis?
14. Intestinal, rectal problems or hernia?
15. Anemia?
16. Blood transfusions?
17. Urinary or kidney problems, blood in urine?
18. Cancer of any type?
19. Joint, tendon or any orthopedic disorder?
Yes
20. Rheumatologic or immune disorder?
No
21. Malaria or other tropical disease?
22. Any recent unexpected weight loss/gain?
23. Any skin or nail disorder
24. History of Tuberculosis TB exposure?
25. Has your child been referred for any current or
potential special educational services, accommodations, or
modifications (i.e.: IFSP, Early Intervention, IEP, 504 Plan)?
26. In the past seven years, has your child been in
psychotherapy/counseling or been prescribed medication to help with
depression, anxiety, mood or stress?
27. Has your child felt unusually depressed, sad, blue, or
had frequent crying spells which lasted more than 2 weeks at a time,
within the past seven years?
28. In the past seven years, has your child had frequent or
recurrent episodes of: difficulty relaxing or calming down, panicky
feelings, irritability, anger, feeling hyper, or nervousness?
29. In the past seven years, has your child experienced
any emotional or physical symptoms related to a past trauma?
NoYes
YesNo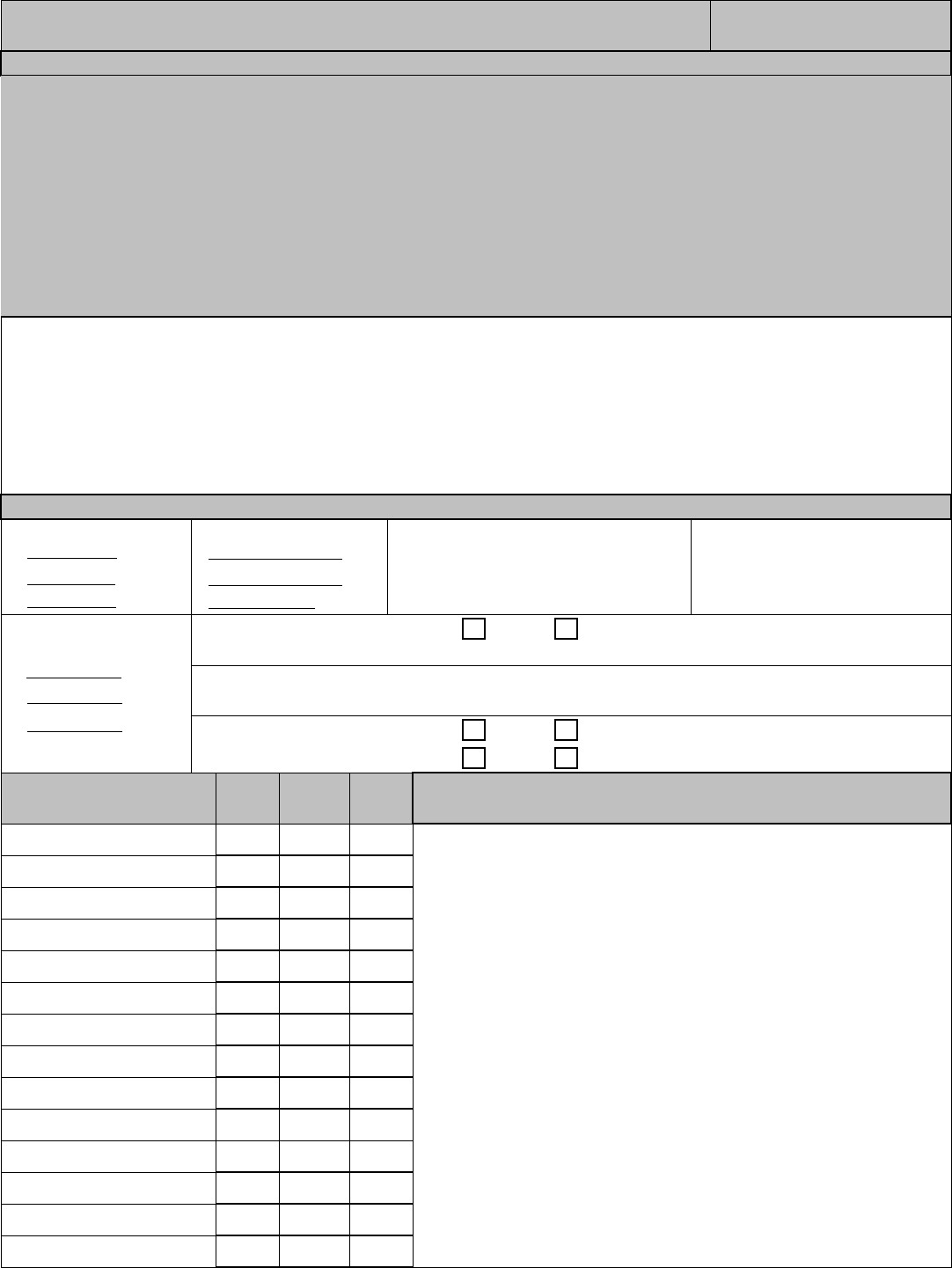 VI. INSTRUCTIONS FOR COMPLETION AND SUBMISSION OF DS-1622
MEDICAL EXAMINER
• Medical Examiner must comment on positive history on page 2. Medical Examiner must comment on physical findings and provide recommendations
for treatment/further study/consultations of medical & mental health problems.
• Medical Examiner must sign on page 4.
EMPLOYEE SPONSOR / PARENT
• All fields on page 1 and 2 must be filled out. Employee sponsor or parent must sign on page 2.
• Submit copies of all laboratory tests and additional medical reports with DS-1622.
• All Lab tests and medical reports must be in English, and identified with full name and date of birth of examinee.
• Keep originals as a permanent record. Do NOT submit by U.S. Mail or by courier service (e.g. FedEx or DHL).
The preferred method to submit the DS - 1622 (and supporting documentation) is to scan and email in PDF format to:
[email protected]
. If it is
not possible to scan, please fax to Medical Records department
FAX: 703-875-4850
If you wish to confirm that your exam forms were received, please email
[email protected]
.
4. Blood Pressure
(age 3 and Over)

3.Pulse or HR (REQUIRED FOR ALL AGES
and NEWBORNS) RECORD
1. Height/Length
in. or
cm.
percentile
2. Weight
percentile
lb. or
kg.
6. Development Appropriate for Age
NoYes
If NO, attach Development Screen and explain below with detail in assessment / plan
5. Head Circumference
(18 months and under)
in. or
cm.
8. Immunizations Reviewed
Yes
Yes
No
No
Immunizations current?
7. Gestational age at birth
percentile
VIII. CLINICAL EVALUATION:
Newborn exam cannot be accepted if completed before four (4) weeks of age
IX. PHYSICAL EXAM
Check each item as indicated.
Check "NE" if not evaluated.
NormalAbnormalNE
Notes
(Describe each abnormality in detail.)
1. General/Constitution
2. Development
3. Skin
4. Eyes
5. Ears/Nose/Throat
6. Neck/Thyroid
7. Lungs/Thorax
8. Cardivascular
(
Record murmurs/abnormalities
)
9. Abdomen
10. Genitalia
11. Anus/Rectum
12. Musculoskeletal/Spine/
Extremities (
Note limitations
)
13. Lymph nodes
14. Neurologic
Page 3 of 4
DS-1622
Name of ExamineeDOB
VII. Medical Examiner comments on significant patient medical history and items checked "yes" on page 2 / section II. Use additional pages
if needed.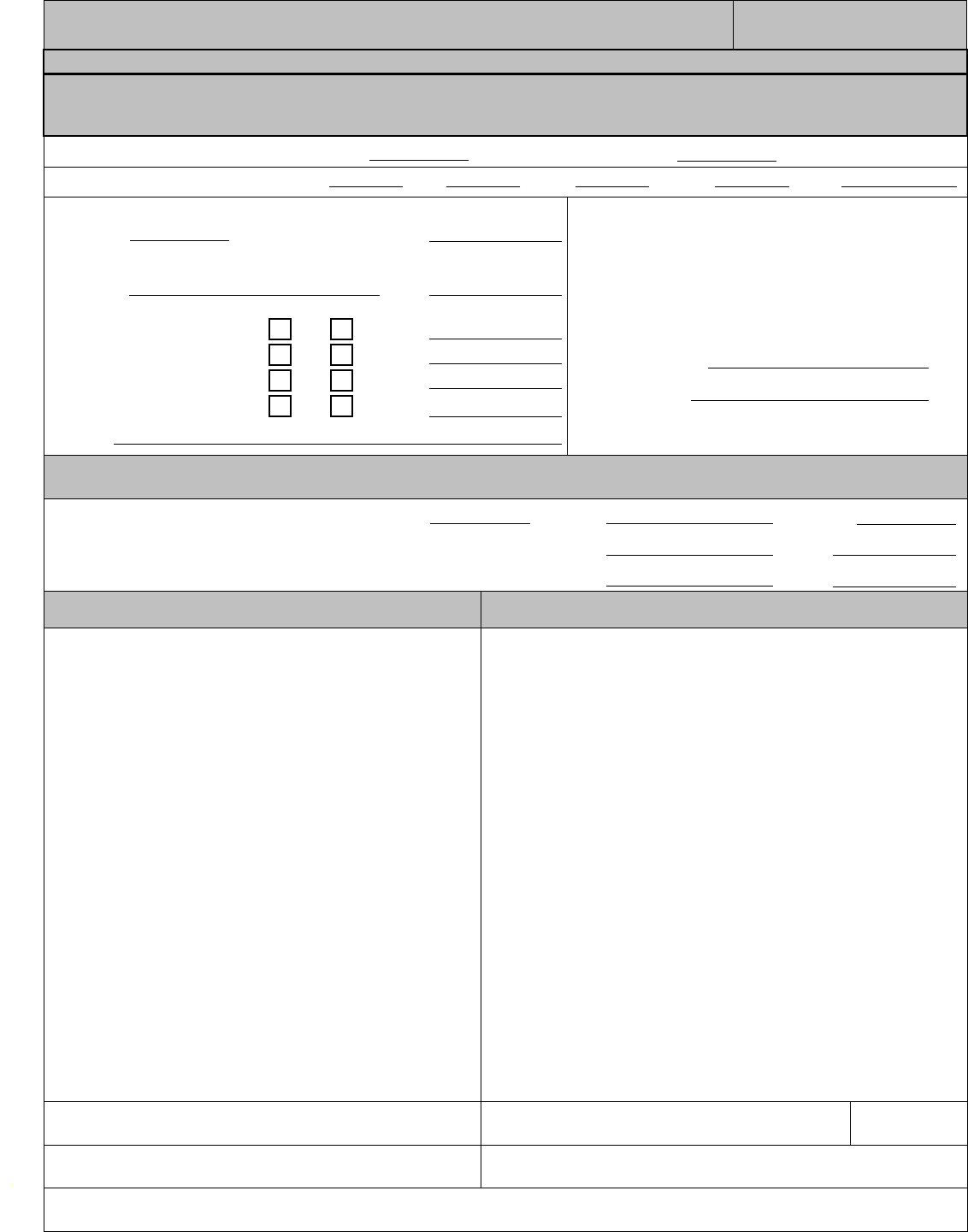 Page 4 of 4
DS-1622
Name of ExamineeDOB
X. LABORATORY ANALYSIS
NO LABORATORY TESTS REQUIRED FOR INFANTS
For ages 1 year and above, all tests are required unless otherwise specified.
Results from previous 12 months are acceptable.
COPIES OF LABORATORY REPORTS MUST BE SUBMITTED FOR REVIEW AND MUST BE IN ENGLISH
1. Hematology
(age 1 and over)
Hematocrit
%
gms%
Hemoglobin
OR
2. Urinalysis
(only when indicated)
WBCRBCProteinGlucoseOther
3. Tuberculin Skin Test
: Required for ages 1 and over (unless previously positive)
4. Chest X Ray
(PA and lateral) -

submit report
• Required only for children with > 10 mm TST newly
identified or positive IGRA
OR
• When clinically indicated
Date:
XI. Assessment or Problem List
XII. Recommendation for Treatment / Further Study / Consultation or
Follow - Up
Results: mm of induration Date:
Interferon Gamma Release Assay
: (may substitute for TST if > 5 y/o or
In those with previous BCG)
Results:
Date:
If no TB screening performed, explain why:
Previous active tuberculosis
Previous positive TST or IGRA
Previous LTBI treatment
Hx of BcG vaccine
Other:
NoYes
NoYes
NoYes
NoYes
Date:
Date:
Date:
Date:
OPTIONAL TESTS
: The following tests may be performed at the discretion of the Examiner, with patient consent. They are not required for a medical
clearance determination. If performed, results may be used in the provision of care to individuals covered under the Department of State Medical
Program.
5. Blood Type
( if not previously documented)
Type: ABO
(weak D):
6. G6PD
(If not previously documented)

for malarial prophylaxis
Results:
Date:
7. Blood lead level
(recommended screening ages 12 months to 5 years)
Results:
Date:
(Rh) Dµ:
Signature of Examiner
Typed Name of Examiner
Date (mm-dd-yyyy)
Telephone NumberExamining Facility
Address