Fillable Printable Form DS-1884
Fillable Printable Form DS-1884

Form DS-1884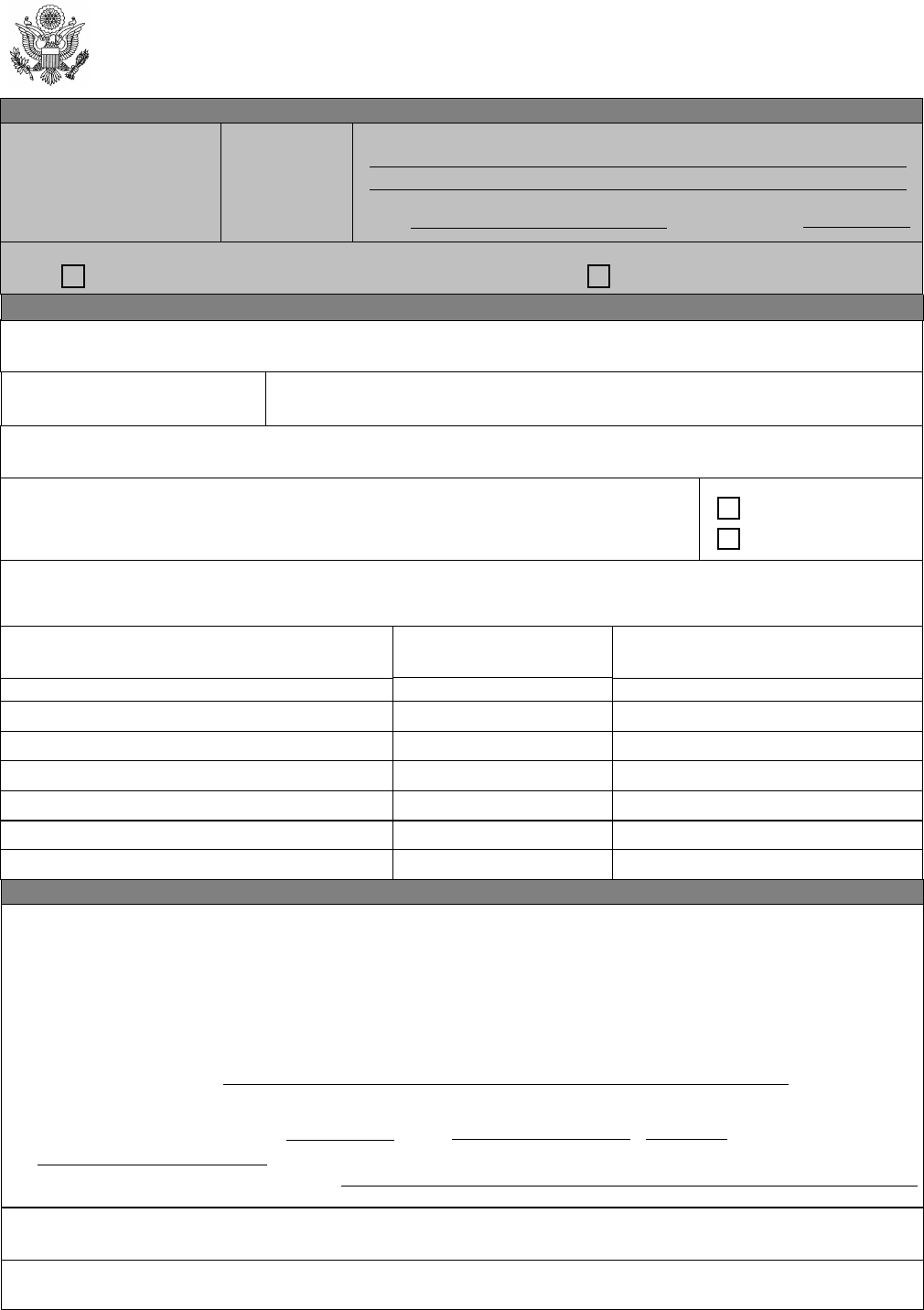 Fee collectedDate Petition Filed
(mm-dd-yyyy)
Approved for the Secretary of State: INA 204(a)(1)(G)(ii)
(Signature and Title)
At
ATTACHMENTS
Recommendation of Principal Officer
Approval by the Secretary of State
3. Place of Birth
1. Name
(Last, First, Middle)
5. Location(s) of Employment
2.
Date of Birth
(mm-dd-yyyy)
6.
U.S. Department of State
PETITION TO CLASSIFY SPECIAL IMMIGRANT UNDER
INA 203(b) (4) AS AN EMPLOYEE OR FORMER EMPLOYEE
OF THE U.S. GOVERNMENT ABROAD
DO NOT WRITE IN THIS BLOCK - FOR OFFICIAL USE ONLY
4. Total Number of Years of Employment by United States Government Abroad
Currently Employed
Honorably Retired
7. Employing U.S. Government Agency Name(s)
8. Name of Spouse
Date of Birth
(mm-dd-yyyy)
Place of Birth
9. Name(s) of Child(ren)
Date(s) of Birth
(mm-dd-yyyy)
Place(s) of Birth
I understand that the Secretary of State has approved special immigrant status for me under the provisions of INA 101(a)(27)(D) and that
such approval remains valid for one year. In accordance with INA 204(a)(1)(G)(ii), I hereby petition for status under 203(b)(4) of the
Immigration and Nationality Act. I understand that the petition, if approved, remains valid for six months. If granted such status, I will pursue
my application for an immigrant visa immediately upon being notified that my petition has been approved. Also, upon approval of my
petition, if I am then employed by the United States Government, I certify that I intend permanent separation from such employment no later
than the date of my departure for the United States following issuance of an immigrant visa. I swear or affirm that all statements which
appear in this petition are true and complete to the best of my knowledge and belief. I understand that any willfully false or misleading
statement or willful concealment of a material fact made by me herein may subject me to permanent exclusion from the United States.
*
Paperwork Reduction Act Statement
- Public reporting burden for this collection of information is estimated to average 10 minutes per response, including time required for searching
existing data sources, gathering the necessary documentation, providing the information and/or documents required, and reviewing the final collection. You do not have to supply this
information unless this collection displays a currently valid OMB control number. If you have comments on the accuracy of this burden estimate and/or recommendations for reducing it,
Signature of Applicant
Subscribed and sworn to before me thisday of
at
Consular Officer
Confidentiality Statement
- INA Section 222(f) provides that visa issuance and refusal records shall be considered confidential and shall be used only for the formulation, amendment,
administration, or enforcement of the immigration, nationality, and other laws of the United States. Certified copies of visa records may be made available to a court which certifies that the
information contained in such records is needed in a case pending before the court.
DS-1884
12-2015
OMB APPROVED NO. 1405-0082
EXPIRATION DATE: 12/31/2018
ESTIMATED BURDEN: 10 minutes*
SECTION 1: Personal Information
SECTION 2: Acknowledgement