Fillable Printable Form DS-4194
Fillable Printable Form DS-4194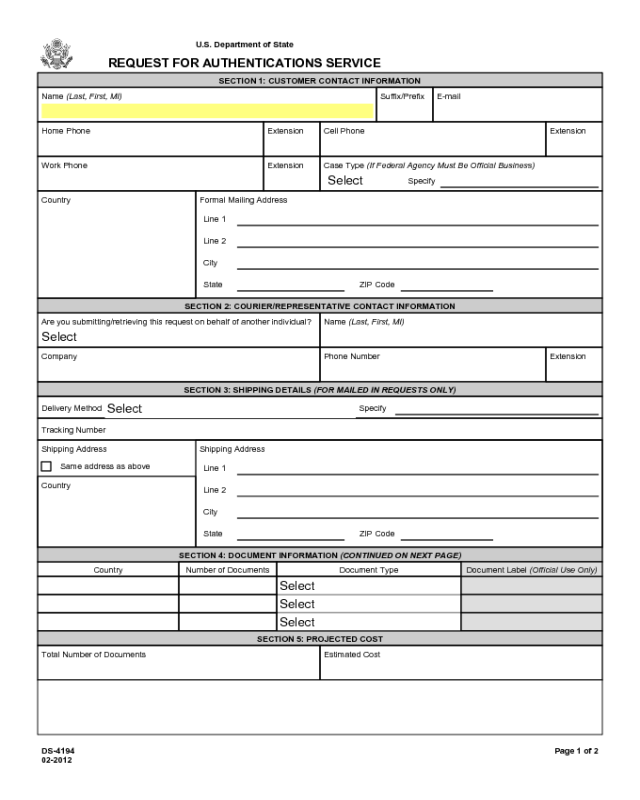 Form DS-4194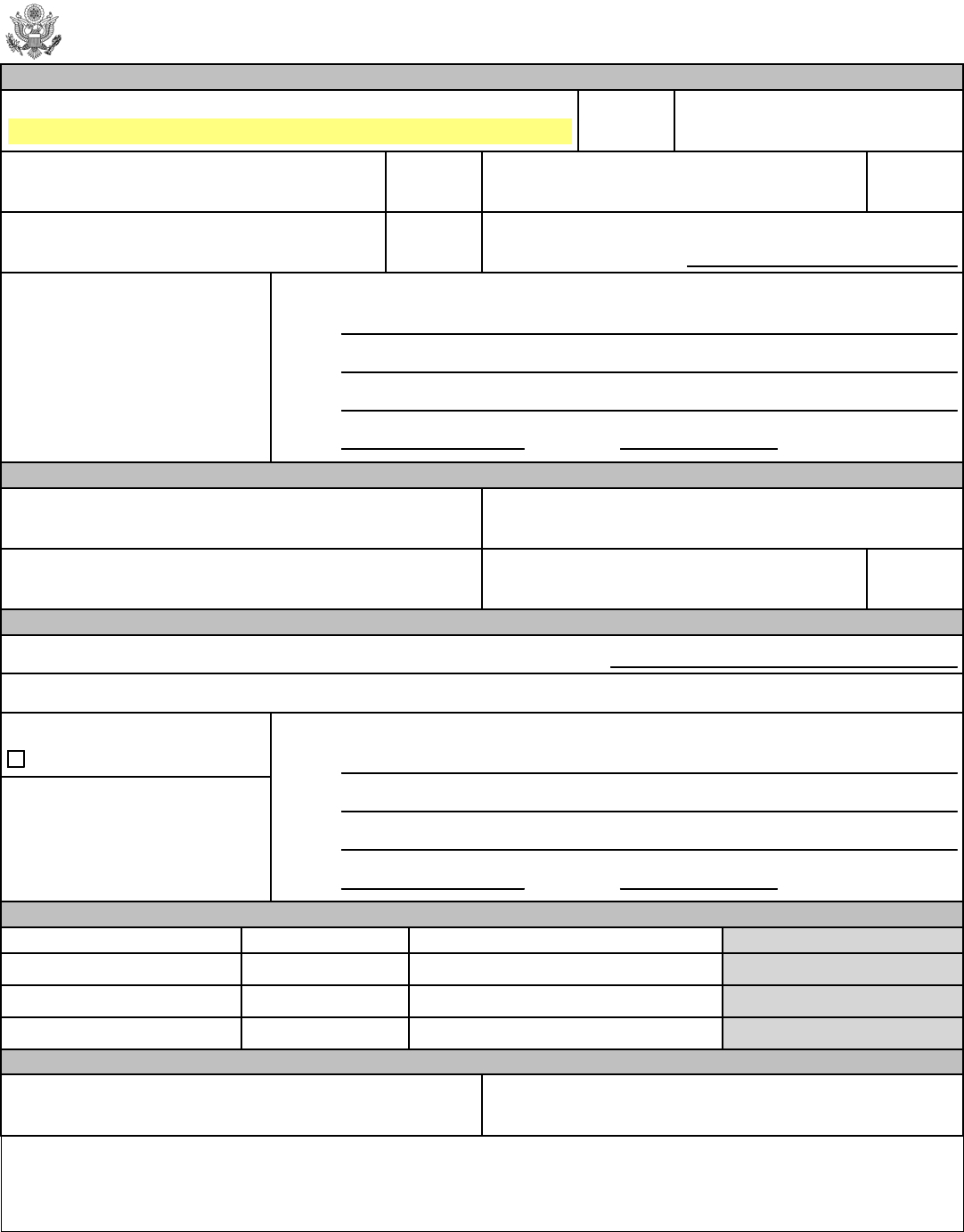 Page 1 of 2
Formal Mailing Address
Line 1
Shipping Address
Line 1
Shipping Address
Phone Number
Line 2
City
Country
SECTION 3: SHIPPING DETAILS
(FOR MAILED IN REQUESTS ONLY)
Delivery Method
Tracking Number
Same address as above
Are you submitting/retrieving this re
quest on behalf of another individual?

Name

(Last, First, MI)
Company
SECTION 2: COURIER/REPRESEN
TATIVE CONTACT INFORMATION
Specify
Extension
Work Phone
Extension
Home Phone
Country
SECTION 4: DOCUMENT INFORMATIO N
(CONTINUED ON NEXT PAGE)
Number of Documents
Document Type

Document Label

(Official Use Only)
SECTION 5: PROJECTED COST
Total Number of Documents
Estimated Cost
Line 2
Country
U.S. Department of State
REQUEST FOR AUTHEN
TICATIONS SERVICE
DS-4194
02-2012
SECTION 1: CUSTOMER CONTACT INFORMATION
E-mail
Case Type
(If Federal Agency Must Be Official Business)
City
Suffix/Prefix
Specify
Extension
Name
(Last, First, MI)

E-mail

Suffix/Prefix
Country
Number of Documents

Document Type

Document Label

(Official Use Only)
SECTION 4: ADDITIONAL DOCUMENTS
(CONTINUED)

WARNING
Any false statement or concealment of a material fact
may result in a delay or un-authenticated documentation.
FORM
DS-4194
Instructions Page 1 of 1
SECTION 1: REQUESTOR'S CONTACT INFORMATION
Provide individual's full name or company's name
(complete spelling)
. Indicate e-mail address; telephone number(s) home, work and/or cell.
If the document(s) were mailed or hand carried for a
Federal Agency for Official Government business
please indicate agency name, bureau
and/or office acronyms. Pr
ovide formal mailing address

(include street address, city or town, zip code, province or country)

.
SECTION 2: SUBMITTER'S CONTACT INFORMATION
If you are submitting/or retrieving a request on behalf of someone
other than yourself or a company, please provide specific an

d detailed information.
The full name of the individual's or company's nam
e is required to properly search the database.
If you are retrieving document(s) your name must appear in secti
on 2 of the intake form and State issued identification is requ

ired.
Provide individual's full name or company's name
(complete spelling)
. Indicate e-mail address; telephone number(s) day time, evening or cell number.
SECTION 3: METHOD OF RETURN
(MAIL-IN)
Indicate delivery method
(type of mail service used to return the document). If this information is available,

provide a tracking number and include all
letters and numbers
(i.e., DOS, USPS, FED/EX, UPS, DHL & Others).

Indicate the complete address that the document (s) will be returned to
It is imperative that the complete address is entered accurately!
(i.e., street address, city, state, ZIP code & country)
.

REVIEW INFORMATION FOR
Please note:
All documents submitted will be returned to one location.
SECTION 4: DOCUMENT INFORMATION
Indicate the country
(or countries)
of use, the number of documents, and the document type.

(A maximum of 15 documents are allowed per
customer/company person for walk-in services)
.
SECTION 5: METHOD OF PAYMENT
Please note:
The authentication processing fee is $8.00 per document, not per page. This fee will be charged regardless of whether you rece

ive an
authentication certification or a correspondence letter. This
change in policy will take effect on April 1, 2012. Please pay

the total amount shown in the
estimated cost field.
(The exact amount is required.)
Allowable payment methods include U.S. Postal Money Orders, checks
(personal, corporate, certified, cashiers, travelers)
all payable to "U.S.
Department of State."
Walk-in service only:
In addition to the payment methods noted above; Credit Card

s and Debit/Check Cards (VISA, MasterCard, American Express,
Discover) are accepted.
DS-4194
02-2012
U.S. Department of State
REQUEST FOR AUTHEN
TICATIONS SERVICE
INSTRUCTIONS
PURPOSE
Form DS-4194 is used by the U. S. Department of State for document
s submitted by U.S. citizens and foreign nationals. The Authe

ntications Office is
responsible for signing and is
suing certificates under the Seal of the U. S. Department of State for documents being submitted

to foreign countries.
Complete one copy of this form for yourself or your company to
be submitted with your documents and payment. You must submit a

new cover letter
for each request. Failure to do so will result in your case being rejected and documents being returned.
INSTRUCTIONS