Fillable Printable Form DS-6563
Fillable Printable Form DS-6563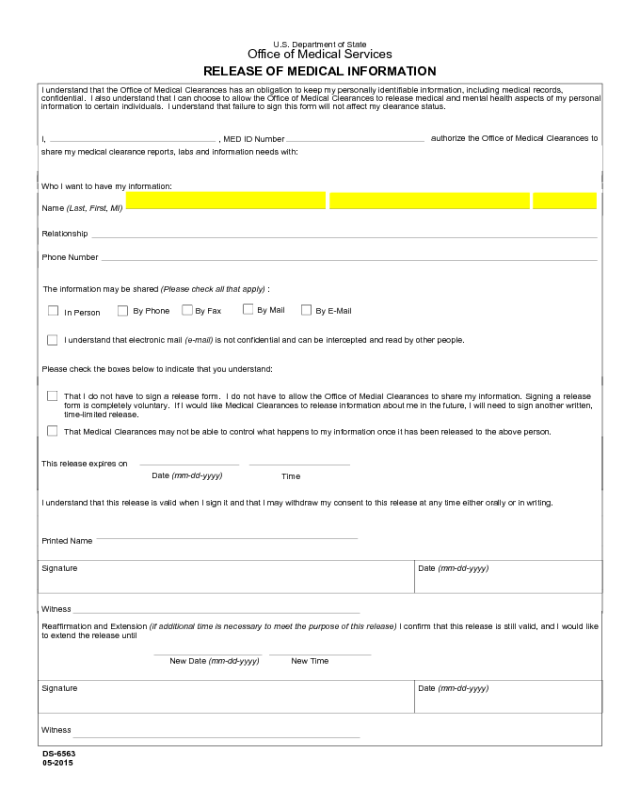 Form DS-6563

This release expires on
The information may be shared
(Please check all that apply)
:
Reaffirmation and Extension
(if additional time is necessary to meet the purpose of this release)
I confirm that this release is still valid, and I would like
to extend the release until
U.S. Department of State
Office of Medical Services
RELEASE OF MEDICAL INFORMATION
authorize the Office of Medical Clearances to
share my medical clearance reports, labs and information needs with:
In Person
By Mail
By E-Mail
I understand that electronic mail
(e-mail)
is not confidential and can be intercepted and read by other people.
That I do not have to sign a release form. I do not have to allow the Office of Medial Clearances to share my information. Signing a release
form is completely voluntary. If I would like Medical Clearances to release information about me in the future, I will need to sign another written,
time-limited release.
Please check the boxes below to indicate that you understand:
That Medical Clearances may not be able to control what happens to my information once it has been released to the above person.
Time
I understand that this release is valid when I sign it and that I may withdraw my consent to this release at any time either orally or in writing.
Printed Name
New Date
(mm-dd-yyyy)
New Time
Witness
Witness
DS-6563
05-2015
I understand that the Office of Medical Clearances has an obligation to keep my personally identifiable information, including medical records,
confidential. I also understand that I can choose to allow the Office of Medical Clearances to release medical and mental health aspects of my personal
information to certain individuals. I understand that failure to sign this form will not affect my clearance status.
Who I want to have my information:
Relationship
Phone Number
Signature
Signature