Fillable Printable Form F417-267-000
Fillable Printable Form F417-267-000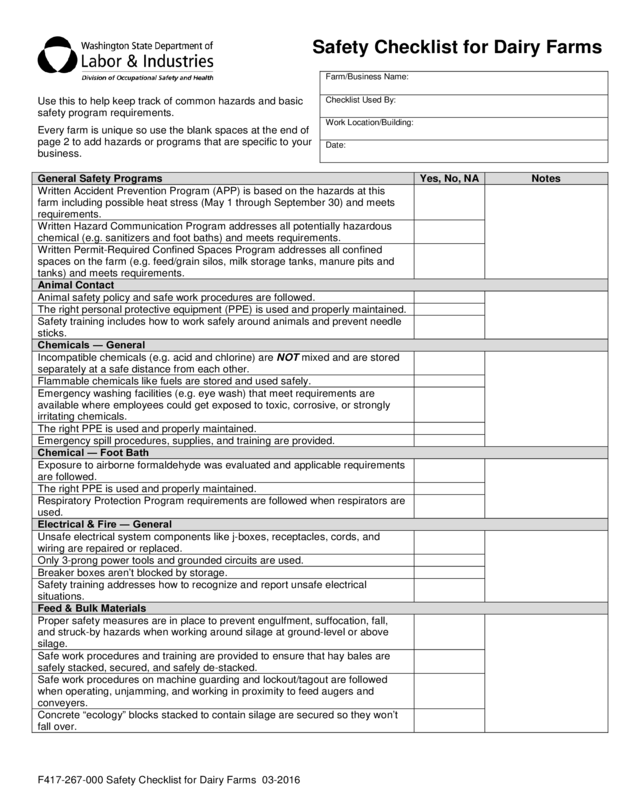 Form F417-267-000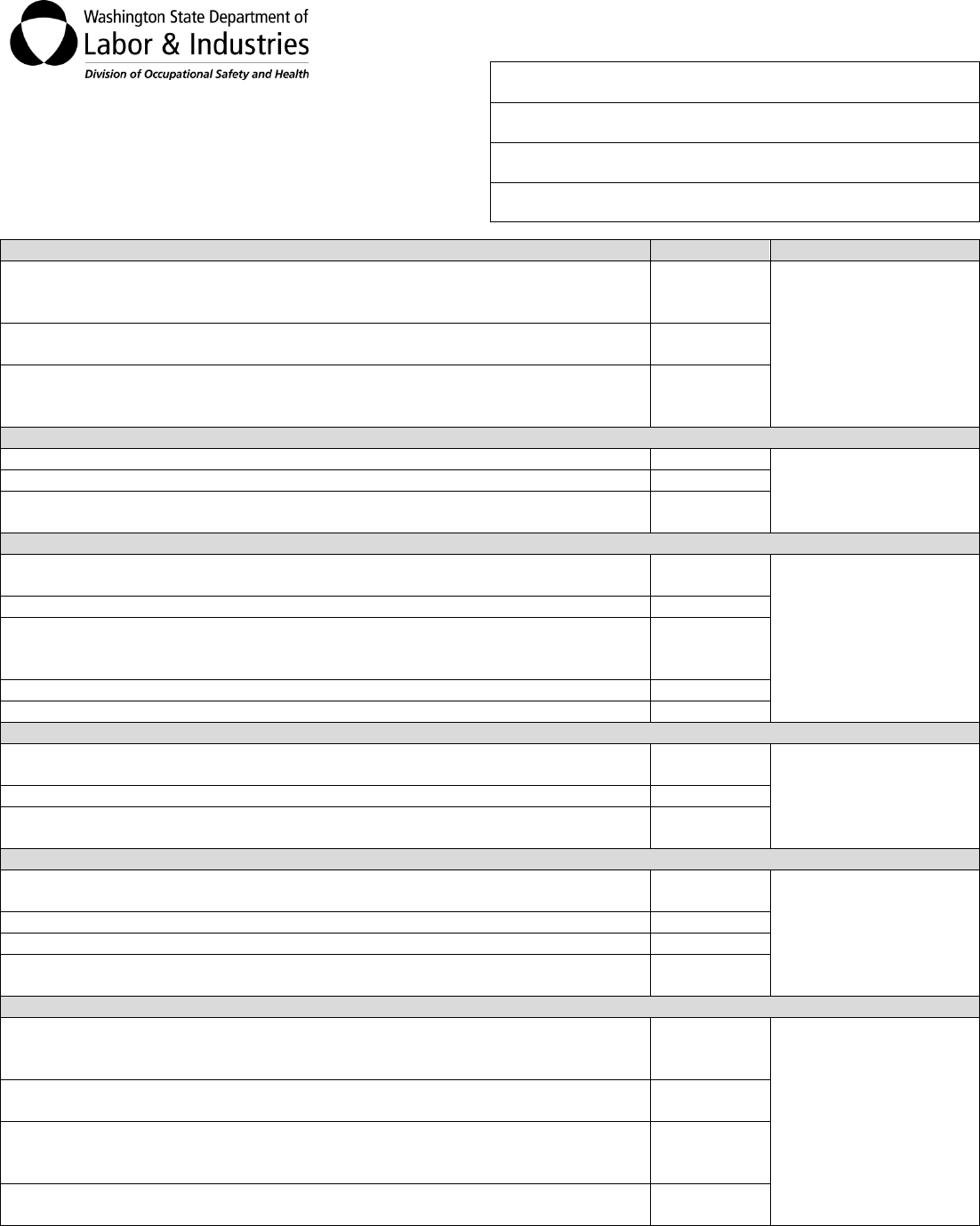 Safety Checklist f or Dair y Farms
Use this to help keep track of common hazards and basic
safety program requirements.
Every farm is unique so use the blank
spaces at the end of
page 2 to add hazards or programs that are specific to your
business.
Work Location/Bui l di ng:
Written Accident Prevention Program (APP) is based on the hazards at this
farm including possible heat stress (May 1 through September 30) and meets
Written Hazard Communication Program addresses all potentially hazardous
chemical (e.g. sanitizers and foot baths) and meets requirements.
Written Permit
-
Required Confined Spaces Program addresses all confined
spaces on the farm (e.g. feed/grain silos, milk storage tanks, manure pits and
tanks) and meets requirements.
Animal safety policy and safe work procedures are followed.
The right personal protective equipment (PPE) is used and properly maintained.
Safety training includes how to work safe
l
y around animals and prevent needle
Incompatible chemicals (e.g. acid and chlorine) are
NOT
mixed and are stored
separately at a safe distance from each other.
Flammable chemicals like fuels are stored and used safely.
Emergency washing facilities (e.g. eye wash) that meet requirements
are
available where employees could get exposed to toxic, corrosive, or strongly
The right PPE is used and proper ly maintain ed.
Emergency spill procedures, supplies, and training are provided.
Exposure
to airborne formaldehyde was evaluated and applicable requirements
The right PPE is used and proper ly maintain ed.
Respiratory Protection Program requirements are followed when respirators are
Electrical & Fire ― General
Unsafe
electrical system components like j

-

boxes, receptacles, cords, and
wiring are repaired or replaced.
Onl y 3
-

prong power tools and grounded circuits are used.
Breaker boxes aren't blocked by storage.
Safety training addresses how to recognize and report unsafe electrical
Proper safety measures are in place to prevent engulfment, suffocation, fall,
and struck
-
b y hazards whe n working around sil age at groun d-

level or above
Safe work procedures and training are provided to ensure that hay bales are
safely stacked, secured, and safely de
-
stacked.
Safe work procedures on machine guarding and lockout/tagout are follow
ed
when operati ng, unj am ming, and working in prox imity to feed augers and
Concrete "ecology" blocks stacked to contain silage are secured so they won't
F
417
-
267
-
000
Safety Checklist for Dairy Farms
03
-
2016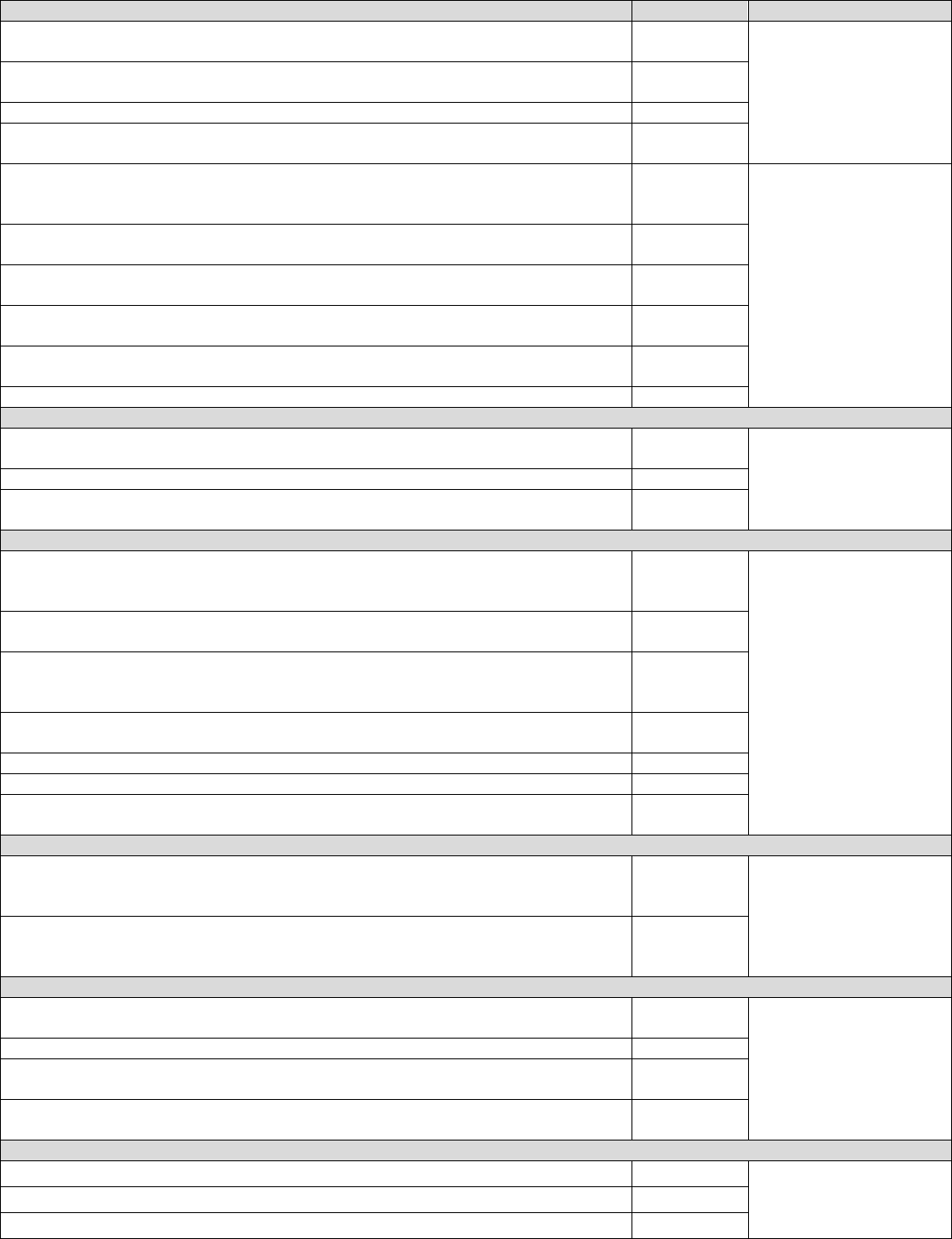 Standard guar dr ai ls are ins tal led wher e ver walking or working surf aces are
elevated more than 48 inches above any adjacent floor or ground.
Fall protection requirements are followed when employees work at or above 4
feet from an adjacent floor or ground level.
Unsafe walking, climbing, and working surfaces are repaired and replaced.
Working areas are clean and clear of clutter and debris that could create trip or
The right PPE is used and properly maintained to protect against animal waste,
animal dander, and other materials that could cause infections, allergies, and
Safe work procedures, supplies, and training are provided for rodent clean
-
up
Compressed air used for cleaning is limited to 30 psi or less and PPE is
required to be used to protect from flying particles.
High noise areas (e.g. around feed mixer or hoof trimming areas) have been
identified and applicable hearing conservation requirements are followed.
Safety training includes ho
w
to minimize risk to back, neck, and other possible
strain or sprain injuries.
A first
-

aid kit and trained person is available at all times.
Employees have been trained on how to correctly select, inspect, set
-
up, and
All damaged ladders are tagged and removed from use or replaced.
Metal ladders are prohibited where
the ladder or person could come in contact
with en
ergized parts (e.g. overhead electrical lines).
M
achinery, Equipment, & Vehicles
Dangerous moving mechanical parts (e.g. rotating shafts like PTOs on tractors,
belts and pulleys, flywheels and gears, chains and sprockets, blades and shear
Mechanical parts are de
-
energized or disengaged and blocked or locked out to
prevent dangerous movement during maintenance and other activity.
Tractors, skid steers, portable augers, grain probes, ladders, poles, rods,
irrigation pipes cannot directly or indirectly make contact with energized
overhead or buried power lines.
Safety training includes safe operation of tractors, ATVs, manure scrapers,
augers, agitators, and other vehicles or equipment.
Requirements for using ROPS and seatbelts are followed.
Helmet s are worn duri ng A T V use.
All who operate farm vehicles (except agricultural tractors) on public roads have
a valid operator's license.
Manure
pits, ponds, lagoons, and other manure storage areas are guarded (e.g.
railing, fence, or other barriers), warning signs are posted at access points, and
a means of rescue is provided when access is possible.
Safety training addresses where manure storage areas and boundaries are
located, the dangers (e.g. drowning, deadly or ignitable manure gases, and
mechanical hazards), and safety measures to follow.
Welding, Cutting, and Brazing
Precautions are taken to prevent air or oxygen from mixing with
flammable
gases (except when using a burner or standard torch).
"DANGER , NO SMOKING" signs (or the equivalent) are posted.
The right PPE is used and properly maintained to protect from flash burns,
sparks, dust and debris, toxic fume and gases, and excess noise.
Respiratory Protection Program requirements are followed when respirators are
Other Hazards ― add any hazards or safety program(s) not listed above.
F
417
-
267
-
000
Safety Checklist for Dairy Farms
03
-
2016