Fillable Printable Form SSA-7156
Fillable Printable Form SSA-7156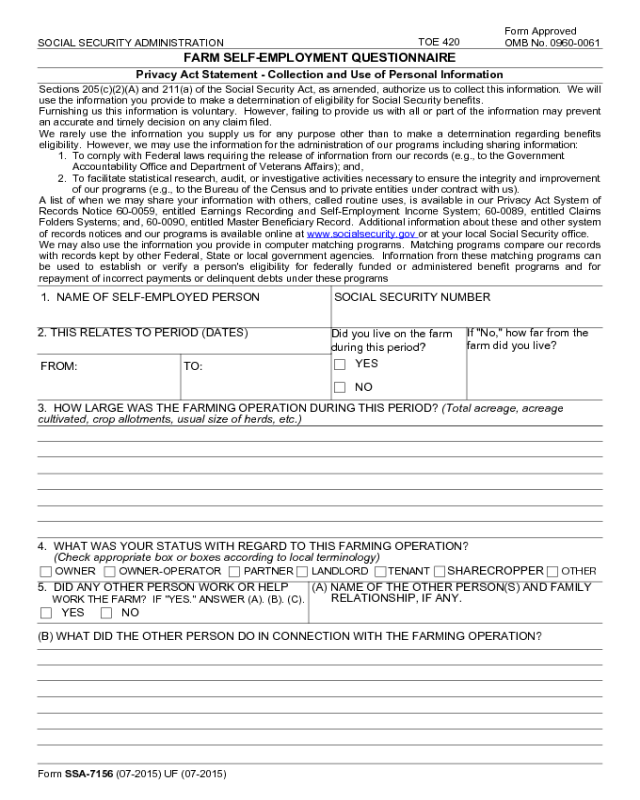 Form SSA-7156

If "No," how far from the
farm did you live?
(A) NAME OF THE OTHER PERSON(S) AND FAMILY
RELATIONSHIP, IF ANY.
Form
SSA-7156
(07-2015) UF (07-2015)
SOCIAL SECURITY ADMINISTRATION
FARM SELF-EMPLOYMENT QUESTIONNAIRE
Form Approved
OMB No. 0960-0061
TOE 420
2. THIS RELATES TO PERIOD (DATES)
Did you live on the farm
during this period?
3. HOW LARGE WAS THE FARMING OPERATION DURING THIS PERIOD?
(Total acreage, acreage
cultivated, crop allotments, usual size of herds, etc.)
4. WHAT WAS YOUR STATUS WITH REGARD TO THIS FARMING OPERATION?
(Check appropriate box or boxes according to local terminology)
5. DID ANY OTHER PERSON WORK OR HELP
WORK THE FARM? IF "YES." ANSWER (A). (B). (C).
(B) WHAT DID THE OTHER PERSON DO IN CONNECTION WITH THE FARMING OPERATION?
1. NAME OF SELF-EMPLOYED PERSON
SOCIAL SECURITY NUMBER
FROM:
TO:
YES
NO
OWNER
OWNER-OPERATOR
PARTNER
LANDLORD
TENANT
SHARECROPPER
OTHER
NO
Privacy Act Statement - Collection and Use of Personal Information
Sections 205(c)(2)(A) and 211(a) of the Social Security Act, as amended, authorize us to collect this information. We will
use the information you provide to make a determination of eligibility for Social Security benefits.
Furnishing us this information is voluntary. However, failing to provide us with all or part of the information may prevent
an accurate and timely decision on any claim filed.
We rarely use the information you supply us for any purpose other than to make a determination regarding benefits
eligibility. However, we may use the information for the administration of our programs including sharing information:
1. To comply with Federal laws requiring the release of information from our records (e.g., to the Government
Accountability Office and Department of Veterans Affairs); and,
2. To facilitate statistical research, audit, or investigative activities necessary to ensure the integrity and improvement
of our programs (e.g., to the Bureau of the Census and to private entities under contract with us).
A list of when we may share your information with others, called routine uses, is available in our Privacy Act System of
Records Notice 60-0059, entitled Earnings Recording and Self-Employment Income System; 60-0089, entitled Claims
Folders Systems; and, 60-0090, entitled Master Beneficiary Record. Additional information about these and other system
of records notices and our programs is available online at
www.socialsecurity.gov
or at your local Social Security office.
We may also use the information you provide in computer matching programs. Matching programs compare our records
with records kept by other Federal, State or local government agencies. Information from these matching programs can
be
used
to
establish
or
verify
a
person's
eligibility
for
federally
funded
or
administered
benefit
programs
and
for
repayment of incorrect payments or delinquent debts under these programs

6. WAS ANY RENTAL INCOME (EITHER CASH OR CROP SHARE) INCLUDED IN FIGURING YOUR NET
EARNINGS FROM SELF-EMPLOYMENT FOR THIS PERIOD?
7. HAS ANY INCOME FROM THE SALE OF LIVESTOCK
NOT HELD FOR SALE
BEEN INCLUDED IN FIGURING YOUR NET EARNINGS FROM SELF-EMPLOYMENT.
(NOT HELD FOR SALE REFERS TO LIVESTOCK SUCH AS WORK, DAIRY, OR
BREEDING ANIMALS HELD PRIMARILY FOR THE PRODUCTION OF OTHER FARM
COMMODITIES.)
IF "YES," ENTER THE
AMOUNT OF SUCH
INCOME
REMARKS:
- This information collection meets the requirements of 44 U.S.C. § 3507, as
amended by Section 2 of the Paperwork
Reduction
Act
of
1995
. You do not need to answer these questions unless
we
display a valid Office of Management and Budget control number. We estimate that it will take about 10 minutes
to read
the instructions, gather the facts, and answer the questions.
SEND OR BRING THE COMPLETED FORM TO YOUR
LOCAL SOCIAL SECURITY OFFICE. You can find your local Social Security office through SSA's website at
www.socialsecurity.gov
. Offices are also listed under U. S. Government agencies in your telephone directory or
you may call Social Security at 1-800-772-1213 (TTY 1-800-325-0778).
You may send comments on our time estimate
above to
:
SSA
,
6401 Security Blvd, Baltimore, MD 21235-6401.
Send only comments relating to our time
estimate to this address, not the completed form.
I
declare
under
penalty
of
perjury
that
I
have
examined
all
the
information
on
this
form,
and
on
any
accompanying statements or forms, and it is true and correct to the best of my knowledge. I understand that
anyone who knowingly gives a false or misleading statement about a material fact in this information, or causes
someone else to do so, commits a crime and may be sent to prison, or may face other penalties, or both.
SIGNATURE OF PERSON MAKING STATEMENT
Witnesses are required ONLY if this statement has been signed by mark (X) above. If signed by mark (X), two witnesses
to the signing who know the person making the statement must sign below, giving their full addresses.
Form
SSA-7156
(07-2015) UF (07-2015)
ROOM & BOARD
LANDLORDCASH WAGESCROP OR LIVESTOCK SHARE
(C) HOW WAS THE OTHER PERSON PAID?
NO
NO
SIGNATURE (First name, middle initial, last name) (Write in ink)
DATE
MAILING ADDRESS (Number and street, Apt. No., P.O. Box, or Rural Route)
CITY AND STATE
ZIP CODE
Enter Name of Country (if any)
in which you now live
Telephone Number
(include area code)
1. SIGNATURE OF WITNESS
2. SIGNATURE OF WITNESS
ADDRESS (Number and street, City, & Zip Code)ADDRESS (Number and street, City, & Zip Code)
Paperwork Reduction Act Statement
$