Fillable Printable Form SSA-783
Fillable Printable Form SSA-783

Form SSA-783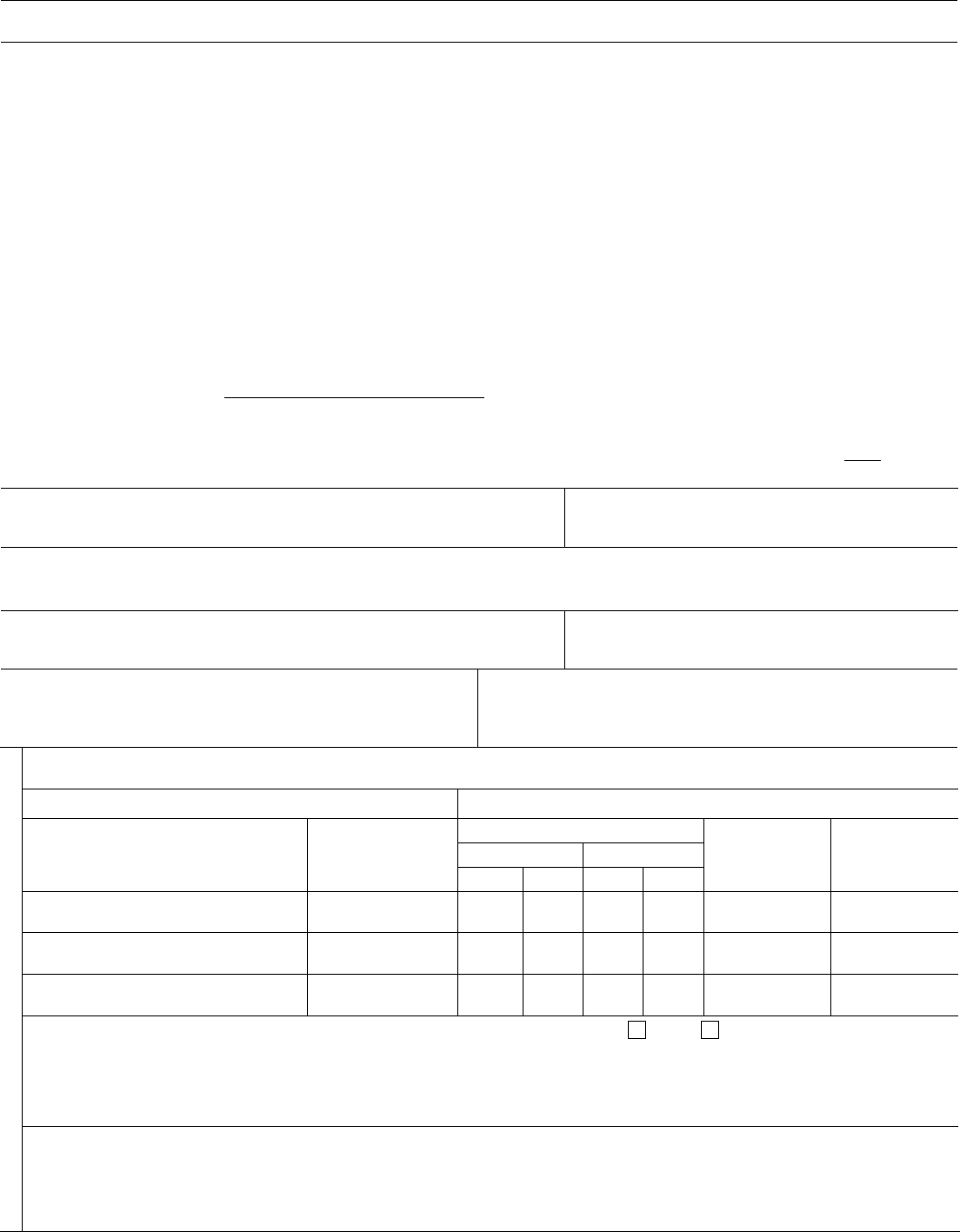 1.
Social Security Administration
Form Approved
OMB No. 0960-0020
TOE 250
STATEMENT REGARDING CONTRIBUTIONS
All items on this form requiring an answer must be answered or marked "Unknown."
This notice is given pursuant to the Privacy Act of 1974 (5 U.S.C. 552a). The
information requested on this form is sought pursuant to the authoring granted in Sections 202(d) and (h) of the Social
Security Act. The information provided will be used to confirm entitlement to such benefits. Other uses which may be made
of the information are summarized below. While completion of this is voluntary, failure to provide all or any part of the
requested information may be cause for denial of benefits. The information you furnish on this form may be disclosed by
Social Security to another person or to another governmental agency as follows for the following purposes: (1) to assist
Social Security in establishing the right of an individual to Social Security benefits; (2) to facilitate statistical research and
audit activities necessary to assure the integrity and improvement of Social Security programs; and (3) to comply with
Federal laws requiring the exchange of information between Social Security and another agency.
Computer Matching:
We
may also use the information you give us when we match records by computer. Matching programs compare our records
with those of other Federal, State or local government agencies. Many agencies may use matching programs to find or
prove that a person qualifies for benefits paid by the Federal government. The law allows us to do this even if you do not
agree to it. Explanation about these and other reasons why information you provide us may be used or given out are
available in Social Security Offices. If you want to learn more about this, contact any Social Security Office.
- This information collection meets the requirements of 44 U.S.C. § 3507, as
amended by section 2 of the Paperwork Reduction Act of 1995. You do not need to answer these questions unless we
display a valid Office of Management and Budget control number. We estimate that it will take about 15 minutes to read the
instructions, gather the facts, and answer the questions.
SEND OR BRING THE COMPLETED FORM TO YOUR LOCAL
SOCIAL SECURITY OFFICE. To find the nearest office, call 1-800-772-1213 (TTY 1-800-325-0778).
Send
only
comments on our time estimate above to: SSA, 6401 Security Blvd., Baltimore, MD 21235-6401.
Form
SSA-783
(07-2015) UF (07-2015)
Destroy Prior Editions
PRINT NAME OF WAGE EARNER OR SELF-EMPLOYED PERSON
ENTER SOCIAL SECURITY NUMBER
I understand that information given by me will be used in connection with an application for insurance benefits payable
under the provisions of Title II of the Social Security Act, as amended, on the record of the wage earner or self-employed
person named above.
PRINT YOUR FULL NAME
(FIRST NAME, MIDDLE INITIAL, LAST NAME)
RELATIONSHIP TO CLAIMANT
RELATIONSHIP TO WAGE EARNER OR
SELF-EMPLOYED PERSON
PRINT NAME OF CLAIMANT
(a) Give the following information (for the period indicated below) about each person or agency who contributed to the
claimant's support.
NAME AND ADDRESS OF
CONTRIBUTORS
RELATIONSHIP
TO CLAIMANT
CONTRIBUTIONS
ENDEDBEGAN
HOW OFTEN
MADE
(Weekly, monthly
or occasionally)
AVERAGE
AMOUNT OF
CONTRIBUTION
(b) Was there any break in contributions by any contributor within the period?
If "Yes," give name of contributor, months in which no contributions were made, and reason:
(c) If any contributions ended before the wage earner's or self-employed person's death or, if living, before application
was filed, give name of contributor and why he stopped:
(Over)
$
$
$
PRIVACY ACT/PAPERWORK ACT NOTICE:
Paperwork Reduction Act Statement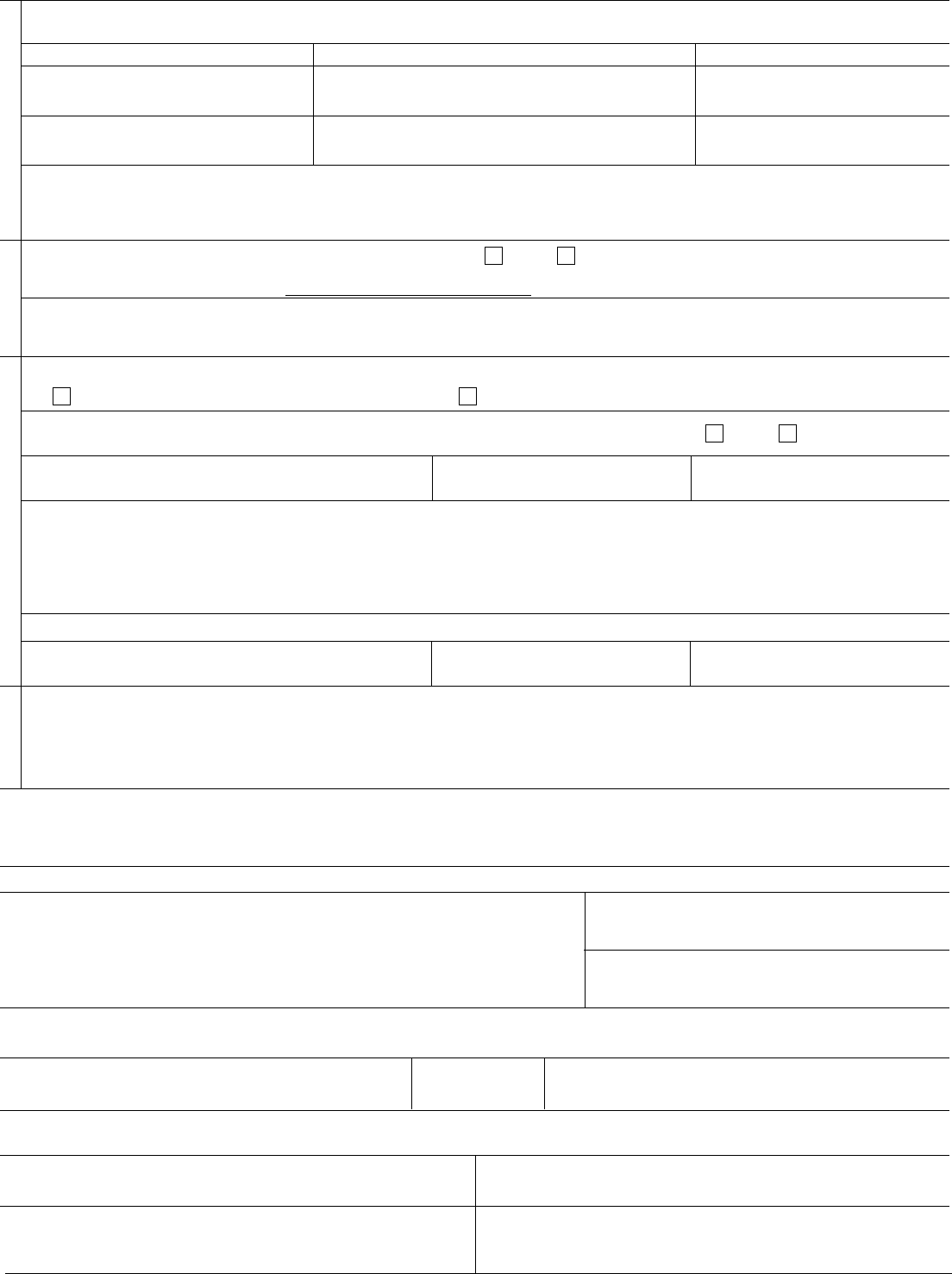 Form
SSA-783
(07-2015) UF (07-2015)
(d) If other than cash was contributed, such as clothing, board or room, give the following information regarding items
supplied during the period in 1(a).
NAME OF CONTRIBUTOR
ITEMS CONTRIBUTED
APPROXIMATE VALUE
1.
(e) Give name and address of person or agency to which payments were made for claimant's support:
2.
Did the claimant have wages or income of his or her own?
NoYes
If "Yes," how much per month?
IN WHICH MONTHS (Specify)
3.
(a) Is claimant a child who lived with more than one parent (natural, adopting, or stepparent)?
No
If "No," go on to item 4.Yes

If "Yes," answer (b), (c) and (d) below
(b) If both parents with whom child lived contributed to child's support, did they use their
monies as one household fund?
NoYes
If "Yes," how much did each contribute to the fund?
(c) If their monies were not combined, what understanding did they have as to how much each would contribute to the
child's support?
How did you learn of the facts you gave in questions 1, 2, and 3?
4.
I declare under penalty of perjury that I have examined all the information on this form, and on any accompanying
statements or forms, and it is true and correct to the best of my knowledge. I understand that anyone who
knowingly gives a false statement about a material fact in this information, or causes someone else to do so,
commits a crime and may be subject to a fine or imprisonment.
SIGNATURE OF PERSON MAKING STATEMENT
SIGNATURE (First name, middle initial, last name)
(Write in ink)
SIGN
HERE
TELEPHONE NUMBER (
Including Area Code)
MAILING ADDRESS (Number and street, Apt. No., P.O. Box, or Rural Route)
CITY AND STATE
ZIP CODE
Enter name of county (if any) in which you now live
Witnesses are required ONLY if this statement has been signed by mark (X) above. If signed by mark (X), two witnesses to
the signing who know the person making the statement must sign below, giving their full addresses.
2. SIGNATURE OF WITNESS1. SIGNATURE OF WITNESS
ADDRESS (Number and street, City, State, and ZIP Code)
ADDRESS (Number and street, City, State, and ZIP Code)
$
$
$
NOTE: If such agree was in writing, submit a copy.
(d) What was the monthly income of each?
$
MOTHER
$
FATHER