Fillable Printable Letter Of Intent Template
Fillable Printable Letter Of Intent Template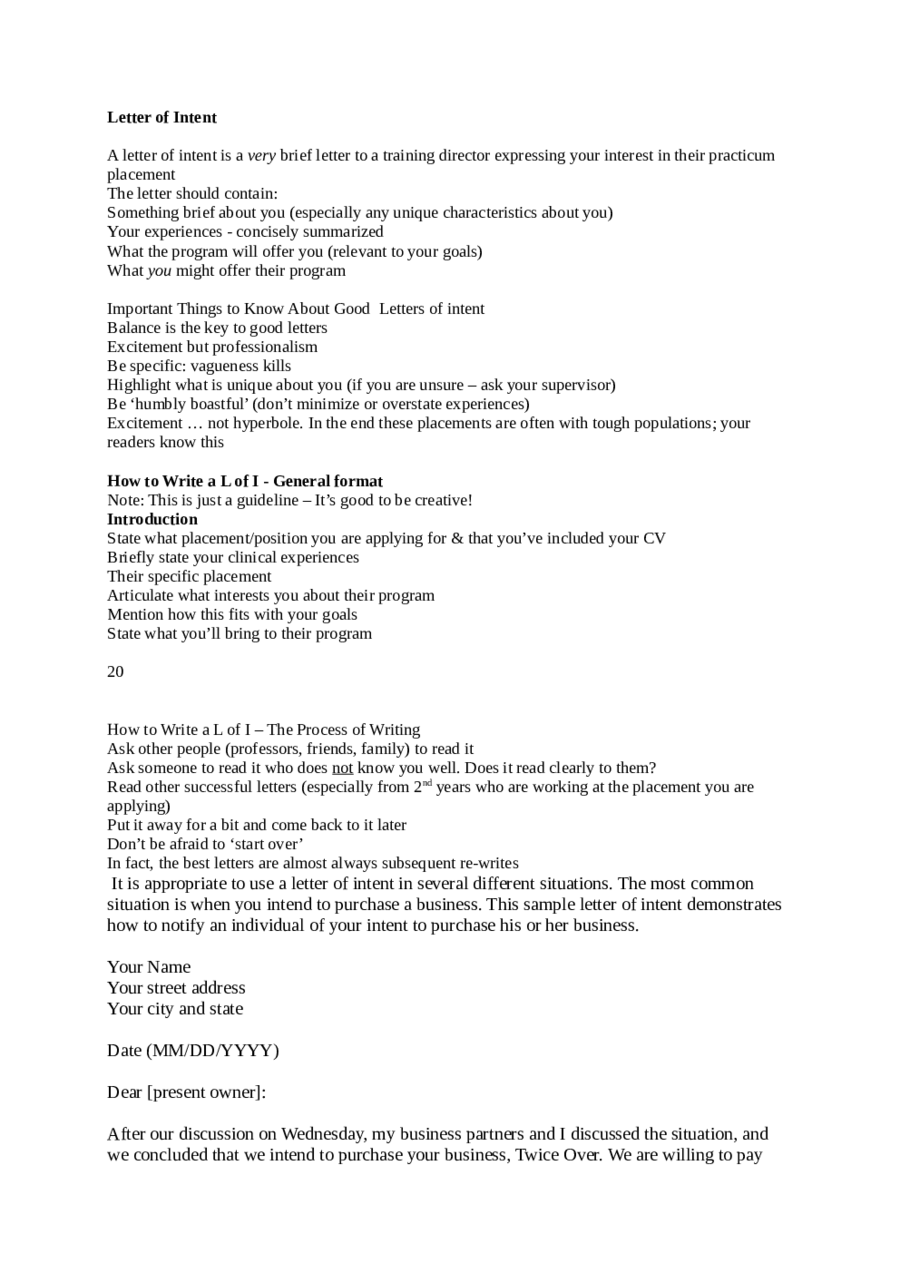 Letter Of Intent Template

Letter of Intent
A letter of intent is a
very
brief letter to a training director expressing your interest in their practicum
placement
The letter should contain:
Something brief about you (especially any unique characteristics about you)
Your experiences - concisely summarized
What the program will offer you (relevant to your goals)
What
you
might offer their program
Important Things to Know About Good Letters of intent
Balance is the key to good letters
Excitement but professionalism
Be specific: vagueness kills
Highlight what is unique about you (if you are unsure – ask your supervisor)
Be 'humbly boastful' (don't minimize or overstate experiences)
Excitement … not hyperbole. In the end these placements are often with tough populations; your
readers know this
How to Write a L of I - General format
Note: This is just a guideline – It's good to be creative!
Introduction
State what placement/position you are applying for & that you've included your CV
Briefly state your clinical experiences
Their specific placement
Articulate what interests you about their program
Mention how this fits with your goals
State what you'll bring to their program
20
How to Write a L of I – The Process of Writing
Ask other people (professors, friends, family) to read it
Ask someone to read it who does not know you well. Does it read clearly to them?
Read other successful letters (especially from 2
nd
years who are working at the placement you are
applying)
Put it away for a bit and come back to it later
Don't be afraid to 'start over'
In fact, the best letters are almost always subsequent re-writes
It is appropriate to use a letter of intent in several different situations. The most common
situation is when you intend to purchase a business. This sample letter of intent demonstrates
how to notify an individual of your intent to purchase his or her business.
Your Name
Your street address
Your city and state
Date (MM/DD/YYYY)
Dear [present owner]:
After our discussion on Wednesday, my business partners and I discussed the situation, and
we concluded that we intend to purchase your business, Twice Over. We are willing to pay
your requested purchase price of $75,000, which includes both the business and all the
equipment necessary to operate it, as per our discussion.
We would like to meet with you next Thursday, June 3rd, to finalize the sale. We will bring all
the necessary paperwork, signed and completed, and we will tender payment, as agreed. At
that meeting, we will also set a date that will not exceed thirty (30) days for when we will take
over the operation.
Sincerely,
[Signature]
Typed name
Writing your Letter of Intent
Your letter of intent will have two purposes. First, it will be submitted with your application
packet for admission consideration to the UCDC program. Second, (if admitted to the
program), your letter of intent will be converted into a cover letter and sent by you, along with
your resume and other requested documents (i.e. reference letters, transcripts) to potential
internship organizations.
You may address your letter of intent generally to the "Internship Coordinator" (or if known,
to a specific individual). You can focus your letter on a general career field OR if known, a
specific organization/employer with whom you plan to apply. The example provided can be
used as a general guide for format and content.
Suggested key points to discuss in your letter
:
Name the career field or organization/employer with whom you are interested in applying to
and for which quarter
Share why you're interested in working with that particular organization/employer or career
field
Indicate how you can contribute your personal strengths, skills, and educational background
to that organization/employer or career field
Use specific examples of technical or general skills, knowledge, experience (paid or unpaid),
languages, and computer software that are relevant to the field
Discuss how you think your career and academic goals will be supported by the experience of
the internship
Remember this letter could also serve as your writing sample. Potential "employers" have
neither the time nor the desire to read long letters. Be sure that your letter is well-written,
edited and approximately 350 words long (3/4 to 1 page in length).
Please note: The "sample letter of intent" discusses skills/qualifications relevant to a
particular position. This is NOT a template. Please write your own original letter.
Contents of a Curriculum Vitae
1.
CV is a summary of education and training including:
- name
- contact information (office/home address)
- education
- awards, Publications and/or Presentations (if any)
- clinical experience
- research experience (if any)
- other professional experience and/or additional relevant experience
- professional affiliations
- references
2.
usually, any CV should be brief (approximately 2-4 pages, depending on your experience)
and should:
- be concise and to the point
- include all relevant experiences
- highlight strengths
- give a good clear sense of your experiences
- be professional
- not have any typos (= typographical errors)
- a CV is not a Resume
3.
resumes are short, CVs longer
CVs include more details about your experiences than resumes do
because they are more academic in nature with CVs there is generally less of a concern with 'gaps' in
time (e.g., if you were abroad for a year)
style issues (e.g., font, paper) are much less important with CVs
- readers are interested in content, not so much in its aspect, yet it should be easy to read
- separate the dates from the details
- separate the place of employment, position title, and duties from each other in a way that's easy to
read (using bold, italics, etc.)
- start each section with
most recent

position
- no need for pronouns (e.g., 'I' conducted…)
- top of first page (name, address, phone and email)
education
-list each university (most recent first) with dates and degree
SFSU's should state M.S.
expected May 2007
awards, publications, presentations
(if any; don't fret if you don't have these)
- only include awards that are academic in nature
clinical experience
- include placement name, your position title, and the dates of service
- in one sentence define the placement
- on a separate line articulate
all
'responsibilities' or 'duties' - usually 1-3 sentences max
- if position was paid, indicate this
- some people encourage listing your supervisors in a separate line

6.
Research Experience (if any)
- include where the research was done, the principal investigator/mentor, your title, and the dates of
service
- in one sentence define the study or project (e.g., 'This study looked at the correlates of emotion
dysregulation and invalidating environments in a borderline personality disorder patient population.')
- on a separate line articulate
all
'responsibilities' or 'duties'
- if position was paid, indicate this
7.
Professional Affiliations
e.g., APA, CAMFT (include dates)
Other sections?
'Community (or) Volunteer Experience' – is an OK section, but usually is better placed in clinical exp.
'Hobbies' or 'Interests' – this is a style thing. I personally am not a fan of it…
'Objective' or 'Mission' – this is not typically on a CV and is more of a resume thing … best left out
'Professional Training' – this section comes after Education. It is okay to include but keep to a
minimum (no CPR training).
Other sections?
'Additional Professional Experience' - a good section to have (after research and before the prof.
affill.), but only used when you have changed careers (e.g., previous management, law exp.)
'Additional Relevant Experience' – A good section if you speak a second language or if you want to
point out related experience (e.g., with children: tutoring, summer camp counselor, baby sitting)
- references
- list the name, title, address, phone, and email address to all of your letter writers
Teaching Experience (if any)
- include where the teaching was done, the course title, the instructor's name (if it was not you), and
the dates of the course
-in one sentence define the class (e.g., 'This undergraduate course focused on the etiology and
maintenance of mental illness including depressive, anxiety and Axis II disorders.)
- on a separate line articulate
all
'responsibilities' or 'duties'
Letter of Employment Application - CV Cover Letter
From : ________,
Address : ________,
Contact Numbers,
Home : __________,
Cell : __________
e-mail : __________,
Date : _______,
To,
Dept. of Human Resources
Company Name ________,
City, State, Zip ________.
Dear Sir or Madam,
I am particularly interested in a career with your organization because of your excellent reputation, as
having one of the ten best executive training programs in the industry. Its my firm belief that I can
offer your company strong interpersonal skills, organizational ability and retail sales experience.
As a sales executive, I developed effective selling techniques, resulting in consistently exceeding my
store's quotas. Through extensive contact with customers, assisting in merchandising and performance
of daily store operations, I have gained valuable experience in all the miscellaneous store activities as
well.
I am confident that these skills will certainly provide me the much needed background for a successful
and productive career, in your organization.
As you suggested I have enclosed my resume for your review. I would like the opportunity to meet
and share more about my qualifications and the ways in which I can contribute to the company. Thank
you for your consideration.
Sincerely,
________ Your Signature.
Job Reference Letter
Your Email __________
Date __________
Name __________
Job Title __________
Company __________
City, State Zip _________
Dear Mr./Ms. Last Name,
I have known grace for over 3 years, while she was working as a executive manager in Albert & Allen
Company in many various capacities. Grace reported directly to me as I was holding a role of senior
manager, Marketing Division between 2004 and 2006.
During her tenure, Grace has shown a tremendous potential by spearheading an extensive number of
brand building programs and initiatives for the company. As a result of her consistent fresh ideas and
high enthusiasm,Company attained outstanding financial results for the 2005 and 2006 financial years,
with more than 30% increase of revenues achieved.
She is a very customer oriented person, and has a very high aptitude for sales-related roles also. Her
willingness to explore different job specializations in the company won many admirations in
company's favour.
To my own observation, Grace is a trustworthy and reliable person who goes great length to
accomplish any task given to her. She works well both as an individual and as a team player. She never
hesitates to take the extra roles which are beyond her own job scopes.
I wish Grace all the success in life and recommend her for employment, with your organization
without any hesitation.
Sincerely,
________ Your Signature,
________ Your Typed Name.
A sample of a typical business letter
Dear X:
I would like to confirm the outcome of our meeting last week, at which we agreed to hold a series of
meetings over the next two months to review your experiences with the 1-to-1 Customer Relationship
Management Program.
As discussed at that meeting, the objectives of our review sessions will be to:
Review and assess the overall effectiveness of the program
Identify and document the strengths and weaknesses of the program
Propose customer-focused solutions to address areas of weakness
Develop an approach and action plan for Phase 2 of the project
As agreed, we will hold a meeting every second Tuesday, from 9:00 a.m. until noon, and the location
will alternate between our two offices. The first meeting will convene here at Inter-Office on August
14, 2005. Fred Johnson, from your CRM group, will act as the meeting coordinator and recording
secretary throughout the process.
We look forward to seeing you on August 14th.
Sincerely
Template for Business Letters
Date : __________,
To,
________________ [Customer's name ],
________________ [Customer's address].
Dear Sir,
Thank you for your letter of Date _______,requesting for the _______, credit facilities with our
_______, [firm name]. After careful consideration, we regret to inform you that we at present cannot,
offer you our credit facility.
The reason behind this is also stated in our agreement,
____________________
____________________
____________________ [Credit Policy].
In brief, the above credit facilities are offered only to the customers, who have been trading with us for
above six months. However we suggest that you kindly re-apply, after you fulfil the company's above
criteria.
We believe that our high-quality products, top class customer service and competitive pricing will
make it well worth for you.
I hope you will not be too disappointed with our decision at this moment of time.
Feel free to call me directly on _________ [office telephone number], if you wish to discuss this
matter.
We look forward to being of service to you.
Sincerely,
_______________
[Your Name ]
_______________
[Your Job Title]