Fillable Printable OPM Form 1306
Fillable Printable OPM Form 1306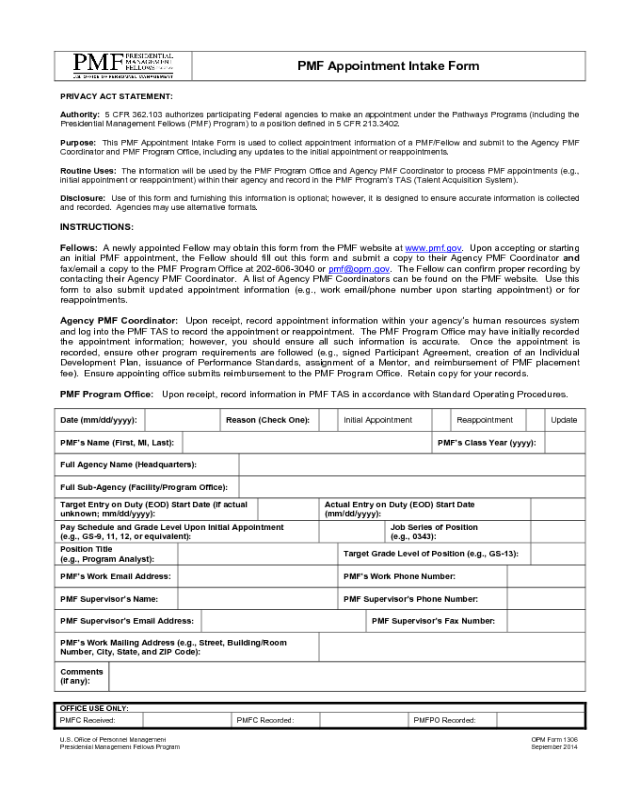 OPM Form 1306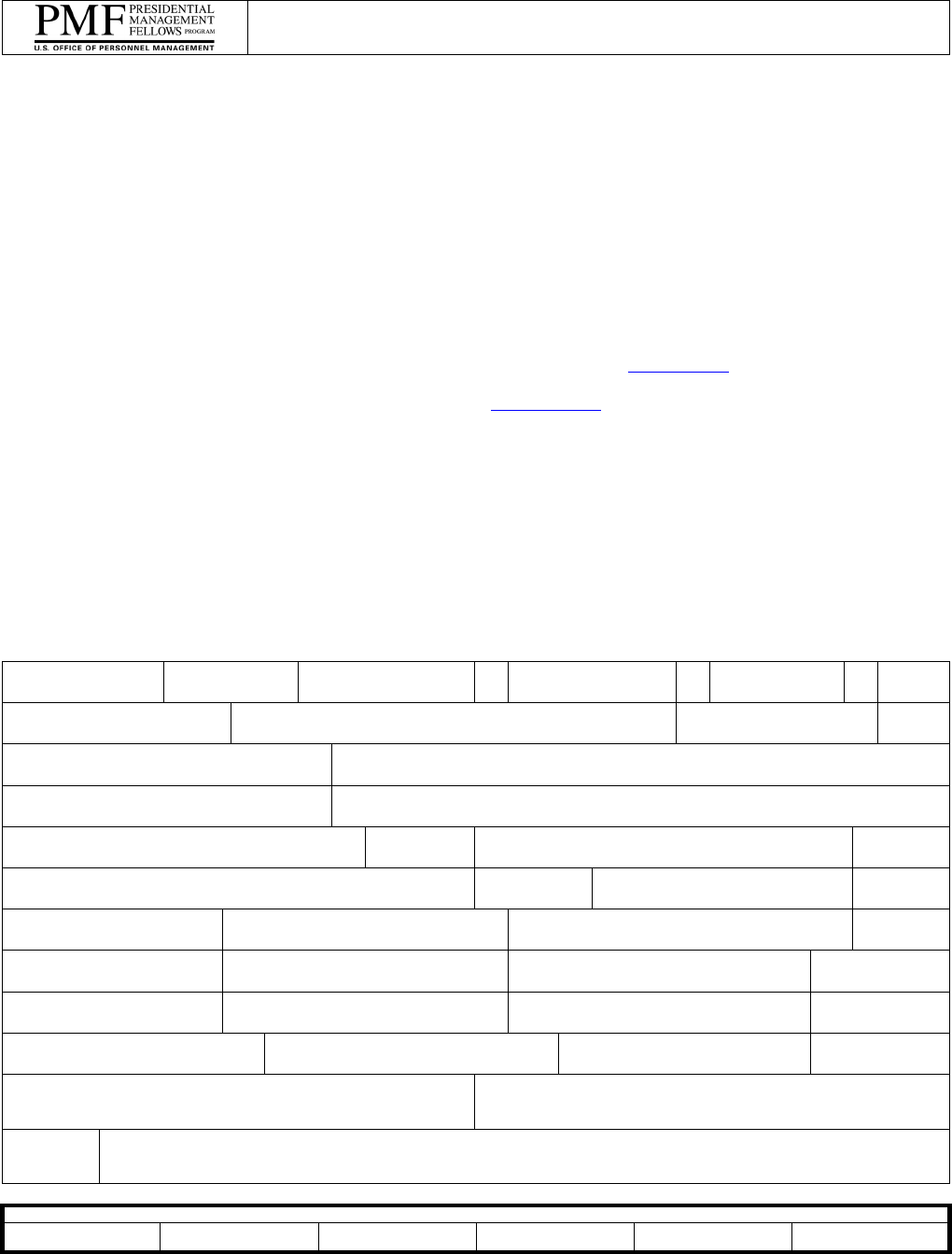 PMF Appointment Intake Form
PRIVACY ACT STATEMENT:
Authority:
5 CFR 362.103 authorizes participating Federal agencies to ma

ke an appointment under the Pathways Programs (including the
Presidential Management Fellows (PMF) Program) to a position defined in 5 CFR 213.3402.
Purpose:
This PMF Appointment Intake Form is used to collect appointment information of a PMF/Fellow and submit to the Agency PMF
Coordinator and PMF Program Office, including any updates
to the initial appointment or reappointments.
Routine Uses:
The information will be used by the PMF Program Office and Agency PMF Coordinator to process PMF appointments (e.g.,
initial appointment or reappointment) within their agency and reco
rd in the PMF Program's TAS (Talent Acquisition System).
Disclosure:
Use of this form and furnishing this

information is optional; however, it is desi

gned to ensure accurate information is colle

cted
and recorded. Agencies may use alternative formats.
INSTRUCTIONS:
Fellows:
A newly appointed Fellow may obtain this form from the PMF website at

www.pmf.gov

. Upon accepting or starting
an initial PMF appointment, the Fellow should fill out this
form and submit a copy to their Agency PMF Coordinator

and
fax/email a copy to the PMF Progr
am Office at 202-606-3040 or [email protected]

. The Fellow can confirm proper recording by
contacting their Agency PMF Coordinator. A list of Agency
PMF Coordinators can be found on the PMF website. Use this
form to also submit updated appointment information (e.g.,
work email/phone number upon st

arting appointment) or for
reappointments.
Agency PMF Coordinator:
Upon receipt, record appointment information within your agency's human resources system
and log into the PMF TAS to record the a
ppointment or reappointment. The PMF Program Office may have

initially recorded
the appointment information; however, you should ensure all su
ch information is accurate. Once the appointment is
recorded, ensure other program requirements are followed (e.g
., signed Participant Agreement, creation of an Individual
Development Plan, issuance of Perform
ance Standards, assignment of a Mentor

, and reimbursement of PMF placement
fee). Ensure appointing office subm
its reimbursement to the PMF Program Office. Retain copy

for your records.
PMF Program Office:
Upon receipt, record information in PMF TAS in

accordance with Standard Operating Procedures.
Date (mm/dd/yyyy):
Reason (Check One):

Initial Appointment

Reappointment

Update
PMF's Name (First, MI, Last):
PMF's Class Year (yyyy):
Full Agency Name (Headquarters):
Full Sub-Agency (Facility/Program Office):
Target Entry on Duty (EOD) Start Date (if actual
unknown; mm/dd/yyyy):
Actual Entry on Duty (EOD) Start Date
(mm/dd/yyyy):
Pay Schedule and Grade Level Upon Initial Appointment
(e.g., GS-9, 11, 12, or equivalent):
Job Series of Position
(e.g., 0343):
Position Title
(e.g., Program Analyst):
Target Grade Level of Position (e.g., GS-13):
PMF's Work Email Address:
PMF's Work Phone Number:
PMF Supervisor's Name:
PMF Supervisor's Phone Number:
PMF Supervisor's Email Address:
PMF Supervisor's Fax Number:
PMF's Work Mailing Address (e.g., Street, Building/Room
Number, City, State, and ZIP Code):
Comments
(if any):
OFFICE USE ONLY:
PMFC Received:
PMFC Recorded:
PMFPO Recorded:
U.S. Office of Personnel Management
OPM Form 1306
Presidential Management Fellows Program
September 2014