Fillable Printable Power of Attorney to Transfer Motor Vehicle - Texas
Fillable Printable Power of Attorney to Transfer Motor Vehicle - Texas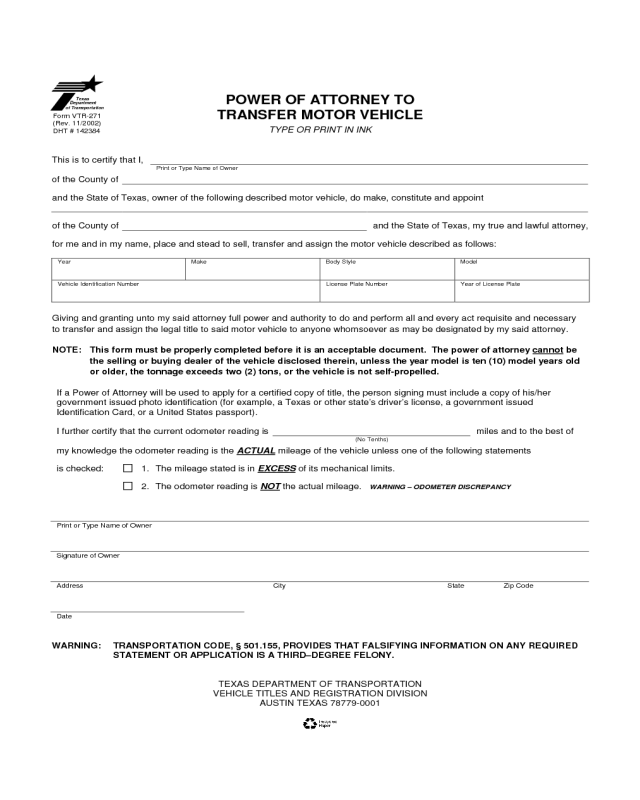 Power of Attorney to Transfer Motor Vehicle - Texas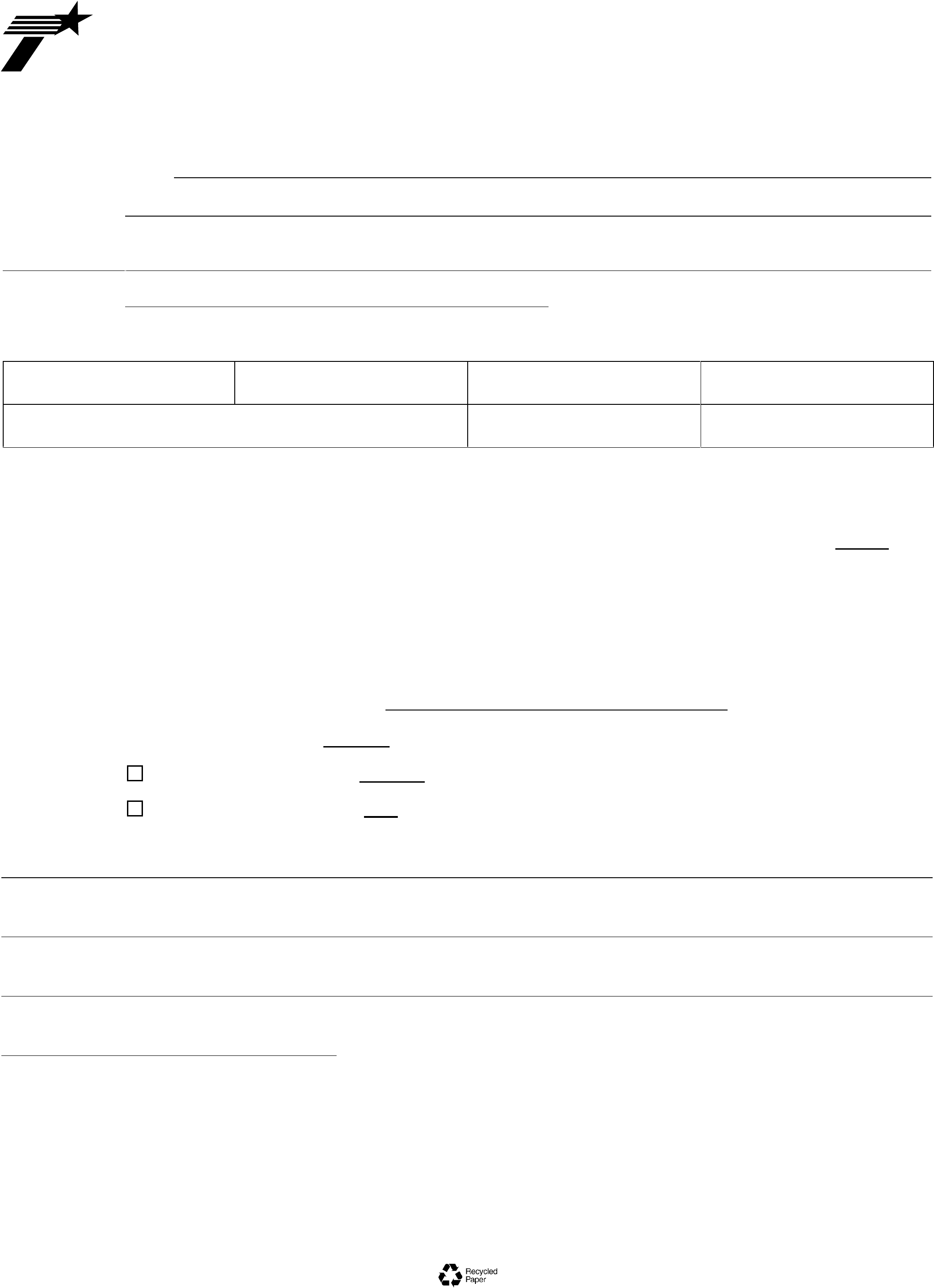 POWER OF ATTORNEY TO
TRANSFER M O TOR VEHICLE
TYPE OR PRINT IN INK
This is to certifythat I,
Print or Type Name of Owner
of the County of
and the State of Texas, owner of the following described motor vehicle, do make, constitute and appoint
of the County of
and the State of Texas, my true and lawful attorney,
for me and in my name, place and stead to sell, transfer and assign the motor vehicle described as follows:
Year
Make
Body Style
Model
Vehicle Identification Number
License Plate Number
Year of License Plate
Giving and granting unto my said attorney full power and authority to do and perform all and every act requisite and necessary
to transfer and assign the legal title to said motor vehicle to anyone whomsoever as may be designated by my said attorney.
NOTE:This form must be properly completed be fore it is an acceptable document. The pow e r of attorne y cannot be
the selling or buying dealer of the vehicle disclosed therein, unless the year model is ten (10) model years old
or older, the tonnage exceeds two (2) tons, or the vehicle is not self-propelled.
If a Power of Attorney will be used to apply for a certified copy of title, the person signing must include a copy of his/her
government issued photo identification (for example, a Texas or other state's driver's license, a government issued
Identification Card, or a United States passport).
I further certify that the current odometer reading ismiles and to the best of
(No Tenths)
my knowledge the odometer reading is the
ACTUAL
mileage of the vehicle unles s one of the following statements
is checked:
1. T he mileage sta ted is in

EXCESS

of its mechanical limits.
2. The odometer reading is
NOT
the actual mileage.
WARNING – ODOMET ER DISCREPANCY
Print or Type Name of Owner
Signature of Owner
AddressCityStateZip Code
Date
WARNIN G:TRANSP ORTATION CODE, § 501.155, PROVIDES THAT FALSIFYING INFORMATION ON ANY REQUIRED
STATEMENT OR APPLICATION IS A THIRD–DEGREE FELONY.
TEXAS DEPARTMENT OF TRA NSPORTATION
VEHICLE TITLES AND REGISTRATI ON DIVISION
AUSTIN TEXAS 78779-0001
Texas
of Transportation
Department
Form VTR-271
(Rev. 11/2002)
DHT # 142384