Fillable Printable Summons - New Jersey
Fillable Printable Summons - New Jersey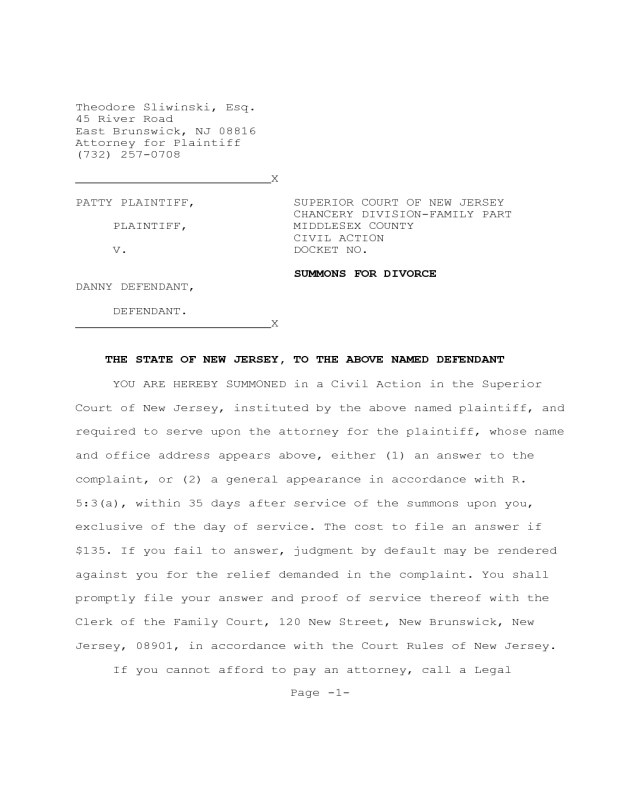 Summons - New Jersey

Page -1-
Theodore Sliwinski, Esq.
45 River Road
East Brunswick, NJ 08816
Attorney for Plaintiff
(732) 257-0708
PATTY PLAINTIFF, SUPERIOR COURT OF NEW JERSEY
CHANCERY DIVISION-FAMILY PART
PLAINTIFF, MIDDLESEX COUNTY
CIVIL ACTION
V. DOCKET NO.
DANNY DEFENDANT,
DEFENDANT.
THE STATE OF NEW JERSEY, TO THE ABOVE NAMED DEFENDANT
YOU ARE HEREBY SUMMONED in a Civil Action in the Superior
Court of New Jersey, instituted by the above named plaintiff, and
required to serve upon the attorney for the plaintiff, whose name
and office address appears above, either (1) an answer to the
complaint, or (2) a general appearance in accordance with R.
5:3(a), within 35 days after service of the summons upon you,
exclusive of the day of service. The cost to file an answer if
$135. If you fail to answer, judgment by default may be rendered
against you for the relief demanded in the complaint. You shall
promptly file your answer and proof of service thereof with the
Clerk of the Family Court, 120 New Street, New Brunswick, New
Jersey, 08901, in accordance with the Court Rules of New Jersey.
If you cannot afford to pay an attorney, call a Legal

Page -2-
Services Office. An individual not eligible for free legal
assistance may obtain a referral to any attorney by calling a
county lawyer referral service. These numbers may be listed in
the yellow pages of your phone book or may be obtained by calling
the New Jersey Bar Association Lawyer Referral Service toll free
(800) 792-8315 (within New Jersey) or (609) 394-1101 (from out of
state). The phone numbers for MIDDLESEX COUNTY, the county in
which this action is pending are; Lawyer Referral Service,
(732) 828-0053, Legal Services Office, (732) 249-7600.
Donald Phelan
Clerk of the Superior Court
NAME AND ADDRESS DEFENDANT TO BE SERVED:
Danny Defendant
123 Broad Stree
Fun City, New Jersey 08816