Fillable Printable Tc-203, New Utah Special Group Plate Application
Fillable Printable Tc-203, New Utah Special Group Plate Application
Tc-203, New Utah Special Group Plate Application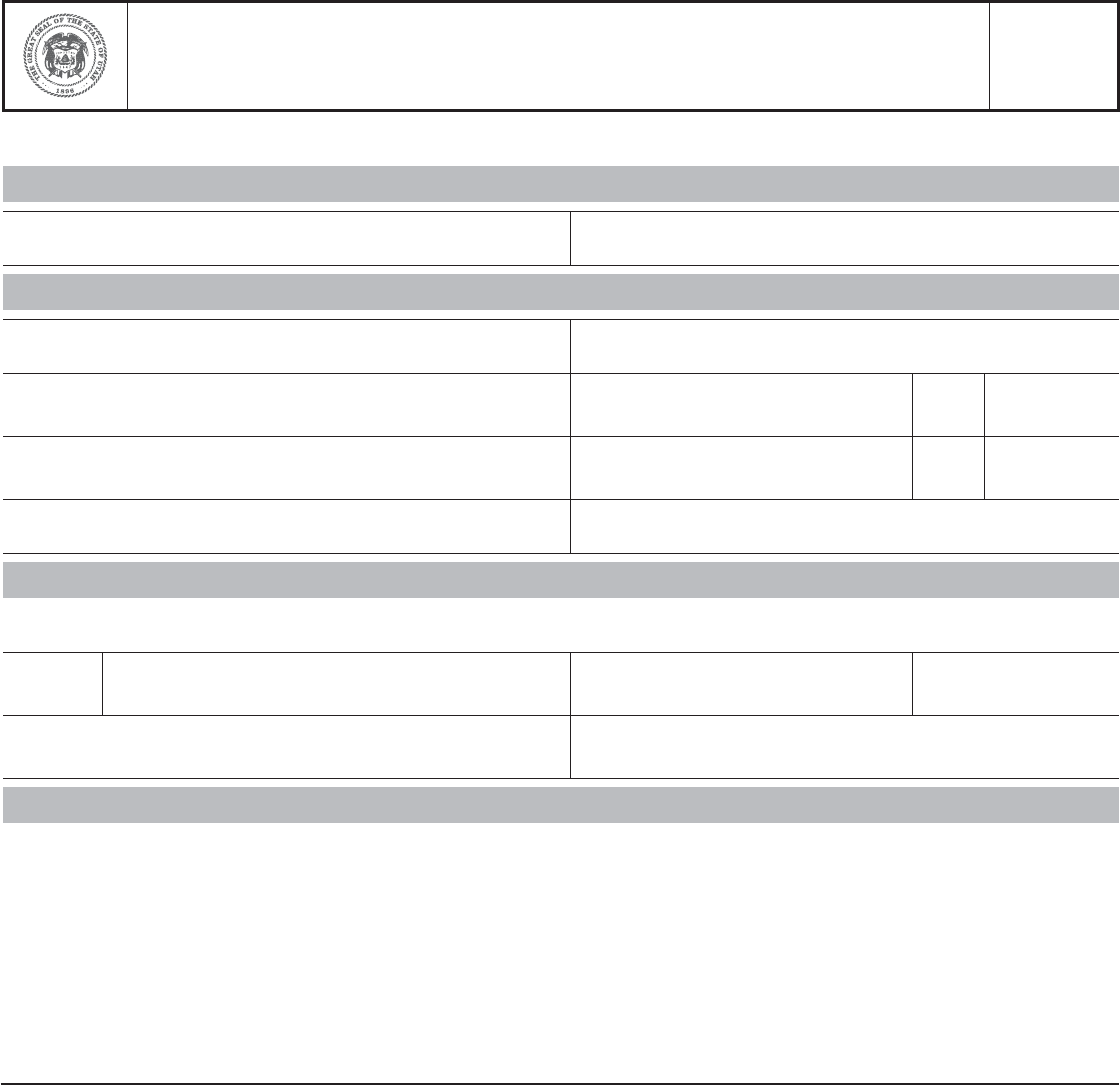 TC-203
Rev. 6/16
Get forms at
tax.utah.gov/forms
Utah State Tax Commission
Division of Motor Vehicles • PO Box 30412 • Salt Lake City, UT 84130 • 801-297-7780 or 1-800-368-8824
New Utah Special Group Plate Application
Submitted by Individuals to the Plate's Sponsoring Organization

Section 1: Sponsoring Organization Information
Name of the special group plate Name of the sponsoring organization

Section 2:Vehicle Owner InformationRelationship to co-owner:



And



Or
Primary owner's name (last, first, middle initial, or business name) Co-owner's name
Street address (primary owner) City State ZIP code
Mailing address, if different from Street address (primary owner) City State ZIP code
Phone Email

Section 3:Vehicle Information

(Passenger, Truck, or Trailer only - Motorcycles are not eligible for Special Group plates)
Note:
Vehicle must have a valid registration in order to issue the Special Group plate.
Year Make Model Plate number
Vehicle Identification Number Registration expiration (mm/yyyy)

Section 4: Owner Signature(s)
I declare that I am the owner of the vehicle described on this application and that all the above information is accurate and true. I understand
that this application is an attempt for the Sponsoring Organization to collect 500 applications, and that this Special Group plate is not
available for purchase at this time. If and when the Sponsoring Organization meets the provisions of Utah Code §41-1a-418(2)(a), this plate
will be available for issue within six months. At that time, the Special Group plate listed will be issued to the vehicle and owner identified
above.The plate will be mailed to the address above.
______________________________ ____________
Owner's signature Date
______________________________ ____________
Co-owner's signature Date
This application, along with the required funds*, should be submitted directly to the organization sponsoring this Special Group
plate. Any questions concerning this plate should be directed to the Sponsoring Organization.
*Required Funds
$ 5.00
Registration and Decal Replacement
$
_____
Initial Contribution (determined by Sponsoring Organization)
$
_____
Total Amount Due with Application (payable to Sponsoring Organization)
Note:
Additional registration fees may be due if the vehicle does not have a current registration.