Fillable Printable Unemployment Insurance File Claims, Payment Information, General Information (De 2320M)
Fillable Printable Unemployment Insurance File Claims, Payment Information, General Information (De 2320M)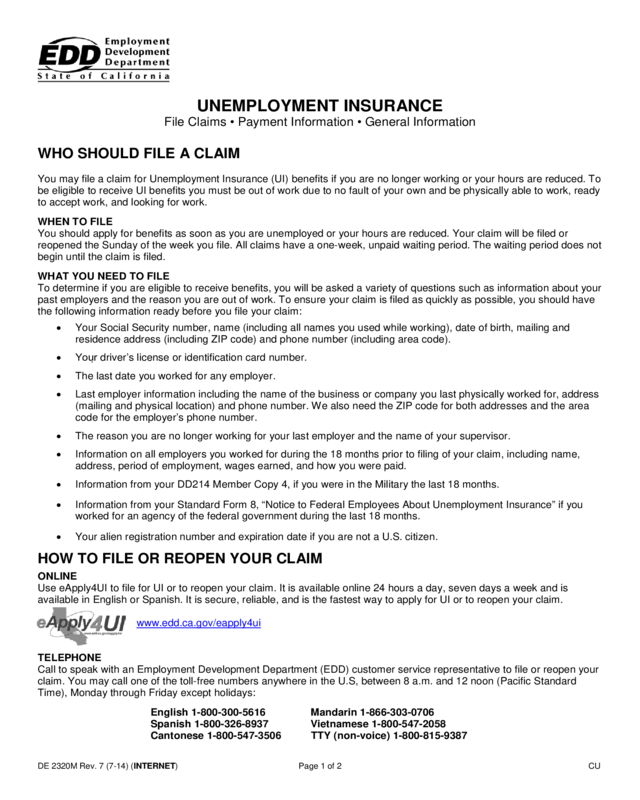 Unemployment Insurance File Claims, Payment Information, General Information (De 2320M)

UNEMPLOYMENT INSURANCE
File Claim s
• Pay ment In formation

•

General Information
WHO SHOULD FI LE A CL AIM
You may file a claim for Unemployment Insurance (UI)benefits if you are no longer working or your hours are reduced. To
be eligible to receive UI benefits you must be out of work due to no fault of your own and be physically able to work, ready
to accept work, and looking for work.
You
should apply for benefitsas soon as you are unemployed or your hours are reduced. Your claim will be filed or
reopened the Sunday of the week you file. All claims have a one
-
week, unpaid waiting period. The waiting period does not
begin until the c
laim is filed.
WHAT YOU NEED TO FILE
To determine if you are eligible to receive benefits, you will be asked a variety of questions such as information about your
past employers and the reason you are out of work. To ensure your claim is filed as quickly as possible, you should have
the following information ready before you file your claim:
•
Your Social Security num ber

, name
(including all names you used while working), date of birth, mailing and
residence address (including ZIP code) and phone number (including area code)
.
•
Your

driver's license or identification card number

.
•
The last date you worked for any employer

.
•
Last employer information including the name of the
business or company you last physically worked for, address
(mailing and physical location) and phone number. We also need the ZIP code for both addresses
and the ar ea
code for the employer's phone number
.
•
The reason you are no longer working for your last employer and

the

name of your supervisor.
•
Information on all employers you worked for during the 18 months prior to filing of your claim, including name,
address, period of employment, wages earned
,
and how you were paid
.
•
Information fromyour DD214 Member Copy 4, if you were in the Military the last 18 months

.
•
Information fromyour Standard Form 8, "Notice to Federal Employees About Unemployment
Insurance

" if you
worked for an agency of the federal government during the last 18 months
.
•
Your alien

registration number and expiration date if you are not a U.S. citizen

.
HOW TO FILE OR REOPE N Y O UR CLAIM
Use eApply4UI to file for UI or to reopen your claim. It is available online 24 hours a day, seven days a week and is
available in English or Spanish. It is secure, reliable, and is the fastest way to apply for UI or to reopen your claim.
TELEPHONE
Call to speak with an Employment Development Department (EDD) customer service representative to file or reopen your
claim. You may call one of the toll
-
free numbers anywhere in the U.S, between 8 a.m. and 12 noon (Pacific Standard
Time), Monday through Friday except holidays:
English 1
-

800

-

300

-

5616

Mandarin 1

-

866

-

303

-

0706
Sp
anish 1

-

800

-

326

-

8937

Vietnam ese 1

-

800

-

547-

2058
Canton ese 1
-
800

-

547-

3506

TTY (

n

on

-voice) 1

-

800

-

815

-

9387
DE 2320M Rev.
7 (7-14) (

INTERNET

)
Page 1
of 2
CU

WHAT HAPPENS NEXT
After you file your claim, please allow 10days for processing. If you do not receive notification in the mail after 10
days,
call or contact us by submitting your inquiry online at
www.e

dd.ca.gov/Unemployment
and email your questions by
selecting "Contact Us" under General Information.
PAYMENT INFORMATION
For the status of your last UI payment made, call the EDD toll
-
free Automated Self
-
Service
telephone number listed
below.
You will need to have your Social Security number and 4

-

digit Personal Identification Number (PIN)

to access
payment information.
T he Automated Self

-
Service number provides step
-

by

-
step instructions to help you set up your PIN
so you can access your conf id
ential UI claim information. The Automated Self

-

Service will also guide you to other services
you may need.
Automated Self
-

Service (Engli
sh and Spanish) 1-

866

-

333

-

4606
GENER AL INFOR MATION
FREQUENTLY ASKED QUESTIONS
How much does UI pay?
W eekl y benefit
amounts range from a minimum of $40 to a maximum of $450
dep end ing on your past quart er l y
earnings.
When is the best time to call a customer service representative?
To lessen your wait time, avoid calling during our busiest times: Mondays, the day after a holiday, and between 8 a.m.
and 8:30 a.m. Our least busy days are Wednesdays and Thursdays.
Why am I scheduled for a telephone interview?
If there are any questions about your eligibility to receive benefits, further information is needed from you and you
will
receive notification in the mailof a scheduled phone interview.For example, you will be scheduled for a phone interview if
you quit your last job, if you were discharged from your last job, if
you
are not ab le or avai lab le for work, if you do not

look
for work. It is important to review the information on the notification to help you prepare for the interview.
OTHER RESO URCE S
The EDD provides a comprehensive range of employment and training services in partnership with state and local
agencies and
organizations.
These services, provided statewide through
the
America's Job Center of California
SM
(formerly known as One
-
Stop Career Centers) benefit job seekers, laid
-
off workers, youth, veterans, a
nd people wit h
disabilities.
All of these no

-

fee resources are provided to ensure that a job search is a successful one.
America's Job Center of California
SM
•
Job listings through CalJOBS
SM
•
Access to telephones, Internet, printers, fax machines, and copy machines
•
Informati

on on wages and trends
•
Referrals to other services

a

nd more
To find the nearest local America's Job Center of California
SM
,
call the America's Workforce Network Toll
-
Free Help Line
at 1
-
877-

US 2 JOBS

(1-877

-

872

-

5627)

or access

www.servicelocator.org
to receive information about available services
in your local community. The information is available in more than 140 languages and there is TTY access
1-
877
-
889
-
5627 for the hearing imp

aired.
DE 2320M Rev.
7 (7-14) (

INTERNET

)
Page 2

of 2