Fillable Printable VA Form 10-1314
Fillable Printable VA Form 10-1314
VA Form 10-1314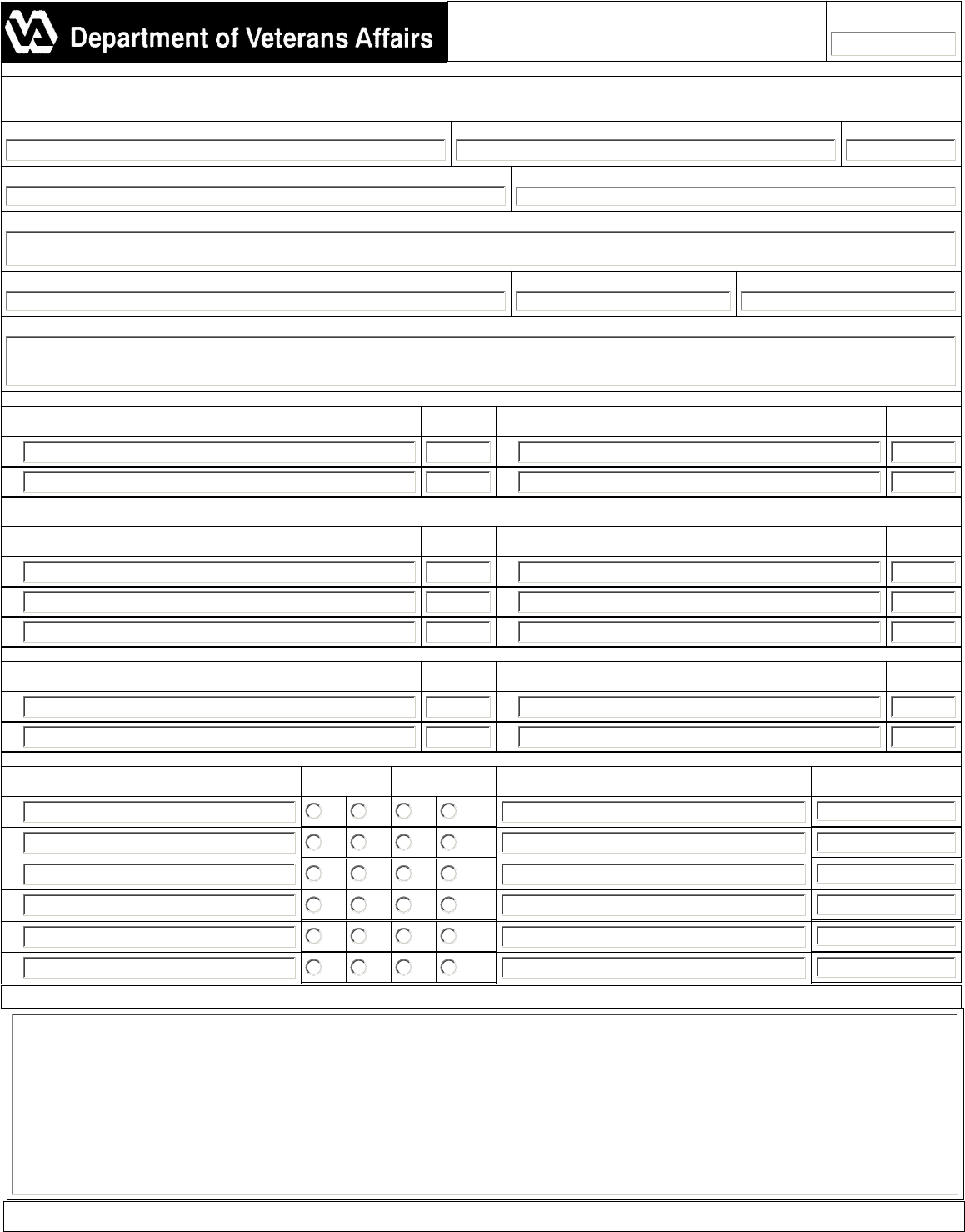 JAN 2002
10-1314
Page 1 of 2
Health Services Research and Development Service
Career Development Awardee
ANNUAL PROGRESS REPORT
TO BE COMPLETED BY THE AWARDEE
Response should only
include
updates,
changes
and
activities
since
the
last
report.
If
additional
space
is
needed,
continue
onto
a
separate
sheet. Attach reprints
(if available)
of any publications listed.
(Please type or print.)
2. LIST ALL NON-RESEARCH ACTIVITIES FOLLOW ED BY PER CENT OF AW ARDEES TIM E COM M ITM ENT TO EACH
%Time
3. TRAINING SINCE LAST REPORT
(formal courses, seminars, data sessions, lab meetings, journal clubs, lecture series, etc.)
4. PARTICIPATION IN NATIONAL OR INTERNATIONAL SCIENTIFIC MEETINGS
Non-Research Role or Activity
5. PUBLISHING EFFORT SINCE LAST REPORT, LIST ARTICLES SUBMITTED
(attach extra page if necessary),

IN-PRESS, OR PUBLISHED
Name of Journal
1st or 2nd Author?
Topic of Article
Publication Date or Status
Please refer to the Health Services Research and Development Service Capacity Building Handbook, for a complete description of the Career
Development Program and instructions for preparing annual reports.
Peer Review
6. SPECIAL ACHIEVEMENTS OR RECOGNITION SINCE LAST REPORT
DATE COMPLETED
AWARDEE NAME, DEGREES
(Print)
LOCATION OF PRIMARY OFFICE AND WORK SITE
ROUTING SYMBOL
VA MEDICAL CENTER
(City, State)
VA TITLE
ACADEMIC RANK, DEPARTMENT AND AFFILIATION
E-MAIL ADDRESS
TELEPHONE NUMBER
FAX NUMBER
1. SPECIFY ANY CHANGES TO MENTORING, RESEARCH OR CAREER PLANS, INTEREST OR FOCUS SINCE LAST REPORT.
%TimeNon-Research Role or Activity
A
B
C
D
Time PeriodTraining Received
Training Received
Time Period
E
D
B
A
FC
A
C
Meeting
A
NY
NY
NY
NY
NY
B
C
D
E
F
NY
NY
NY
NY
NY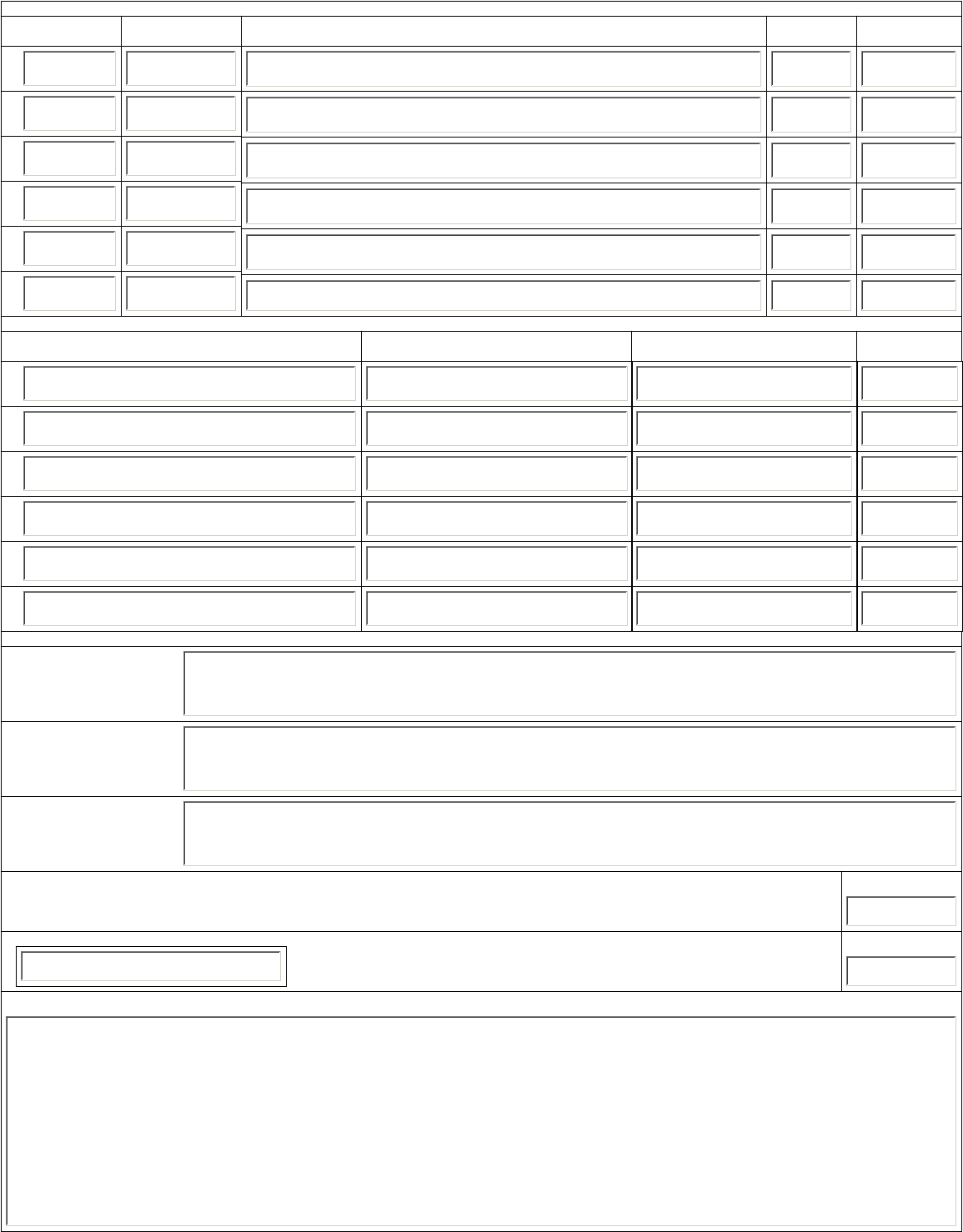 JAN 2002
10-1314
Page 2 of 2
Description
8. PRESENTATIONS AND INVITED LECTURES SINCE LAST REPORT
9 . NAM ES OF M ENTORS AND DESCRIPTION OF LEVEL OF INTERACTIONS WITH AWARDEE
(% time, days/week, days/month, etc.)
11. NAME AND SIGNATURE OF AWARDEE' S ACOS FOR RD
(I have reviewed the awardees progress and found it satisfactory.)
10. SIGNATURE
(Signature of Awardee)
7. NEW PROJECTS AND PROPOSALS SINCE LAST REPORT
(Attach completed VA Forms 10-1313-7 and 10-1313-8)
Project Number
Role
Source
Budget
Status
A
B
C
D
E
F
F
E
D
C
B
A
Primary Mentor
Secondary Mentor
Tertiary Mentor
DATE
DATE
12. COMMENTS
(Awardee or ACOS for RD)