Fillable Printable VA Form 40-0895-15
Fillable Printable VA Form 40-0895-15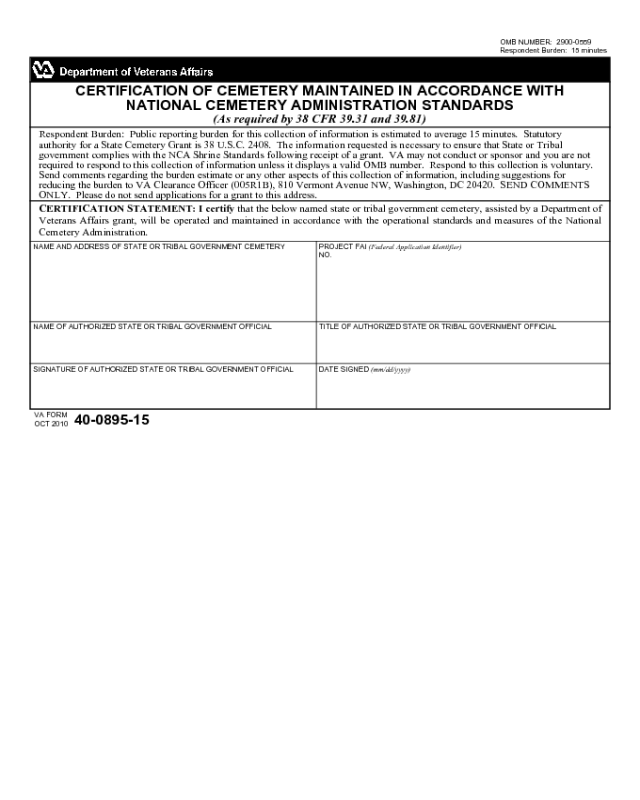 VA Form 40-0895-15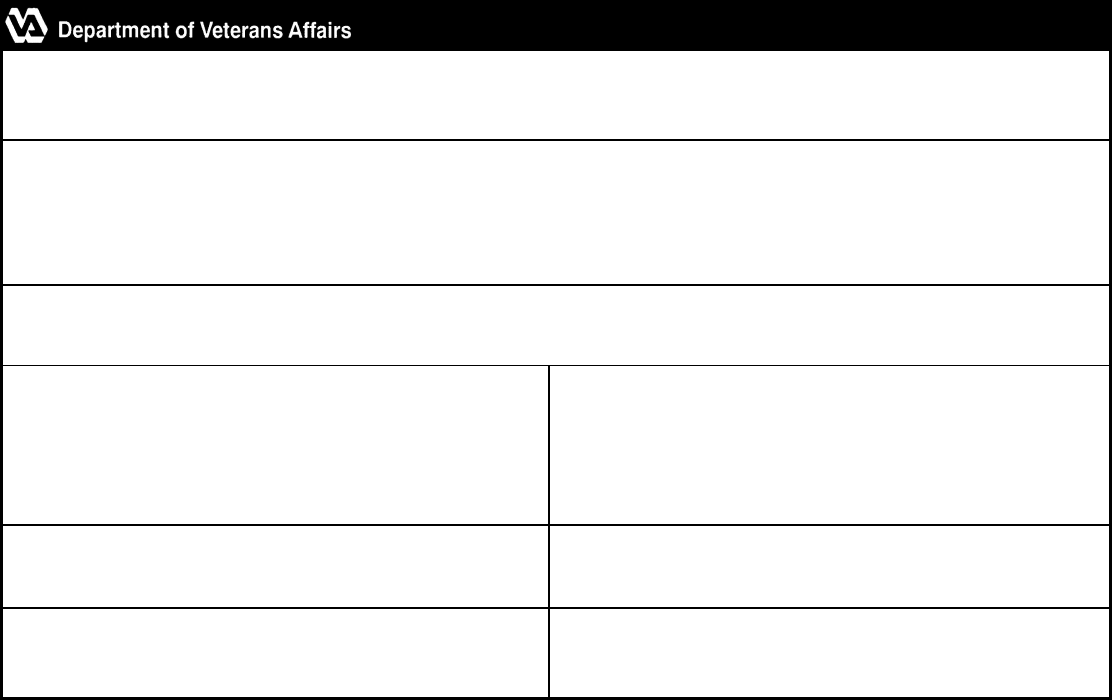 OMB NUMBER: 2900-0559
Respondent Burden: 15 minutes
CERTIFICATION OF CEMETERY MAINTAINED IN ACCORDANCE WITH
NATIONAL CEMETERY ADMINISTRATION STANDARDS
(As required by 38 CFR 39.31 and 39.81)
Respondent Burden: Public reporting burden for this collection of information is estimated to average 15 minutes. Statutory
authority for a State Cemetery Grant is 38 U.S.C. 2408. The information requested is necessary to ensure that State or Tribal
government complies with the NCA Shrine Standards following receipt of a grant. VA may not conduct or sponsor and you are not
required to respond to this collection of information unless it displays a valid OMB number. Respond to this collection is voluntary.
Send comments regarding the burden estimate or any other aspects of this collection of information, including suggestions for
reducing the burden to VA Clearance Officer (005R1B), 810 Vermont Avenue NW, Washington, DC 20420. SEND COMMENTS
ONLY. Please do not send applications for a grant to this address.
CERTIFICATION STATEMENT: I certify
that the below named state or tribal government cemetery, assisted by a Department of
Veterans Affairs grant, will be operated and maintained in accordance with the operational standards and measures of the National
Cemetery Administration.
NAME AND ADDRESS OF STATE OR TRIBAL GOVERNMENT CEMETERYPROJECT FAI
(Federal Application Identifier)
NO.
NAME OF AUTHORIZED STATE OR TRIBAL GOVERNMENT OFFICIALTITLE OF AUTHORIZED STATE OR TRIBAL GOVERNMENT OFFICIAL
SIGNATURE OF AUTHORIZED STATE OR TRIBAL GOVERNMENT OFFICIALDATE SIGNED
(mm/dd/yyyy)
VA FORM
OCT 2010
40-0895-15