Fillable Printable Vba 26 6808 Are
Fillable Printable Vba 26 6808 Are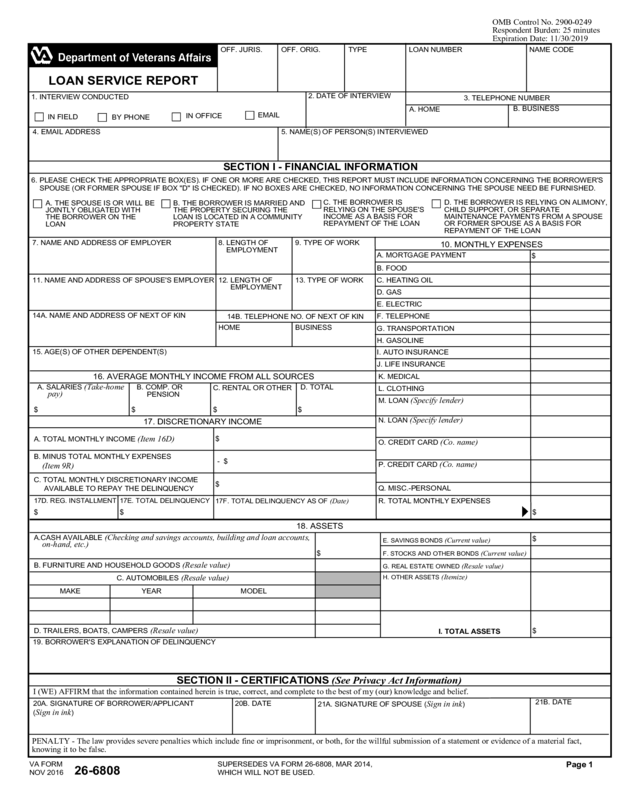 Vba 26 6808 Are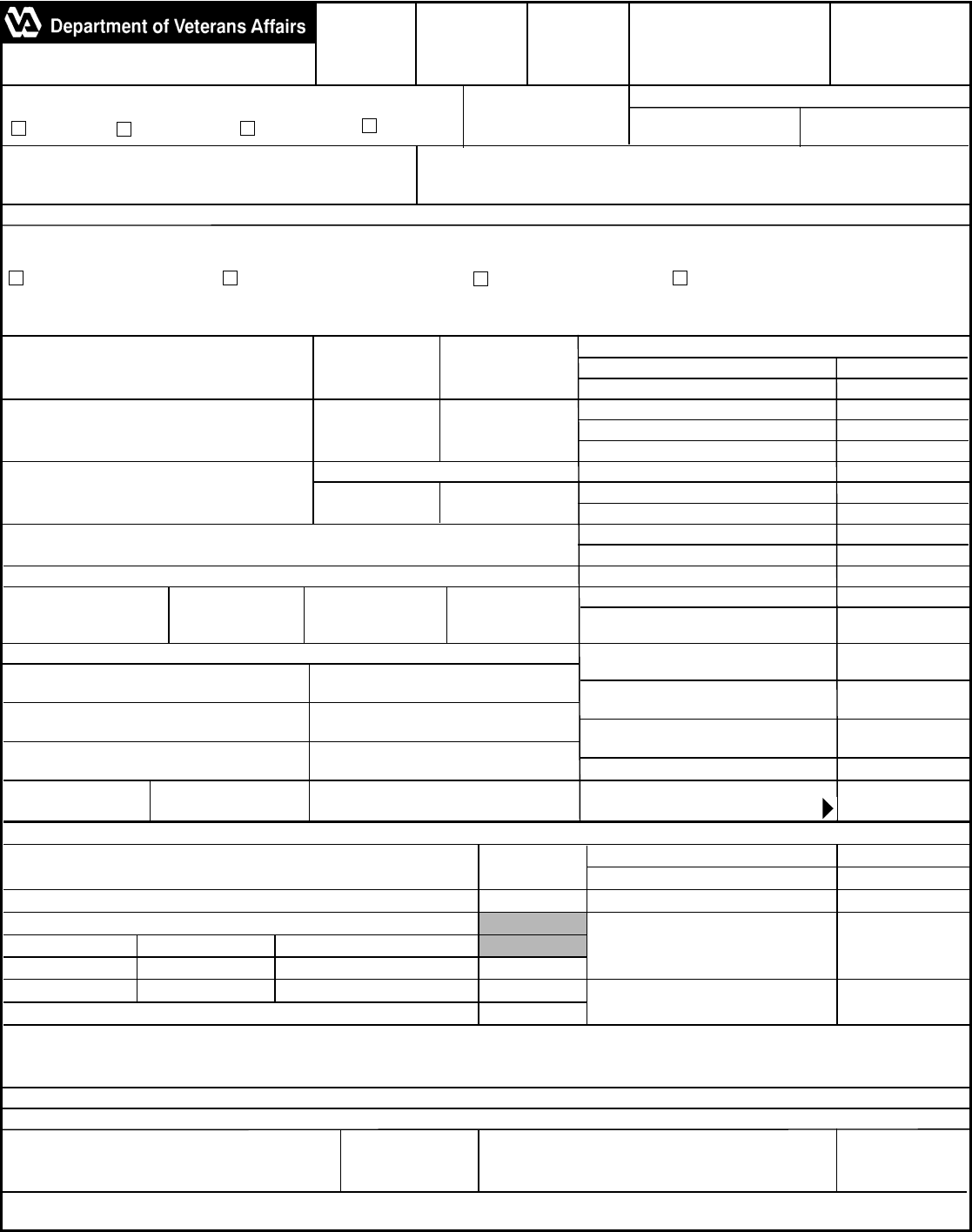 OFF. JURIS.OFF. ORIG.TYPELOAN NUMBERNAME CODE
PENALTY - The law provides severe penalties which include fine or imprisonment, or both, for the willful submission of a statement or evidence of a material fact,
knowing it to be false.
1. INTERVIEW CONDUCTED
2. DATE OF INTERVIEW
3. TELEPHONE NUMBER
A. HOME
B. BUSINESS
5. NAME(S) OF PERSON(S) INTERVIEWED
SECTION I - FINANCIAL INFORMATION
6. PLEASE CHECK THE APPROPRIATE BOX(ES). IF ONE OR MORE ARE CHECKED, THIS REPORT MUST INCLUDE INFORMATION CONCERNING THE BORROWER'S
SPOUSE (OR FORMER SPOUSE IF BOX "D" IS CHECKED). IF NO BOXES ARE CHECKED, NO INFORMATION CONCERNING THE SPOUSE NEED BE FURNISHED.
C. THE BORROWER IS
RELYING ON THE SPOUSE'S
INCOME AS A BASIS FOR
REPAYMENT OF THE LOAN
A. THE SPOUSE IS OR WILL BE
JOINTLY OBLIGATED WITH
THE BORROWER ON THE
LOAN
B. THE BORROWER IS MARRIED AND
THE PROPERTY SECURING THE
LOAN IS LOCATED IN A COMMUNITY
PROPERTY STATE
D. THE BORROWER IS RELYING ON ALIMONY,
CHILD SUPPORT, OR SEPARATE
MAINTENANCE PAYMENTS FROM A SPOUSE
OR FORMER SPOUSE AS A BASIS FOR
REPAYMENT OF THE LOAN
LOAN SERVICE REPORT
A. MORTGAGE PAYMENT
13. TYPE OF WORK
9. TYPE OF WORK
14A. NAME AND ADDRESS OF NEXT OF KIN
IN OFFICE
I. TOTAL ASSETS
11. NAME AND ADDRESS OF SPOUSE'S EMPLOYER
8. LENGTH OF
EMPLOYMENT
IN FIELD
BY PHONE
7. NAME AND ADDRESS OF EMPLOYER
12. LENGTH OF
EMPLOYMENT
14B. TELEPHONE NO. OF NEXT OF KIN
HOMEBUSINESS
15. AGE(S) OF OTHER DEPENDENT(S)
D. GAS
C. HEATING OIL
E. ELECTRIC
G. TRANSPORTATION
F. TELEPHONE
H. GASOLINE
J. LIFE INSURANCE
I. AUTO INSURANCE
K. MEDICAL
M. LOAN
(Specify lender)
L. CLOTHING
N. LOAN
(Specify lender)
Q. MISC.-PERSONAL
R. TOTAL MONTHLY EXPENSES
O. CREDIT CARD
(Co. name)
16. AVERAGE MONTHLY INCOME FROM ALL SOURCES
pay)
B. COMP. OR
PENSION
C. RENTAL OR OTHER
D. TOTAL
10. MONTHLY EXPENSES
$
17. DISCRETIONARY INCOME
A. TOTAL MONTHLY INCOME
(Item 16D)
$
$
$$$
-
B. MINUS TOTAL MONTHLY EXPENSES
C. TOTAL MONTHLY DISCRETIONARY INCOME
AVAILABLE TO REPAY THE DELINQUENCY
$
17D. REG. INSTALLMENT17E. TOTAL DELINQUENCY
17F. TOTAL DELINQUENCY AS OF
18. ASSETS
$
$$
19. BORROWER'S EXPLANATION OF DELINQUENCY
SECTION II - CERTIFICATIONS
(See Privacy Act Information)
A.CASH AVAILABLE
(Checking and savings accounts, building and loan accounts,
on-hand, etc.)
E. SAVINGS BONDS
(Current value)
$
F. STOCKS AND OTHER BONDS
(Current value)
$
G. REAL ESTATE OWNED
(Resale value)
B. FURNITURE AND HOUSEHOLD GOODS
(Resale value)
C. AUTOMOBILES
(Resale value)
MAKEYEARMODEL
I (WE) AFFIRM that the information contained herein is true, correct, and complete to the best of my (our) knowledge and belief.
D. TRAILERS, BOATS, CAMPERS
(Resale value)
20A. SIGNATURE OF BORROWER/APPLICANT
(
20B. DATE
21A. SIGNATURE OF SPOUSE (
Sign in ink
)
21B. DATE
SUPERSEDES VA FORM 26-6808, MAR 2014,
WHICH WILL NOT BE USED.
VA FORM
NOV 2016
26-6808
Page 1
OMB Control No. 2900-0249
Respondent Burden: 25 minutes
Expiration Date: 11/30/2019
$
$
B. FOOD
EMAIL
4. EMAIL ADDRESS

26A. PROPERTY IS
(Check appropriate box)
OWNER
OCCUPIED
27A. MAJOR REPAIRS REQUIRED
33. REMARKS
SECTION III - PROPERTY INFORMATION
22. PROPERTY ADDRESS
23. NO. OF LIVING UNITS
24. MAILING ADDRESS
(If different from Item 22)
25. GENERAL CONDITION OF PROPERTY
VACANT
RENTED
(Complete
Items 26B, C, and D)
26B. NAME OF TENANT26C. AMOUNT OF RENT26D. RENT PAID TO
27B. ESTIMATED COST
28. YOUR OPINION AS TO CAUSE OF DELINQUENCY
29. DELINQUENCY REGARDED AS
TEMPORARY
PERMANENT
30. DOMESTIC SITUATION
31. PROPOSED REPAYMENT SCHEDULE
(Should be realistic and within borrower's ability to repay)
32. RECOMMENDATIONS
FORBEARANCE
OTHER
(Explain - Use Item 33, Remarks, if necessary)
34. SIGNATURE OF REPRESENTATIVE (
Sign in ink
)
VA
FORM 26-6808, NOV 2016
35. DATE SIGNED
RESPONDENT BURDEN
: We need this information to provide financial counseling under Title 38 USC 3732(a)(4). We estimate that you will need an average of 25
minutes to review the instructions, find the information, and complete this form. VA cannot conduct or sponsor a collection of information unless a valid OMB control
number is displayed. You are not required to respond to a collection of information if this number is not displayed. Valid OMB control numbers can be located on the
OMB Internet Page at
www.reginfo.gov/public/do/PRAMain
. If desired, you can call 1-800-827-1000 to get information on where to send comments or suggestions
about this form.
PRIVACY ACT NOTICE
- VA will not disclose information collected on this form to any source other than what has been authorized under the Privacy Act of 1974
or Title 38, Code of Federal Regulations 1.576 for routine uses (e.g., to a member of Congress inquiring on behalf of a veteran) as identified in the VA system of
records, 55VA26, Loan Guaranty Home, Condominium and Manufactured Home Loan Applicant Records, Specially Adapted Housing Applicant Records, and Vendee
Loan Applicant Records - VA, and published in the Federal Register. Your obligation to respond is voluntary, but without this information VA may be unable to
provide financial counseling or assistance in dealing with your mortgage loan holder.
Page 2