Fillable Printable Administrative Assistant Resume Sample
Fillable Printable Administrative Assistant Resume Sample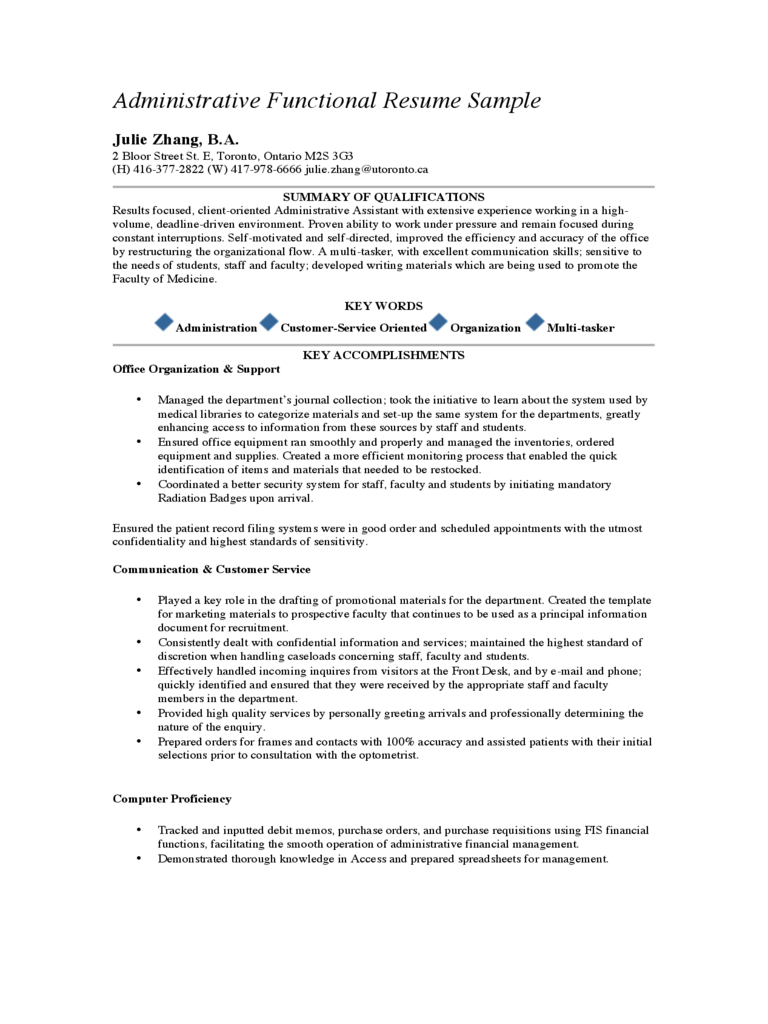 Administrative Assistant Resume Sample

Administrative FunctionalResume Sample
!
Julie Zhang, B.A.
2 Bloor Street St. E, Toronto, Ontario M2S 3G3
SUMMARY OF QUALIFICATIONS
Results focused, client
-oriented Administrative Assistant with extensive experience working in a high

-
volume, deadline
-
driven environment. Proven ability to work under pressure and remain focused during
constant interruptions. Self
-motivated and self-

directed, improved the efficiency and accuracy of the office
by restructuring the organizational flow.
A multi-

tasker, with excellent communication skills; sensitive to
the needs of students, staff and faculty; developed writing materials which are being used to promote the
Faculty of Medicine.
KEY WORDS
AdministrationCustomer
-Service OrientedOrganization Multi-

tasker
KEY ACCOMPLISHMENTS
Office Organization & Support
•
Managed the department's journal collection; took the initiative to learn about the system used by
medical libraries to categorize materials and set
-up the same system for the departm

ents, greatly
enhancing access to information from these sources by staff and students.
•
Ensured office equipment ran smoothly and properly and managed the inventories, ordered
equipment and supplies. Created a more efficient monitoring process that enable
d the quick
identification of items and materials that needed to be restocked.
•
Coordinated a better security system for staff, faculty and students by initiating mandatory
Radiation Badges upon arrival.
Ensured the patient record filing systems were in
good order and scheduled appointments with the utmost
confidentiality and highest standards of sensitivity.
Communication & Customer Service
•
Played a key role in the drafting of promotional materials for the department. Created the template
for marketing
materials to prospective faculty that continues to be used as a principal information
document for recruitment.
•
Consistently dealt with confidential information and services; maintained the highest standard of
discretion when handling caseloads concerning
staff, faculty and students.
•
Effectively handled incoming inquires from visitors at the Front Desk, and by e-

mail and phone;
quickly identified and ensured that they were received by the appropriate staff and faculty
members in the department.
•
Provided

high quality services by personally greeting arrivals and professionally determining the
nature of the enquiry.
•
Prepared orders for frames and contacts with 100% accuracy and assisted patients with their initial
selections prior to consultation with the o
ptometrist.
Computer Proficiency
•
Tracked and inputted debit memos, purchase orders, and purchase requisitions using FIS financial
functions, facilitating the smooth operation of administrative financial management.
•
Demonstrated thorough knowledge in

Access and prepared spreadsheets for management.

!
WORK HISTORY
University of Toronto, Faculty of Medicine, Medical Genetics & Microbiology
200

8-

Present
Administrative Assistant
Provide assistance to staff, faculty, and students in the department and en
sure that the daily routine of
administration is handled efficiently and confidentially for graduate and undergraduate program.
David Ko Optometry
2005

-

2008
Receptionist
Provided superior administrative support for a busy downtown optometry office by assisting the patients in
the fitting and selecting of their frames and contact lenses.
Entrusted with the organization and planning of
the daily work schedules for staff and Doctors. Coordinated and handled daily office duties and scheduled
appointments for patients.
EDUCATION & PROFESSIONAL DEVELOPMENT
York University, Bachelor of Arts
(Sociology), 2006
• ROSI: Basic Courses, Organizational Development & Learning Centre
,

Present
• The Student Experience Course Series, Organizational Development
, 2009
• FIS Training, Organization
al Development & Learning Centre, 200

8
• Desktop Applications Course and A
ccess Certification ODLC, 200

7
AFFILIATIONS
Take Our Daughters & Sons To Work Day,
Event Volunteer

200

7-

2010
Alzheimer Society of Canada,
Fundraising Committee

200

6-

2009
Parent Teaching Association,
Our Lady Of Lourdes

2003

-

2007
Canadian Amateur Golfers Association,
Member

2001

-

2005
!