Fillable Printable Affidavit to Correct the Ownership Record of a Motor Vehicle - Minnesota
Fillable Printable Affidavit to Correct the Ownership Record of a Motor Vehicle - Minnesota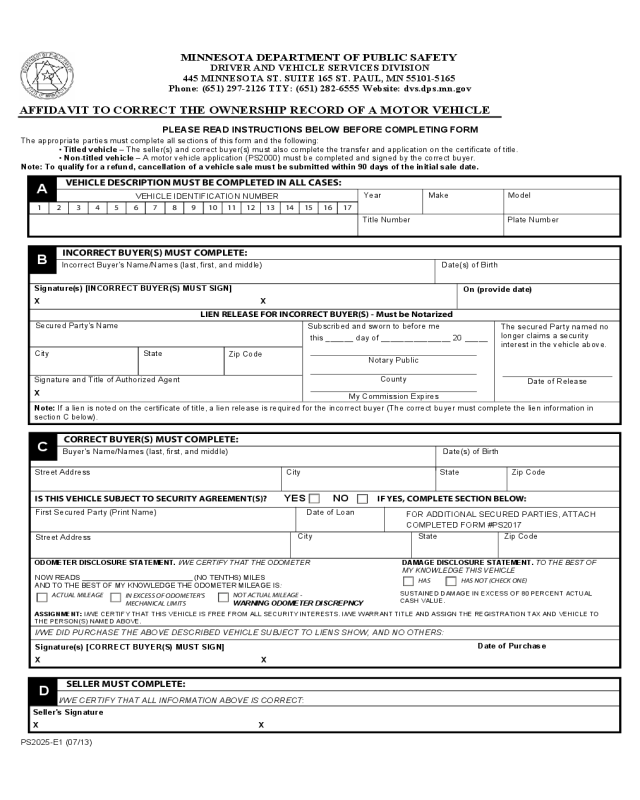 Affidavit to Correct the Ownership Record of a Motor Vehicle - Minnesota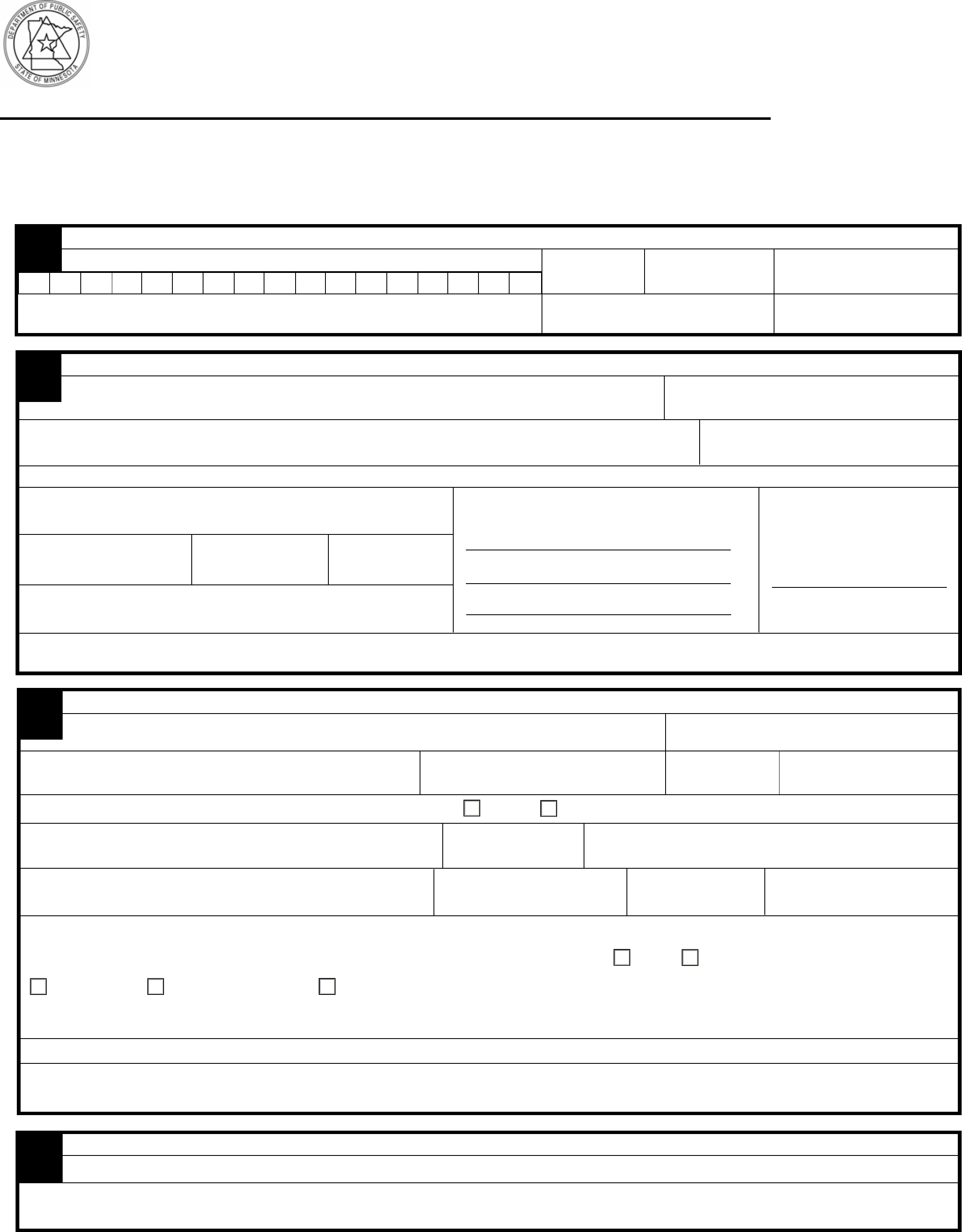 VEHICLE DESCRIPTION MUST BE COMPLETED IN ALL CASES:
VEHICLE IDENTIFICATION NUMBER
MINNESOTA DEPARTMENT OF PUBLIC SAFETY
DRIVER AND VEHICLE SERVICES DIVISION
445 MINNESOTA ST. SUITE 165 ST. PAUL, MN 55101-5165
Phone: (651) 297-2126 TTY: (651) 282-6555 Website: dvs.dps.mn.gov
AFFIDAVIT TO CORRECT THE OWNERSHIP RECORD OF A MOTOR VEHICLE
PLEASE READ INSTRUCTIONS BELOW BEFORE COMPLETING FORM
PS2025-E1 (07/13)
The appropriate parties must complete all sections of this form and the following:
•
Titled vehicle
– The seller(s) and correct buyer(s) must also complete the transfer and application on the certificate of title.
•
Non-titled vehicle
– A motor vehicle application (PS2000) must be completed and signed by the correct buyer.
Note: To qualify for a refund, cancellation of a vehicle sale must be submitted within 90 days of the initial sale date.
A
1
2
3
4
5
6
7
8
9
10
11
12
13
14
15
16
17
Model
Title Number
Plate Number
INCORRECT BUYER(S) MUST COMPLETE:
Signature(s) [INCORRECT BUYER(S) MUST SIGN]
LIEN RELEASE FOR INCORRECT BUYER(S) - Must be Notarized
Note:
If a lien is noted on the certificate of title, a lien release is required for the incorrect buyer (The correct buyer must complete the lien information in
section C below).
B
Incorrect Buyer's Name/Names (last, first, and middle)
Date(s) of Birth
Signature and Title of Authorized Agent
X
Secured Party's Name
City
State
Zip Code
Subscribed and sworn to before me
The secured Party named no
longer claims a security
interest in the vehicle above.
this ______ day of _______________ 20 _____
Notary Public
County
My Commission Expires
Date of Release
SELLER MUST COMPLETE:
I/WE CERTIFY THAT ALL INFORMATION ABOVE IS CORRECT
:
Seller's Signature
D
On (provide date)
CORRECT BUYER(S) MUST COMPLETE:
IS THIS VEHICLE SUBJECT TO SECURITY AGREEMENT(S)? IF YES, COMPLETE SECTION BELOW:
FOR ADDITIONAL SECURED PARTIES, ATTACH
ODOMETER DISCLOSURE STATEMENT.
I/WE CERTIFY THAT THE ODOMETER
DAMAGE DISCLOSURE STATEMENT.
TO THE BEST OF
MY KNOWLEDGE THIS VEHICLE
NOW READS ___________________________ (NO TENTHS) MILES
AND TO THE BEST OF MY KNOWLEDGE THE ODOMETER MILEAGE IS
SUSTAINED DAMAGE IN EXCESS OF 80 PERCENT ACTUAL
ASSIGNMENT:
I/WE CERTIFY THAT THIS VEHICLE IS FREE FROM ALL SECURITY INTERESTS. I/WE WARRANT TITLE AND ASSIGN THE REGISTRATION TAX AND VEHICLE TO
THE PERSON(S) NAMED ABOVE.
I/WE DID PURCHASE THE ABOVE DESCRIBED VEHICLE SUBJECT TO LIENS SHOW, AND NO OTHERS:
Signature(s) [CORRECT BUYER(S) MUST SIGN]
C
Buyer's Name/Names (last, first, and middle)
Date(s) of Birth
Street Address
City
YES
NO
Zip Code
State
City
First Secured Party (Print Name)
Date of Loan
Street Address
ACTUAL MILEAGE
IN EXCESS OF ODOMETER'S
MECHANICAL LIMITS
HAS NOT (CHECK ONE)
HAS
NOT ACTUAL MILEAGE -
WARNING ODOMETER DISCREPNCY
Date of Purchase