Fillable Printable Application for Certified Marriage Certificate - West Virginia
Fillable Printable Application for Certified Marriage Certificate - West Virginia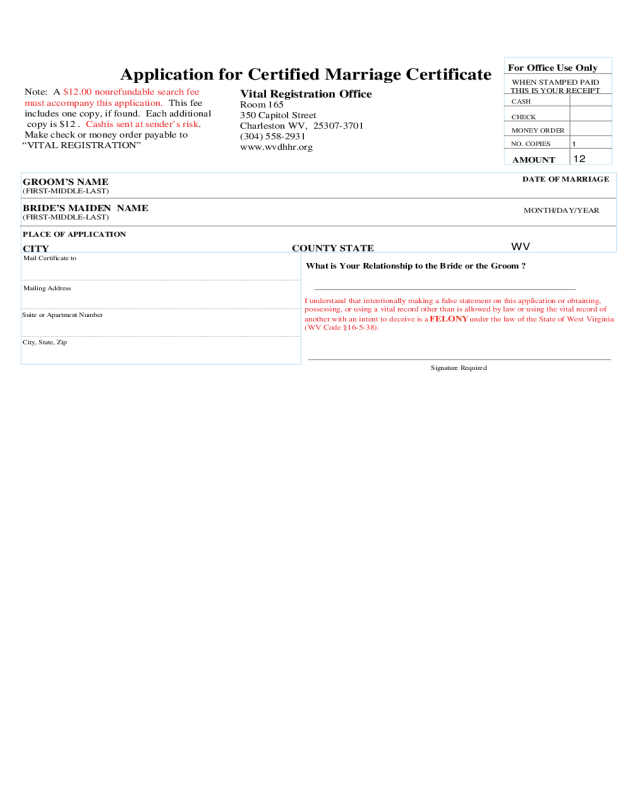 Application for Certified Marriage Certificate - West Virginia CITY
PLACE OF APPLICATION
BRIDE'S MAIDEN NAME
(FIRST-MIDDLE-LAST)
GROOM'S NAME
(FIRST-MIDDLE-LAST)
DATE OF MARRIAGE
COUNTY STATE
Application for Certified Marriage Certificate
Vital Registration Office
Room 165
350 Capitol Street
Charleston WV, 25307-3701
(304) 558-2931
www.wvdhhr.org
AMOUNT
MONEY ORDER
WHEN STAMPED PAID
THIS IS YOUR RECEIPT
For Office Use Only
CASH
CHECK
NO. COPIES
MONTH/DAY/YEAR
City, State, Zip
Mail Certificate to
Mailing Address
Suite or Apartment Number
What is Your Relationship to the Bride or the Groom ?
I
understand that intentionally making a false statement on this application or obtaining,
possessing, or using a vital record other than is allowed by law or using the vital record of
another with an intent to deceive is a
FELONY
under the law of the State of West Virginia
Signature Required
Note: A
$12.00 nonrefundable search fee
must accompany this application.
This fee
includes one copy, if found. Each additional
copy is $12 .
Cashis sent at sender's risk

.
Make check or money order payable to
"VITAL REGISTRATION"
1
12
WV