Fillable Printable Sample Template of Application for Marriage Certificate
Fillable Printable Sample Template of Application for Marriage Certificate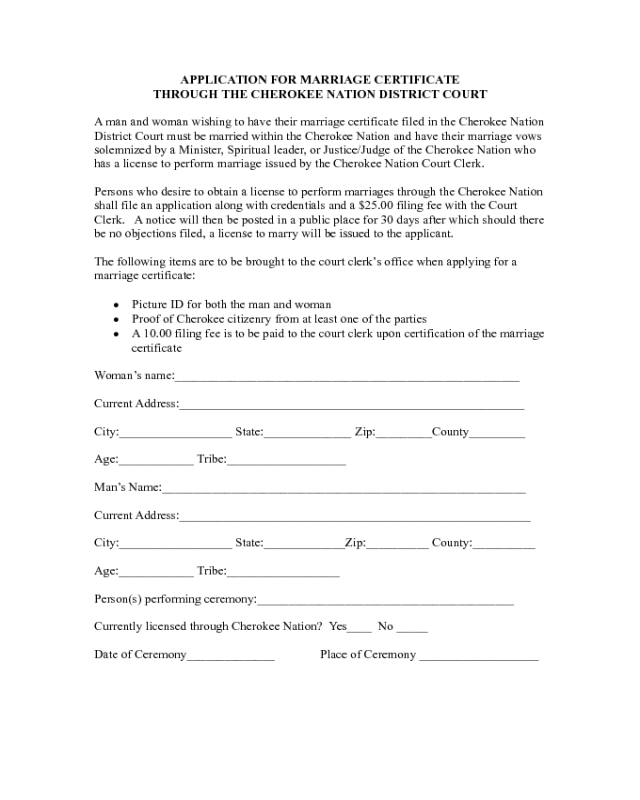 Sample Template of Application for Marriage Certificate
APPLICATION FOR MARRIAGE CERTIFICATE
THROUGH THE CHEROKEE NATION DISTRICT COURT
A man and woman wishing to have their marriage certificate filed in the Cherokee Nation
District Court must be married within the Cherokee Nation and have their marriage vows
solemnized by a Minister, Spiritual leader, or Justice/Judge of the Cherokee Nation who
has a license to perform marriage issued by the Cherokee Nation Court Clerk.
Persons who desire to obtain a license to perform marriages through the Cherokee Nation
shall file an application along with credentials and a $25.00 filing fee with the Court
Clerk. A notice will then be posted in a public place for 30 days after which should there
be no objections filed, a license to marry will be issued to the applicant.
The following items are to be brought to the court clerk's office when applying for a
marriage certificate:

Picture ID for both the man and woman

Proof of Cherokee citizenry from at least one of the parties

A 10.00 filing fee is to be paid to the court clerk upon certification of the marriage
certificate
Woman's name:_______________________________________________________
Current Address:_______________________________________________________
City:__________________ State:______________ Zip:_________County_________
Age:____________ Tribe:___________________
Man's Name:__________________________________________________________
Current Address:________________________________________________________
City:__________________ State:_____________Zip:__________ County:__________
Age:____________ Tribe:__________________
Person(s) performing ceremony:_________________________________________
Currently licensed through Cherokee Nation? Yes____ No _____
Date of Ceremony______________
Place of Ceremony ___________________