Fillable Printable Application for Disability Parking Certificate - Minnesota
Fillable Printable Application for Disability Parking Certificate - Minnesota

Application for Disability Parking Certificate - Minnesota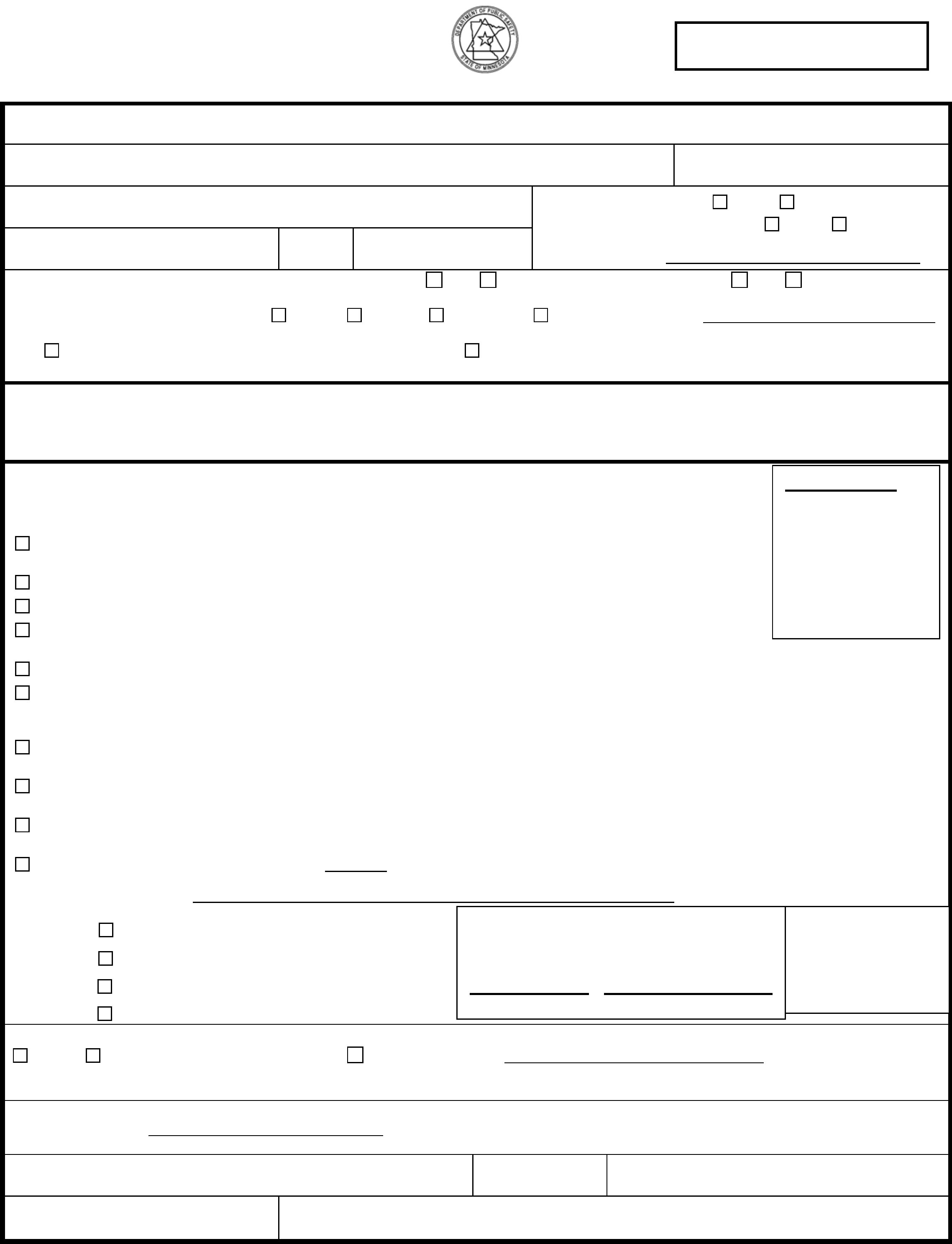 Minnesota Dep artment of Publ ic Safety
Driver and Vehicle Services Division
445 Minnes ota St., Suite 164
St. Paul, MN 55101-5164
Internet: MNdriveinfo.org
APPLICATION FOR DISABILITY PARKING CE
RTIFICATE

PS2005-28
DISABLED INDIVIDUAL SECTION
To be com
erson with a certifiable disabilit
Full Name (Please Print) Last,
First and Middle Date of Birth
Address
Are you a licensed driver?
Yes
No
Do you have a Minnesota ID Card?
License/ID Number
Have you ever had a Minneso ta
Disability Parking Certificat e?

Yes

No MN disability license plates?

Yes

No
List certificate and/or plat
e #______ __________ __________
If applying for duplicate, check reason:
Lost
Stolen Damaged

Other; Please Explain
⎯⎯⎯⎯⎯⎯⎯⎯⎯⎯⎯⎯⎯⎯⎯⎯⎯⎯⎯⎯⎯⎯⎯⎯⎯⎯⎯⎯⎯⎯⎯⎯⎯⎯⎯⎯⎯⎯⎯⎯⎯⎯⎯⎯⎯⎯⎯⎯⎯⎯⎯⎯⎯⎯⎯⎯⎯⎯⎯⎯⎯⎯
Check Here if this applicati on is for two disability certificates
Check Here if this application is

for a second disability certificate
(Not available if you have disability license plat
es) (Limit of 2 cer

tificates per person)
I hereby certif y the above information is complete a nd accurate to
the best of my knowledge. I also give permission to my phys

ician to
supply the information requested.
Date
_____ ___________ ______
Signature

_________________________________________________________ ____
Medical Section:
The applicant must meet one or more of the definition(s) of a

"physically disabled person "

described below
•
Items six through ten must specifically identify the disability or the application will be delayed or denied.
Generic terms such as "Back Pain", "Leg Pain", etc. are not acceptable.
The Applicant:
1. Has a cardiac condition to the extent that the applicant's functional limitations are classi

fied in severity as Class III or
Class IV according to the standards se
t by the American Heart Association.
3. Has an arterial oxygen tension (PAO
2
) of less than 60 mm/Hg on room air at rest.
4. Is restricted by a respiratory disease to such an extent that the applicant's forced (respiratory) expiratory volume for one

second, when
measured by spirometry, is less than one liter.
5. Has lost an arm or leg and does not
have or cannot use an artificial limb.
6. Due to disability, uses a wheelchai

r or cannot walk without the aid of:
Another Person; A Walker;
A Cane; Crutches; Braces; A Prosthetic Device:

Please specify

______________________________
or other Assistive Device:
Please specify
___________________________________
7.

Has a disability that would be aggravated by walking 200 feet under normal environ mental conditions to an extent that would be

life-threatening.
This condition is :______________
__________________________ _________ Must be Specific Physical Disability
8. Due to disability cannot walk 200 feet without stopping to rest.
This condition is:____________________________
_______________________ Must be Specif

ic Physical Disability
9. Due to disability cannot walk with

out a significant risk of falling.
This condition is:___________________
_________________________________ Must be Specific Physical Disability
10. Has a specific medical c

ondition related to pregnancy that could be aggravated by walking to the extent that the life or health of the person or
fetus may be endangered (
Temporary certificate only

; may not exceed expected length of pregnancy)
Describe Condition:
Certificate Type:
Fee $5.00 ea.
Temporary

1 t o 6 Months

MustSpecify

→
Fee $5.00 ea.
Short Term
7 to 12 Months

Must
Specify
→
No Fee
Long-Term
13 to 71 months
Must
Specify
→
No Fee
6-year Certificate
For permanent disabilitie s
Is the applicant qualified, in all medica l respects to exer
cise reasonable and ordinary control over a motor vehicle?
Yes
Yes, with adaptive equipment

No, pleas e specify
A no answer may result in cancellation of driving privilege.
Failure to answer this question will result in a request for a medical report.
I certify, by my sign ature as a licensed
physician, reg. physician's assistant, adva nced prac tice registered nurse, or chiropra

ctor that, in my
professional opinion
(
Patient's name
) meets the definition(s) I ha ve c

hecked ab ove and is entitled to the
applied for parking certificate. I would be guilty of a misdem ean
or and subject to a fine of $500.00 for fra udulently certifyi

ng the applicant.
Signature & Title
Date

Print Name
Telephone Number
( )
Address, City, State, Zip Code
Deputy Stamp
Certificate Expiration Date
Requested
Month Year
IMPORTANT!
If no date is indicated
the certificate will be
issued for the minimum
duration of certificate
type

NOTICE:
Any information suppli ed on this form is collecte d under the authority of Minnesota Statutes, and will be used only by auth or

ized Driver
and Vehicle Services Division personnel to determine your elig
ibility for the issuance of a Disability Parking Certificate and

driving privileges.
Failure to provide and return the requeste d data will result in the denial of your request.
Please read and familiarize yourself with the information on this form.
WHO IS ELIGIBLE FOR THE CERTIFICATE?
Any Minnesota resident who meets one or more
of the definitions of a "physically disable d perso n" listed on the front of this a

pplication.
Residents of other states that are visiting or temporarily resi
ding in Minnesota may apply for a Temporary certificate (6 month

s maximum).
Residents of ot her states must make applicat ion fo
r permanent certificates in their home state.
HOW DO I USE THE CERTIFICATE?
The certificate is issued to y
ou, not the vehicle. Therefore, you may display it when parking any vehicle you are driving or r

iding in. The
certificate is to be displ ayed on the re ar view mirror onl y wh
en parked. Dri ving with the cert ificate hanging from the m irror

creates an obstructed
view, which is i llegal and ver y dangerous. If your d isability make
s it impra ctical to hang the certificate from the re ar view

mirror it may be placed
on the dashbo ard when parked.
Only one certificate is issued per disabled individual if app
licant also possesses a set of disability license plates. You may

qualify for 2
certificates if you do not have
disability license plates for your vehicle. Cert
ificates are valid until the last day of the m

onth indicated on the
certificate.
I HAVE HEARD THAT SOME PEOPLE WHO HAVE APPLIED FOR THE
CERTIFICATE HAVE BEEN REQU

IRED TO RETEST FOR THEIR
DRIVER LICENSE. IS THAT TRUE?
YES.
If a disabled pers on with a driver's license applies for a certificate, the Department of Public Safety may check the driver'

s lic ense record.
If the department has a record of the disabilit
y, there is no action taken. If the department has no such record of the disabi

lity, certification must
be made that the disability will not interfer
e with his/her driving ability. In most cases, the department will ask the applic

ant to come in for an
interview so they can determine if a re-test may be necessary.
Although this procedure may be an inconvenience for some, the D

epartment of
Public Safet y has an obligation to ensure tha t licens
ed drivers are qualifie d to operate a motor vehicle.
WHAT PRIVILEGES DOES THE CERTIF
ICATE PROVIDE IN MINNESOTA?
A vehicle that prominently displays the ce
rtificate may be parked by or solely for the benefit of a physically disabled person
1) in a designated
disability parking space; 2) in a non-restricted metered parki
ng space without obligation to pay the meter fee, and without re

gard to time
limitation unless otherwise posted; or
3) in a non-metered time limited passenger vehicle space u nl ess otherwise posted.
When parked the occupants must exit
the vehicle. It is not permissible to use the certificate to wait in a disability parking

space.
This la w does not permit parking in areas prohibited by Sections 169.32 and 169.34, 1) in desi
gnated no parking spaces; 2) in

parking spac es
reserved for specified purpose; 3) where there is a loc al ordi
nance that prohibits parking on any street or highway for the pu

rpose of creating a
Fire lane; or 4) to provide for the accommo dation of
heav y traffic during morning and afternoon rush hours.
For privileges in other states or Can adian prov
inces, please contact those states/provinces.
MISUSE OF THE CERTIFICATES
Any unauthorized use or reproduction of the Department issued Disab
ility Parking Certificate is subject to the revocation of pa

rking privilege. A
person who is convicted of misusing the certificate woul
d be guilty of a misdemeanor and subject to a fine of

$500.00.

Knowingly allowing the
misuse of the certificate or disability
license plates shall result in the c

ancell ation of disability parking pr ivileges.
WHAT IF I MISPLACE/LOSE MY CERTIFICATE?
If you need a replacement certificate you must apply for a duplicat
e certificate you may co mplete Section A of this application

.
For replacement of Temporary and S
hort-Term Certificates due to loss or

theft there is a fee of $5.00.
The certificate is valid for the d uratio n of
the p erson 's disabilit y, as specified b y

the health care provider's statement.
1 to 6 m onths for a temporary ce
rtificate, 7 to 12 months for a short-term certificate, 13 to 71 months for a long-term cer t ificate, or

six yea rs

for a
permanent disabil ity. The disability may need to be re-certifi
ed before a new or subsequent certificate can be issued.
If your health care provider extends the le
ngth of the disability there is no fee for the subsequent certificate, however along

with the health care
provider's signature the medical
statement is required and must clearly state that it is an extension for a previously certifie

d disability
.
For a lost certificate you may be required to
identify measures that you have taken in order to prevent future lost certific ate

s.
For stolen certificates, you may be asked to provid
e a copy of the police report regarding the theft.
If you have further questions regarding this
application, contact the Driver and Vehi
cle Services Division at (651) 297-3377.
If you have
questions rega rding other services provided by Driver and Vehicle Services, pleas e call (651) 296-6911, or TT Y (651) 282-6555.
You may also contact us thro ugh the Internet at:
MNdriveinfo.org
This ap plication may be submitted at any mo tor vehicle office in Minnesota or by mail to the add ress listed on the front.
If relevant information is missi
ng the application will be rejected.
The information provided by the applicant and health care provider is required by state and federal guidelines.
All data collect ed on a disabili ty certificate
application is req uire d by law. This data is use d to determin e eligibilit y for

issuance of a disabilit y
certificate. All data collected is privat
e and may not be issued to anyone except law enforceme nt personnel (name/address info

rmation only) or
the applic ant.