Fillable Printable Bicycle or Moped Bill of Sale Form - Hawaii
Fillable Printable Bicycle or Moped Bill of Sale Form - Hawaii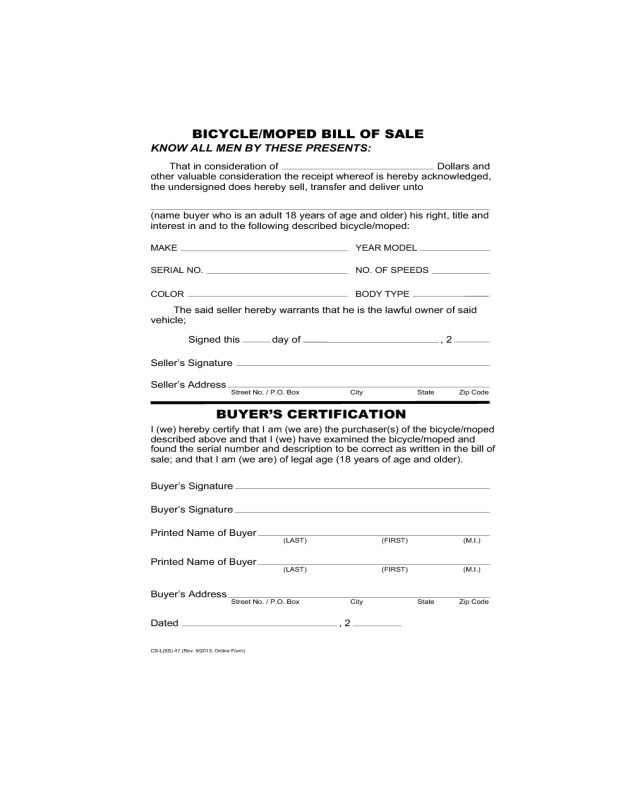 Bicycle or Moped Bill of Sale Form - Hawaii

BICYCLE/MOPED BILL OF SALE
KNOW ALL MEN BY THESE PRESENTS:
That in consideration of
Dollars and
other valuable consideration the receipt whereof is hereby acknowledged,
the undersigned does hereby sell, transfer and deliver unto
(name buyer who is an adult 18 years of age and older) his right, title and
interest in and to the following described bicycle/moped:
The said seller hereby warrants that he is the lawful owner of said
vehicle;
Signed this
Seller's Signature
Seller's Address
Street No. / P.O. Box
BUYER'S CERTIFICATION
I (we) hereby certify that I am (we are) the purchaser(s) of the bicycle/moped
described above and that I (we) have examined the bicycle/moped and
found the serial number and description to be correct as written in the bill of
sale; and that I am (we are) of legal age (18 years of age and older).
Buyer's Signature
Buyer's Signature
Printed Name of Buyer
(LAST)
Printed Name of Buyer
Buyer's Address
Street No. / P.O. Box
CS-L(SS) 47 (Rev. 9/2013, Online Form)