Fillable Printable Birthstones and Astrological Birthstones Chart
Fillable Printable Birthstones and Astrological Birthstones Chart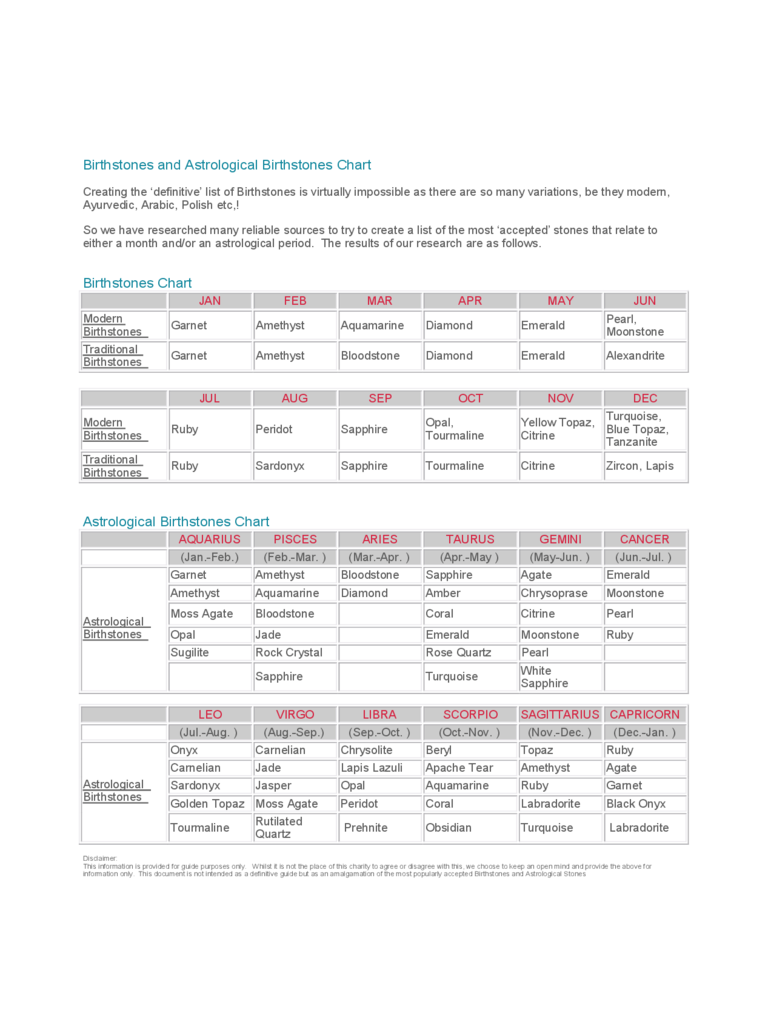 Birthstones and Astrological Birthstones Chart

Birthstones and Astrological Birthstones Chart
Creating the 'definitive' list of Birthstones is virtually impossible as there are so many variations, be they modern,
Ayurvedic, Arabic, Polish etc,!
So we have researched manyreliablesources to try to create a list of the most 'accepted' stones that relate to
either a month and/or an astrological period. The results of our research are as follows.
Birthstones Chart
JAN FEB MAR APR MAYJUN
Modern
Birthstones
Garnet Amethyst Aquamarine Diamond Emerald
Pearl,
Moonstone
Traditional
Birthstones
Garnet Amethyst Bloodstone Diamond Emerald Alexandrite
JUL AUG SEP OCT NOV DEC
Modern
Birthstones
RubyPeridot Sapphire
Opal,
Tourmaline
Yellow Topaz,
Citrine
Turquoise,
Blue Topaz,
Tanzanite
Traditional
Birthstones
RubySardonyx Sapphire Tourmaline Citrine Zircon, Lapis
Astrological Birthstones Chart
AQUARIUS PISCES ARIES TAURUS GEMINI CANCER
(Jan.-Feb.) (Feb.-Mar. ) (Mar.-Apr. ) (Apr.-May ) (May-Jun. ) (Jun.-Jul. )
Garnet AmethystBloodstone Sapphire Agate Emerald
Amethyst AquamarineDiamond Amber Chrysoprase Moonstone
Moss Agate Bloodstone Coral Citrine Pearl
Opal Jade Emerald MoonstoneRuby
Sugilite Rock Crystal Rose Quartz Pearl
Astrological
Birthstones
Sapphire Turquoise
White
Sapphire
LEO VIRGO LIBRA SCORPIO SAGITTARIUS CAPRICORN
(Jul.-Aug. ) (Aug.-Sep.) (Sep.-Oct. ) (Oct.-Nov. ) (Nov.-Dec. ) (Dec.-Jan. )
Onyx Carnelian Chrysolite Beryl Topaz Ruby
Carnelian Jade Lapis Lazuli Apache Tear Amethyst Agate
Sardonyx Jasper Opal Aquamarine RubyGarnet
GoldenTopaz Moss Agate Peridot Coral Labradorite Black Onyx
Astrological
Birthstones
Tourmaline
Rutilated
Quartz
Prehnite Obsidian Turquoise Labradorite
Disclaimer:
This information is provided for guide purposes only. Whilst it is not the place of this charity to agree or disagree with this, we choose to keep an open mind and provide the above for
information only. This document is not intended as a definitive guide but as an amalgamation of the most popularly accepted Birthstones and Astrological Stones