Fillable Printable Blank Drivers Declaration Form
Fillable Printable Blank Drivers Declaration Form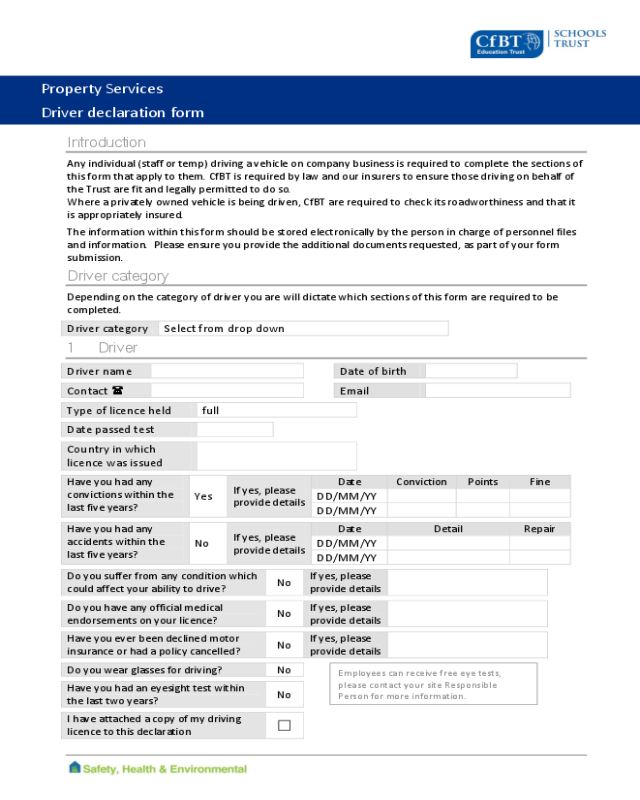 Blank Drivers Declaration Form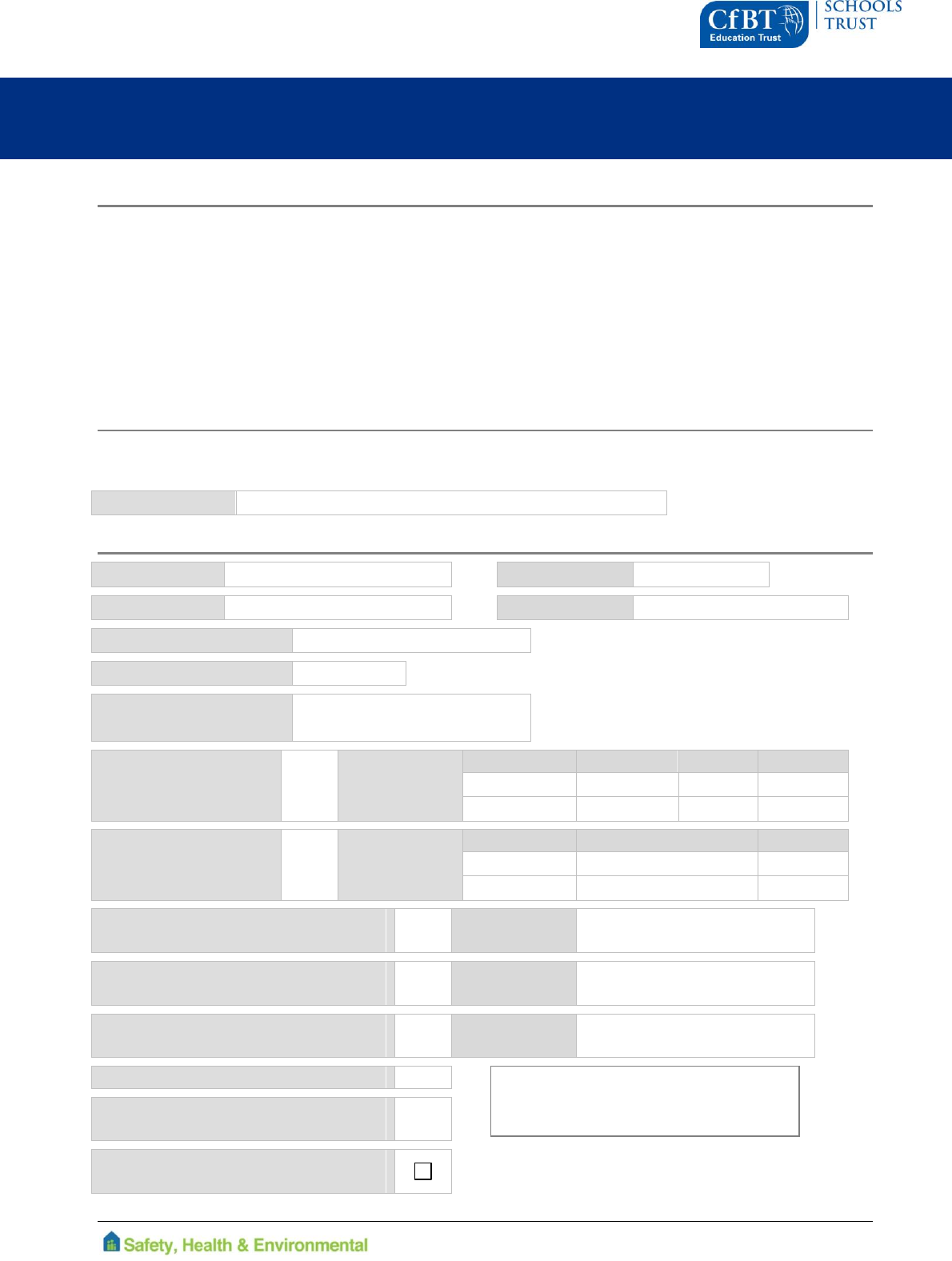 Introduction
Any individual (staff or temp) driving a vehicle on company business is required to complete the sections of
this form that apply to them. CfBT is required by law and our insurers to ensure those driving on behalf of
the Trust are fit and legally permitted to do so.
Where a privately owned vehicle is being driven, CfBT are required to check its roadworthiness and that it
is appropriately insured.
The information within this form should be stored electronically by the person in charge of personnel files
and information.
Please ensure you provide the additional documents requested, as part of your form
submission.
Driver category
Depending on the category of driver you are will dictate which sections of this form are required to b
e
completed.
Country in which
licence was issued
convictions within the
last five years?
If yes, please
provide details
Have you had any
accidents within the
last five years?
If yes, please
provide details
Do you suffer from any condition which
could affect your ability to drive?
If yes, please
provide details
Do you have any official medical
endorsements on your licence?
If yes, please
provide details
Have you ever been declined motor
insurance or had a policy cancelled?
If yes, please
provide details
Do you wear glasses for driving?
Have you had
an
eyesight test within
I have attached a copy of my driving
licence to this declaration
Employees can receive free eye tests,
please contact your site Responsible
Person for more information.
2
Vehicle & insurance details
Vehicle regularly serviced?
Is the vehicle displaying a valid road
fund tax disc?
Does your vehicle insurance provide
cover for travelling on business?
I attach a copy of my insurance
certificate to this declaration
It is the responsibility of all drivers (irrespective of the category of driver) to ensure the vehicle they are in
control of is safe, fit for purpose and legal to drive. Drivers must ensure their vehicles are inspected
appropriately this should include tyres*, windscreens, lighting, screen wash, oil in addition to regular
servicing.
Drivers of hire cars are advised to check oil, water and lights daily. Routine vehicle servicing is the
responsibility of the vehicle hire company.
Do you regularly inspect the vehicle you are driving to ensure it
remains roadworthy, in-line with the guidance provided above?
*Tyre tread depth must not fall below the legal minimum of 1.6mm. On wet roads a tread below 3mm can
reduce tyre performance and increase stopping distances.
I declare that to the best of my knowledge and belief I have answered the questions correctly and provided
accurate statements where necessary. I will complete a new declaration should any information within this
form change.
As a
company c

ar
or
hire c

ar
driver I understand that I am only insured by the company fleet insurance
policy for the vehicle outlined within my company car or hire car agreement.
As a
private vehicle user

I understand that I am responsible for insuring my vehicle and maintaining
business use insurance cover. I will provide the Property Services department with a copy of my insurance
certificate on an annual basis.