Fillable Printable Certificate Collection Form - USDA
Fillable Printable Certificate Collection Form - USDA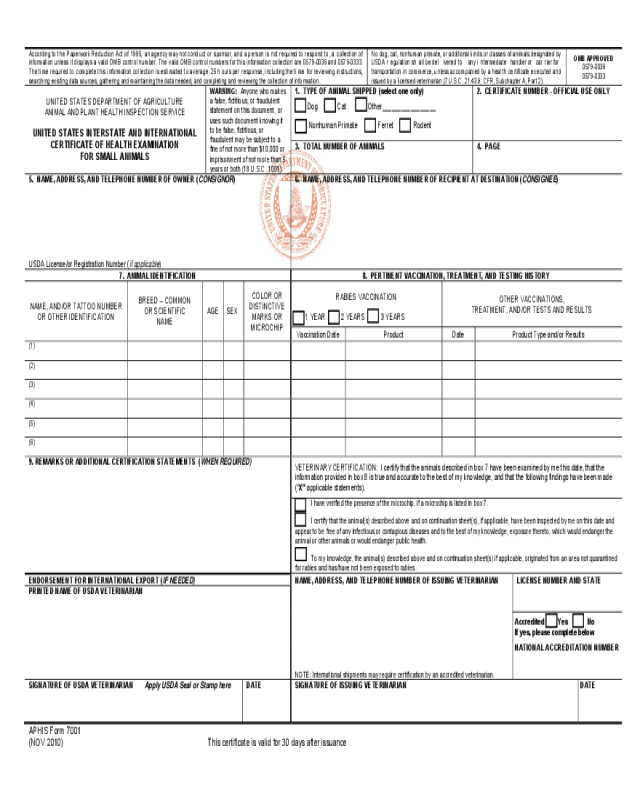 Certificate Collection Form - USDA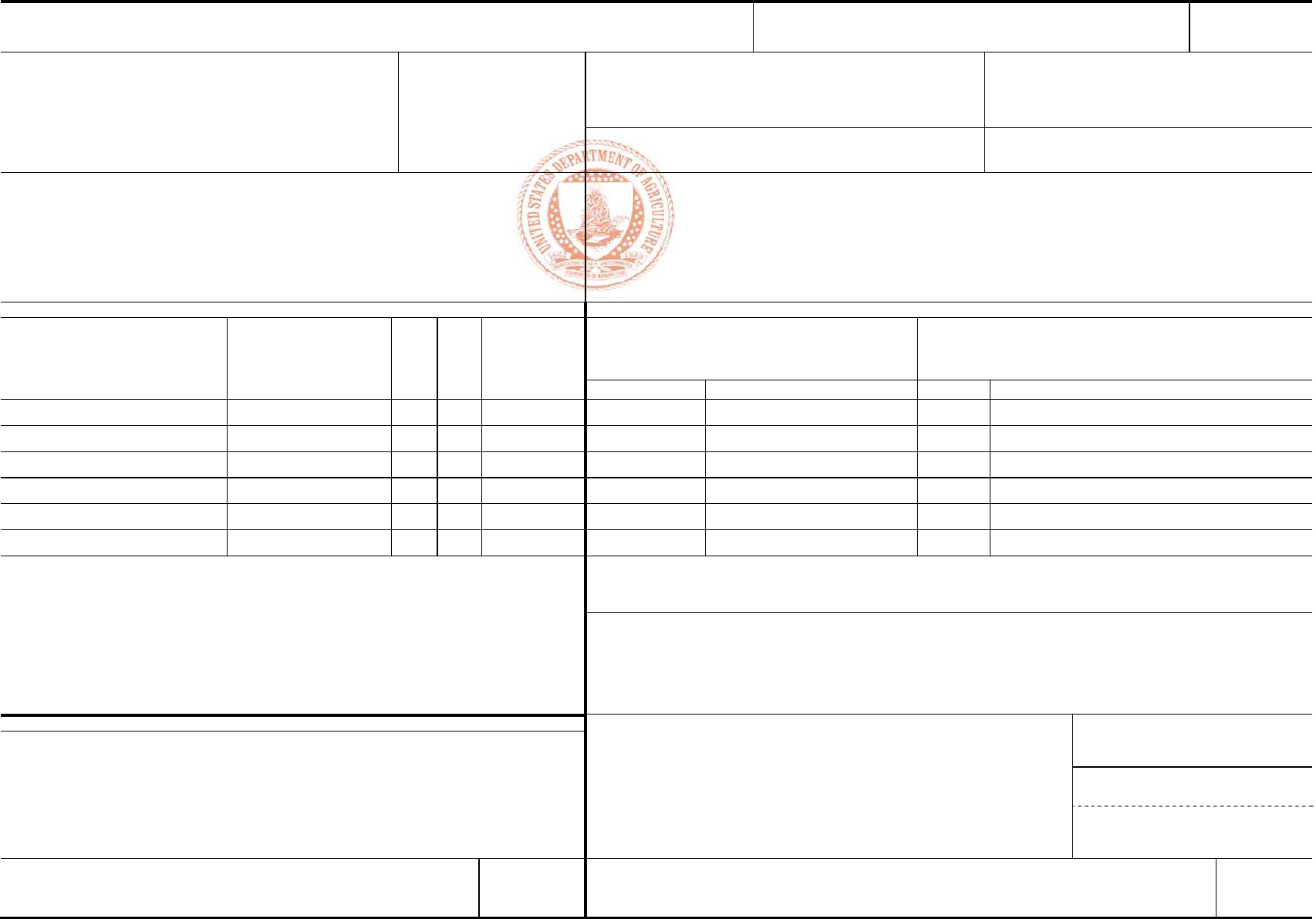 According to the Paperwork Reduction Act of 1995, an agency may not conduct orsponsor, and a person is not required torespond
to, acollection of
information unless it displays a valid OMB control number. The valid OMB control numbers for this information collection are 05
79-0036 and 0579-0333.
The time required to complete this information collection is estimated to average .25 hours perresponse, including the time fo
r reviewing instructions,
searching existing data sources, gathering and maintaining the data needed, and completing and reviewing the collection of info
rmation.
No dog, cat, nonhuman primate, or additional kinds or classes of animals designated by
USDA regulation shall be delivered to any intermediate handler orcarrier for
transportation in commerce, unless accompanied bya health certificate executed and
issued by a licensed veterinarian (7 U.S.C. 21.43.9; CFR, Subchapter A, Part 2).
OMB APPROVED
0579-0036
0579-0333
UNITED STATES DEPARTMENT OF AGRICULTURE
ANIMAL AND PLANT HEALTH
INSPECTION SERVICE
UNITED STATES INTERSTATE AND INTERNATIONAL
CERTIFICATE OF HEALTH EXAMINATION
FOR SMALL ANIMALS
WARNING:
Anyone who makes
a false, fictitious, or fraudulent
statement on this document, or
uses such document knowing it
to be false, fictitious, or
fraudulent may be subject to a
fine of not more than $10,000 or
imprisonment of not more than 5
years or both (18 U.S.C. 1001).
1. TYPE OF ANIMAL SHIPPED (select one only)
Dog
Cat

Other_________________
Nonhuman Primate

Ferret

Rodent
2. CERTIFICATE NUMBER
- OFFICIAL USE ONLY
3. TOTAL NUMBER OF ANIMALS 4. PAGE
5. NAME, ADDRESS, AND TELEPHONE NUMBER OF OWNER (
CONSIGNOR

)
USDA License/or Registration Number (
if appli cable
)
6. NAME, ADDRESS, AND TELEPHONE NUMBER OF RECIPIENT AT DESTINATION (
CONSIGNEE

)
7. ANIMAL IDENTIFICATION 8. PERTINENT VACCINATION, TREATMENT, AND TESTING HISTORY
NAME, AND/OR TATTOO NUMBER
OR OTHER IDENTIFICATION
BREED – COMMON
OR SCIENTIFIC
NAME
COLOR OR
DISTINCTIV
E
MARKS OR
MICROCHIP
RABIES VACCINATION
OTHER VACCINATIONS,
TREATMENT, AND/OR TESTS AND RESULTS
Vaccination Date Product Date Product Type and/or Results
(1)
(2)
(3)
(4)
(5)
(6)
9. REMARKS OR ADDITIONAL CERTIFICATION STATEMENTS (
WHEN REQUIRED)
VETERINARY CERTIFICAT
ION: I certify that the animals described in

box 7 have been examined by me this date, that the
information provided in box 8 is true and accurate to the best
of my knowledge, and that the following findings have been made
("
X"
applicable statements).
I have verified the presence of the microchip, if a microchip is listed in box 7.
I certify that the animal(s) described above and on continuation sheet(s), if applicable, have been inspected by me on this dat

e and
appear to be free of any infectious or contagious diseases and to the best of my knowledge, exposure thereto, which would endan
ger the
animal or other animals or would endanger public health.
To my knowledge, the animal(s) described above and on continuation sheet(s) if applicable, originated from an area not quaranti

ned
for rabies and has/have not been exposed to rabies.
ENDORSEMENT FOR INTERNATIONAL EXPORT (
IF NEEDED)
NAME, ADDRESS, AND TELEPHONE NUMBER OF ISSUIN

G VETERINARIAN
NOTE: International shipments may require certification by an accredited veterinarian.
LICENSE NUMBER AND STATE
PRINTED NAME OF
USDA VETERINARIAN
If yes, please complete below
NATIONAL ACCREDITATION NUMBER
SIGNATURE OF USDA VETERINARIAN
Apply USDA Seal or Stamp here
DATE
SIGNATURE OF ISSUING VETERINARIAN
DATE
APHIS Form 7001
(
NOV
2010) This certificate is valid for 30 days after issuance