Fillable Printable Concert Ticket Order Form
Fillable Printable Concert Ticket Order Form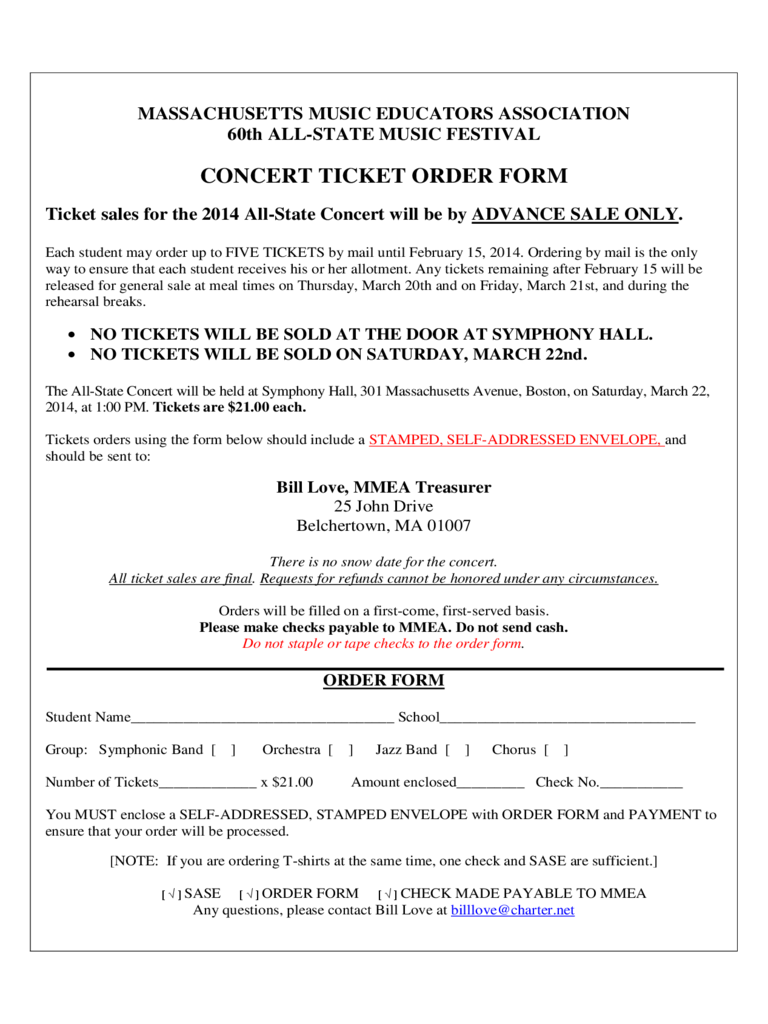 Concert Ticket Order Form

MASSACHUSETTS MUSIC EDUCATORS ASSOCIATION
60
th ALL-STATE MUSIC FESTIVAL
CONCERT TICKET ORDER FORM
Ticket sales for the 2014 All-State Concert will be by ADVANCE SALE ONLY.
Each student may order up to FIVE TICKETS by mail until February 15, 2014. Ordering by mail is the only
way to ensure that each student receives his or her allotment. Any tickets remaining after February 15 will be
released for general sale at meal times on Thursday, March 20th and on Friday, March 21st, and during the
rehearsal breaks.

NO TICKETS WILL BE SOLD AT THE DOOR AT SYMPHONY HALL.

NO TICKETS WILL BE SOLD ON SATURDAY, MARCH 22nd.
The All-State Concert will be held at Symphony Hall, 301 Massachusetts Avenue, Boston, on Saturday, March 2
2,
201
4, at 1:00 PM.

Tickets are $21.00 each.
Tickets orders using the form below should include a
STAMPED, SELF-ADDRESSED ENVELOPE,
and
should be sent to:
Bill Love, MMEA Treasurer
25 John Drive
Belchertown, MA 01007
There is no snow date for the concert.
All ticket sales are final. Requests for refunds cannot be honored under any circumstances.
Orders will be filled on a first-come, first-served basis.
Please make checks payable to MMEA. Do not send cash.
Do not staple or tape checks to the order form
.
ORDER FORM
Student Name___________________________________ School__________________________________
Group: Symphonic Band [ ] Orchestra [ ] Jazz Band [ ] Chorus [ ]
Number of Tickets_____________ x $21.00 Amount enclosed_________ Check No.___________
You MUST enclose a SELF-ADDRESSED, STAMPED ENVELOPE with ORDER FORM and PAYMENT to
ensure that your order will be processed.
[NOTE: If you are ordering T-shirts at the same time, one check and SASE are sufficient.]
[ √ ]
SASE
[ √ ]
ORDER FORM
[ √ ]
CHECK MADE PAYABLE TO MMEA