Fillable Printable Hold Harmless Agreement - Standard Insurance
Fillable Printable Hold Harmless Agreement - Standard Insurance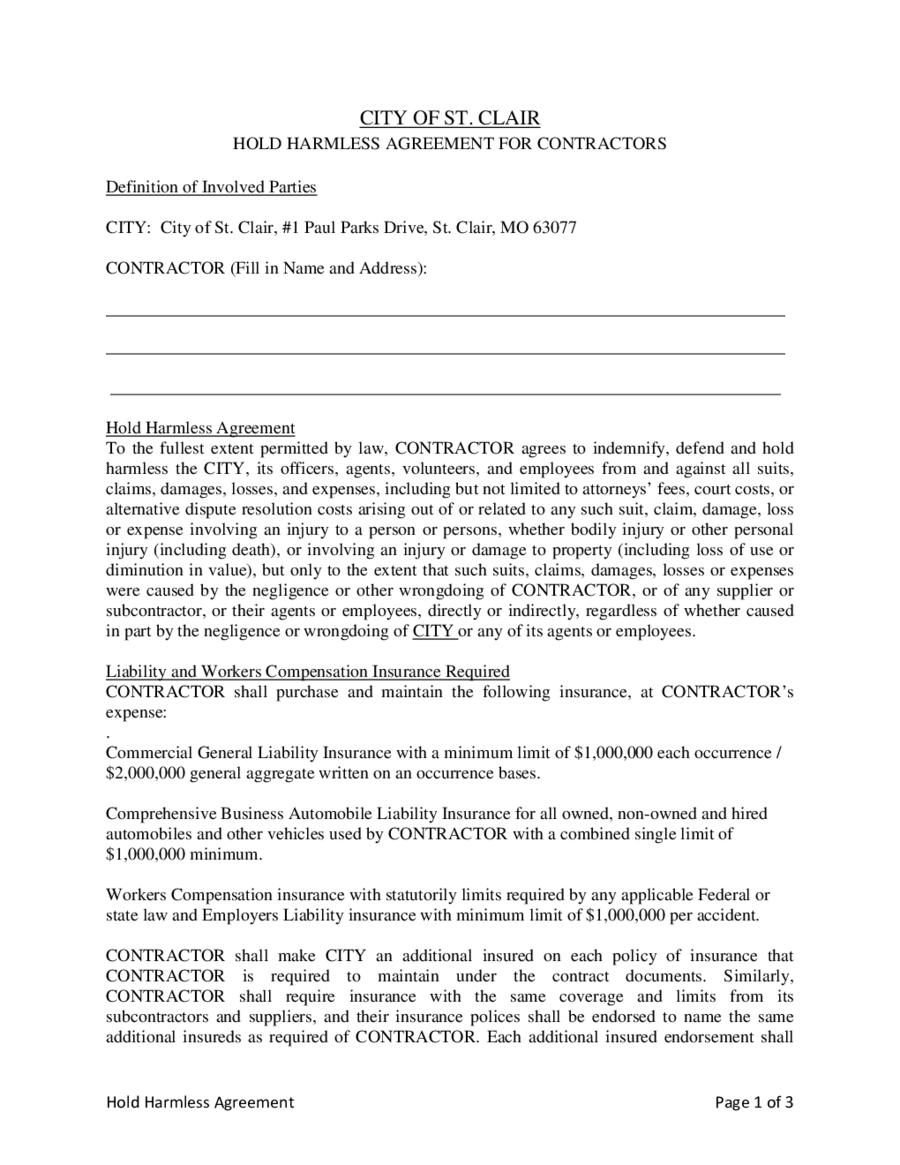 Hold Harmless Agreement - Standard Insurance

Hold Harmless Agreement Page 1 of 3
CITY OF ST. CLAIR
HOLD HARMLESS AGREEMENT FOR CONTRACTORS
Definition of Involved Parties
CITY: City of St. Clair, #1 Paul Parks Drive, St. Clair, MO 63077
CONTRACTOR (Fill in Name and Address):
_____________________________________________________________________________
_____________________________________________________________________________
____________________________________________________________________________
Hold Harmless Agreement
To the fullest extent permitted bylaw, CONTRACTORagrees to indemnify, defend and hold
harmless the CITY, its officers, agents, volunteers, and employees from and against all suits,
claims, damages, losses, and expenses, including but not limited to attorneys' fees, court costs, or
alternative dispute resolution costs arising out ofor related to any such suit, claim, damage, loss
or expense involving an injury to a person orpersons, whether bodily injury or other personal
injury (including death), or involving an injury or damage to property (including loss of use or
diminution in value), but onlyto the extent that such suits, claims, damages, losses or expenses
were caused by the negligence or other wrongdoing of CONTRACTOR, or of any supplier or
subcontractor, or their agents or employees, directly or indirectly, regardless of whether caused
in part by the negligence or wrongdoing of CITY or any of its agents or employees.
Liability and Workers Compensation Insurance Required
CONTRACTOR shall purchase and maintain the following insurance, at CONTRACTOR's
expense:
Commercial General Liability Insurance with a minimum limit of $1,000,000 each occurrence /
$2,000,000 general aggregate written on an occurrence bases.
Comprehensive Business Automobile Liability Insurance for all owned, non-owned and hired
automobiles and other vehicles used by CONTRACTOR with a combined single limit of
$1,000,000 minimum.
Workers Compensation insurance with statutorily limits required by any applicable Federal or
state law and Employers Liability insurance with minimum limit of $1,000,000 per accident.
CONTRACTOR shall makeCITY an additional insured on each policy of insurance that
CONTRACTOR is required to maintain under thecontract documents. Similarly,
CONTRACTOR shall require insurance withthe same coverage and limits from its
subcontractors and suppliers, and their insurance polices shall be endorsed to name thesame
additional insureds as required of CONTRACTOR. Each additional insured endorsement shall

Hold Harmless Agreement Page 2 of 3
expressly afford coverage to the additional insureds not only arising outof the named insured's
operations or work but also arising out of the named insured's completed operations. All
completed operations coverages shall be maintained by CONTRACTOR and its subcontractors
or suppliers for five (5) years following the completion of the Work. Any coverage available to
CITY as a named insured shall be secondary, so that the coverage to the CITY as an additional
insured on the policies maintained by CONTRACTOR and subcontractors is primary. CITY
reserves the right to selectively trigger any one or more insurance policies that afford CITY
coverage, whether as a named insured or as an additional insured. CONTRACTOR agrees that
CITY shall be provided at least sixty(60) days advance written notice of any cancellation or
rescission of any policy that CONTRACTOR or any of its subcontractors or suppliers is required
to maintain under the contract documents. Prior to commencing work, CONTRACTOR shall
provide CITY certificates of insurance evidencing the required coverages. CITY's receipt or
review of any certificate of insurance reflecting that CONTRACTOR or one of its subcontractors
or suppliers has failed or may have failed to comply with any insurance requirement of the
contract documents shall not constitute a waiver of any of
CITY's insurance rights underthe contract documents, with all such rights being fully and
completely reserved by the CITY.
No provision of this agreement shall constitute a waiver of the CITY's right to assert a defense
based on the doctrines of sovereign immunity, official immunity, or any other immunity
available under law. Revised December, 2010
Other Claims Hold Harmless Agreement
Provided CITY has paid CONTRACTOR all sums then earned by and payable to
CONTRACTOR under this Contract (exclusive of any retention amounts properly withheld
under theterms of this Contract), CONTRACTOR shall indemnify andhold CITY harmless
from all suits, claims, damages, costs, expenses and fees (including attorneys' fees and litigation
or mediation costs), actual or threatened, arising out of or related to any action actually filed or
threatened by supplier or subcontractor, directly or indirectly, of CONTRACTOR, or byany
agent or employee of any of them, stemming from any labor, materials or work furnished by that
claimant for CONTRACTOR or any supplier or subcontractor, directly or indirectly, of
CONTRACTOR. CITY may investigate and, in CITY's sole discretion, reach a good faith
settlement of each such cause of action, and insuch event, the foregoing indemnity and hold
harmless provisions shall extend to the settlementamount paid by the CITY to the claimant to
settle the claim. Any amounts due or to become due CITY under this paragraph shall be
automatically credited against any amounts otherwise to be paid to CONTRACTOR under the
contract documents. In the alternative to settling an actual or threatened claimdirectly with the
claimant, CITY may issue a check payable jointlyto the CONTRACTOR and the claimant for
the amount determined by theCITY in good faithto be paid to settle the claim in which case the
amount of the joint check shall be credited against the contract price.
Builders Risk Insurance Required
Unless otherwise provided, CONTRACTOR shall purchase and maintain, in a company or
companies lawfully authorized to do business in the jurisdiction in whichthe Project is located,
property insurance written on a builder's risk "all-risk" or equivalent policy form in the amount
of the initial Contract Sum, plus value of subsequent Contract modifications and cost of
materials supplied or installed by others, comprising total value for the entire Project at the site

Hold Harmless Agreement Page 3 of 3
on a replacement cost basis without optional deductibles. Such property insurance shall be
maintained, unless otherwise provided in the Contract Documents or otherwise agreed inwriting
by allpersons and entities who are beneficiaries of such insurance, until final payment has been
made or until noperson or entity other than the CITY has an insurable interest in the property,
whichever is later. This insurance shallinclude interests of the CITY, the CONTRACTOR,
subcontractors and sub-subcontractors and suppliers in the Project.
Contractor's Damage to the Work Risk
Except and to the extent actually covered by the builder's risk insurance required to be
maintained pursuant to the contract documents, CONTRACTOR assumes the risk of loss or
damage to the Work (including the CONTRACTOR's temporary work, equipment and
falsework) and to all materials and equipment in storage at the Project site or otherwise,
regardless of whether the loss or damage was caused in whole or in partby the negligence of
CITY or any of its officers, agents, employees or consultants. The risk of loss assumed by
CONTRACTOR extends to any voluntary or involuntary deductible or deductibles under the
above-referenced builder's risk insurance. Revised December, 2010
Signatures
City Administrator: _________________________
Date: _________________________
Contractor Representative (Print): _________________________
Contractor Representative (Sign): _________________________
Position: _________________________
Date: _________________________