Fillable Printable Declaration concerning a lost, stolen, inaccessible,damaged or found Canadian Travel Document
Fillable Printable Declaration concerning a lost, stolen, inaccessible,damaged or found Canadian Travel Document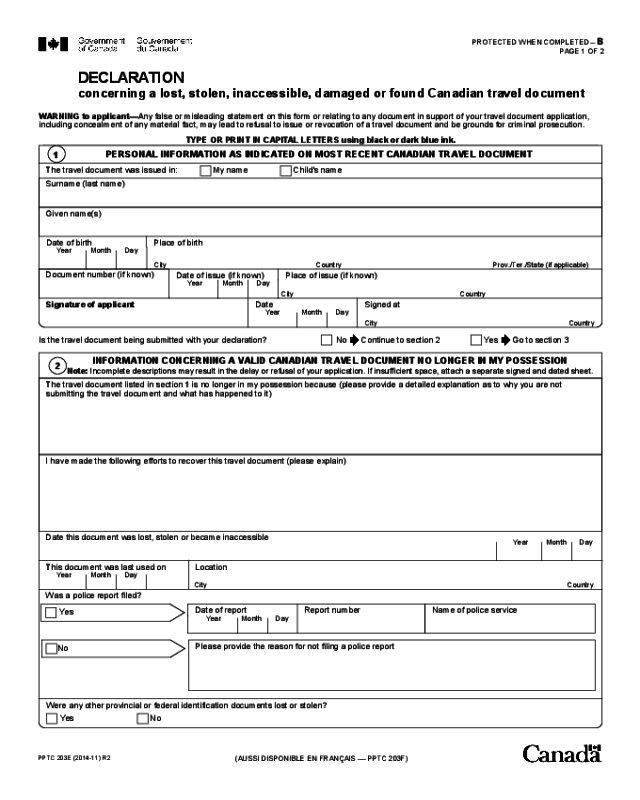 Declaration concerning a lost, stolen, inaccessible,damaged or found Canadian Travel Document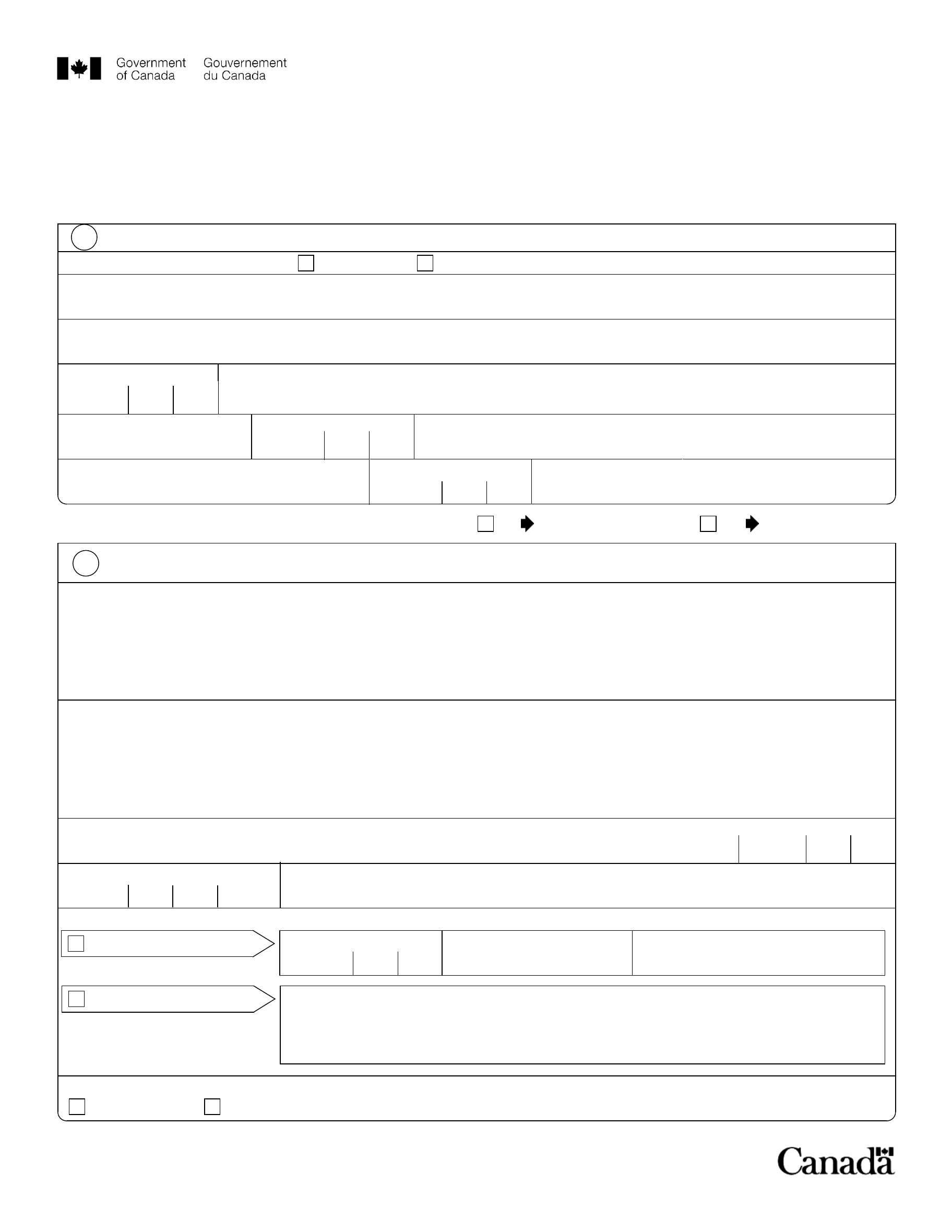 DECLARATION
concerning a lost, stolen, inaccessible, damaged or found Canadian travel document
PROTECTED WHEN COMPLETED –
B
PAGE 1 OF 2
WARNING to applicant
—Any false or misleading statement on this form or relating to any document in support of your travel document application,
including concealment of any material fact, may lead to refusal to issue or revocation of a travel document and be grounds for criminal prosecution.
TYPE OR PRINT IN CAPITAL LETTERS using black or dark blue ink.
PERSONAL INFORMATION AS INDICATED ON MOST RECENT CANADIAN TRAVEL DOCUMENT
1
The travel document was issued in:
My name
Child's name
Surname (last name)
Given name(s)
Date of birth
Place of birth
City
Country
Prov./Ter./State (if applicable)
Document number (if known)
Date of issue (if known)
Place of issue (if known)
City
Country
Signature of applicant
Date
Signed at
Is the travel document being submitted with your declaration?
No – Continue to section 2
Yes – Go to section 3
This document was last used on
Location
Was a police report filed?
Yes
No
Date of report
Report number
Name of police service
Please provide the reason for not filing a police report
Were any other provincial or federal identification documents lost or stolen?
(AUSSI DISPONIBLE EN FRANÇAIS — PPTC 203F)
INFORMATION CONCERNING A VALID CANADIAN TRAVEL DOCUMENT NO LONGER IN MY POSSESSION
Note:
Incomplete descriptions may result in the delay or refusal of your application. If insufficient space, attach a separate signed and dated sheet.
2
The travel document listed in section 1 is no longer in my possession because (please provide a detailed explanation as to why you are not
submitting the travel document and what has happened to it)
I have made the following efforts to recover this travel document (please explain)
Date this document was lost, stolen or became inaccessible
PPTC 203E (2014-11) R2

PAGE 2 OF 2
INFORMATION CONCERNING A DAMAGED OR FOUND CANADIAN TRAVEL DOCUMENT
Note:
If insufficient space, attach a separate signed and dated sheet.
3
Detailed circumstance of how the travel document was damaged or found
Explain why you are applying for a replacement travel document
Date travel document was damaged or found
Location
Reminder:
A travel document application form must also be completed if a replacement travel document is required. Please note that the travel
document specified in this form cannot be used for the simplified renewal process.
DECLARATION OF APPLICANT
4
Surname (last name)
Given name(s)
Daytime telephone number
Date of birth
DECLARATION
—I solemnly declare that, to my knowledge, the statements made in this declaration are true. Should I ever regain possession of
the Canadian travel document reported in section 1, I will return it immediately to the Passport Program or if abroad to the nearest Government of
Canada office.
I acknowledge that a Canadian travel document once reported lost, stolen, inaccessible, damaged or found is no longer
valid and is NOT to be used for any travel.
I understand multiple occurrences of Lost/Stolen or Damaged travel documents may result in either
the refusal to issue a replacement travel document, or if approved, a severely limited validity of the replacement travel document. I also
acknowledge that additional requirements may apply, such as demonstrating the need to be issued a travel document. I declare that I have read
and understood the
WARNING to applicant

at the top of page 1.
Signature of applicant
Date
Signed at
FOR OFFICE USE ONLY
Based on the information provided by the applicant on this form, the travel document has been identified as
Lost
Stolen
Damaged
Mutilated
Inaccessible
Found
Name of officer who reviewed the above information (stamp recommended)
Date
Travel document number
Date of issue
Place of issue
PPTC 203E (2014-11) R2