Fillable Printable DMV Bill of Sale Form - Idaho
Fillable Printable DMV Bill of Sale Form - Idaho
DMV Bill of Sale Form - Idaho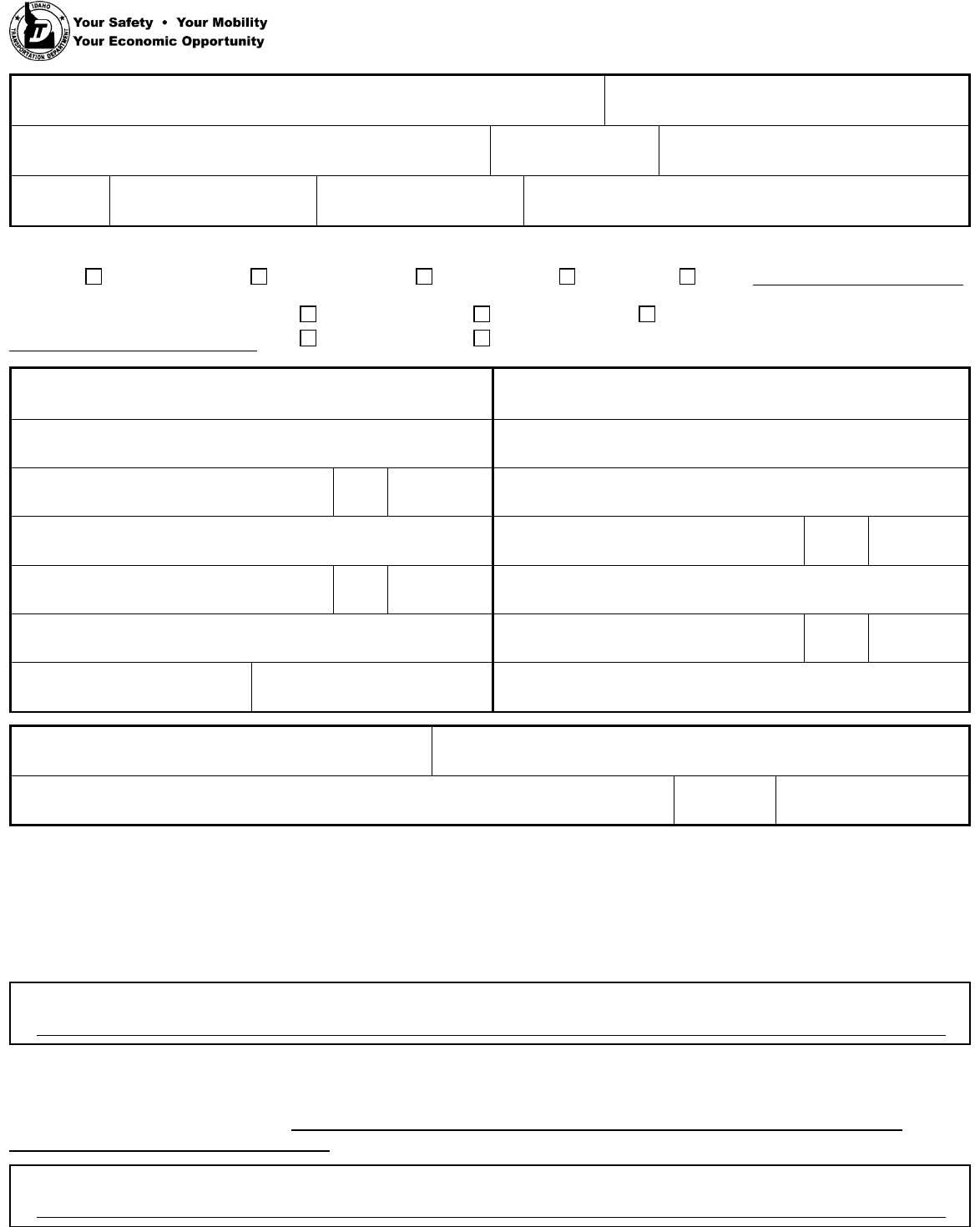 Idaho Transportation Department
Supply # 019677178
Vehicle
or Hull Identification Number (1
st
)
Vehicl e Identific ation Num ber (2
nd
*
Note:
Second VIN should be provided for most motor homes and must be entered for double

-

wide mobile and manufactured homes

.
Brands:
Rebuilt Salvage
Previous Bran d

Reconstruct

Repaired

Other
Odometer Reading (No Tenths)
Exceeds Mechanical Limits
Seller's
Full Legal

Pr inted Name
Buyer's
F ul l Legal

Printe d Name
Idaho Driver's License Number or SSN / EIN if Business
Mailing Address (If different than physical address)
Mailing Address (If different than physical address)
New Lienholder Name or "None"
I hereby sell the vehicle described above
for the selling price indicated. I certify that the odometer reading given is
accurate to the best of my knowledge
.

I
also certify that I
have disclosed to the buyer
all know

n
brands associated
with th is vehic le .
I understand that I must f ile a release of liability statement within f ive days of delivering the vehicle to
the buyer.
I also understand that
listing
a false

s elling pric e
, name, or address
on this form is a felony

under Section
I am aware of the odometer certification made by the seller, and
understand
the seller
must
disclose any brand
s that
have been placed on this vehicle
.

I
also
understand that I must apply f or title within 30 days to avoid
a penalty
whether the vehicle is registered or not.