Home

>

DMV Bill of Sale Form
DMV Bill of Sale Form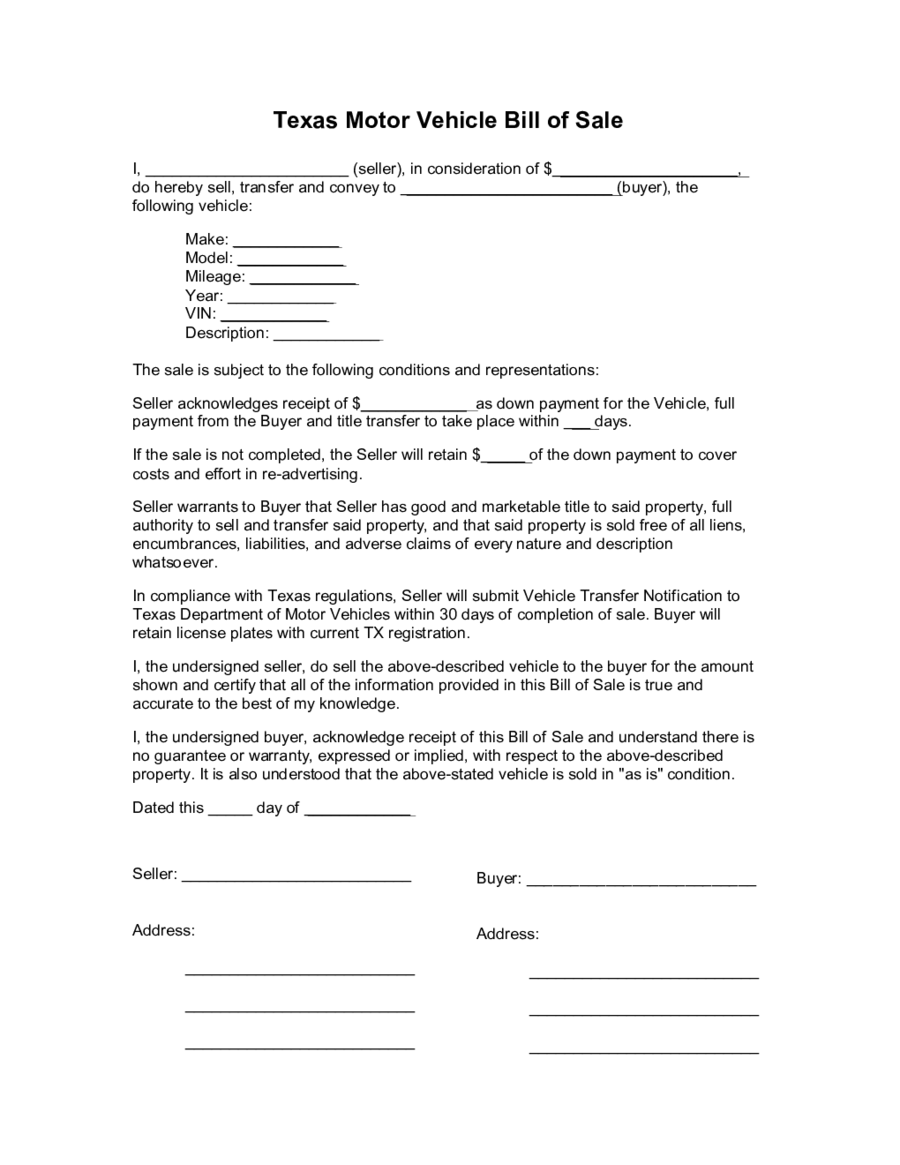 What is a bill of sale form?
A bill of sale is treated as a legal document when an individual sells or transfers ownership of goods to another person or a purchaser. This official paper is not only applicable for vehicles, equipment, and furniture but it is also used to purchase an intellectual property such as a website portal or customer list.A bill of sale form is generally offered by a seller to the purchaser, and it includes a number of factors such as –
Full name and address of purchaser
A list of products to be sold or purchased
Exact purchase amounts and the mode of payment
Inclusion of any legal term depending on complex transactions
Why does one require a bill of sale?
A bill of sale is considered a very important legal document that not only protects the interests of purchaser but also helps seller to make his selling process authentic. Very often such situations take place where a buyer and seller come to an argument because of fraud or any other scam sale or transaction. To avoid such type of inconveniences, a bill of sale is used as important evidence for all transaction.Moreover, maintaining a detail description for all property transaction is an important requirement for both buyer and seller. If in case, the property includes more than one or two items or a group of products, it should clearly be mentioned in the document to avoid further inconveniences. In fact, seller can make different categories for different products and itemize them as per the structure. This helps to avoid further misunderstanding or confusion between buyer and the seller. Besides that, if a property transaction is made based on mortgage or authority transfer, then such type of issue should be addressed in a legal document like a bill of sale.Here, you will come to know about five reasons why bill of sale is required by both buyer and seller –
This official document includes date of transfer of ownership and therefore, there are no chances of arising dispute regarding when the purchase or transaction takes place on a certain property. Both the buyer and seller are confirmed about that date.
This bill of sale document includes both seller and buyer's address, phone number, name and signature over a certain transaction. This ensures both parties are having records of who is the purchaser and who has sold that property.
Getting a bill of sale denotes a purchaser has a legal evidence of ownership which he or she can show to avoid legal confusion.  Moreover, a property cannot be considered legally verified unless and until the purchaser receives a bill of sale.
The exact value of that property is clearly mentioned in the document. Therefore, neither seller nor the buyer can find any dispute in the property value as it is documented in the bill of sale.
If a property has any legal warranty or presentation, it should clearly be outlined in the document to protect the interests of buyers.
Use of bill of sale template
Since a bill of sale is treated as a legal document, it is important that a proper structure and format should be followed to give it a professional look. But how can one make it that way? Simple, take the help of internet and get a bill of sale template absolutely free of cost. These templates are structured and designed by professionals where one needs to include detailed information of both buyer and seller. Besides this, information about the products purchased should also be mentioned in the template to avoid any kind of further confusion. So, if you are thinking of selling your used vehicle, download a bill of sale template online and mention the buyer and seller name, address and a small product description in the document.
What are the points must include in a vehicle bill of sale?
Are you thinking of selling your used car? If the answer is yes, then you must enter into a legal agreement like a bill of sale before transferring the ownership to a purchaser. A nicely written bill of sale includes payment details, vehicle information and contact info of the purchaser that helps to avoid future disputes and establishes a cordial relationship between the buyer and the seller.In some countries like the United States, auto bill of sale has been made compulsory for all automobile item transactions. No matter whether you are selling a car, truck, a used vehicle or any other type automobile, you are liable to prepare a bill of sale for each transaction. The obvious reasons behind this are – these bill documents contain relevant information about buyers and sellers, include product details like manufacturing year of the vehicle, mileage, license number, color and so on.A car bill of sale is considered as a written agreement between the buyer and the seller for purchasing a vehicle or change of ownership. Here is a glimpse of some important points to be included in a vehicle bill of sale.
Gather vehicle information
Before start writing a bill of sale, you must gather information about the vehicle you want to sell such as the registration number and title of the vehicle.
Mention contact details of both the parties
After completing the first, your next step starts with mentioning detail information about both buyer and the seller. Since you as a seller preparing this bill of sale, the tone should be followed as I or I, hereby, declare to represent yourself as the lawful owner of the vehicle and have the authority to sell it to a purchaser.
Mention the exact value of the vehicle
Your next important step is to mention the exact price of the value of that vehicle in the document. This particular section should also include buyer's name, address, the mileage of the vehicle, odometer reading or any other distinguishing features of that vehicle that are worth mentioning.
Mention transfer of ownership in the document
Since you are preparing this legal document, you should include some other important points to make it an official one. You must mention something like "the buyer reserves all rights of this vehicle after the completion of the selling process."
Must be signed by both buyer and seller
Finally, the bill of sale should be signed by both the parties to make it lawfully effective and complete the sale. Make sure that each party should mention the date of signature.Once the car bill of sale is signed by both the parties, it's time to transfer the ownership to the new owner of the property and thereby, complete the selling process. Make sure each party is provided with a copy of the bill which they must preserve as a legal evidence to avoid future inconveniences.
Four things to check out in a printable bill of sale
In today's age, both buyers and sellers are aware of the advantages of the bill of sale while selling or buying a car, truck, a used vehicle or any other automobile item. If you are thinking of downloading a printable bill of sale online, you must check four basic points in the document in order to make it lawful evidence. So, let's have a look at the four points –
A printable bill of sale must include an odometer statement that shows how many miles that vehicle has covered.
The second thing to check out in this legal document is a statement by the seller which depicts the ownership of the vehicle will legally be transferred to the purchaser after completion of the selling process. Such kind of statement ensures the buyer is not purchasing a stolen vehicle, and the entire selling process is lawfully authenticated.
A section to include driver's details
Besides a space for mentioning the contact details of both the parties, you must also look for a separate section to include driver's details. By notifying the license number of the vehicle, the buyer can rest assure that if any kind of problem arises in the future, they can easily contact the seller to solve the issue.
A printable bill of sale must include a separate space for signature for both buyers and sellers. By signing the document, both the parties ensure that all information mentioned in the document are correct and in best of their knowledge.
DMV bill of sale of CA
The department of motor vehicles California has set certain rules and regulations to be followed by both buyer and seller while making any automobile transaction.Important points to mention in DMV bill of sale
The document must include license plate number of the vehicle
Full name and address of the both the parties (buyer and the seller)
The license number of the driver
Registration details of the vehicle
California liability release
California vehicle history report
DMV bill of sale of NY
Before purchasing or selling any vehicle in New York, make sure that you prepare a bill of sale that establishes a proof of ownership. If you don't get this proof, you may face future legal difficulties while registering the vehicle, transferring ownership or license number.A nicely written DMV bill of sale NY must include the following points –
Mention year and time of vehicle registration
Include vehicle identification number (VIN)
Mention hull identification number (HIN)
The date of sale
The exact purchase price
Name and address of the parties (buyer and seller)
An odometer statement
DMV bill of sale of NJ
When you are selling a vehicle in NJ, it is important that you must comply with the terms and conditions of motor vehicle commission of New Jersey. The seller must fulfill bill of sale requirements in order to make a valid transaction.Points to include in a DMV bill of sale NJ
Mention the date of sale
Include seller and buyer's full details such as name, phone number, address and contact details
Mention vehicle information such as model, body type, year, VIN, odometer statement
Present condition of the vehicle
The exact purchase amount
Other additional details
DMV bill of sale instructions to be followed
DMV bill of sale instructions are framed for the convenience of both buyers and sellers on the transaction of any automobile item. This document is considered as a legal receipt which is used to transfer ownership of an automobile item. Take a look at DMV bill of sale instructions –
Title of the ownership
Odometer reading of the vehicle
Smog certification of the vehicle
Ownership transfer papers
Taxes and fees liable to pay for buying or selling the vehicle
However, if you still have confusion regarding DMV bill of sale instructions and what to include and what not in such legal documents, you can check out a number of bill of sale samples online and download a ready-made template to include details as per your requirement.