Fillable Printable Employment letter format
Fillable Printable Employment letter format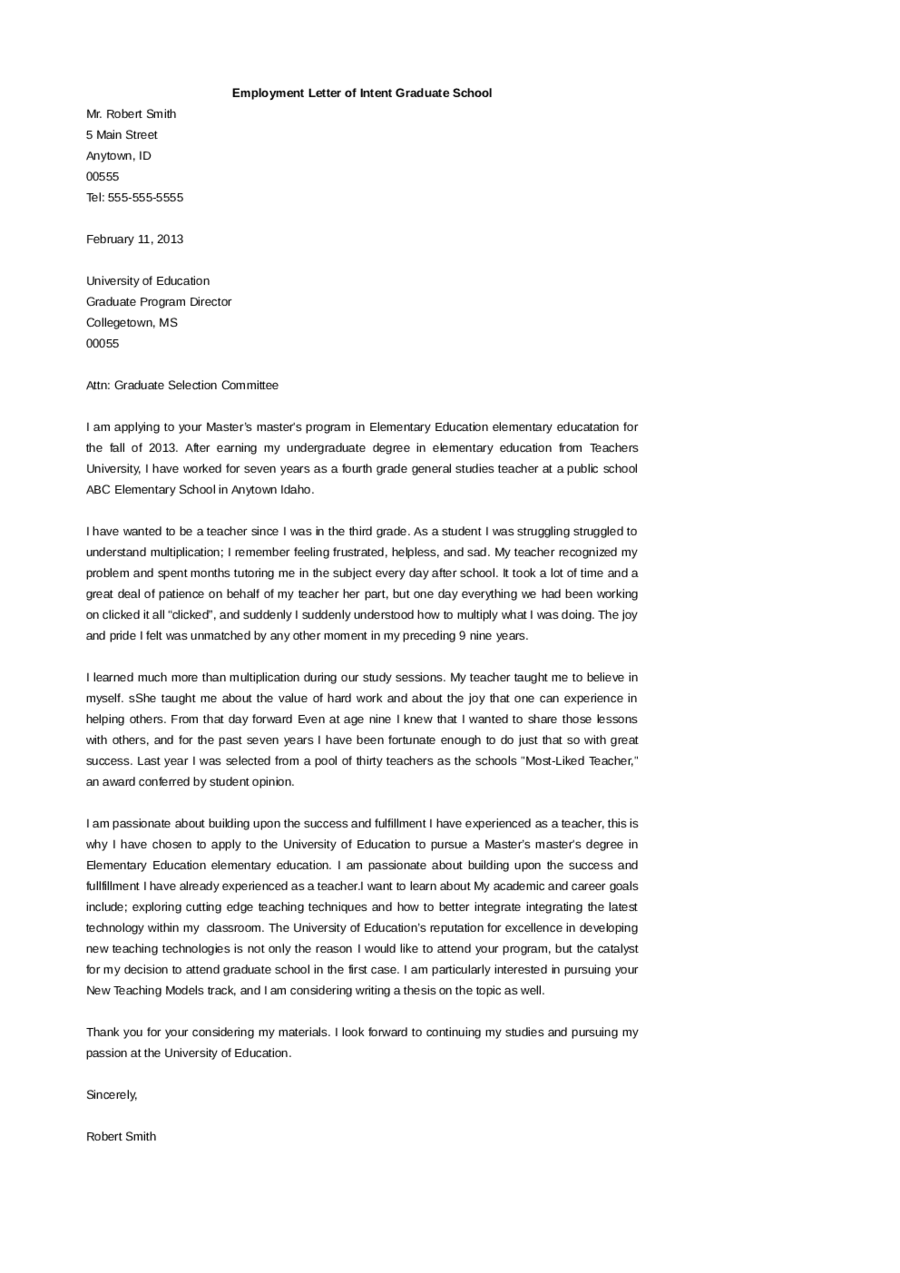 Employment letter format
Employment Letter of Intent Graduate School
Mr. Robert Smith
5 Main Street
Anytown, ID
00555
Tel: 555-555-5555
February 11, 2013
University of Education
Graduate Program Director
Collegetown, MS
00055
Attn: Graduate Selection Committee
Iam applyingtoyourMaster's master's programinElementary Educationelementaryeducatationfor
thefallof2013.AfterearningmyundergraduatedegreeinelementaryeducationfromTeachers
University,I have worked forseven years as a fourthgrade general studies teacher ata public school
ABC Elementary School in Anytown Idaho.
I have wanted to be a teacher since I was in the third grade.As a student I was struggling struggled to
understand multiplication; I remember feeling frustrated, helpless, and sad. My teacherrecognized my
problem and spent months tutoring me in the subject every day after school. It took a lot of time and a
great dealof patienceon behalfof myteacher herpart, butone dayeverything we hadbeen working
on clicked it all "clicked", and suddenly I suddenly understood how to multiply what I was doing. The joy
and pride I felt was unmatched by any other moment in my preceding 9 nine years.
I learned much more than multiplication during our study sessions. My teacher taught me to believe in
myself.sShetaughtmeaboutthevalueofhardworkandaboutthejoythatonecanexperiencein
helpingothers.Fromthatday forwardEvenatagenineIknewthatIwantedtosharethoselessons
withothers,andforthepastsevenyearsIhavebeenfortunateenoughtodojustthatsowithgreat
success.Last yearIwasselected fromapoolof thirtyteachersas theschools"Most-Liked Teacher,"
an award conferred by student opinion.
I am passionate about building upon the success and fulfillment I have experienced as a teacher, this is
whyIhavechosentoapplytotheUniversityofEducationtopursueaMaster'smaster'sdegreein
ElementaryEducationelementaryeducation.Iampassionateaboutbuildinguponthesuccessand
fullfillment I have already experienced as a teacher.I want to learn about My academic and career goals
include;exploringcuttingedgeteachingtechniquesandhowtobetterintegrateintegratingthelatest
technology within my classroom. The University of Education's reputation for excellence in developing
new teaching technologiesis notonly thereason Iwouldlike toattend yourprogram,but thecatalyst
for my decision to attend graduate school in the first case. I am particularly interested in pursuing your
New Teaching Models track, and I am considering writing a thesis on the topic as well.
Thank you for your considering my materials. I look forward tocontinuing my studies and pursuing my
passion at the University of Education.
Sincerely,
Robert Smith