Fillable Printable Endorsement Letter - Endorsement Letter Sample
Fillable Printable Endorsement Letter - Endorsement Letter Sample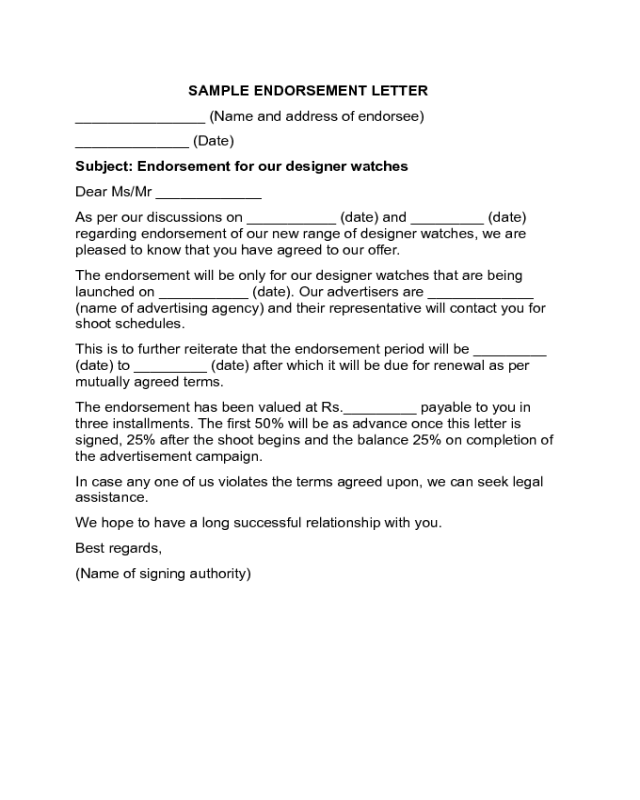 Endorsement Letter - Endorsement Letter Sample
SAMPLE ENDORSEMENT LETTER
________________ (Name and address of endorsee)
______________ (Date)
Subject: Endorsement for our designer watches
Dear Ms/Mr _____________
As per our discussions on ___________ (date) and _________ (date)
regarding endorsement of our new range of designer watches, we are
pleased to know that you have agreed to our offer.
The endorsement will be only for our designer watches that are being
launched on ___________ (date). Our advertisers are _____________
(name of advertising agency) and their representative will contact you for
shoot schedules.
This is to further reiterate that the endorsement period will be _________
(date) to _________ (date) after which it will be due for renewal as per
mutually agreed terms.
The endorsement has been valued at Rs._________ payable to you in
three installments. The first 50% will be as advance once this letter is
signed, 25% after the shoot begins and the balance 25% on completion of
the advertisement campaign.
In case any one of us violates the terms agreed upon, we can seek legal
assistance.
We hope to have a long successful relationship with you.
Best regards,
(Name of signing authority)