Fillable Printable Examples Of Resume Objectives
Fillable Printable Examples Of Resume Objectives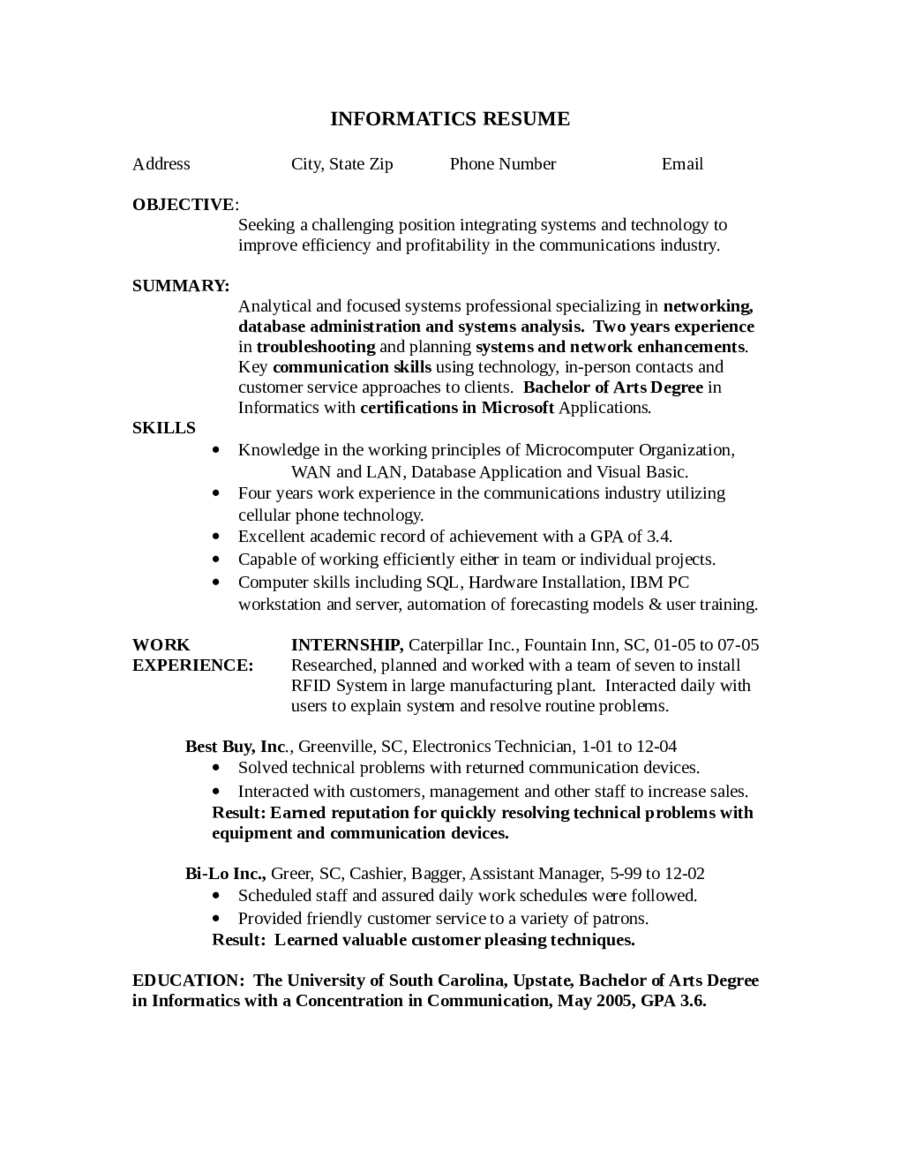 Examples Of Resume Objectives
INFORMATICS RESUME
Address
City, State Zip
Phone Number
Email
Seeking a challenging position integrating systems and technology to
improve efficiency and profitability in the communications industry.
SUMMARY:
Analytical and focused systems professional specializing in
networking,
database administration and systems analysis. Two years experience
in
troubleshooting
and planning
systems and network enhancements

.
Key
communication skills
using technology, in-person contacts and
customer service approaches to clients.
Bachelor of Arts Degree

in
Informatics with
certifications in Microsoft
Applications.
SKILLS

Knowledge in the working principles of Microcomputer Organization,
WAN and LAN, Database Application and Visual Basic.

Four years work experience in the communications industry utilizing
cellular phone technology.

Excellent academic record of achievement with a GPA of 3.4.

Capable of working efficiently either in team or individual projects.

Computer skills including SQL, Hardware Installation, IBM PC
workstation and server, automation of forecasting models & user training.
WORK
INTERNSHIP,
Caterpillar Inc., Fountain Inn, SC, 01-05 to 07-05
EXPERIENCE:
Researched, planned and worked with a team of seven to install
RFID System in large manufacturing plant. Interacted daily with
users to explain system and resolve routine problems.
Best Buy, Inc
., Greenville, SC, Electronics Technician, 1-01 to 12-04

Solved technical problems with returned communication devices.

Interacted with customers, management and other staff to increase sales.
Result: Earned reputation for quickly resolving technical problems with
equipment and communication devices.
Bi-Lo Inc.,
Greer, SC, Cashier, Bagger, Assistant Manager, 5-99 to 12-02

Scheduled staff and assured daily work schedules were followed.

Provided friendly customer service to a variety of patrons.
Result: Learned valuable customer pleasing techniques.
EDUCATION: The University of South Carolina, Upstate, Bachelor of Arts Degree
in Informatics with a Concentration in Communication, May 2005, GPA 3.6.