Fillable Printable Form INV 60
Fillable Printable Form INV 60

Form INV 60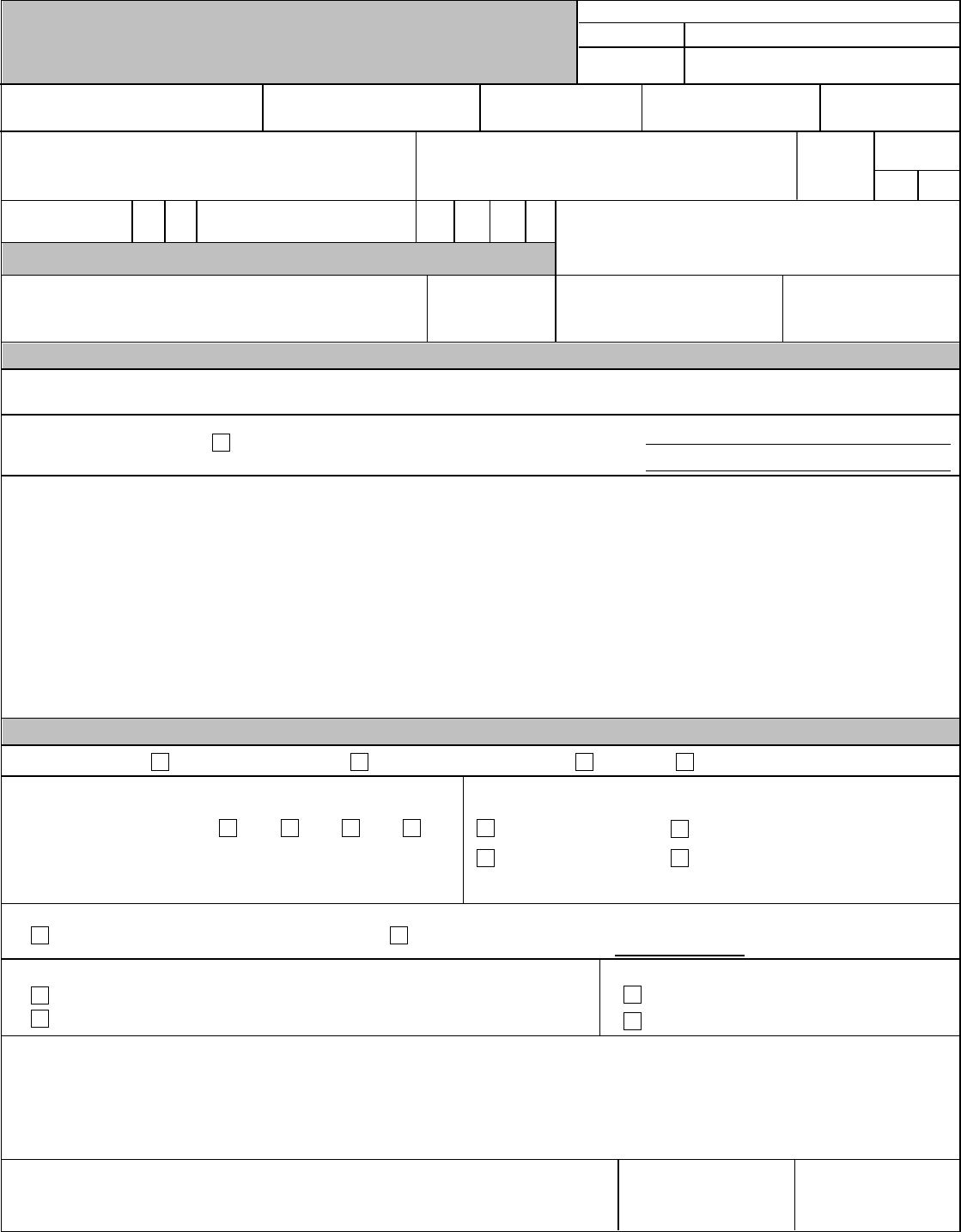 OPM -USE ONLY
OPM Case #
Request for Determination or Advisory
(See instructions on reverse)
Credit
Income To
1. Subject's Name (Last)
(First)
(Middle)
2. SSN
3. DOB
4. Other Names Used
5. POB (City, County, Country)
State
6. Sex
7. Investigation Code
8. Submitting Office Number (SON)
Address
9. Requesting Official's Signature
Telephone Number (include area code)
Facsimile
PART A: EXAMINING OFFICE AND AGENCY USE
10. All announcements and position titles for which this determination will be used
11. Passover Request
a. SF 62 attached
b. The sensitivity level of the position is:
12. Identification of applications and related materials, statement of issues requiring suitability determination and other information pertinent to the determination
or advisory being requested. Annotate whether this is a competitive service position, and confirm that the applicant is eligible and within reach.
PART B: OPM-USE
13. Passover requests
14. Acceptability relative to known suitability matters
Issue Characterization Level
A
B
C
D
Final Determination
1. Acceptable
2. Ineligible on suitability
3. Ineligible for failure to reply
4. Cancel all applications and eligibilities
a. Not sustained (see item 18)
b. Eligible for further certification
c. Sustained
d. Suspend pending further investigation
15. Debarment Action
a. None
b. Debarred from competing in examination for, or accepting appointments to, positions in the
competitive Federal service until
.
16. Application is
17. Applicant notification
a. Attached
b. Retained in OPM's Investigative File
a. Applicant has been notified of the action
b. Applicant has not been notified of the action
18. Other action or remarks
19. Signature of OPM Representative
File
Date
(mm/dd/yyyy)
Date
Commercial
INV 60
(formerly OFI 86A)
September 2006
Printed Name
c. The public trust level of the position is:
Title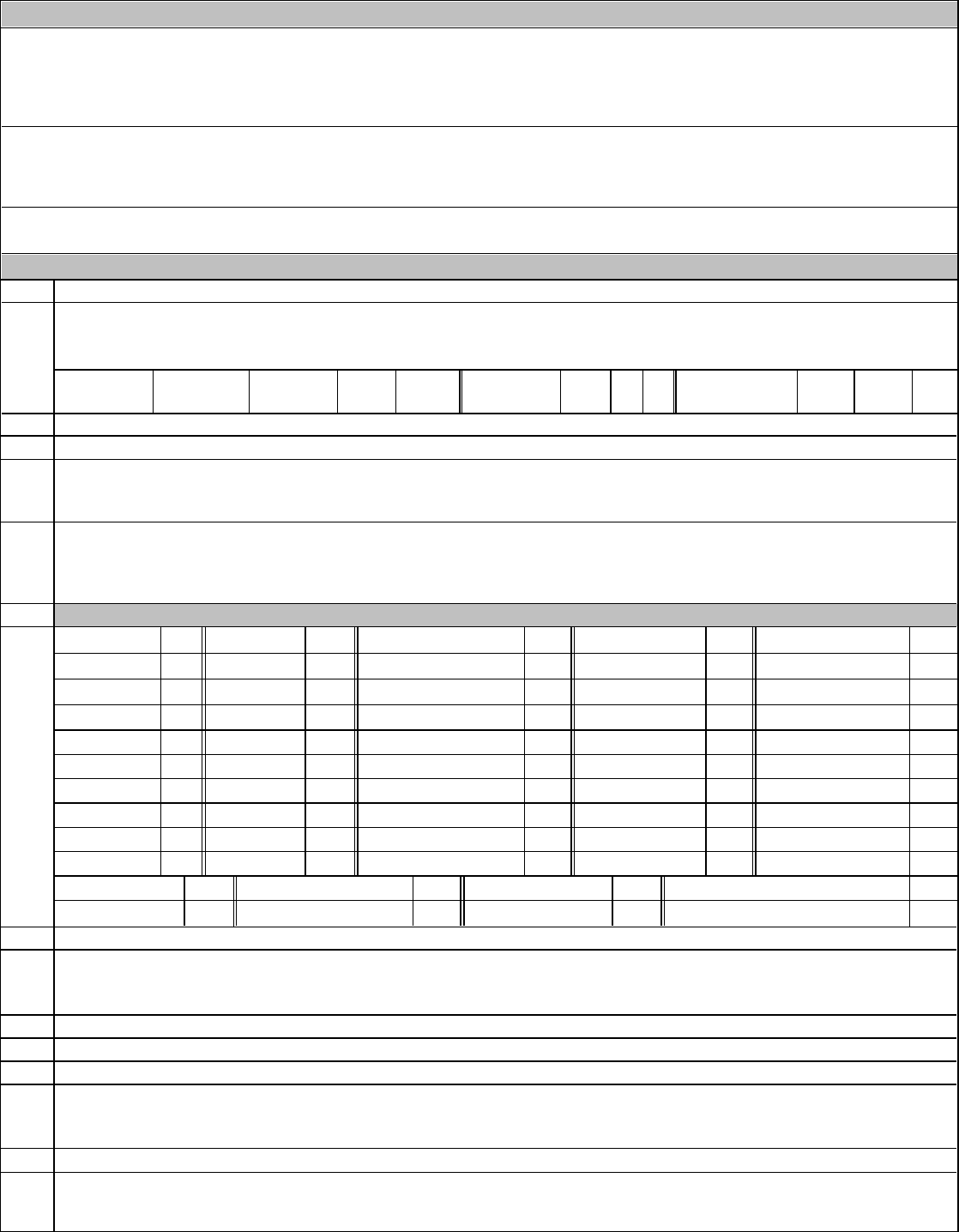 INSTRUCTIONS FOR COMPLETING THIS FORM
GENERAL:
This form is used to make a passover request or to request a suitabil

i

ty determination, debarment consideration, or advisory
concerning suitability matters. This form should be typed and all information appropriate to your request should be furnished in the
spaces provided. Make sure that any required attachments are secured to this form. Submit original of this form and any attachments to:
OPM-FIPC, Suitability Branch, P.O. Box 618, Boyers, PA 16018. Any questions concerning completion of this form should be
directed to OPM-FIPC.
EXAMINING OFFICES (OPM AND AGENCY):
Use this form to (1) request a determination of general suitability for Federal
employment and (2) send a request to pass over a preference eligible (also requires an SF-62). Submit only when an eligible applicant is
currently within reach or will soon be within reach for certification. Make sure that requests meet referral
guidelines.
PERSONNEL, SECURITY, AND SUBMITTING OFFICES:
Use this form to request an advisory on suitability matters.
INSTRUCTION FOR SPECIFIC ITEMS
ITEM
The subject's full name must be given in the following order - LAST, FIRST, MIDDLE. If the subject is a "Sr.", "Jr.", "III", etc.,
skip one space after last name and enter appropriate designation. If the subject has initials only, enter each initial in the
appropriate block. If the subject has no middle name, enter NMN on the block under "MIDDLE".
1
NORMAL
ENTRY
DOE SR
JOHN
CARR
INITIALS
ONLY
2
Provide the subject's Social Security Number (SSN).
3
Provide the month, day, and year of subject's birth in that order. EXAMPLE: Enter June 7, 1970 as 06/07/1970.
4
Refer to the applications and other documents submitted by the agency. To the extent this information is available, show all other
names the subject was known by or is now using. If the subject is female, and is or was married, include maiden name and other
married names if married more than once.
5
Place of Birth (POB: Enter full name of city/town and county (or foreign equivalent). Enter name of foreign country if born
outside of the U.S.A. and its territories. Using the coding shown below, provide abbreviation for State if born in the U.S.A. or its
territories. EXAMPLE: The city of Knoxville, County of Knox, State of Tennessee would be shown as KNOXVILLE KNOX
TN.
CODING FOR STATES, DISTRICT OF COLUMBIA, AND U.S. TERRITORIES (ITEM 5)
6
If subject is Male, put an "X" under "M". If subject is Female, put an "X" under "F".
7
Examining Offices choose one:
40 - Applicant
-OR-
42 - Passover
Other Offices must enter:
91 - Advisory (Suitability/Security)
(NOTE: Additional types of cases may be developed and assigned as needed by the OPM.)
8
Enter the SON assigned by OPM.
9
Complete the requested information.
10
For examining office use.
11
For examining office use with an agency passover request. Check box a. to confirm that an SF-62 is attached to this
form. Fill in the appropriate position sensitivity and public trust levels for b and c. If the agency failed to identify the position
sensitivity level and public trust level, the examining office must obtain this information from the agency before referring.
12
For examining office, personnel, security, and submitting office use.
13
thru
19
These items are for use by the OPM.
INSTRUCTIONS
DOE
A
C
NO
NAME
MIDDLE
NMN
Alabama
Alaska
Arizona
Arkansas
California
Colorado
Connecticut
Delaware
Florida
Georgia
Hawaii
Idaho
Illinois
Indiana
Iowa
Kansas
Kentucky
Louisiana
Maine
New Hampshire
Nevada
Nebraska
Montana
Missouri
Mississippi
Minnesota
Michigan
Massachusetts
South Carolina
Rhode Island
Pennsylvania
Oregon
Oklahoma
Ohio
North Dakota
North Carolina
New York
New Mexico
Wyoming
Wisconsin
West Virginia
Washington
Virginia
Vermont
Utah
Texas
Tennessee
South Dakota
America Samoa
Puerto Rico
District of Columbia
Trust Territory
Virgin Islands
Guam
Northern Mariana Islands
AL
AK
AZ
AR
CA
CO
CT
DE
FL
GA
HI
ID
IL
IN
IA
KS
KY
LA
ME
NH
NV
NE
MT
MO
MS
MN
MI
MA
SC
RI
PA
OR
OK
OH
ND
NC
NY
NM
WY
WI
WV
WA
VA
VT
UT
TX
TN
SD
CMAS
PR
DC
GU
INV 60 (back)
(formerly OFI 86A)
September 2006