Fillable Printable Form WH-202
Fillable Printable Form WH-202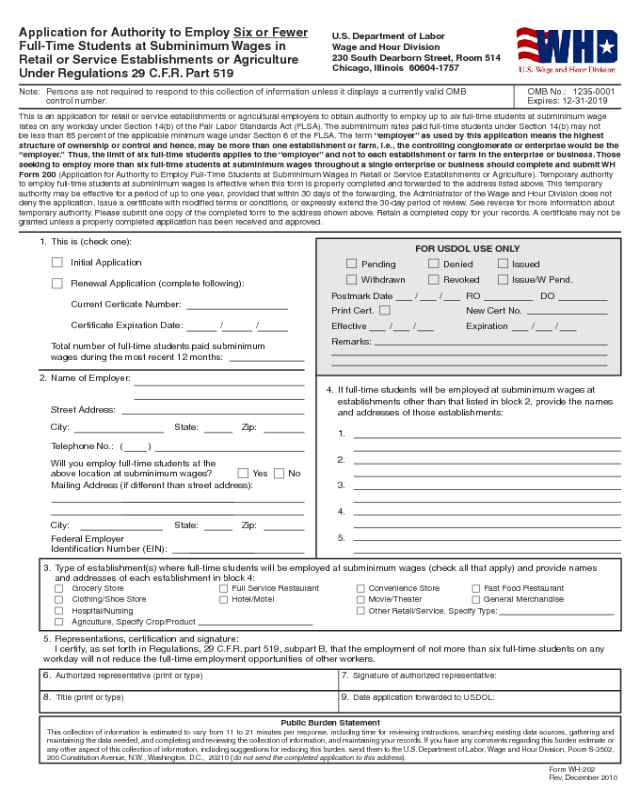 Form WH-202
or Authority to Employ Six or Fewer
U.S. Department of Labor
Full-Time Students at Subminimum Wages in
Wage and Hour Division
Retail or Service Establishments or Agriculture
230 South Dearborn Street, Room 514
Under Regulations 29 C.F.R. Part 519
Chicago, Illinois 60604-1757
Note:
Persons are not required to respond to this collection of information unless it displays a currently valid OMB
control number.
This is an application for retail or service establishments or agricultural employers to obtain authority to employ up to
six
full-time students at subminimum wage
rates on any workday under Section 14(b) of the Fair Labor Standards Act (FLSA). The subminimum rates paid full-time students under Section 14(b) may not
be less than 85 percent of the applicable minimum wage under Section 6 of the FLSA. The term
"employer" as used by this application means the highest
structure of ownership or control and hence, may be more than one establishment or farm, i.e., the controlling conglomerate or enterprise would be the
"employer." Thus, the limit of six full-time students applies to the "employer" and not to each establishment or farm in the enterprise or business. Those
seeking to employ more than six full-time students at subminimum wages throughout a single enterprise or business should complete and submit WH
Form 200
(Application for Authority to Employ Full-Time Students at Subminimum Wages in Retail or Service Establishments or Agriculture). Temporary authority
to employ full-time students at subminimum wages is effective when this form is properly completed and forwarded to the address listed above. This temporary
authority may be effective for a period of up to one year, provided that within 30 days of the forwarding, the Administrator of the Wage and Hour Division does not
deny the application, issue a certificate with modified terms or conditions, or expressly extend the 30-day period of review. See reverse for more information about
temporary authority. Please submit one copy of the completed form to the address shown above. Retain a completed copy for your records. A certificate may not be
granted unless a properly completed application has been received and approved.
This is (check one):
Initial Application
Renewal Application (complete following):
Current Certicate Number:
Certificate Expiration Date:
/
/
Total number of full-time students paid subminimum
wages during the most recent 12 months:
Name of Employer:
Street Address:
Will you employ full-time students at the
above location at subminimum wages?
Yes
No
Mailing Address
(if
different than street address):
Federal Employer
Identification Number (EIN):
FOR USDOL USE ONLY
Pending
Withdrawn
Revoked
Issue/W Pend.
4.
If full-time students will be employed at subminimum wages at
establishments other than that listed in block 2, provide the names
and addresses of those establishments:
2.
3.
4.
5.
Clothing/Shoe Store
Hotel/Motel
Hospital/Nursing
3.
Type of establishment(s) where full-time students will be employed at subminimum wages (check all that apply) and provide names
and addresses of each establishment in block 4:
Grocery Store
Full Service Restaurant
Convenience Store
Fast Food Restaurant
Movie/Theater
General Merchandise
Other Reta
i
l/Service, Specify Type:
Agriculture, Specify Crop/Product
5.
Representations, certification and signature:
I certify, as set forth in Regulations, 29 C.F.R. part 519, subpart B, that the employment of not more than six full-time students on any
workday will not reduce the full-time employment opportunities of other workers.
6.
Authorized representative (print or type)
7.
Signature of authorized representative:
8.
Title (print or type)
9.
Date application forwarded to USDOL:
lic Burden Statement
This collection of
information is
estimated to
vary from
11 to
21 minutes per
response, including time
for reviewing instructions, searching existing data sources, gathering and
maintaining the data needed, and completing and reviewing the collection of information, and maintaining your records. If you have any comments regarding this burden estimate or
any other aspect of this collection of information, including suggestions for reducing this burden, send them to the U.S. Department of Labor, Wage and Hour Division, Room S-3502,
200 Constitution Avenue, N.W., Washington, D.C., 20210 (
do not send the completed application to this address
).
Form WH-202

TEMPORARY NOTICE TO EMPLOYEES
THE EMPLOYER NAMED BELOW HAS FILED AN APPLICATION WITH THE WAGE AND HOUR
DIVISION FOR AUTHORITY TO EMPLOY UP TO SIX FULL-TIME STUDENTS ON ANY WORKDAY
AT
THE ESTABLISHMENT(S) LISTED
AT A
WAGE RATE
NOT LESS
THAN
85%
OF
THE
STATUTORY MINIMUM ESTABLISHED UNDER SECTION 6 OF THE FAIR LABOR STANDARDS
ACT
(THE
FEDERAL WAGE
AND
HOUR
LAW). THIS
AUTHORITY
IS
EFFECTIVE FROM THE
DATE THE APPLICATION IS MAILED (POSTMARKED) TO THE DIVISION AND MAY REMAIN IN
EFFECT FOR A PERIOD OF ONE YEAR.
Name of Employer:
Name and Address of Establishment(s) Where Full-Time Students
May Be Employed At Subminimum Wages Under This Temporary Notice:
Date application was mailed to the Division:
/
/
Full-time students may be employed under the terms of this authority only outside of their scheduled hours of instruction and
for not more than 8 hours a day or more than 20 hours a week when school is in session all week or more that 40 hours a
week during the student's vacation. Full-time students must be employed in compliance with local ordinances, State laws,
and other Federal laws, including child labor provisions. There is no authority to pay subminimum wages to full-time students
for work under the Walsh-Healey Public Contracts Act or the Service Contract Act. This temporary authority may only be
issued if the following conditions are met (29 C.F.R. § 519.5):
a.
The granting of the authority requested is necessary to prevent curtailment of opportunities for employment;
b.
The employment of full-time students at subminimum wages will not create a substantial probability of reducing the
full-time employment opportunities of other persons;
c.
Full-time students are available for employment at subminimum wages;
d.
Abnormal labor conditions, such as a str
ike or lockout, do not exist in the establishment(s) for which authority is
sought;
e.
There are no serious outstanding violations of the provisions of the previous authority to employ full-time students
nor of other provisions of the Fair Labor Standards Act;
f.
The granting of the authority will not result in a reduction of a wage rate paid to a current employee, including student
emplo
yees.
Any interested person may send data or views concerning the application to the Wage and Hour Division,
230 South Dearborn Street, Room 514, Chicago, Illinois 60604-1757.
TO THE EMPLOYER
:

It is required that you complete this notice and post it in a conspicuous place at each establishment
where full-time students will be employed from the date the application is mailed to the Division and that it remain posted
during the effective period of the temporary authority.
Form WH-202