Fillable Printable Form WH-514A
Fillable Printable Form WH-514A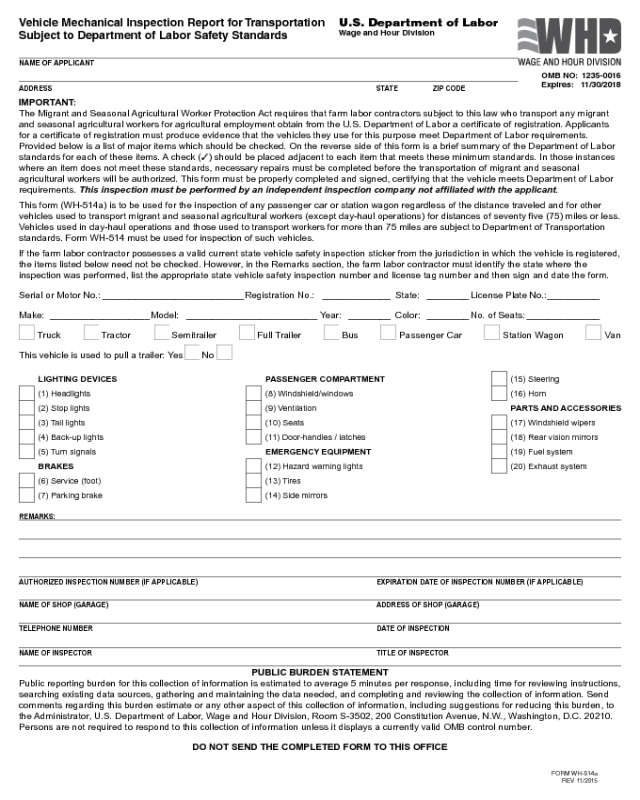 Form WH-514A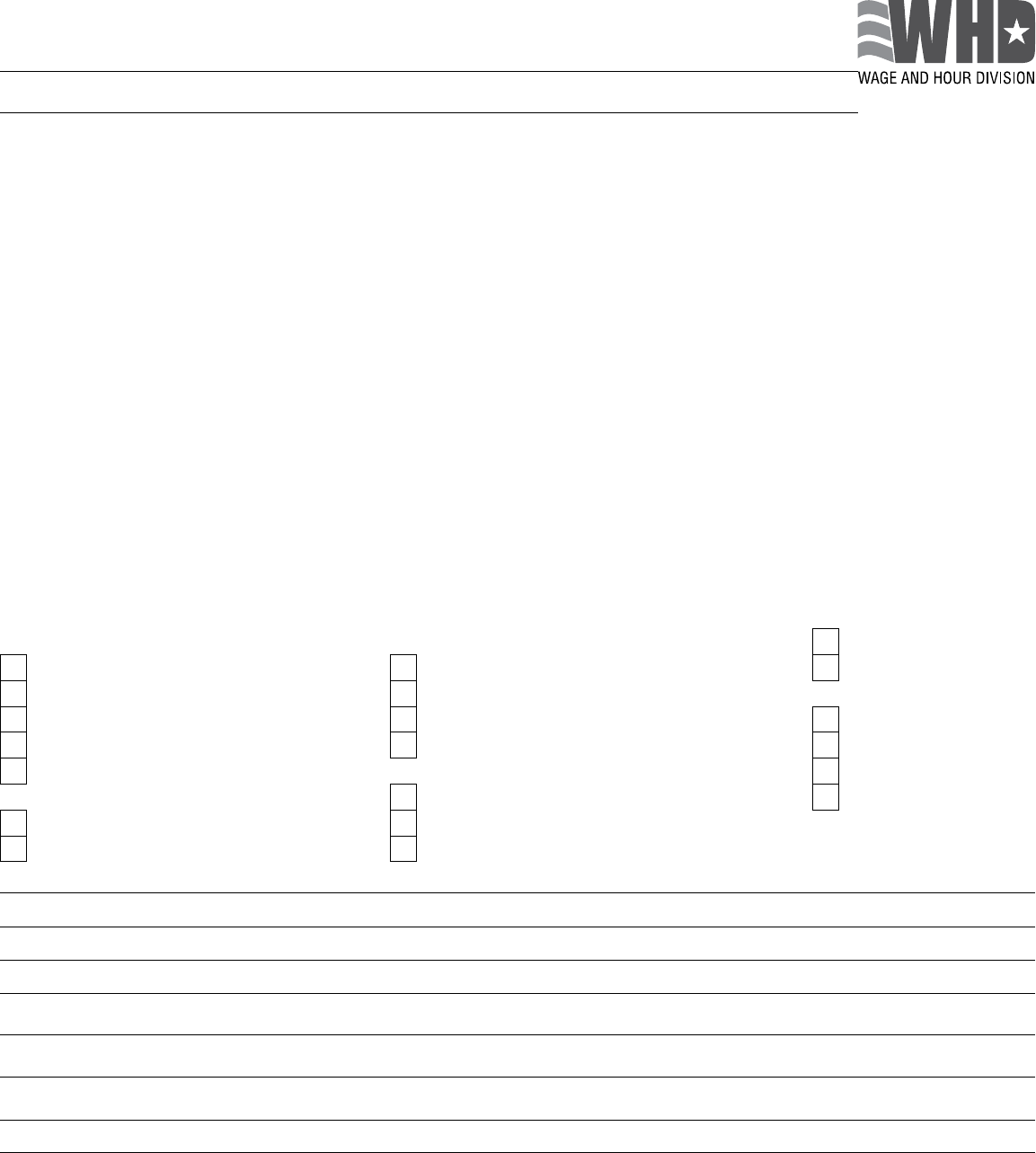 U.S. Department of Labor
Wage and Hour Division
OMB NO:1235-0016
Expires: 11/30/2018
FORM WH-514a
REV 11/2015
NAME OF APPLICANT
ADDRESS STATE ZIP CODE
IMPORTANT:
The Migrant and Seasonal Agricultural Worker Protection Act requires that farm labor contractors subject to this law who transport any migrant
and seasonal agricultural workers for agricultural employment obtain from the U.S. Department of Labor a certicate of registration. Applicants
for a certicate of registration must produce evidence that the vehicles they use for this purpose meet Department of Labor requirements.
Provided below is a list of major items which should be checked. On the reverse side of this form is a brief summary of the Department of Labor
standards for each of these items. A check (
✓
) should be placed adjacent to each item that meets these minimum standards. In those instances
where an item does not meet these standards, necessary repairs must be completed before the transportation of migrant and seasonal
agricultural workers will be authorized. This form must be properly completed and signed, certifying that the vehicle meets Department of Labor
requirements.
This inspection must be performed by an independent inspection company not afliated with the applicant
.
This form (WH-514a) is to be used for the inspection of any passenger car or station wagon regardless of the distance traveled and for other
vehicles used to transport migrant and seasonal agricultural workers (except day-haul operations) for distances of seventy ve (75) miles or less.
Vehicles used in day-haul operations and those used to transport workers for more than 75 miles are subject to Department of Transportation
standards. Form WH-514 must be used for inspection of such vehicles.
If the farm labor contractor possesses a valid current state vehicle safety inspection sticker from the jurisdiction in which the vehicle is registered,
the items listed below need not be checked. However, in the Remarks section, the farm labor contractor must identify the state where the
inspection was performed, list the appropriate state vehicle safety inspection number and license tag number and then sign and date the form.
Serial or Motor No.:
___________________________
Registration No.:
_____________
State:
________
License Plate No.:
__________
Make:
___________________
Model:
_________________________
Year:
________
Color:
________
No. of Seats:
______________
Truck Tractor Semitrailer Full Trailer Bus Passenger Car Station Wagon Van
This vehicle is used to pull a trailer: Yes No
LIGHTING DEVICESPASSENGER COMPARTMENT
(15) Steering
(1) Headlights(8) Windshield/windows(16) Horn
(2) Stop lights(9) Ventilation
PARTS AND ACCESSORIES
(3) Tail lights
(10) Seats

(17) Windshield wipers
(4) Back-up lights(11) Door-handles / latches
(18) Rear vision mirrors
(5) Turn signals
EMERGENCY EQUIPMENT

(19) Fuel system
BRAKES
(12) Hazard warning lights

(20) Exhaust system
(6) Service (foot)
(13) Tires
(7) Parking brake
(14) Side mirrors
REMARKS:
AUTHORIZED INSPECTION NUMBER (IF APPLICABLE) EXPIRATION DATE OF INSPECTION NUMBER (IF APPLICABLE)
NAME OF SHOP (GARAGE) ADDRESS OF SHOP (GARAGE)
TELEPHONE NUMBER DATE OF INSPECTION
NAME OF INSPECTOR TITLE OF INSPECTOR
PUBLIC BURDEN STATEMENT
Public reporting burden for this collection of information is estimated to average 5 minutes per response, including time for reviewing instructions,
searching existing data sources, gathering and maintaining the data needed, and completing and reviewing the collection of information. Send
comments regarding this burden estimate or any other aspect of this collection of information, including suggestions for reducing this burden, to
the Administrator, U.S. Department of Labor, Wage and Hour Division, Room S-3502, 200 Constitution Avenue, N.W., Washington, D.C. 20210.
Persons are not required to respond to this collection of information unless it displays a currently valid OMB control number.
DO NOT SEND THE COMPLETED FORM TO THIS OFFICE
Vehicle Mechanical Inspection Report for Transportation
Subject to Department of Labor Safety Standards
MSPA
29 CFR 500.104 DOL VEHICLE SAFETY STANDARDS
EXTERNAL LIGHTS:
Operable headlights, tail lights, stop lights and, if so equipped, back-up lights, turn signals, and
hazard warning lights.
BRAKES:
Operable and free of leaks.
TIRES:
No cracks/defects in sidewall and tread depth at least 2/32 inch.
STEERING:
Steering wheel and linkage properly adjusted and maintained.
HORN:
Operable air or electric horn.
MIRRORS:
Must provide full vision to the sides and rear.
WINDSHIELD/WINDSHIELD WIPERS:
Windshields must have no cracks which obscure vision and no opaque obstructions. Windshield
wipers must be operable in all weather conditions.
FUEL SYSTEM:
Fuel lines and tank must be free of leaks and lling opening securely covered by a cap.
EXHAUST SYSTEM:
Must discharge carbon monoxide away from passenger compartment and be free of leaks.
VENTILATION:
Windows must be operable to allow fresh air to occupants.
SAFE LOADING:
Loading must not exceed gross vehicle weight rating.
SEATING:
Seat required for each passenger except that seating not required for vehicles used on trips of less
than 10 miles which begin and end on the farm and transportation is primarily on farm roads.
HANDLES AND LATCHES:
Door handles and latches operable to allow exiting for occupants.
PASSENGER COMPARTMENT:
Floor and sides of any part of the vehicle to be occupied by passenger must be free of openings or
rusted areas which are likely to result in injury to passengers.