Fillable Printable Apartment Lease Agreement Format (NOTICE)
Fillable Printable Apartment Lease Agreement Format (NOTICE)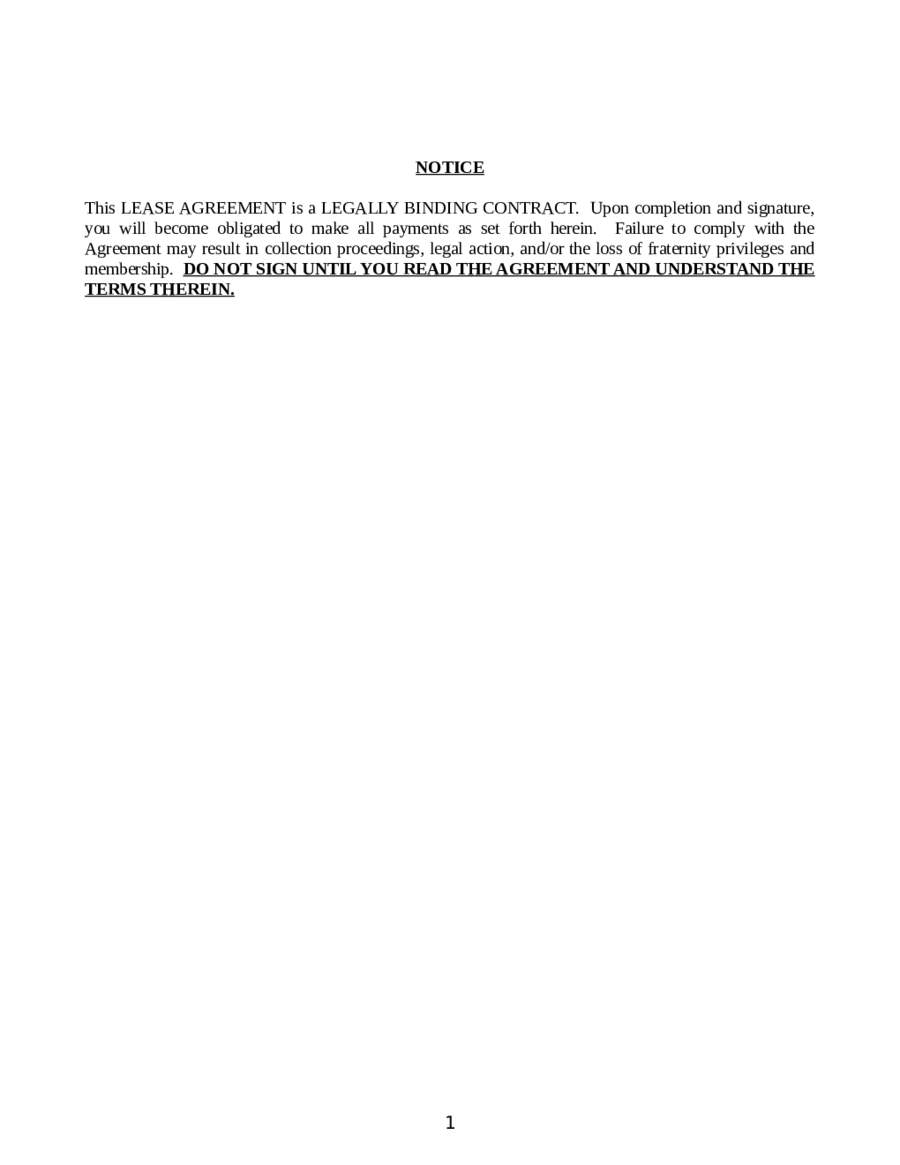 Apartment Lease Agreement Format (NOTICE)

NOTICE
This LEASEAGREEMENT isaLEGALLY BINDING CONTRACT.Upon completionand signature,
youwillbecomeobligatedtomakeallpaymentsassetforthherein.Failuretocomplywiththe
Agreementmay resultincollection proceedings,legal action,and/or thelossof fraternity privilegesand
membership.
DO NOT SIGN UNTILYOU READ THE AGREEMENTAND UNDERSTAND THE
TERMS THEREIN.
1

LEASE AGREEMENT
THIS LEASE is made byand between
(Full Name)
of
(Street)
hereinafter called "Tenant" and
(CityState Zip Code)
Legal Name of Alumni and Volunteer Corporation of
, hereinafter called "Landlord."
(Address of House)
W I T N E S S E T H:
Thatfor and in consideration ofthemutual promises, covenants and conditions hereinafter set
forth, Landlord and Tenant agree as follows:
1.Description.LandlorddoesherebyleasetoTenantandTenantherebyleasesfrom
Landlord, the premises in the Sigma Phi Epsilon Fraternity House, ,
(Home Address)
hereinaftercalled"room,"tobe usedby Tenantforresidentialpurposes only.Tenantisalso entitledto
make reasonable use of the common areas of the Fraternity House, subject to the rules and regulations of
the chapter and alumni and volunteer corporation.
2.Term.Thetermofthisleasebeginson_______________,20__,andterminateson
_____________, 20__, unless sooner terminated as hereinafter provided. Theterm of this lease does not
include the periods of time between academic semesters of the _____________________________.
(Name of School)
2

Landlord shall assign Tenant to a roomin the Fraternity House at the beginningof the term of thislease;
Landlord shall have the right to move Tenant to similar accommodations within the Fraternity House.
3.Rent. TenantagreestopaytheLandlordat its officein theFraternity Houserent(which
includesboardandparlorfee,ifapplicable)intheamountof$_______________,withoutdemandor
setoff, in installments as follows:
$_______________ on ________________, 20__
$_______________ on ________________, 20__
$_______________ on ________________, 20__
TimeofrentpaymentisoftheessenceandTenantshallpayalatechargeof$____________ifany
installment is paid after the due date and $____________ if any installment is paid on or after the eleventh
day following the due date.Interest shall accrue at the annual rate of 12% on delinquent sums.
4.RightofEntry.Landlordand/oritsagentsshallhavetherighttoentertheroomby
passkeyor otherwiseat all reasonable and necessary timeswithout notice to inspectthe roomas wellas
anypersonalpropertyforanyreasonablepurpose.Itisfurtheragreedthatanylockingdevicesor
impediments to such a search shall be readily opened by the Tenant.
5.Default. In the event the Tenant is in default under this lease, Landlord shall have the right
to terminate thislease and Tenant shallpeacefully surrender the premisesto the Landlord. The Landlord
may, without formal demand or further notice of any kind, reenter the premises and repossess it therefrom
without being liable for any damages therefor. No such termination of this lease by Landlord shall relieve
Tenant of Tenant's liability and obligations under this lease and such liability and obligation shall survive
anysuchtermination.EvenindefaulttheTenantshallremainliabletoLandlordfortherentstatedin
paragraph three (3). Default on the part of Tenant shall include, but is not limited to, the following:
A.Delinquencyinthedueandpunctualpaymentofanyrentorotherpaymentrequired
hereunder for more than five (5) days after the date such payment is due;
B.Maintaining a nuisance within the premises;
C.Disorderly or illegal behavior on the part of Tenant or Tenant's guests;
D.Keepingany handguns,firearmsorweaponsof anytype,orany explosive,inflammable,
or any extra hazardous substances, or any article or thing of a dangerous nature on the premises.
E.Inability or refusal on the part of Tenant to adjust to the concept and requirements of living
in a student residence environment;
F.Violationof any of the local, state, orfederallawsor rulesand regulationsmadeby Landlord
and/or the university; and
3

G.Violation of any of the covenants or conditions of this lease.
H.Violationof anychapterbylaws and/or Bylaws andAdminis trativePoliciesand
Procedures of the national Fraternity.
I.LossofTenant'sstatusasanundergraduatememberorpledgeofSigmaPhiEpsilonas
prescribed in the Fraternity's Bylaws and Administrative Policies and Procedures.
J.Violation of the Fraternity's "Statement on Chapter & Individual Responsibility."
6.LiabilityandIndemnity.TheLandlordshallnotbeliableforinjury,lossordamageto
person or property occurring within the premises or property. Tenant assumes all risk of loss or damage of
Tenant's property within the property which may be caused by water leakage,fire, windstorm, explosion,
or other cause, or by the act or omission of any other tenant in the property. Tenant agrees to and hereby
doesindemnifyLandlordagainstlossordamageresultingfromanyclaimorclaimsassertedagainst
Landlordbyanypersonorpersonsforlossofordamagetopropertyorinjurytopersonsbasedupon
allegedacts,omissions,ornegligenceofTenant,hisagentsorguests,inorinconnectionwiththeuse
and/or occupancy of the premises by Tenant.
7.Damage or Destruction of Premises. If, in the option of Landlord, the premises or property
shouldbecomeuntenantableduringthetermhereofbecauseofdamageordestructionbyfireorother
casualty, Landlord shall have the right to terminatethis lease, or move Tenant to similar accommodations
withinthepropertyandrepairandrestorethepremisesorproperty.Intheeventofsuchdamageor
destructiontothepremisesorpropertywithoutthefaultofTenant,hisagentsorguests,Tenant's
obligation to pay rent hereunder shall be abated only if Landlord terminates this lease, or does not furnish
Tenant similar accommodations within the property.
8.Assignment.Tenantshallnotassignthisleasenorsubletthewholeoranypartofthe
premiseswithoutthepriorwrittenconsentofLandlord.Subjecttotheforegoing,alloftheterms,
provisions,covenantsandconditionsofthisleaseshallbindandinsuretothebenefitofthelegal
representatives, successors and assigns of the respective parties hereto.
9.ConditionofPremises.PriortooccupancyTenantwillexaminethepremises,including
thefurnishings,andTenantagreesthatupontheexpirationorterminationofthisleaseTenantwill
peacefully surrenderpossessionofthepremisesandthe furnishingstoLandlordin asgoodconditionas
they are at the beginning of the term of this lease, normal wear and tear excepted. Tenant further agrees to
takegood care of the premises,includingthe furnishings, and the common areasof thehouse,to permit
andsuffernowastetobecommittedinthepremises,andtomakenochangesoralterationstothe
premiseswithout the prior written consent of the Landlord. Tenant further agrees to pay Landlord for all
repairs required to be made to the premises, including the furnishings, and the property, resulting from the
misuse,neglect,carelessness,misconduct,orfaultofTenantorTenant'sguests.Ifanypartofthe
commonareasofthehouseisdamagedfrommisuse,neglect,carelessness,ormisconduct,thecostof
repairs shall be paid by all tenants residing within the area of the damaged common area if the responsible
party cannot be ascertained by the Landlord and if in the reasonable control of such tenants.
10.Pets.Pets will not be permitted in the Fraternity House.
4

11.Right of Refusal. UntilLandlord has executed this lease, Landlord shallhave the right to
refuse acceptance of Tenant for any reason whatsoever provided; however, such refusal shall not be based
on Tenant's race, religion, or national origin. In the event of a refusal, Landlord shall refund to Tenant, if
applicable, the security deposit and any previously paid rent.
12.Attorney'sFees.TenantagreestopayLandlord'sattorney'sfeesandcourtcostsinany
action relating to this lease in which Landlord prevails.
13.RightofReentry.IfLandlord'srightofreentryisexercisedfollowingaten(10)day
abandonment of the premises by Tenant without notice, or default and failure to cure, then Landlord may
consider any personal property belonging to Tenant and left on the premises to also have been abandoned.
LandlordmaythendisposeofallsuchpersonalpropertyinanymannerLandlorddeemsproperandis
hereby relieved of all liability for doing so.
Tenant:
Witness
Date:
Landlord:
(Alumni and Volunteer Corporation of Sigma Phi Epsilon)
By:
Witness
Date:
s/lease
11/26/03
5

AGREEMENT OF PERSONAL GUARANTY
ATTACHED TO AND MADE PART OFTHE LEASE AGREEMENT
DATED , 20___ BETWEEN
("LANDLORD") AND
("TENANT")
Theundersigned"Guarantor,"inconsiderationofthemakingoftheforegoingLeaseAgreement
betweenTenantandLandlord,doesherebyunconditionallyguaranteethepaymentoftherentbythe
TenantandtheperformancebyTenantofallthefinancialdutiesandobligationsundertheLease
Agreement.
Itisrecognizedandagreedthatthis AgreementofGuarantybyGuarantorisasubstantialpartofthe
consideration for the signing of the Lease Agreement by Landlord and that the Lease Agreement would
nothavebeensignedbyLandlordwithouttheagreementofGuarantortosignthisGuaranty
Agreement.
GuarantoralsoagreesthatLandlordisnotfirstrequiredtoenforceagainst Tenantorany otherperson
anyliability,obligationordutyguaranteedbythisAgreementbeforeseekingenforcementthereof
againstGuarantor. A lawsuitmaybebroughtandmaintainedagainsttheGuarantorbyLandlordto
enforceanyliability,obligationordutyguaranteed by thisAgreementwithoutthenecessity ofjoining
the Tenant or any other person in the lawsuit.
ItisexpresslyagreedandunderstoodthatGuarantoradditionallyandunconditionallyguaranteesthe
performance under the Lease of (TENANT).
EXECUTED
to be effective as of the day of , 20__.
GUARANTOR:
Name:
ADDRESS:
PHONE NUMBER:
SOCIAL SECURITY NUMBER:
1202781v2
6