Fillable Printable Residential Lease Agreement Sample
Fillable Printable Residential Lease Agreement Sample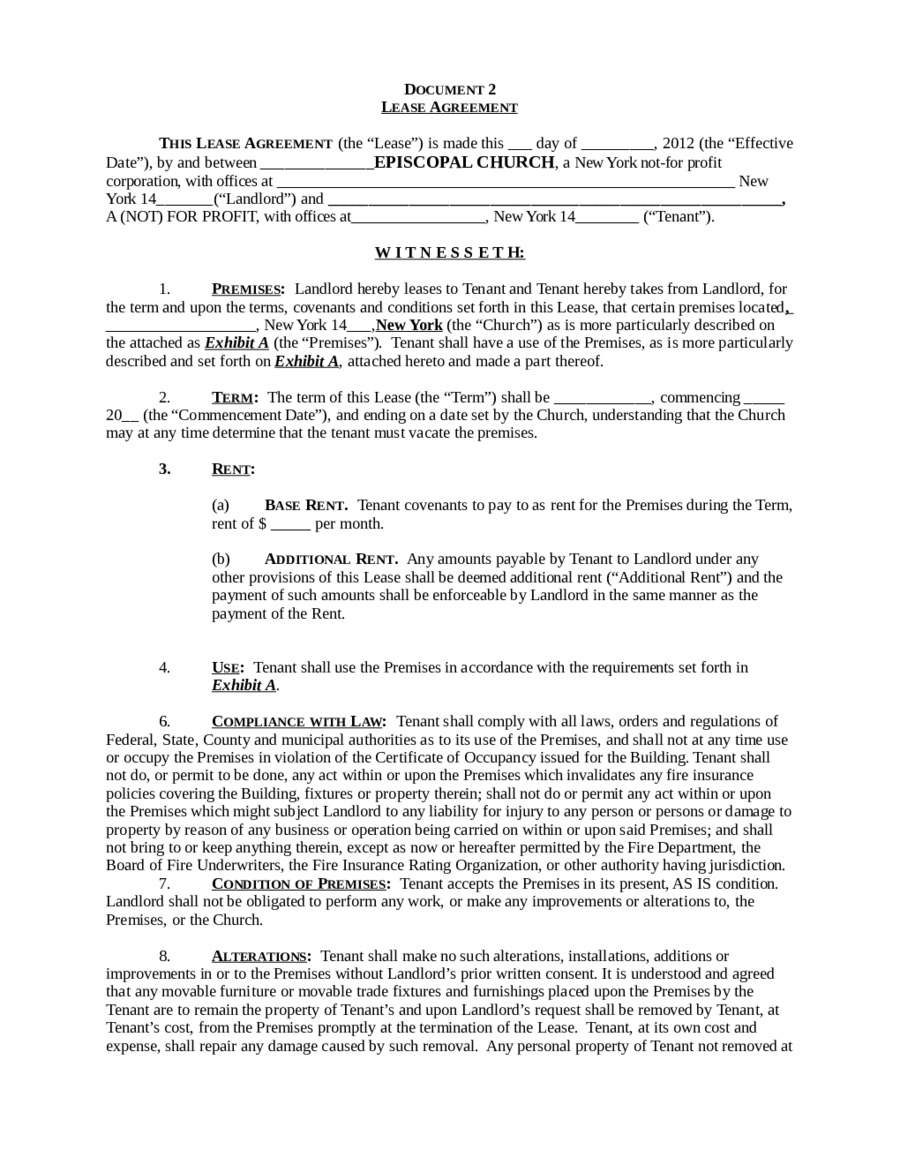 Residential Lease Agreement Sample

T
HIS
L
EASE
A
GREEMENT
(the"Lease") ismade this ___ day of _________, 2012 (the "Effective
Date"), by and between ______________
EPISCOPAL CHURCH

, a New York not-for profit
corporation, with offices at __________________________________________________________ New
York 14_______("Landlord") and
________________________________________________________,
A (NOT) FOR PROFIT, with offices at_________________, NewYork 14________ ("Tenant").
W I T N E S S E T H:
1.
PREMISES :

Landlord hereby leases to Tenant and Tenant hereby takes from Landlord, for
the termand upon the terms, covenants and conditions set forth inthis Lease, that certain premiseslocated
,
___________________, NewYork14___,
New York

(the"Church") as is more particularly described on
the attached as
ExhibitA

(the "Premises"). Tenant shall have a use of the Premises, as is more particularly
described and set forth on
Exhibit A
, attachedhereto and madea part thereof.
2.
TERM:

The term of this Lease (the"Term") shall be ____________, commencing _____
20__ (the "CommencementDate"), and ending on a date set by the Church, understandingthat the Church
may at any time determine that the tenant must vacate the premises.
(a)
B

ASE

R

ENT

.
Tenant covenants to pay to as rent for the Premises duringthe Term,
rent of $ _____ per month.
(b)
A

DDITIONAL

R

ENT

.
Any amounts payable by Tenant to Landlord under any
other provisions of this Lease shall be deemed additional rent ("Additional Rent") and the
payment of such amounts shall be enforceable by Landlordin the same manner as the
payment of the Rent.
4.
USE:

Tenant shall use the Premises in accordance with the requirements set forth in
6.
C

OMPLIANCE

WITH

LAW :

Tenant shall comply with all laws, orders and regulations of
Federal, State, County and municipal authorities as to its use of the Premises, and shall not at any time use
or occupy the Premises in violation of the Certificate of Occupancy issued for the Building. Tenant shall
not do, or permit to be done, any act withinor upon the Premises which invalidates any fire insurance
policies covering the Building, fixtures or property therein; shall not do or permit any act within or upon
the Premises which might subject Landlord to any liabilityfor injury to any person or persons or damage to
property by reason of any business or operation beingcarried on within or uponsaid Premises; and shall
not bring to or keep anything therein, except as now or hereafter permittedby the Fire Department, the
Board of Fire Underwriters, the Fire Insurance Rating Organization, or other authority having jurisdiction.
7.
C

ONDITION

OF

PREMISES :

Tenant accepts the Premises in its present,AS IS condition.
Landlord shall not be obligated to perform any work, or make any improvements or alterations to, the
Premises, or the Church.
8.
ALTERATIONS :

Tenant shall make no such alterations, installations, additions or
improvements inor to thePremises without Landlord's prior writtenconsent. It is understood and agreed
that any movable furniture or movable trade fixtures and furnishings placeduponthe Premises by the
Tenant are to remain the property of Tenant's and upon Landlord's request shall be removedby Tenant, at
Tenant's cost, fromthe Premises promptlyat the terminationof the Lease. Tenant, at its own cost and
expense, shall repair any damage caused by such removal. Anypersonal property of Tenant not removed at
the terminationof the Lease shall, at Landlord's option, be deemedabandonedby Tenant and become the
property of Landlord. Notwithstandingthe foregoing,Landlord may chargeTenant for the cost of removing
Tenant's personal property as Additional Rent as hereinafter set forth in this Lease. Landlord shall have the
right to make any alterations, installations, additions or improvements in or to the Premises and shall have
the right to remove or relocate Tenant's signs or other property that Landlord, in its solediscretion, decides
may interfere with such alteration, installation, addition or improvement.
9.
M

AINTENANCE

AND

REPAIRS:

The Landlord shall provide routine cleaning(example
trash removal) and maintenance (examplechanging light bulbs) as mutually agreedupon between the
Landlord and Tenant. The
Tenant, at its expenseshall seethat the space it uses is kept clean and in good
repair. Moreover, Tenant shall keepthe Premises and all common areas of the Premises freeof debris and
trash during its use of the Premises.
10.
I

NSURANCE

:

Landlord shall not be responsible for Tenant's personal property on the
Premises. Tenant shall maintain comprehensivegeneral liability insurance in an amount of $1,000,000 for
each occurrence, combined single limit for injury to persons and damageto property namingLandlord as
an additional insured and loss payee as to the Premises.______________Episcopal Church and The
Episcopal Diocese of Rochester shall be listed by the Tenant's Insurance as additional insured's. Tenant
shall furnish to Landlord a certificate of insuranceevidencingsuch insurance together with a thirty (30) day
noticeof cancellationclause prior to taking occupancyof the Premises. If Tenant fails or refuses to obtain
and/or maintain the insurance coverage required in this section or elsewherein this Lease, Landlord may
obtain such coverage and the cost thereofshall constituteAdditional Rent and shall be paid by Tenant. In
the event that Landlord's insurance premiums increase as the result of Tenant's use of thePremises, then
Tenant shall pay Landlord asAdditional Rent the differencebetween the Landlord's original insurance
premiums as of thedate hereofand the new(increased) premiums withinten (10) days following receipt of
an invoice therefore from Landlord. Tenant shall, if it has its own insurance, submit its insurance policy, as
requiredand set forth herein, to Landlord, and Landlord shall submit such policyto its insurance carrier for
its review and approval.
11.
LIABILITYOF

L

ANDLORD:

Landlord shall not be liable to Tenant, or Tenant's invitees or
guests, or to any other person or entityfor any damage (includingindirect and consequential damages),
injury, loss, compensation or claim, including but not limited to claims for theinterruption or loss to
Tenant's business caused by any of the following:repairs to any portion of the Premises; interruption in the
use of the Premises or any equipment therein; any accident or damage resulting from the use or operation
(by Landlord, Tenant or any other person or entity) of the heating, cooling,electrical, sewage, or plumbing
equipment or apparatus; any breach of security or any fire, robbery, theft, vandalism, mysterious
disappearance and/or any other casualty; the actions of any other personor entity; and any leakageinany
part or portion of thePremises, or fromwater, rain, ice or snow that may leak into, or flowfrom, any part
of the Premises, or fromdrains, pipes or plumbingfixtures inthe Premises.
12.
D

ESTRUCTION

B

Y

F

IRE

O

R

O

THER

CAUSE:

If the Premises are damaged or rendered
untenantable by fire or other cause, thenin any such event the Landlord may, at its option, terminate this
Lease or elect to repair or rebuild the same in Landlord's sole discretion. If the Landlord elects to terminate
this Lease, then the same shall terminate ten (10) days after such notice is givenand the Tenant shall
immediately vacate, surrender and deliver up possession of the Premises to theLandlord, paying base Rent
and all other charges hereunder up until thetime of said casualty.If theLandlord does not elect to
terminate this Lease, the Landlord may repair and/or rebuildthe Premises as promptly as possibleto the
same or reasonably similar condition as existed before the date of such casualty, subject to any delay from
causes beyond its reasonable control, and the Lease Term shall continuewithout interruption and this Lease
shall remain in full force and effect, subject to abatement in the Rent. Additional Rent and other charges
hereunder from the timeof the damage or destruction until thePremises are repaired or restored.
Notwithstandingtheforegoing, (i) the Landlord's obligation to repair and/or rebuild shall not require the
Landlord to expend any monies in excess of available insurance proceeds, and (ii) Landlord shall not be
requiredto repair and/or rebuild any improvements or alterations built by or for Tenant during the Term or
2

to replace any of Tenant's personal property, equipment, furniture or inventory, which repair and
replacement obligation shall be the soleobligationof Tenant.
13.
PROPERTY

L

OSS:

Landlord or its agents shall not be liablefor any damage to the
property of Tenant, nor for the loss or damage to any property of Tenant, by theft or otherwise.
14.
U

TILITY

SERVICE

T

OTHEPREMISES

Landlord shall not be responsible for any damages
suffered by Tenant due to theloss or interruption of utility services.
15.
S

IGNS

:

Tenant is permitted to place one(1) sign on the Premises, only with the specific
written agreement of the Church. Tenant sign shall not be affixedto the church. Tenant shall be responsible
for getting any approvals from governments for said sign, if required. Tenant shall notifyLandlordin
writing of its intent to erect a sign on the Premises prior to such installation. The noticeshall indicate the
size, location, and contents of thesign and Tenant's signshall be mutuallyagreeableto both parties.
Additionally, Tenant's sign shall not be placed in front of, or otherwise obstruct the view, of Landlord's
sign. Anysign placedby Tenant must conform to all governmental laws, rules and regulations, including
any applicable zoning ordinanceor signordinance. Landlord shall first approve the design of any such sign
prior to its installation.
(a)
W

AIVER

.
Landlordand Landlord's agents and employees shall not be liable for,
and Tenant waives, any and all claims for damages to persons and/or property sustained by
Tenant or Tenant's agents, employees, assigns, licensees, invitees or any personclaiming
through such parties resulting from any accident or occurrenceinor upon the Premises.
Such waiver shall include, but not be limited to, claims for damages to person or property
resulting fromany equipment or appurtenance out of repair, defectiveelectrical, heating,
air conditioning, plumbing, sewer, water systems or installations or from the operation of
said equipment or installations, or damageby broken glass, ice, water, snow, gas entering
the Premises, or for the acts, omissions or negligenceof Landlord, its guests and invitees
or of any trespassers onthe Premises.
(b)
I

NDEMNITY

.
Tenant herebyindemnifies Landlord and saves it harmless from and
against any and all claims, actions, damages, liability and expenses in connectionwith loss
of life, personal injury and/or damage to property arisingfromor out of any occurrence in,
upon or at the Premises, from or out of the occupancyor use by Tenant of the Premises or
any parts thereof, or occasioned wholly or in part by any act or omission of Tenant, its
agents, contractors, lessees or employees. Tenant shall at all times duringtheTerm of this
Lease, carry sufficient policiesof liability insurance as set forth inArticle10 hereof,
against such losses and namingthe Landlord as additional insuredand loss payee.
(c)
A

TTORNEY

'

S

F

EES

.
In case the Landlord shall, without the fault on its part, be
made a party to any litigation commencedby or against the Tenant, then the Tenant shall
indemnify, protect and holdLandlord harmless there from, shall provide Landlord with
defenses thereto, and shall pay all costs, expenses and reasonable attorney's fees incurred
or paid by Landlord in connection with such litigation. Landlord shall be entitledto
recover all costs, expensesand reasonable attorney's fees that may be incurred or paid in
its enforcing any of the covenants and agreements containedin this Lease.
17.
SUBORDINATION:

This Lease is subject and subordinate to all mortgages and
encumbrances which may now or hereafter affect the Premises, and to all renewals, modifications,
consolidations, replacements and extensions thereof. This clause shall be self-operative and Tenant shall
execute any subordination agreement requested by Landlord or any such mortgagee upon ten (10) days
advance notice.
3

18.
E

MINENT

DOMAIN:

If the whole or any part of thePremises shall be acquiredor
condemned for any public or quasi-public use or purpose, this Lease shall ceaseand terminate as of the
date that titlevests followingsuch proceeding, and Tenant shall have no claimby reason of this Lease, nor
any claim to any part of any award madeto Landlord in connection withsuch proceeding.
19.
S

UBLETTING

AND

ASSIGNMENT :

Tenant shall not assign this Lease, nor underlet or
sublet, or permit the Premises or any part thereof to be used by others, without Landlord's prior written
consent in each instance, which consent may be givenor withheldby Landlord in its sole discretion. This
Lease may not be assigned by operationof law. Notwithstandingany permitted assignment, underletting or
sublettingof this Lease, Tenant shall remain liable hereunder for all Rent and Additional Rent comingdue
hereunder, for the balance of the Term.
20.
A

CCESS

TO

PREMISES :

Tenant's access and use of the Premises is subject to the
regulations and guidelines containedin
ExhibitA

. Landlord or Landlord's agents shall have the right to
enter the Premises at all times during Tenant's use. Nothing hereincontained, however, shall be deemed or
construed to impose upon Landlord any obligation, responsibility or liability whatsoever for thecare,
supervision or repair of the Premises or any part thereof other than as hereinprovided.
21.
N

OTICE

O

F

DEFAULT

B

Y

L

ANDLORD :

In the eventof any act or omission by Landlord
which would give Tenant the right to terminate this Lease by reason of constructive or partial or total
eviction or otherwise, Tenant shall not be permittedto exerciseany such right until Tenant:(a) is current in
rent at the time of vacating the lease, (b) shall notifythe Landlordof the intent to vacate tendays before
vacating the lease (c) provide the Landlord withtheopportunityto ascertain that all of the Tenants personal
property is removed and that thepremises used by theTenant are in good repair.
(a)If at the date fixed at thecommencementof the Term or if at any time during the
Term (or any renewal or extension thereof), there shall be filed by or against Tenant in any
Court pursuant to any statute either of the UnitedStates or of any State a petition of
bankruptcy or insolvency or for reorganization or for the appointment of a receiver or
trustee of all or a portion of Tenant's property and, within thirty (30) days thereof, Tenant
fails to secure a discharge thereof, or if Tenant makes an assignment for thebenefit of
creditors, this Lease may be cancelled and terminated at the option of Landlord exercised
after notice of the happeningof one or more of such events, in which eventneither Tenant
nor any personclaiming through or under Tenant by virtue of any statute or of an order of
any Court shall be entitled to possessionor to remain in possession of the Premises but
shall forthwith quit, surrender and deliver up possession of the Premises and Landlord, in
addition to the other rights and remedies Landlord has by virtue of any other provision
herein or elsewhere in this Leasecontained, or by virtue of any statute or rule of law, may
retain as liquidateddamages any rent, security deposit, or monies received by him from
Tenant or others on behalf of Tenant.
(b)Notwithstandingany other provisions of this Lease to the contrary, it is agreed that
in the event of the terminationof this Lease pursuant to the provisionsof the above
subparagraph (a), Landlord shall forthwith be entitled to recover from Tenant, as and for
liquidateddamages, an amount equal to the difference betweenthe Base Rent reserved
hereunder for the unexpiredportion of the Term and the then fair and reasonable value of
the Premises for the same period. If such Premises or any part thereofbe re-let by
Landlord for the unexpired term of said Lease, or any part thereof, the net Rent so
received, less all costs of re-letting, shall be credited against such liquidated damages.
4
(a)
E

VENTS

OF

DEFAULT.

If any oneor more of the following events (herein
sometimes calledan "Event of Default" or "Events of Default") shall happen:
(i)Failure to punctually pay the full amount of any Rent, Additional Rent or
other charge due and owingunder this Lease or any part hereof whenand
as thesame shall become due and payable, and such failure continues for
a periodof five (5) days; or
(ii)The failure to perform or comply withany of the agreements, terms,
covenants or conditions in this Lease provided(other than those referred
to in the foregoingsubparagraph (i) of this Section) for a period of thirty
(30) days; or
(iii)If Tenant vacates the Premises or ceases conducting its activities fromthe
Premises; or
(iv)If Tenant changes its corporate structure, or changes its status as a
religious not-for-profit corporation; or
(v)If Tenant defaults upon any other agreementbetween the Landlord and
Tenant; or
(vi)If Tenant files a voluntary petition in bankruptcy or is adjudicated a
bankrupt or insolvent, or files any petitionor answer seeking any
reorganization, arrangement, composition, readjustment, liquidation,
dissolutionor similar relief under thepresent or any future federal
bankruptcy act or any other present or federal, state or other bankruptcy
or insolvency statute or law, or seeks or consents to or acquiesces in the
appointment of any bankruptcy or insolvency trustee, receiver or
liquidator of Tenant or of all or any substantial part of its properties or of
the Premises, and if such conditioncontinues unremediedfor a periodof
sixty (60) days; or
(vii)If any proceeding against Tenant seeking any reorganization, arrangement,
composition, readjustment, liquidation, dissolution or similar reliefunder
the present or any future federal bankruptcy act or any other present or
future federal, state or other bankruptcy or insolvency statute or law is
instituted, or if an action seeking the appointment of a trustee, liquidator
or receiver is instituted against Tenant, and if such proceeding or
appointment shall not have been dismissed, stayed or otherwisevacated
within sixty (60) days thereafter; or
(viii)If any money judgment is entered against Tenant by any plaintiff and is
not otherwisestayed, appealed, or removed within sixty (60) days
therefrom.
Upon the occurrenceof and Event of Default, Landlordat any timethereafter may cancel
and terminate this Lease upon written notice, whereuponthe Term shall automatically
expire and terminate on the date specified in such notice, which shall be not less than ten
(10) days after thegiving of such notice, and all rights of Tenant under this Lease, shall
expire and terminate, however, Tenant shall remain liable as hereinafter providedfor Base
Rent and Additional Rent for the remainder of the Term, which obligation shall survive this
Lease termination.
5

(b)
S

URRENDER

OF

P

OSSESSION

; L

ANDLORD

'

S

R

IGHT

TO

R

E

-E

NTER

.
Upon any
termination of this Lease, Landlordshall immediatelyremove any and all property
therefrom, using such force as may be necessary, without being deemedin any manner
guilty of trespass, eviction or forcibleentryor detainer, and without relinquishing
Landlord's right to Rent or any other right given to Landlordhereunder or by operation of
law.
(c)
R

ELETTING

.
In case of any such termination, the Rent and all other charges
requiredto be paid up to the time of such termination, or dispossession, shall be paid by
Tenant and Tenant shall also pay to Landlord all reasonable expenses which Landlord may
then or thereafter incur for legal expenses, and all other reasonable costs paid or incurred
by Landlord for restoring the Premises to good order and condition. Landlord may, at any
timeand from time to time, re-let thePremises, in wholeor in part,for any rent then
obtainable, for a term or terms which, at Landlord's sole option.
(d)
T

ENANT

'

S

L

IABILITY
Landlord may, at its option upon an eventof default,
declare all of the Rent, Additional Rent and other charges due by Tenant at thetimeof
termination immediately due and payable and may maintainan action to collect the same at
any time.
(g)
CUMULATIVE

R

IGHTS.

N/A
(h)
W

AIVERS

.
Tenant waives any and all rights of redemptionor re-entry or
repossession under present or future laws, to restore the operation of this Lease
24.
C

URE

B

Y

LANDLORD:

If Tenant shall default in theobservance or performance of any
term or covenant on Tenant's part to be observed or performed under or by virtue of any of the terms or
provisions in any article of this Lease, Landlord may immediatelyor at any time thereafter and without
noticeperform the same for the account of Tenant and if Landlordmakes any expenditures or incurs any
obligations for the payment of money in connection therewith, including but not limitedto reasonable
attorney's fees in instituting, prosecutingor defending any action or proceeding, such sums paid or
obligations incurred (together with interest and costs thereon)shall be paid as Additional Rent by Tenant to
Landlord withinfive(5) days of rendition of any billor statement to Tenant therefor.
25.
N

O

REPRESENTATIONS

B

Y

L

ANDLORD :

Landlord has made no representations or
promises with respect to the Premises, except as hereinexpressly set forth. The taking possession of the
Premises by Tenant shall be conclusive evidence that Tenant accepts the same "AS IS" and that the
Premises werein goodand satisfactory condition at the time such possession was taken.
26.
E

ND

OF

TERM :

If the Tenant vacates the property or decideto vacate the property,
Tenant shall quit, surrender and deliver up possession to Landlord the Premises, broomclean, in good order
and condition, ordinary wear excepted, and Tenant shall removeall of its property as set forth herein.
Tenant's obligationto observe or perform this covenant and to pay all items of Rent or Additional Rent as
requiredhereunder shall survivethe expiration or other terminationof the Term of this Lease.
27.
N

O

WAIVER :

No provisionof this Leaseshall have been deemed to havebeen waived by
Landlord, unless such waiver is in writing, signed by Landlord.
28.
W

AIVER

O

F

TRIAL

B

Y

J

URY :

It is mutually agreedby and between Landlord and Tenant
that each shall and hereby does waive trial by jury in any action, proceeding or counterclaim brought by
either party hereto against the other for any matters whatsoever arising out of or in any way connected with
this Lease.
6

29.
B

ILLS

A

ND

NOTICES:

Except as otherwisein this Lease provided, any notice shall be
deemed sufficiently givenif in writing deliveredpersonallyor sent by mail, return receipt requested, to the
party at the address of the party set forth in this Lease, or at such other address as either party hereto shall
designatein writing.
31.
R

ULES

A

ND

REGULATIONS :

Tenant and Tenant's, employees, agents, visitors and
licenseesshall observefaithfully and comply strictly with such rules and regulations as Landlord or
Landlord's agents may fromtimeto time reasonably adopt.
32.
INVALIDITYOF

P

ARTICULAR

P

ROVISIONS :

If any term or provisionof this Lease or the
application thereof to any person or circumstance shall, to any extent, be held invalidor unenforceable, the
remainder of this Lease, or the applicationof such termor provisionto persons or circumstances other than
those as to which is held invalid or unenforceable,shall not be affectedthereby, and each termand
provisionofthis Lease shall be validand enforceable to the fullest extent permitted by law.
33.
P

ROVISIONS

BINDING :

The conditions, covenants and agreements in this Lease contained
to be kept and performed by the parties hereto shall be binding upon and inure to thebenefit of said
respective parties, their legal representatives, successors and assigns. This section shall not be construed to
permit any assignment or subletting, unless otherwisepermitted in this Lease, without Landlord's prior
written consent. The term "Landlord" as used in this Lease means only the current owner of the Premises,
so that in theeventof any sale or sales of thePremises or of said Lease, the said Landlord shall be and
herebyis entirely freedand relievedof all covenants and obligations of Landlord containedherein, and it
shall be deemed and construed without further agreement between the parties or their successors in interest,
or between the parties and the purchaser at any such sale, or the said Tenant of the building, that the
purchaser or tenant of thePremises has assumed and agreedto carry out any and all covenants and
obligations of Landlord hereunder.
35.
E

STOPPEL

CERTIFICATES :

N/A
36.
INTERPRETATION :

For purposes hereof:
(a)If more than oneperson, partnership, entityor corporation or any combination of
one or more of the same is set forth as Tenant herein, then the obligations imposed under
this Lease upon the Tenant shall be joint and several.
(b)Any payment requiredto be made by the Tenant under theprovisions of this Lease
other than payments of the Monthly Rent shall be deemed to be Additional Rent hereunder.
(c)All Base MonthlyRent unpaid beyond five (5) days from the date due under this
Lease, shall be due and payable by Tenant to the Landlordon demand with interest thereon
fromthedate whenthe particular amount(s) became payable under theprovisions of this
Lease to thedate of payment thereofto theLandlordat themaximumlegal rate allowable
during the time the overdue payment or any portionthereof remains unpaid.
(d)This Lease shall be governed by the provisions hereofand by the laws of the State
of NewYork, and the parties hereto further agree, that for the purposes of any litigation
arising between the parties hereto, the venuefor any action shall be in MonroeCounty,
State of NewYork.
7

37.
TERMINATION

. Notwithstandinganything in this Lease to the contrary, the Landlord may
terminate this Lease, at any time.
38.
E

NTIRE

AGREEMENT:

It is understood and agreed by the parties hereto that this Lease
shall constitute the only agreement between them relative to thePremises and that no oral statements and no
prior writtenmatter extrinsic to this instrument shall have any force or effect. This Lease may not be
modifiedexcept by writing, subscribed by both parties.
(
T

HE

REMAINDER

OF

THIS

PAGEIS

LEFTINTENTIONALLYBLANK

)
8
I
N
W
ITNESS
W
HEREOF
, Landlord and Tenant have respectively caused this Lease to be executed
by their duly authorized representativesas of the day and year first above written.
By:
__________________________________________
Name
:_______________________________________
Its
:__________________________________________
By
:_______________
___________________________
Name:_______________________________________
Its:__________________________________________
9

ss
On this _____ day of ______, 2012, before me, the undersigned, a Notary Public in and
for saidState, personally appeared
__________________
personally known to me or proved to
me on the basisof satisfactory evidence tobe the individualwhose name issubscribed tothe
withininstrument and acknowledged tome that he executed the same in his/her capacity, and that
by his/her signature on the instrument, the individual, or the person upon behalfof whichthe
individual acted, executed the instrument.
Notary Public
ss
On this _____ day of _______, 2012, before me, the undersigned, a Notary Public in and
for saidState, personally appeared
_______________________
personallyknown tome or
proved tomeon the basis of satisfactory evidence to be the individuals whose names are
subscribed to the withininstrument and acknowledged to me that they executed the same in their
capacity, and that by their signatures on the instrument, the individuals, or the person upon behalf
of which the individuals acted, executed the instrument.
Notary Public
10
AND
Tenant's use of the Premises includes the right to use, in common with the Landlord and any other
tenants, all common areas of the Premises.
1.Tenant shall havetheright to use the property describedbelow.
2.Tenant shall keep thespace clean during its use and remove all of its trash, placingit in receptacles
providedby the Landlord. If Tenant fails to do so, thenLandlord may perform such cleanup and
charge the cleanup costs to Tenant, as Additional Rent. The Tenant will assign members and/or
families to do so.
3.Landlord and Tenant agree that a person designatedby each will be designatedto facilitate
communicationand coordinate the proper use of the Premises, as hereindefined,and to deal with
any other issues that arise.
4.This lease is subject to the approval of the Standing Committeeof the Episcopal Diocese of
Rochester, which approval will be requestedby
5.The Tenant acknowledges that theLandlord is committedto safe church principals including
protectingpersons from sexual abuse, and willkeepthepremises locked and monitored throughout
its tenancy, whenit has use if the Landlord is not present. The ________________willprovide the
Tenant with information available for the tenant on safe church policies which will be used by the
Tenant. The Landlord shall not be responsiblefor any abuse reported or actual resultingfrom the
Tenant's use. The Tenant agrees that those inleadership roles as describedby the Landlord will
avail themselves of trainingprovidedby the Landlord, either by electronic means approvedby the
Episcopal Diocese of Rochester or for training providedby the Episcopal Diocese of Rochester.
11