Fillable Printable Mandatory E-File And E-Pay For All Employers (De 536)
Fillable Printable Mandatory E-File And E-Pay For All Employers (De 536)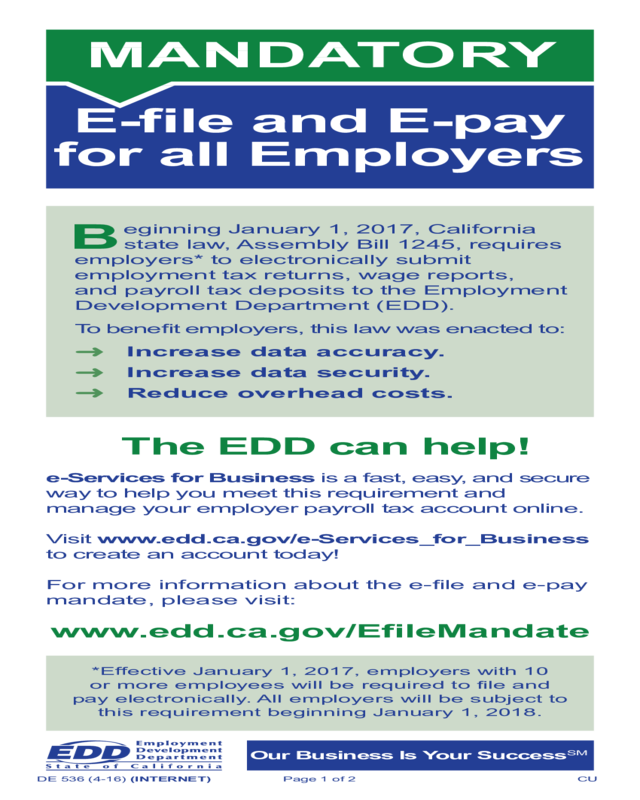 Mandatory E-File And E-Pay For All Employers (De 536)

B
eginning January 1, 2017, California
state law, Assembly Bill 1245, requires
employers* to electronically submit
employment tax returns, wage reports,
and payroll tax deposits to the Employment
Development Department (EDD).
To benet employers, this law was enacted to:
Increase data accuracy.
Increase data security.
Reduce overhead costs.
E-le and E-pay
for all Employers
MANDATORY
Our Business Is Your Success
SM
The EDD can help!
e-Services for Business
is a fast, easy, and secure
way to help you meet this requirement and
manage your employer payroll tax account online.
Visit
www.edd.ca.gov/e-Services_for_Business
to create an account today!
For more information about the e-le and e-pay
mandate, please visit:
www.edd.ca.gov/EleMandate
*Effective January 1, 2017, employers with 10
or more employees will be required to le and
pay electronically. All employers will be subject to
this requirement beginning January 1, 2018.
DE 536 (4-16)
(INTERNET)
Page 1 of 2 CU

DE 536 (4-16)
(INTERNET)
Page 2 of 2 CU
The EDD is an equal opportunity employer/program. Auxiliary aids
and services are available upon request to individuals with disabilities.
e-Services for Business
is a fast, easy, and secure
way for employers, employer representatives,
and payroll agents to manage an employer
payroll tax account online 24 hours a day,
7 days a week, at no cost.
Use e-Services
for Business to:
●
Register for an employer payroll tax account
number.
●


File tax returns and wage reports
electronically.
●


Pay payroll tax deposits and past liabilities.
●


Update EDD account information, including
changing your address.
●


View, adjust, and print previously led returns
and reports.
●


Close or re-open your employer payroll
tax account.
●


View your current and past three years payroll
tax rates.
●


Subscribe to the State Information Data
Exchange System (SIDES) to respond to state
Unemployment Insurance information requests.
●


Get conrmation when a return, report, or
payment is submitted.
●


Save basic account information for future
transactions.
For more information or to create an account,
visit
www.edd.ca.gov/e-Services_for_Business.
For general payroll tax information, contact the
Taxpayer Assistance Center at 1-888-745-3886.