Fillable Printable Month to Month Rental Agreement Form - California
Fillable Printable Month to Month Rental Agreement Form - California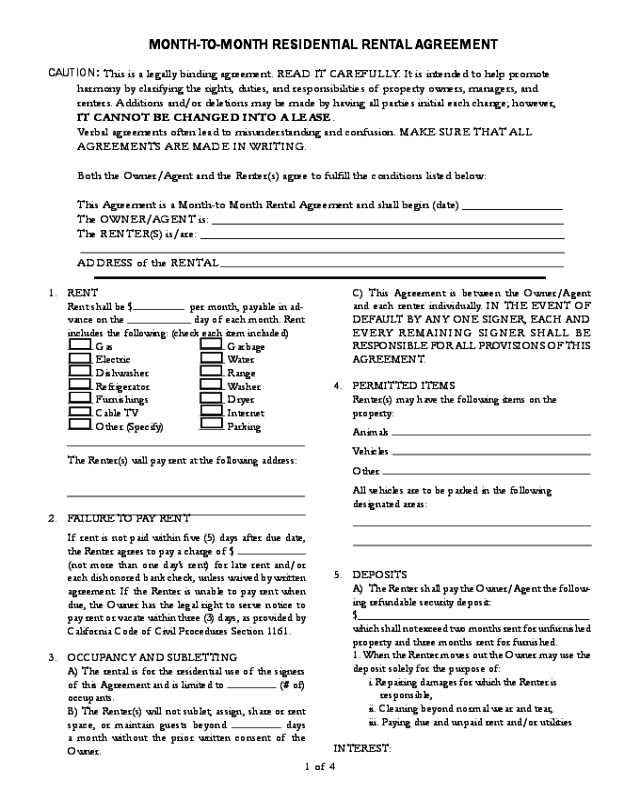 Month to Month Rental Agreement Form - California

MONTH-TO-MONTH RESIDENTIAL RENTAL AGREEMENT
This is a legally binding agreement. READ IT CAREFULLY. It is intended to help promote
harmony by clarifying the rights, duties, and responsibilities of property owners, managers, and
renters. Additions and/or deletions may be made by having all parties initial each change; however,
IT CANNOT BE CHANGED INTO A LEASE
.
Verbal agreements often lead to misunderstanding and confusion. MAKE SURE THAT ALL
AGREEMENTS ARE MADE IN WRITING.
Both the Owner/Agent and the Renter(s) agree to fulll the conditions listed below:
This Agreement is a Month-to Month Rental Agreement and shall begin (date) ________________
The OWNER/AGENT is: ________________________________________________________
The RENTER(S) is/are: __________________________________________________________
ADDRESS of the RENTAL
1. RENT
Rent shall be $ per month, payable in ad-
vance on the day of each month. Rent
includes the following: (check each item included)
Gas Garbage
Electric Water
Dishwasher Range
Refrigerator Washer
Furnishings Dryer
Cable TV Internet
The Renter(s) will pay rent at the following address:
2. FAILURE TO PAY RENT
Ifrent is not paid within ve (5) days after due date,
the Renter agrees to pay a charge of $
(not more than one day's rent) for late rent and/or
each dishonored bank check, unless waived by written
agreement. Ifthe Renter is unable to pay rent when
due, the Owner has the legal right to serve notice to
pay rent or vacate within three (3) days, as provided by
California Code of Civil Procedures Section 1161.
3. OCCUPANCY AND SUBLETTING
A) The rental is for the residential use ofthe signers
of this Agreement and is limited to (# of)
occupants.
B) The Renter(s) will not sublet, assign, share or rent
space, or maintain guests beyond
days
a monthwithoutthepriorwrittenconsentofthe
Owner.
C)ThisAgreementisbetweentheOwner/Agent
and each renterindividually. IN THE EVENT OF
DEFAULT BY ANY ONE SIGNER, EACH AND
EVERYREMAININGSIGNERSHALLBE
RESPONSIBLE FOR ALL PROVISIONS OF THIS
AGREEMENT.
4. PERMITTED ITEMS
Renter(s) may have the following items on the
property:
Animals
Vehicles
Other
All vehicles are to be parked in the following
designated areas:
5. DEPOSITS
A) The Renter shall pay the Owner/Agent the follow-
ing refundable security deposit:
$________________________________________
whichshallnotexceed two months rentforunfurnished
property and three months rent for furnished.
1. When the Renter moves out the Owner may use the
deposit solely for the purpose of:
i. Repairing damages for which the Renter is
ii. Cleaning beyond normal wear and tear,
iii. Paying due and unpaid rent and/or utilities
INTEREST:
1 of 4

debris, lth, rubbish, garbage, and infestation by
rats, rodents, and vermin at the commencement
of the rental agreement;
7. Anadequate numberofappropriatereceptacles for
garbage and rubbish;
8. Floors, stairways and railings;
9. Smoke detectors and carbon-monoxide detectors.
The Owner/Agent further agrees to maintain peace
and quiet in those areas of the building(s) not subject
to the Renter's control.
C) RENTER'S DUTIES
Renter(s) agree to:
1. Keepthepremises ascleanandsanitary as the
condition of the premises permits;
2. Regularly dispose ofall rubbish, garbage,andother
waste in a clean and sanitary manner;
3. Properly use and operate all electrical,gas, and
plumbingxturesandkeepthemascleanand
sanitary as their condition permits;
4. Not, nor permit anyone on the premises within
her/his control to, willfully or wantonly destroy,
deface, damage, impair, alter, or remove any part
of the structure, facilities, or equipment;
5. Leave the rental in the same conditionaswhen
possession was given to heror him, reasonable
wear, excepted; and
6. Not to cause or allow unnecessary noise especially
duringthe quiettimes under the city or county
noise and/or "party" ordinance(s) (10:00 p.m. to
8:00 a.m.).
D) ADDITIONAL DUTIES
The maintenance ofthefollowing additional itemsshall
be the responsibility of the Renter(s):
E) DESTRUCTION OF THE RENTAL
If,beyondthecontrolofeitherparty,therental
becomespartiallyortotallydestroyedduringthe
term ofthis Agreement, either party may thereupon
terminate this agreement upon reasonable notice.
F) PRIVACY
As required by law, the landlordor principal tenant may
enter only for the following reasons: (a) in case of an
emergency; (b) to make necessary or agreed upon
repairs,decorations,orimprovements,supply
necessaryoragreed-uponservices,orexhibitthe
dwelling unit to prospective or actual purchasers,
mortgagees, tenants, workers, or contractors; (c) when
B) The Owner shall pay the Renter interest on all
security deposits, in all areas ofSanta Cruz County,
excluding Scotts Valley, pursuant to the current local
ordinance and rates.
C)The Owner andthe Renter shallconduct a pre-move
out inspection of the rental within two weeks before
the Renter's move-out date at which time the Owner
shall inform the Renter ofneeded cleaning and/or
repairs IN WRITING at that time. The Renter shall
have the right to make any repairs identied at the
pre-move out inspection at his or her expense before
the move out date without deduction from the security
deposit. Within 21 days after the Renter moves out,
the Owner shall return the deposit to the Renter with
accrued interest,lessanydeductionsthe owneris
entitled to under this agreement. Ifany deductions
are made, the owner shall provide the Renter with a
written itemized statement ofexpenses and receipts
for cleaning or repairsfor which deductions were made
from the deposit.
Renters with pets shall pay theOwner an additional
refundable pet deposit of:
$________________________________________.
Total deposit may not exceed legal limits.
Nodepositmaybechargedforanypetwhichis
a service animal necessary for the management or
treatment of a disability.
6. MAINTENANCE OF THE RENTAL PROPERTY
A) COST
The cost of repairing or replacing items damaged
beyondwearandtear will be paid bythe Owner/Agent
unless the Renter willfully or through lack ofdue care
caused or permitted the damage.
B) OWNER'S/AGENT'S DUTIES
The Ownershallkeeptherentalproperty
tenantable,safe,sanitaryandincompliancewith
allstateandlocalhousing,building,andhealth
requirements applicable to the rental property; shall
have all required inspections and certications, ifany,
made; shall maintain the mechanical equipment and
utilitiesin good operatingcondition; andshallmaintain
the following in good repair and clean condition:
1. Effective waterproong and weather protection
ofroom and exterior walls including windows and
doors;
2. Plumbing xtures and gas facilities;
3. Awatersupply
capableofproducinghotand
coldrunningwater,furnishedtoappropriate
xtures and connected to a sewage disposal system
approved under applicable law;
4. Adequate heating facilities;
5. Electrical lighting;
6. Cleanandsanitarybuilding,groundsand
appurtenances, free from all accumulations of
2 of 4

Both Renter and Owner/Agent shall give thirty (30)
days written notice in the event that the rental is to be
vacated. In the event that the tenant has occupied the
rental for more than one year, Owner/Agent shall give
the Renter no less than sixty (60) days written notice
to terminate the tenancy. This notice period may be
lengthened or shortened by written agreement. (Less
than 7 days notice to vacate is prohibited by California
Civil Code Section 1946.)
The Owner/Agent shall give written notice within ten
(10) days ofany change in managers, agents for receipt
ofrent, and owner (or agents authorized to act for the
owner).Such noticesshallinclude the names,addresses,
and phone numbers of such persons.
RESPONSIBILITY
Owner/Agent's re and extended coverage insurance
covers the building only. It is suggested that Renter
carrya standardrenter's insurancepolicytocover
personal property.
8. DISPUTES AND REMEDIES
Ifadisputeoccursrelatingtotherentalofthis
property, either the Owner/Agentor theRentermay
seekmediationbeforelingSmallClaims orother
civil action. The prevailingparty may recover his or
her reasonablecostsand attorney'sfees incurredin a
legal action to enforce or interpret the provisions of
thisagreement or torecover possession of the rental
property.
9. CONDITION OF RENTAL PROPERTY
CHECKLIST
The Condition of Rental Property Checklistis used to
avoid dissagreements over the condition ofthe rental.
It is designed to protect equally the Owner/Agent and
the Renter from being held responsible for damages
they did not cause, and to minimize disputes over the
return ofdeposits (See Checklist for instructions). The
Condition ofProperty Checklist is available online at
housing.ucsc.edu/cro/pdf/condition-checklist.pdf
The Owner/Agent specically agrees to complete the
following repairs or improvements by the following
dates:
Repair or Improvement Date
the tenant has abandoned or surrenderedthe premises;
or (d) pursuant to court order. The landlord must
give the tenant written twenty-four (24) hours notice
ofintent to enter and may enter only during normal
business hours, excepting by necessity, cases (a) and
(c) above.
G) RETALIATION RESTRICTIONS
The Renter has the right to request repairs from the
Landlordwithoutfear ofretaliation and, in appropriate
circumstances, to withhold rent.
In compliance with the law, the Owner/Agent may not
threaten to or actually reduce or terminate any services
to the Renter, raise the rent, or evict the Renter if the
Owner/Agent's purpose is retaliation against theRenter
for seeking the following remedies:
1. Repair and Deduct:
The Renter shall give a dated written notice (du-
plicated) to the Owner/Agent to repair or correct
defects which are the Owner/Agent's responsibil
-
ity as listed in subparagraph (B) above. After a rea
-
sonable time, if the Renter has fullled his or her
duties under the law, he or she may repair uncor-
rected defects or have them repaired and deduct
the cost ofrepair from his or her next month's
rent.Repairs must bemadein a competent manner
at reasonable cost. This remedy cannot be used
more than twice in a 12 month period and cannot
exceed one month's rent for each, as provided by
California Civil Code Section 1942.
2. Reporting Code Violations
:
The Renter may report housing, building, or health
and safety code violations to the City or County
BuildingInspectionDepartment,theCounty
Environmental Health Department,and/or other
governmental authorities.
3. Tenant Organizing:
The Tenant has the right to organize other ten-
ants, or participate in an organization advocating
tenants' rights.
7. NOTICES
Noticesand requests shall be made IN WRITING
and given to the Owner/Agent at the Owner/Agent's
address, or place designated by Owner/Agent, and to
the Renter at the rental property.
RENT NOTICES
The Rentershall be given written noticeofrentchanges
or changes in the terms ofthe tenancy not less than
thirty (30) days in advance ofthe day the rent is due.
Some notices require sixty (60) days advance notice.
VACATE NOTICES
3 of 4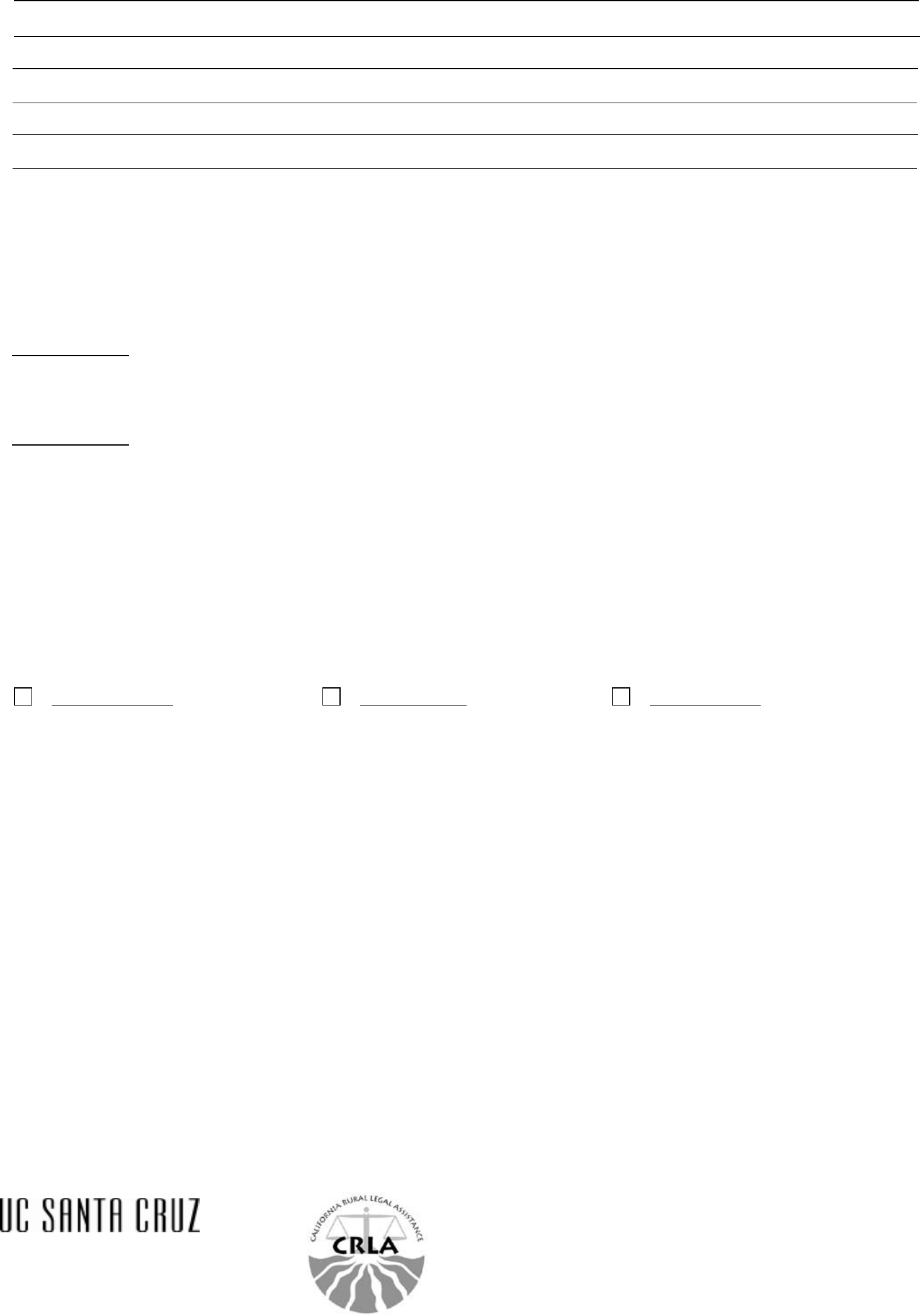 Consumer Affairs Division
District Attorney's Ofce
701 Ocean Street Ste. 200
Santa Cruz, CA 95060
(831) 454-2128
California Rural Legal Assistance
501 D Soquel Drive
Santa Cruz, CA 95060
(831) 688-6535
3/2015
ADDITIONAL AGREEMENTS
Megan's Law
Notice: Pursuant To Section 290.46 ofthe Penal Code, information about specied registered sex offenders is
made available to the public via an Internet Web site maintained by the Department ofJustice at www.meganslaw.
ca.gov. Depending on an offender's criminal history, this information will include either the address at which the
offender resides or the community of residence and ZIP Code in which he or she resides.
Lead-Based Paint Disclosure
Tenant(s) acknowledge(s) receipt of "Disclosure of Information on Lead-Based Paint or Lead-
Based Paint Hazards" from landlord/agent. (Required for homes built before 1978.) Available online at
www.epa.gov/region07/citizens/pdf/lead_disclosure_form_rentals.pdf
Tenant(s) acknowledge(s) receipt of the pamphlet
Protect Your Family from Lead in Your Home

.
(Required for homes built before 1978.) Landlords may call 1-800-424-LEAD or go to
www2.epa.gov/sites/production/les/2013-09/documents/lead_in_your_home_brochure_land_b_w_508.pdf
to obtain a copy of the pamphlet.
CAUTION: THIS IS A LEGALLY BINDING AGREEMENT; MAKE SURE YOU UNDERSTAND
ALL OF ITS PROVISIONS BEFORE SIGNING.
If you do not, talk it over with the other signers of this Agreement and/or seek advice from CRLA listed below.
The signing of this agreement acknowledges the Owner's receipt of $________________ from the Renter for:
$ last month's rent
$ security deposit
$

rst month's rent
Owner/Agent shall give Renter a copy of this Agreement as required by law. This Agreement is entered into this
______ day of _____________________ and will be effective the ______ day of __________________________
________________________________________ _________________________________________
Owner (print) Renter (print)
________________________________________ _________________________________________
Owner's Signature Renter's Signature
________________________________________ _________________________________________
Owner's Agent (print) Renter (print)
________________________________________ _________________________________________
Owner's Agent Signature Renter's Signature
________________________________________ _________________________________________
Renter (print) Renter (print)
________________________________________ _________________________________________
Renter's Signature Renter's Signature
Community Rentals Ofce
1156 High Street
104 Hahn Student Services
Santa Cruz, CA 95064
(831) 459-4435
4 of 4