Fillable Printable New Nurse Resume-Barbara L
Fillable Printable New Nurse Resume-Barbara L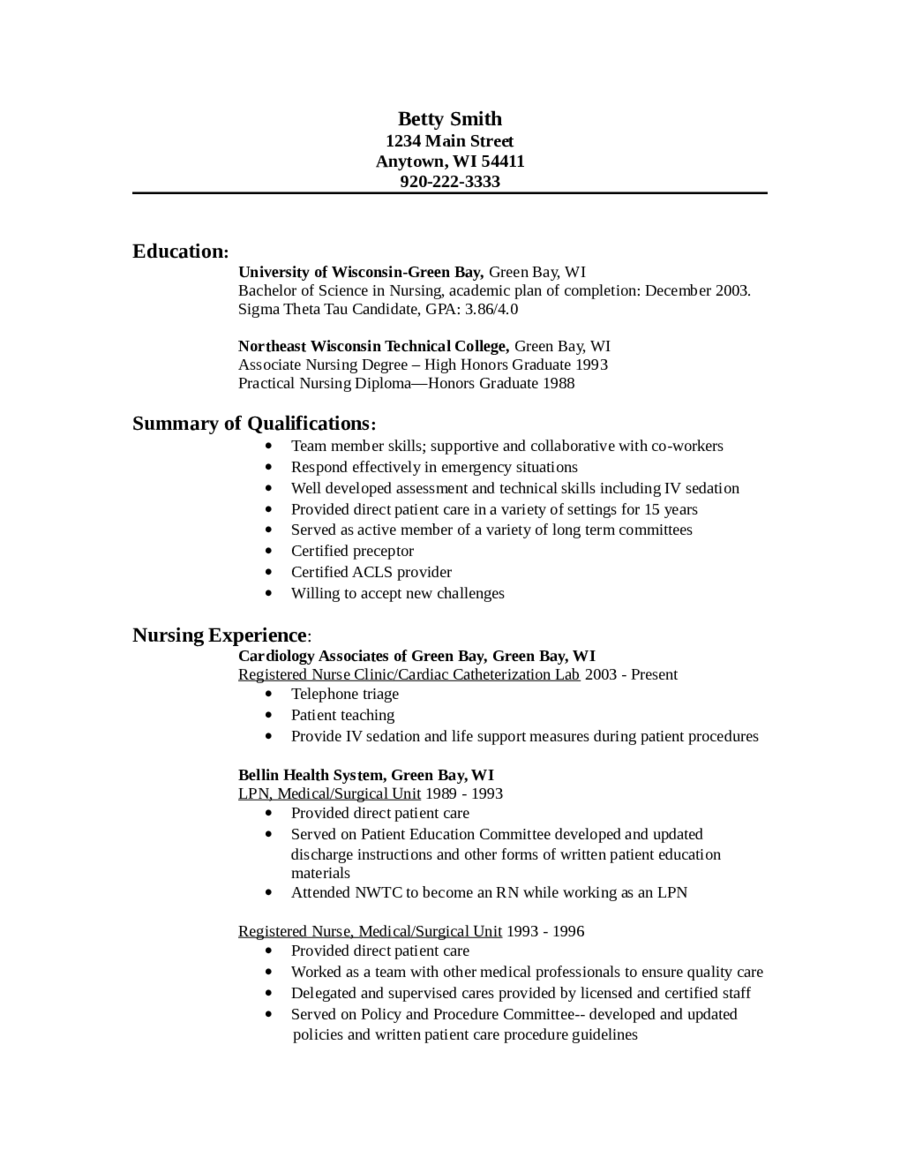 New Nurse Resume-Barbara L

Betty Smith
1234 Main Street
Anytown, WI 54411
920-222-3333
University of Wisconsin-Green Bay,
Green Bay, WI
Bachelor of Science in Nursing, academic plan of completion: December 2003.
Sigma Theta Tau Candidate, GPA: 3.86/4.0
Northeast Wisconsin Technical College,
Green Bay, WI
Associate Nursing Degree – High Honors Graduate 1993
Practical Nursing Diploma—Honors Graduate 1988
Summary of Qualifications
:

Team member skills; supportive and collaborative with co-workers

Respond effectively in emergency situations

Well developed assessment and technical skills including IV sedation

Provided direct patient care in a variety of settings for 15 years

Served as active member of a variety of long term committees

Willing to accept new challenges
Cardiology Associates of Green Bay, Green Bay, WI
Registered Nurse Clinic/Cardiac Catheterization Lab 2003 - Present

Provide IV sedation and life support measures during patient procedures
Bellin Health System, Green Bay, WI
LPN, Medical/Surgical Unit 1989 - 1993

Provided direct patient care

Served on Patient Education Committee developed and updated
discharge instructions and other forms of written patient education
materials

Attended NWTC to become an RN while working as an LPN
Registered Nurse, Medical/Surgical Unit 1993 - 1996

Provided direct patient care

Worked as a team with other medical professionals to ensure quality care

Delegated and supervised cares provided by licensed and certified staff

Served on Policy and Procedure Committee-- developed and updated
policies and written patient care procedure guidelines


Floated to other areas of the hospital to work as needed

Served as a preceptor for nursing students in training
Betty L. Smith, page 2
Nursing Experience,
(continued)
Bellin Health System, Green Bay, WI
Registered Nurse, Employee Health Services 1996 - 2000

Conducted employee screening, vaccination and employment related
testing

Case manager for work injuries

Ensured Joint Commission Compliance and confidentiality

Compiled and reported annual statistics to the hospital board committee

Served on Infection Control Committee--developed and updated policies

Served on Hospital Safety Committee identifying safety issues

Developed a teaching tool and testing procedure for the training of key
staff members to conduct TB skin testing and interpretation of results
Registered Nurse, Recovery Room 2000 - 2003

Patient care in acute care setting during immediate postoperative period

Also worked in short stay department providing care, teaching as needed
and discharge instruction.
Western Village Nursing Home, Green Bay, WI
Registered Nurse/Charge Nurse, Medicare Wing 1994

Provided cares for patients in short term rehabilitation, or mildly acute
conditions that required a greater degree of skilled care and assessment
than long term care patients

Supervised licensed and certified staff

Collaborated with Social Services and Occupational and Physical
Therapies, physicians and families in planning patient outcomes
LPN/ Charge Nurse 1988-1989

Provided assessment, medication, and treatments for patients in long
term care environment

Supervised certified nursing staff

Former member of National League of Nursing, North East Wisconsin
District Nurses Association

Team captain for American Cancer Society Walk/Run 1996 - 2000
References available upon request.