Fillable Printable Resume For Nurses
Fillable Printable Resume For Nurses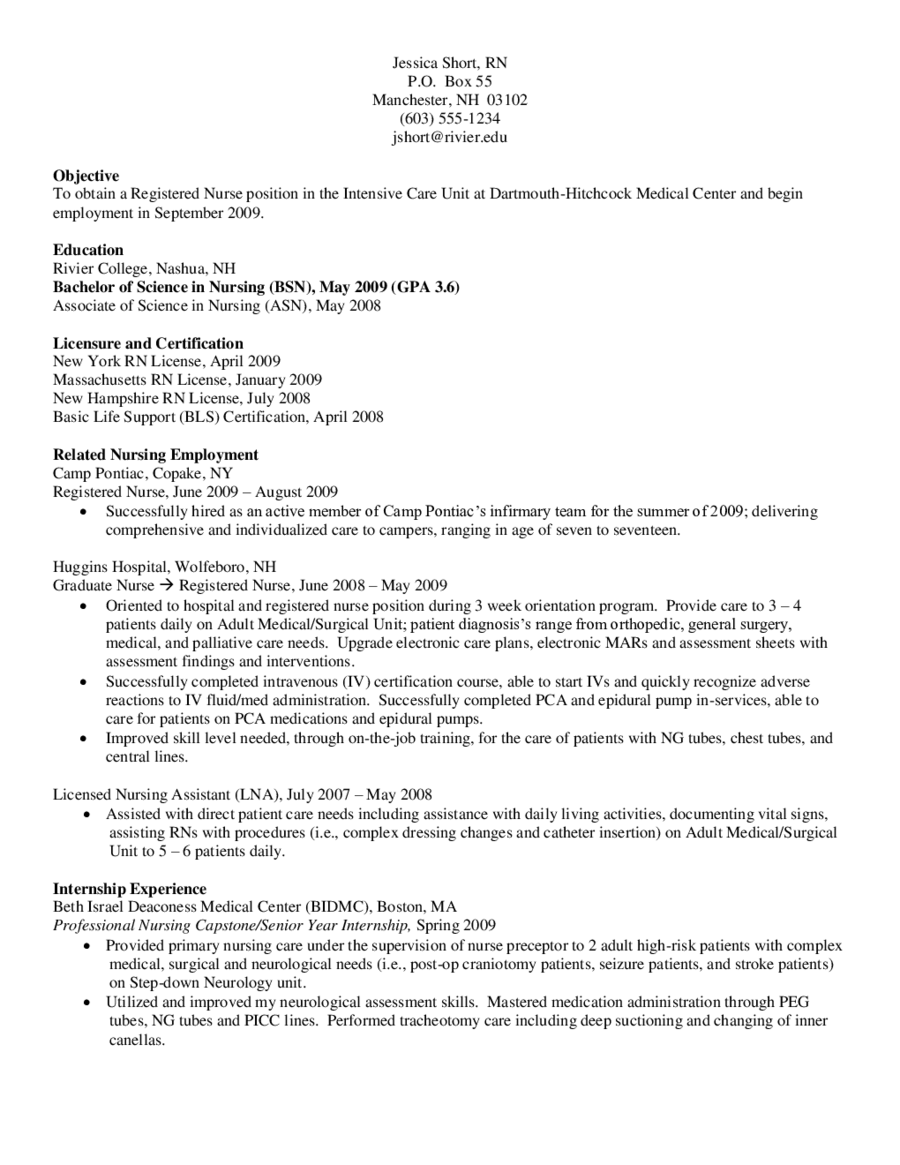 Resume For Nurses
Jessica Short, RN
P.O. Box 55
Manchester, NH 03102
(603) 555-1234
jshort@rivier.edu
Objective
To obtain a Registered Nurse position in the Intensive Care Unit at Dartmouth-Hitchcock Medical Center and begin
employment in September 2009.
Education
Rivier College, Nashua, NH
Bachelor of Science in Nursing (BSN), May 2009 (GPA 3.6)
Associate of Science in Nursing (ASN), May 2008
Licensure and Certification
New York RN License, April 2009
Massachusetts RN License, January 2009
New Hampshire RN License, July 2008
Basic Life Support (BLS) Certification, April 2008
Related Nursing Employment
Camp Pontiac, Copake, NY
Registered Nurse, June 2009
–
August 2009

Successfully hired as an active member of Camp Pontiac's infirmary team for the summer of 2009;

delivering
comprehensive and individualized care to campers, ranging in age of seven to seventeen.
Huggins Hospital, Wolfeboro, NH
Graduate Nurse

Registered Nurse, June 2008
–
May 2009

Oriented to hospital and registered nurse position during 3 week orientation program. Provide care to 3

–

4
patients daily on Adult Medical/Surgical Un
it; patient diagnosis's range from orthopedic, general surgery,
medical, and palliative care needs. Upgrade electronic care plans, electronic MARs and assessment sheets with
assessment findings and interventions.

Successfully completed intravenous (IV) certification course, able to start IVs and quickly recognize adverse
reactions to IV fluid/med administration. Successfully completed PCA and epidural pump in-services, able to
care for patients on PCA medications and epidural pumps.

Improved skill level needed, through on-the-job training, for the care of patients with NG tubes, chest tubes, and
central lines.
Licensed Nursing Assistant (LNA), July 2007
–
May 2008

Assisted with direct patient care needs including assistance with daily living activities, documenting vital signs,
assisting RNs with procedures (i.e., complex dressing changes and catheter insertion) on Adult Medical/Surgical
Unit to 5
–
6 patients daily.
Internship Experience
Beth Israel Deaconess Medical Center (BIDMC), Boston, MA
Professional Nursing Capstone/Senior Year Internship,
Spring 2009

Provided primary nursing care under the supervision of nurse preceptor to 2 adult high-risk patients with complex
medical, surgical and neurological needs (i.e., post-op craniotomy patients, seizure patients, and stroke patients)
on Step-down Neurology unit.

Utilized and improved my neurological assessment skills. Mastered medication administration through PEG
tubes, NG tubes and PICC lines. Performed tracheotomy care including deep suctioning and changing of inner
canellas.
Jessica Short resume page 2 of 2
Clinical Experience
Saint Joseph's Hospital, Nashua, NH:
Care of the Adult II Nursing Student,

Spring 2008

Demonstrated competent nursing assessment skills and knowledge while providing care to 1

–

2 adult
Medical/Surgical patients. Greatly improved my medication knowledge base and IV medication administration
skills. Observation of Cardiac Rehabilitation, Emergency and Intensive Care Nursing.
Lowell General Hospital, Lowell, MA:
Pediatric Nursing Student,

Fall 2007 (Term 2)

Completed age-specific assessments and care plans for the infant, child and adolescent patients on an Acute Care
Unit. Explained discharge instructions and medication regimen to parents who then verbalized and demonstrated
understanding. Observation of nursing care to the surgical pediatric patient and family.
Southern New Hampshire Medical Center, Nashua, NH:
Maternal/Newborn Nursing Student,

Fall 2007 (Term 1)

Performed postpartum assessments on mothers, ranging from the age of 15 to 35, who had delivered vaginally or
through caesarian section. Performed newborn assessments and mastered skill of taking newborn vital signs.
Collaborated with lactation consultant, explained and encouraged proper breastfeeding positions to adolescent
mother who verbalized concern/fear of holding her infant in the wrong position. Observation of labor and
delivery nursing. Demonstrated strict adherence to HIPAA regulations during observation day in Neonatal
Intensive Care Unit.
Bedford Veteran Administration Hospital, Bedford, MA:
Mental Health Nursing Student,

Summer 2007

Participated in direct therapeutic communication with adult psychiatric patients. Observation of team meetings
consisting of physicians, nurses and social workers.
Southern New Hampshire Medical Center, Nashua, NH:
Care of the Adult I Nursing Student,

Spring 2007

Provided basic nursing care to Adult Medical/Surgical patients. Occasional medication administration under
strict supervision of clinical instructor. Observation of nursing care to the intraoperative patient, endoscopy
patient and hospice patient.
Catholic Medical Center, Manchester, NH:
Fundamentals Nursing Student,

Fall 2006

This clinical rotatio

n was my first exposure to the nurse's role on an Acute Care Unit. Mastered skill of
measuring vital signs, writing SOAP notes and performance of basic assessment skills. Began to think critically
and identify connections between a patient's diagnosis, m
edications ordered and presenting signs/symptoms.
Honors and Awards
Academic Honors, April 4, 2009

Received Honors chords for maintaining a cumulative GPA of 3.5 or higher while in the School of Undergraduate
Studies at Rivier College. One of ten senior nursing students to receive academic honors.
Rivier-St. Joseph Nursing Honor Society, April 18, 2009

One of twenty senior nursing students to be inducted into the Rivier-St. Joseph Nursing Honor Society.
Community leaders, Rivier faculty members, former graduates and current Rivier students compose the Honor
Society. The goals of the Honor Society are to acknowledge superior achievement, recognize leadership qualities,
foster high professional standards, encourage creative work and strengthen a commitment to the ideals and
purposes of the nursing profession.