Fillable Printable Sample Registered Nurse Resume
Fillable Printable Sample Registered Nurse Resume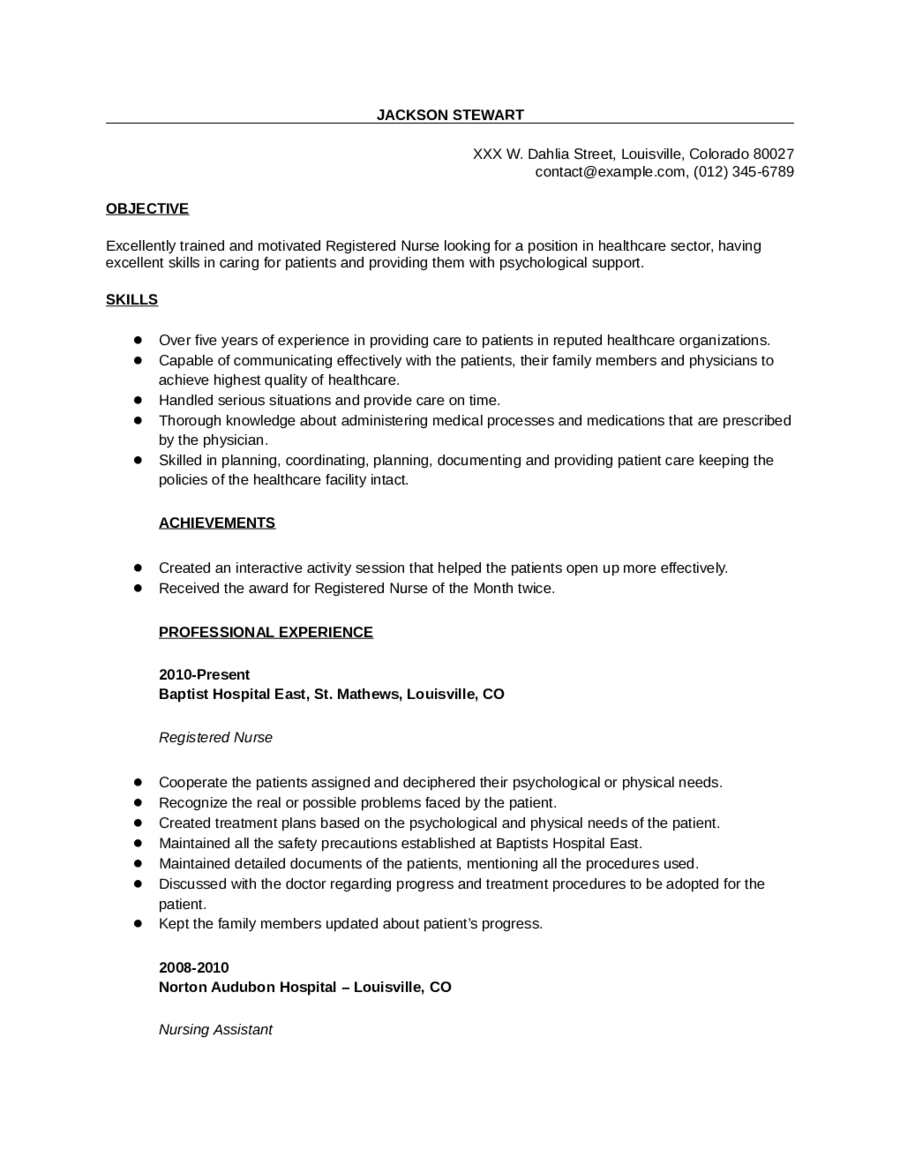 Sample Registered Nurse Resume

JACKSON STEWART
XXX W. Dahlia Street, Louisville, Colorado 80027
OBJECTIVE
Excellently trained and motivated Registered Nurse looking for a position in healthcare sector, having
excellent skills in caring for patients and providing them with psychological support.
SKILLS
●
Over five years of experience in providing care to patients in reputed healthcare organizations.
●
Capable of communicating effectively with the patients, their family members and physicians to
achieve highest quality of healthcare.
●
Handled serious situations and provide care on time.
●
Thorough knowledge about administering medical processes and medications that are prescribed
by the physician.
●
Skilled in planning, coordinating, planning, documenting and providing patient care keeping the
policies of the healthcare facility intact.
ACHIEVEMENTS
●
Created an interactive activity session that helped the patients open up more effectively.
●
Received the award for Registered Nurse of the Month twice.
PROFESSIONAL EXPERIENCE
2010-Present
Baptist Hospital East, St. Mathews, Louisville, CO
Registered Nurse
●
Cooperate the patients assigned and deciphered their psychological or physical needs.
●
Recognize the real or possible problems faced by the patient.
●
Created treatment plans based on the psychological and physical needs of the patient.
●
Maintained all the safety precautions established at Baptists Hospital East.
●
Maintained detailed documents of the patients, mentioning all the procedures used.
●
Discussed with the doctor regarding progress and treatment procedures to be adopted for the
patient.
●
Kept the family members updated about patient's progress.
2008-2010
Norton Audubon Hospital – Louisville, CO
Nursing Assistant

●
Helped the Registered Nurse in delivering fine patient care.
●
Responsible for transporting from one ward to the next.
●
Took care of the maintenance of cabin
●
Took care of basic patient needs such as nutrition, bathing, positioning, etc.
EDUCATION
Bachelor's in Nursing – 2008
Spalding University, Louisville, CO
OTHER SKILLS
●
Know languages such as Spanish, French, Chinese and English.
●
Excellent time management skills.
●
Good oral communication skills.
DATE:
____________________
Signature of Jackson Stewart