Fillable Printable Professional Nursing Resume
Fillable Printable Professional Nursing Resume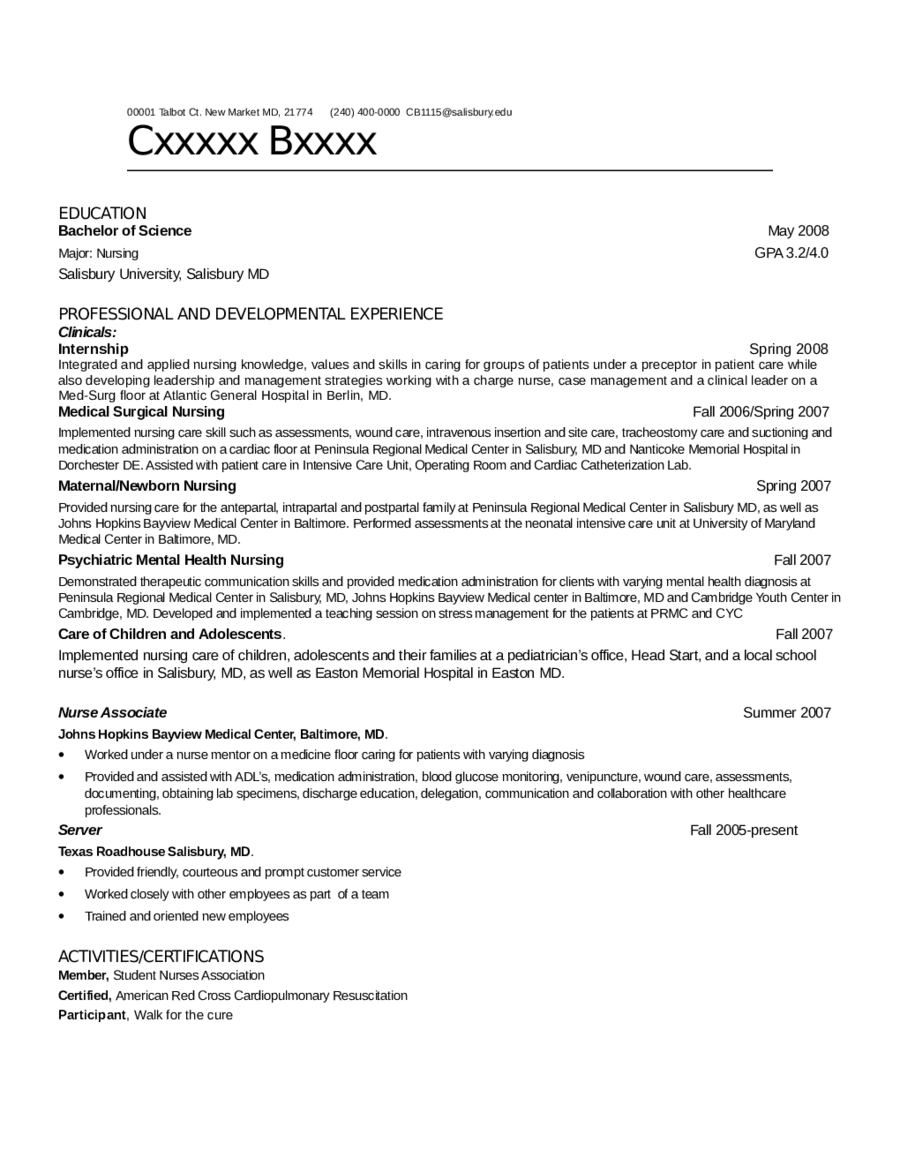 Professional Nursing Resume

00001 Talbot Ct. New Market MD, 21774(240) 400-0000 CB1115@salisbury.edu
CxxxxxBxxxx
EDUCATION
Bachelor of Science
May 2008
Major: Nursing
GPA 3.2/4.0
Salisbury University, Salisbury MD
PROFESSIONAL ANDDEVELOPMENTAL EXPERIENCE
Clinicals:
Integrated and applied nursing knowledge, values and skills in caring for groups of patients under a preceptor in patient care while
also developing leadership and management strategies working with a charge nurse, case management and a clinical leader on a
Med-Surg floor at Atlantic General Hospital in Berlin, MD.
Medical Surgical Nursing
Fall2006/Spring 2007
Implemented nursingcare skill such as assessments, wound care, intravenous insertion and site care, tracheostomycare andsuctioning and
medication administrationon a cardiacfloor at Peninsula Regional Medical Center in Salisbury, MD and Nanticoke Memorial Hospital in
Dorchester DE. Assisted with patient care in IntensiveCare Unit,Operating Room and Cardiac Catheterization Lab.
Maternal/NewbornNursing
Spring 2007
Providednursing care forthe antepartal, intrapartal and postpartal family at Peninsula Regional Medical Center in Salisbury MD, as well as
Johns Hopkins Bayview MedicalCenter in Baltimore. Performed assessments at the neonatal intensive care unit at University of Maryland
Medical Center in Baltimore, MD.
Psychiatric Mental Health Nursing
Fall2007
Demonstratedtherapeutic communication skills and provided medication administration for clientswith varying mental health diagnosis at
Peninsula Regional Medical Center in Salisbury, MD, Johns Hopkins Bayview Medical center in Baltimore, MD and Cambridge Youth Center in
Cambridge, MD. Developed and implemented a teaching session on stress management forthe patients at PRMC and CYC
Care of Children and Adolescents
. Fall 2007
Implementednursing care of children, adolescents and their families at a pediatrician's office, Head Start, and a local school
nurse's office in Salisbury, MD, as well as Easton MemorialHospitalin Easton MD.
NurseAssociate
Summer 2007
Johns Hopkins Bayview Medical Center, Baltimore, MD
.

Worked under a nurse mentor on a medicine floor caring for patients with varying diagnosis

Providedand assisted with ADL's, medication administration, bloodglucose monitoring, venipuncture, wound care, assessments,
documenting, obtaining lab specimens, dischargeeducation, delegation, communication and collaboration with otherhealthcare
professionals.
Texas Roadhouse Salisbury, MD
.

Providedfriendly, courteous and prompt customer service

Worked closelywith other employees as partof a team

Trained and oriented new employees
ACTIVITIES/CERTIFICATIONS
Member,
Student NursesAssociation
Certified,
American Red Cross Cardiopulmonary Resuscitation
Participant
, Walk for the cure