Fillable Printable Sample Resume for a Nursing Assistant
Fillable Printable Sample Resume for a Nursing Assistant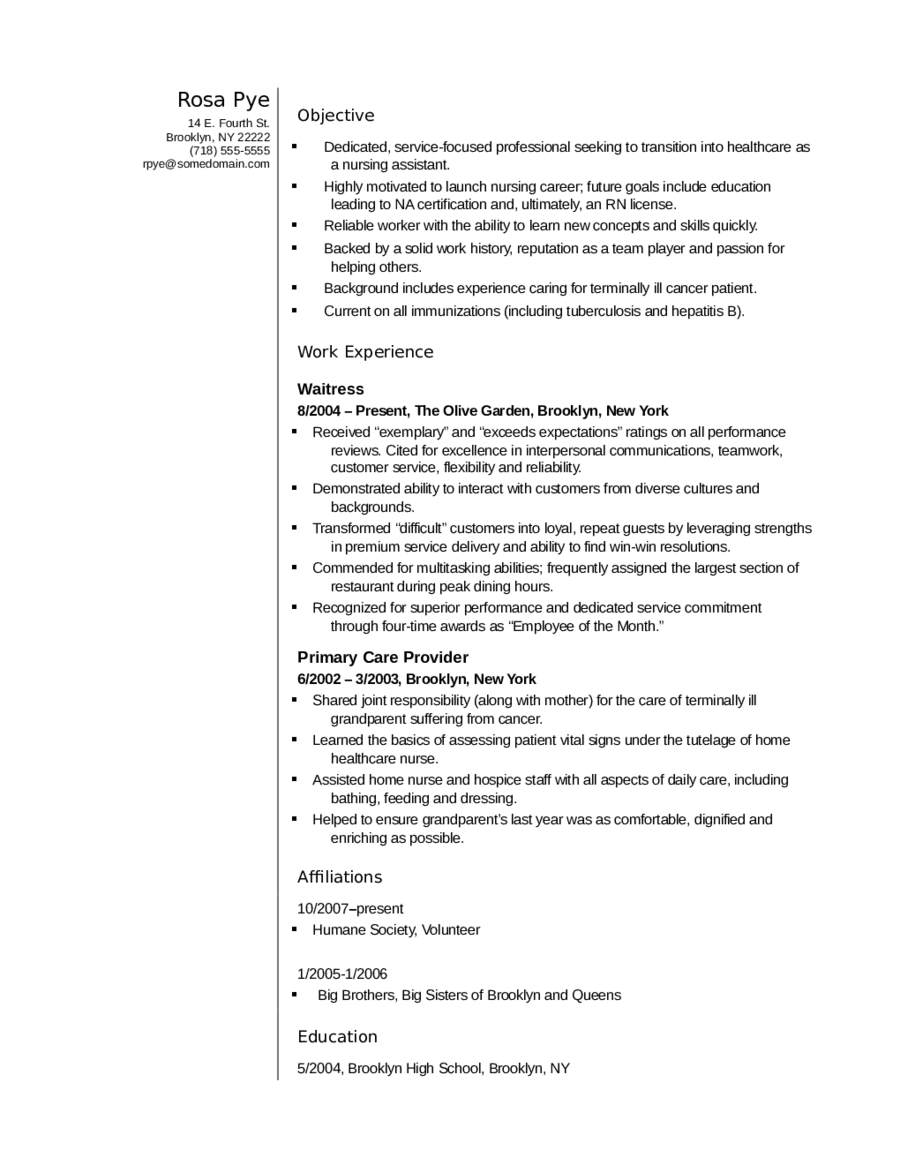 Sample Resume for a Nursing Assistant

Rosa Pye
14 E. Fourth St.
Brooklyn, NY 22222
(718) 555-5555
rpye@somedomain.com
Objective

Dedicated, service-focusedprofessional seeking to transition into healthcare as
a nursingassistant.

Highlymotivated to launch nursing career; future goals include education
leading to NAcertificationand, ultimately, an RN license.

Reliable worker with the ability to learnnew concepts and skills quickly.

Backedbya solid work history, reputation as a teamplayerand passion for
helping others.

Background includesexperience caring for terminally ill cancer patient.

Current on all immunizations (including tuberculosis and hepatitis B).
Work Experience
Waitress
8/2004– Present, The Olive Garden,Brooklyn, New York

Received "exemplary" and "exceeds expectations" ratings onall performance
reviews. Cited forexcellence in interpersonal communications, teamwork,
customer service, flexibility and reliability.

Demonstratedability to interact with customers from diverse cultures and
backgrounds.

Transformed "difficult"customersinto loyal, repeat guestsbyleveraging strengths
in premium service delivery and ability to find win-win resolutions.

Commendedfor multitasking abilities; frequently assigned the largest sectionof
restaurant during peakdining hours.

Recognized for superior performance and dedicated service commitment
through four-time awards as "Employee of the Month."
Primary Care Provider
6/2002– 3/2003, Brooklyn, New York

Sharedjointresponsibility (along with mother)for the care ofterminally ill
grandparent sufferingfrom cancer.

Learned the basics of assessing patient vital signs under thetutelage of home
healthcare nurse.

Assisted home nurse and hospice staff with all aspects of daily care,including
bathing, feeding and dressing.

Helped toensure grandparent's last yearwas as comfortable, dignified and
enrichingas possible.
Aliations

HumaneSociety, Volunteer
1/2005-1/2006

Big Brothers, Big Sisters ofBrooklyn and Queens
Education
5/2004, Brooklyn High School, Brooklyn, NY

Skills
Skill Name
Skill Level
Last Used/Experience
Customer ServiceExpertCurrentlyused/5 years
Interpersonal
Communications
ExpertCurrentlyused/5 years
MS OutlookIntermediateCurrentlyused/3 years
MS WordIntermediateCurrentlyused/3 years
MS ExcelBeginner3 years ago/1 year
Activities of Daily Living
(ADL)
Beginner+6 years ago/1 year
Quality PatientCare Beginner+6 years ago/1 year
Additional Information
Available for all shifts, extended hoursand weekend assignments.